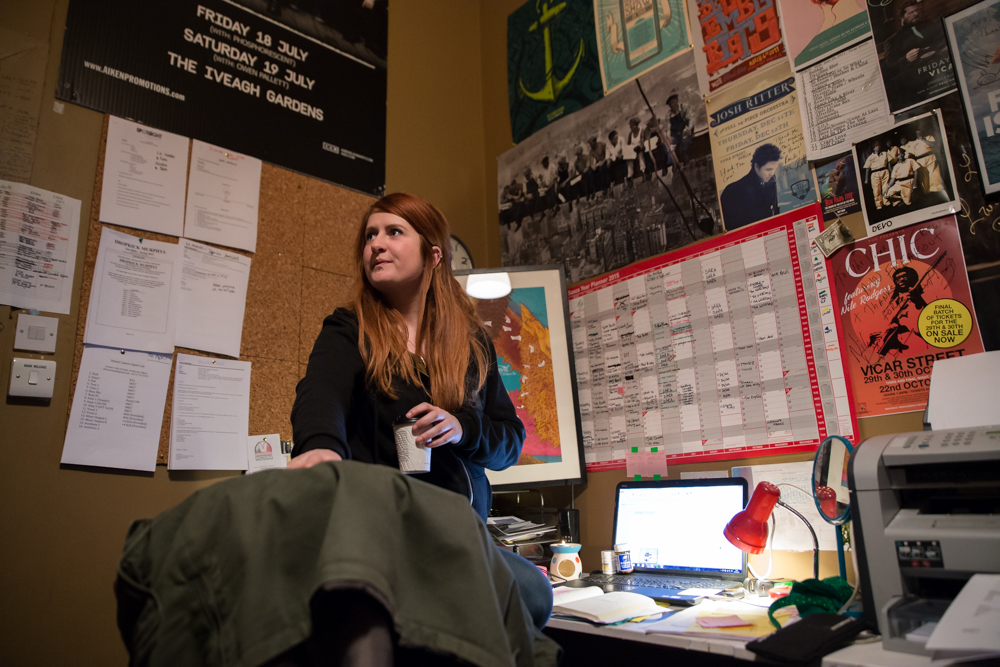 In this installment of Front of House, we chat in depth with Caroline Duke who is a production manager working primarily in Vicar Street in Dublin. Photos by Isabel Thomas.
Hi Caroline. Can you tell us a little bit about yourself?
Hello! I'm Caroline, 32 from Athlone. I moved to Dublin when I was 18 to study film production (I just wanted to learn about making music videos), then moved to London for a few years, a six-month stint backpacking, then back to Dublin again. I'm currently living in Celbridge with my partner Conleth and our dogs Dexter and Sadie.
How did you become a production manager and how long have you been involved in it?
Well I moved to London when I was 20. While living there I did office administration jobs which was grand for paying the bills and meeting great people but I was bored stiff. The lifestyle and atmosphere in those kind of environments just wasn't for me. So when I moved into a flat share in Chalk Farm I started to meet a lot of like minded people who flyered outside venues for promoters. I got involved and slowly started looking into more areas in music which I found interesting and started applying for work experience. One of the first venues I got into was the Roundhouse in Camden which I loved. They had recently re-opened and were starting a post grad degree in music production but I didn't have the money to go back to full time education. I took holidays from the "normal job" and started working in the bars at Reading/Leeds, Glastonbury and Wireless festivals over the summer months and then got involved in the Levi's Ones to Watch series in London's Barfly. At this stage I didn't actually know a whole lot about production but I knew I wanted to work in live music. Only problem was I needed my full time job while I was doing work experience but the hours between both were brutal.
By 2007 I had moved back to Dublin was actually working as an executive PA for an equity company when I started "shadowing" the then production manager of Vicar Street, Ed Lewis. I worked Mon-Fri 8.30-6 in a suit and heels all day, then would switch into converse and jeans for my work experience in Vicar St. I did this "double jobbing" for about 2 ½ years getting paid the odd gig here and there but not steady enough income or experience to go and do it full time. By 2009 I actually started repping for Aiken Promotions for their club shows and any shows at Vicar St when Ed needed cover.
I was also freelancing and working alongside Gary Sheehan who hired me to do production on his amazing concert series, The Fold Series in St. Audeons Church D8. I learnt so much from Gary and Denis Herlihy on those shows
So, yeah… I did that for a few years part-time, then quit my day job to do music full time. Around the same time, I started up a festival, Spirit of Folk with my best friend from collage Natasha Duffy and started slowly getting more and more freelance paid production work.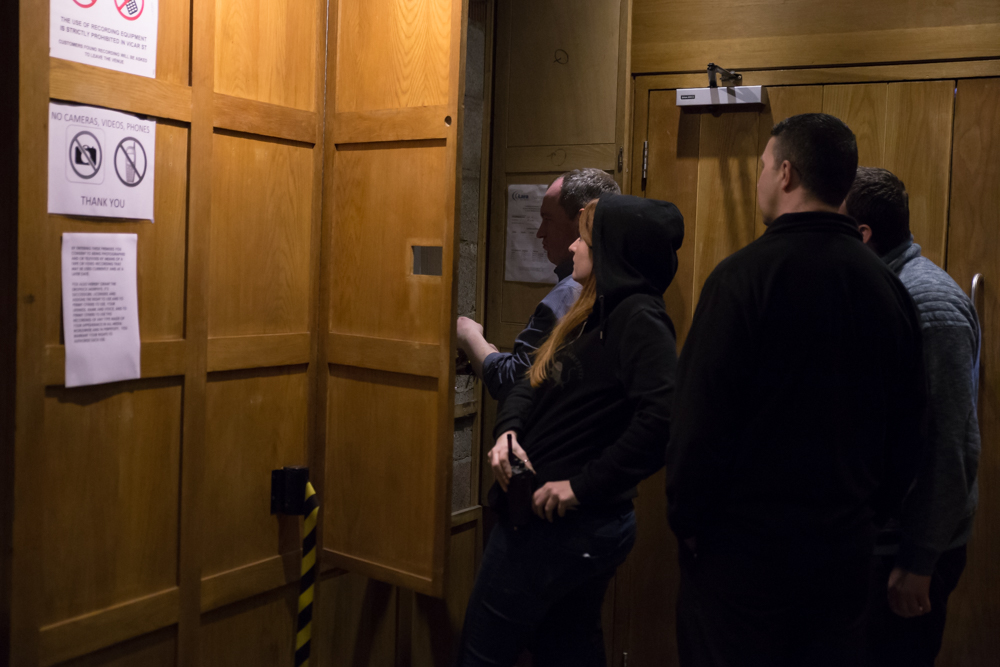 Take us through the average day of a producer manager, in the run-up to a show.
I usually get sent the artists production rider from the office to advance a few weeks ahead of the show and sometimes a few months in advance. This would contain a bands technical, catering and lighting spec. Specific information on everything from their transport, hotel and backline requirements to the number of brown M&M's they expect in the green room! The advance might be just two pages or 99 A4 pages of content. You might end up doing site visits to the venue or have Skype calls to the PM. I was actually just on a conference call yesterday to the Production Manager for Toto – it was a 50 minute call but there's still weeks of prepping for a show of that size. It's really important to have good communication in advance of a show. That way you've addressed everything ahead of time and hopefully on the day everything should run smoothly for everyone involved.
On days when there's no shows in Vicar Street, I mostly work from home on advancing shows or going to meetings, site visits or working on Spirit of Folk which is a whole different challenge!
We kind of go on hiatus from Spirit of Folk from middle of October until early February. By the middle of October the festival has been wrapped up, paperwork has been signed off and everyone hibernates for the winter. Don't get me wrong we're always plotting and scheming for the next festival but since everyone works on other projects it gives us time to recharge and regroup.
With Spirit of Folk my job title is a little more varied. Myself and Tasha set the festival up five years ago this year, which is incredible. We're only a blimp on the festival radar but we've had huge support from the public, to the musicians and media! We actually made it into the Irish Times' Top Ten Festivals the past two years? It's pretty incredible. But yeah I look after all the music elements of the festival so would book all the music, the PA, stage, backline, lights, coordinate the running of the stages and of course book the bands. It's done on a part time basis as my work in Vicar Street is full time. But I love the challenges of helping to run a festival and we're pretty lucky we've got such an incredible team.
What goes into the job, in terms of training, courses, hours, etc.?
Long hours and long weeks! You could do fifteen nights back to back and those days could average 6-18 hours each day! Some months and seasons are busier than others but we're lucky in Vicar Street that it's consistently busy all year round. There's plenty of Music Production courses throughout the country. I think the closest I came to training or courses for my job was Event's Management course in the Fitzwilliam Institute and a Hot Press Mix Up course. I wasn't much of a scholar at school, I was always better at learning first hand and that's how I got my foot in the door, I guess. As the old saying goes "every day's a school day" and in my case that seems to be very true.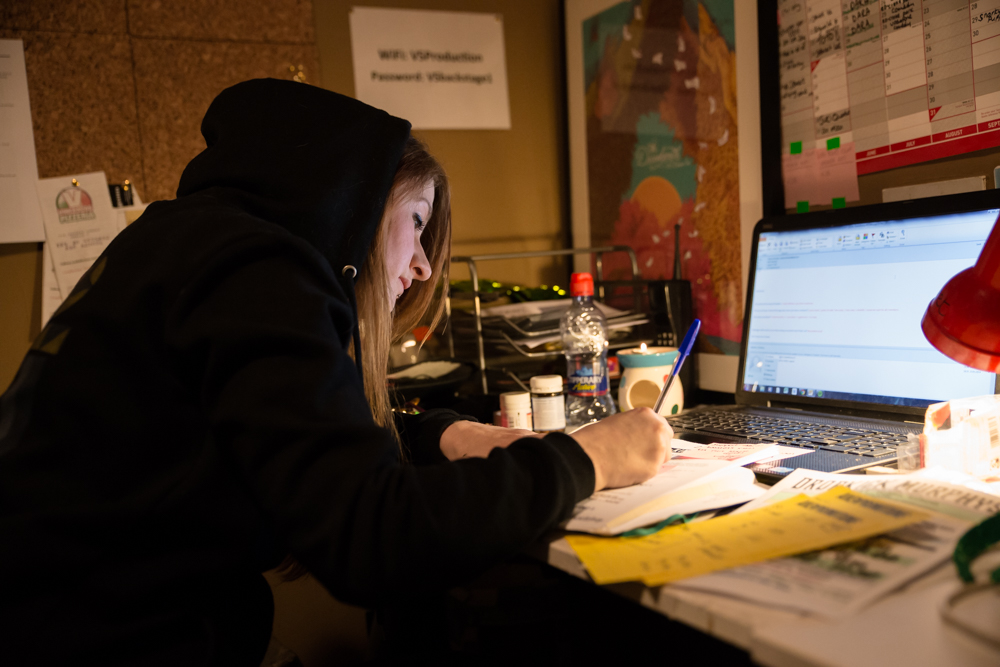 Can you describe a typical work day?
Hopefully the call time's not too early! I'm not much of a morning person anymore. If it's a show in Vicar St., I'd head in and set up the production office, have a chat with the lads about what production is coming in and what's been agreed for the day with the incoming TM/PM, go check and set up catering, if I have crew in for that show to look after that I leave them to it and usually get online to check my emails ahead of the TM's arrival. Once the artist crew arrive I show them around the venue, get them set up back stage and run through the production from there. If all is going well I'm usually sending emails/making calls for the next shows advance and the other show is running itself. I'm nearby then for the rest of the day if the TM needs me. When security come in we do a briefing, I then head out with the guestlist to the box office and then the show is up and running. Finally we start the load out and I usually stay until that's all packed and off site or until the artist is leaving. The average big production would start anywhere between 8am and 10am and finish usually around 12am or 1am.
How do you prepare for a show and what do you do on the night?
Advancing and communication with the promoter/venue/artist is key. If you try to know everything in advance production wise you should have a fairly handy gig. I always try and stay at least a month ahead of myself because things can change pretty quick. Not always the case when people are on the road and WiFi isn't easily available but you just have to work alongside the house crew and artist and try and put together as much of the puzzle as possible.
On the night I "run" the show, which is essentially from the promoters/venue's end of things, making sure the artist have a good time with us, the house crew in Vicar Street are amazing. We have a great team who really give it their all. We're all very proud of the venue and really want to make sure the artist walk away, wanting to come back to us and telling their colleagues about their good experiences with us.
Is there a routine you have, do you take a more active role in helping with setup or leave it to tour managers and tech staff?
When I first started in the venue I helped the lads with the load ins, setting up the stage, I suppose a lot more of the manual labour. But to be honest my role as PM means there's always an email to be sent, or something that's needed backstage so I usually leave it up to the lads who are absolutely brilliant. I never have to check what's happening technically in the venue, between the artist crew and house crew everything runs smoothly.
I'd make sure box office wise guestlist is looked after and would work closely with our venue manager Hugh and head of security Jake to coordinate any M&G's, aftershow parties and whatever else crops up. I suppose on the night I just deal with problems as they come and continue ploughing away through emails when there's a show on.
Do you prefer more intimate/local shows, or larger productions?
I like both. I love being outdoors so I really enjoy festival season. I do production on the Iveagh Gardens music series and the Vodafone Comedy Festival for Aiken, then in September I do production on Spirit of Folk festival, which is great craic. I could spend a week down on the festival site and it's always great to see friends and volunteers who work on the festival but you might not see for the rest of the year. Come the winter you can't beat a really cold night and coming into Vicar Street to see your favourite artist, homecoming Christmas shows in the Vic are always good craic. So many local engineers who are on the road all year round are usually back home for Christmas and end up working on shows with us. It's like a mini family reunion; the lads will probably slag me for that but I think they secretly love it too.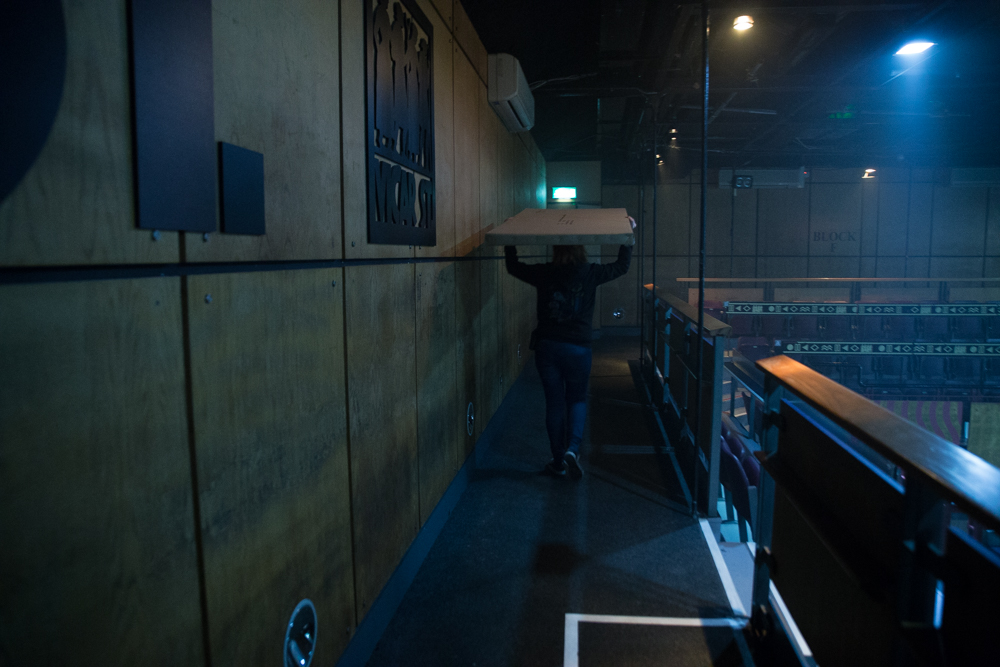 What are the biggest problems you encounter in your line of work?
Communication breakdown. An out of date production spec is very annoying, especially if it's a very technical show and things need to be hired in that wasn't in the advance, for example. I have agents, tour mangers, FOH guys, PMs, bus drivers, managers, merch mangers all looking for information per show, so you need to be on top of the latest changes and need to relay that to your crew. If an TM doesn't tell you what exact production they're carrying or need from you it can start the day off wrong. I seem to have the worst luck with technology recently -phones, laptops, printers, etc. I always seem to have IT problems which is a nightmare when advancing a show. I couldn't do my job without my phone or laptop. I need to have access to the outside world at all times. People need to reach you 24/7 and you need to know the progress of each show and advance as it happens. You can't miss a beat.
The long hours can be tough sometimes. Missing out on social occasions at the beginning was hard but it's no different than a nurse doing four back-to-back night shifts. You get used to it after a while.  But you do the job because you love it and you know you're not cut out for 9-5 jobs.
Do you have a favourite gig you've worked on at Vicar Street?
Ha! That's like asking which of my dogs do I like better?! That's an impossible question to answer. If I had to pick off the top of my head Paul Simon a few years ago was pretty incredible. Seriously, I have such a hard time remember what shows I've worked on sometimes. The great thing about the venue is we get such a variety of shows it's very hard to ever be bored at work. Shall I just throw some fav's in there? John Butler Trio, Presidents of the USA, Grinderman, The Decemberists, Little Green Cars, Ed Sheeran, Damo Dempsey, Midlake, Glen, Jurassic 5, Randy Newman, Chic, Future Islands, Ben Folds, Villagers, BellX1, Rufus, Dropkicks, Tallest Man on Earth. Seriously, the list is pretty endless. Comedy-wise, we're pretty lucky with the acts we've had in. Tommy, Dara, John Bishop, Fred, Al Porter, Foil, Arms and Hog … again I could be here a while!
Has being on the other side of the curtain affected your ability to enjoy shows, or changed your perspective on attending them?
Yes and no. I adore The Decemberists and they were in recently but it was a pretty hectic and full on day with a few problems (airline dropped the pallet with their instruments which was a bad start for the band), first date of the new album tour so plenty of things needed to be sourced locally etc. It was a great day but by the time the show started I wasn't in the right head space to enjoy it knowing I had tons of emails to get through for other shows, then was needed backstage by the TM to run through stuff for the loadout, so while I tried to watch the gig, I was very distracted so in that situation you kind of wish you were a punter. I find it hard to watch a comedy show as well when I'm working. You can watch snippets from side of stage or listen from the office as you're working away on other things but nothing beats sitting out front with a pint and watching the show from beginning to end.
I definitely find myself more distracted watching shows as a punter. If I'm at a show and not working I tend to be watching everything around me and my boyfriend's had to pull me away from talking to crew or watching production stuff so I can go back to being a punter and watching the show. I remember going to see The Wall in the o2 and I disappeared a few times to watch the scenes around me and talk to crew I knew rather than the show. I made sure when I went to see it again in the Aviva the year after, I went straight to my seat with a pint and stayed put all night!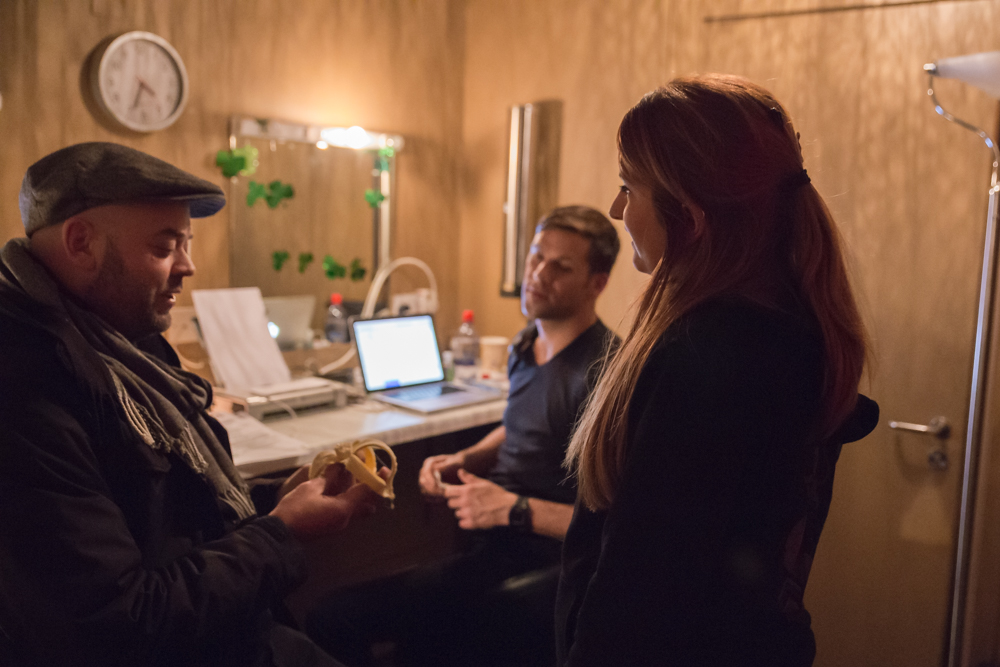 What advice would you offer to a production manager starting off today from your own experience?
Treat everyone you meet of equal importance. From the second you arrive at a venue or someone arrives at your venue, from the door man, to the ushers, to the cleaners, to the girl on the box office. It's nice to be nice and on these long days running shows you want to be on good terms with everyone you meet and you'll not only learn something from them, but you never know where you might meet them again (no-one likes a dick!) Oh and the obvious one, get work experience! In venue's, in studios, in production warehouses, get into the back of the truck and get those flight cases loaded in, make a round of tea for everyone, photocopy and staple those 28 copies of that score, go paint the steps off stage and tidy up those cables. If you get stuck in you'll be remembered for your commitment, hard work and you'll be asked to do the paid jobs. First impressions are hugely important.
I remember once we had a girl doing work experience just general helping out backstage, in the venue on show day. When the band went on stage, she went into the green room, helped herself to a beer and watched the show. She disappeared before load out. Needless to say we didn't ask her back!
Do you have a favourite story from one of the artists/gigs you've dealt with over the years?
Stage-managing the changeovers for Neil Young in the RDS was pretty surreal. I'd never been in front of that many people before and being the clutz I am, I was just waiting to trip and make a show of myself, but I didn't so hurrah! It was a hard long day, but the whole show went great and everyone was happy. Dionne Warwick giving me advise and calling me "baby girl" while patting my arm in her dressing room. Matt from The National giving me his laundry at the Iveagh Gardens-I'm the biggest fan of the National and I couldn't look the guy in the eye let alone talk to him, so I just nodded my head loads and looked like a right weirdo, then I kept bumping into him backstage but everytime I'd pass him I'd immediately look at the ground! I just didn't want to say anything stupid to him so I just didn't say anything at all…good move Duke! Emm what else…giving Marie Doyle Kennedy a bottle of Head n Shoulders instead of champagne, my boss still slags me about that.…..walking Nick Cave into the venue with horse poo on the ground outside and watching him almost skip/dance his way around it..…that was a bit mad…Lana Del Rey and her "book rider" for her fans waiting outside, that was a last minute mad request but we got what she wanted and everyone was happy. Wandering around the city with Tallest Man on Earth and his Tour Manager Etjen looking for a guitar for his show because the airline busted his on the way over so we managed to get the loan of a very expensive guitar from the lads at Some Neck guitars who are deadly and only realising when we left the shop we never paid them or left a deposit! Although sometimes the situations can be very intense and real life. I once had an artist who got a call about 3mins before he was due on stage that his father had passed away suddenly. I was the 1st person he told after the call and we were in a public space and ton's of people were up trying to get photos and have a chat before he went on. That was pretty intense so you just have to deal with these situations as they happen as you can't plan for a lot of what goes on in production.
What would be your dream gig to be involved with?
Well I'm pretty lucky working with Aiken Promotions. I've already worked with four of my favourite bands ever, The National, The Decemberists, John Butler Trio and Paul Simon. I'd love to do a David Gilmour show or to have worked on The Wall show. That production is a thing of genius. I've seen it twice and I'd happily see it everytime it came back. It's incredible. The detail and timing is just brilliant.
I'm also pretty lucky that I helped to start my own festival which was a dream of mine at the beginning. Myself and Tasha had the idea of starting up a festival and we're now going into our 5th year! All the money raised goes to the Oaktree Charitable Trust so it's a great family friendly festival. It's probably the only festival you can bring your kids, your grandparents and your dogs and be able to camp together!
I'm pretty lucky with my job. I work with amazing crew and get to see incredible shows and meet the nicest people. I think Vicar Street overall is my dream gig. I always wanted to work there and now I'm the PM, so win win!
What upcoming gigs will you be working on for 2015?

This year's been brilliant already. We had another amazing year with the lovely folks at the Meteor Choice Prize and my favourite crew Dropkick Murphys were over for two sold out shows on St. Patricks day. The Iveagh Gardens lineup this year is great with St. Vincent, Chic, The Frames, Damien Rice and Paloma Faith so I can't wait to work on those. I get to see a lot of crew who I only work with on these shows once  a year so great to catch up with them. There's the Vodafone Comedy Festival which is always one of the best summer festivals. I've a few dates with Gilbert O'Sullivan and then a million shows in Vicar Street still to come. I can not wait for Toto and then there's the Spirit of Folk Festival which is also our 5th Birthday party. We're getting our heads together at the moment and it's pretty exciting so plenty to be revealed. The best is  yet to come!