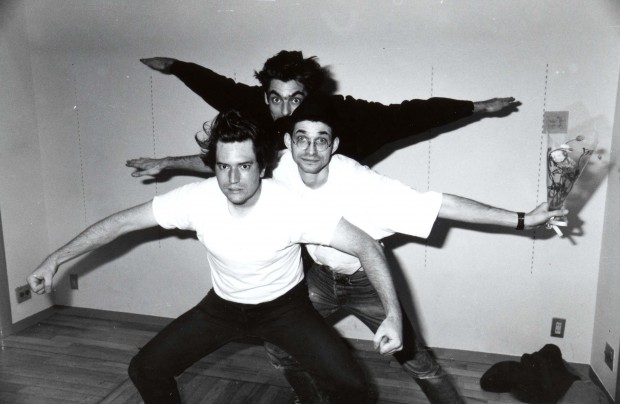 Originally founded as a fanzine in 1979 by Tesco Vee and Dave Stimson before becoming a record label in 1981, Touch & Go was originally a platform for the Chicago hardcore punk scene, before Vee handed the reins over to Corey and Lisa Rusk in 1983, with Corey Rusk still being at the helm today. The label would go on to become synonymous with the 1980s noise rock scene, as well as 1990s math-rock, before expanding into all things alternative in later years. The label is also well known for its DIY ethic, offering artists 50-50 deals after production and promotion, and Rusk's preference for handshake agreements instead of actual contracts, although this broke down when Butthole Surfers launched a legal dispute in the late 1990s. While many of its most celebrated artists reformed for the label's 25th anniversary celebrations in 2006, economic factors have caused Rusk to drastically downsize the label since 2009, and new releases are now few and far between.
While the label has also put out some fine reissues over the years, this ten track sampler showcases the best of their original output.
1. Scratch Acid – Mary Had A Little Drug Problem (1987)
Noise rock pioneers Scratch Acid's initial career was all too short lived. Their first release for Touch & Go, 1987's Berserker EP, (which features this as its opening track) turned out to be their last, although the label did later reissue their entire discography on one CD as The Greatest Gift. Like an American version of The Birthday Party, David Yow's unhinged vocals are underpinned by some wonderful post-punk riffing, turned all the way up to eleven.
2. Killdozer – Lupus (1989)
Named after a 1970s B-movie, few band names so accurately capture a band's sound as the Killdozer moniker sums up this band's sonic assault. On 'Lupus' from the album Twelve Point Buck, Michael Gerald growls about the death of esteemed American author Flannery O'Connor ("Lupus took the life of Flannery O'Connor/She wrote many books before death came upon her") over a vicious bassline while guitar and horns somehow go hand in hand, much in the style of The Birthday Party's 'Nick The Stripper' or Flipper's 'Sex Bomb'.
3. The Jesus Lizard – Nub (1991)
Formed from the ashes of Scratch Acid in 1987, The Jesus Lizard, again featuring vocalist David Yow and bassist David Wm. Sims, sounded less demented but no less abrasive than their predecessor. Coming closer than most of their contemporaries to mainstream success by releasing a split single with Nirvana in 1993 and signing to major label Capitol a few years later, this never really worked out and they went their separate ways in 1999, but a reunion tour in 2008 saw them playing to some of the biggest audiences of their career. 1991's Goat is probably the band's finest hour, and the influence of tracks like 'Nub' can be heard all over bands like Mclusky and LaFaro.
4. Slint – Breadcrumb Trail (1991)
The jewel in the Touch & Go crown, Slint's Spiderland needs little introduction, so much does its reputation precede it. Showing a huge progression from fun but loose debut Tweez, this moody masterpiece would go on to influence every post-rock band under the sun but would sadly be the band's last, although several reunion tours have afforded younger fans the opportunity to witness the whole thing live. 'Breadcrumb Trail' is just one example of its goosebump-inducing brilliance.
5. Blonde Redhead – Symphony Of Treble (1997)
Although now known for a more widescreen sound indebted to shoegaze and dream pop, Blonde Redhead showed more of a noise rock influence on their first Touch & Go album Fake Can Be Just As Good, particularly evident on this track where Kazu Makino's vocals have to compete with discordant guitar harmonics, although other album tracks like 'Bipolar' would hint towards what was to come later.
6. Don Caballero – Room Temperature Suite (1998)
After two albums of hardcore-tinged math rock, for album number three, Pittsburgh's Don Caballero turned down the distortion (for the most part) as guitarist Ian Williams' increased use of effects and loops came to the fore, helping to set the template for today's plethora of effects ridden math rock bands. The swirling guitars of 'Room Temperature Suite' (a medley of the tracks 'Room Temperature Lounge' and 'Trey Dog's Acid' from a 1997 7") showcase this shift particularly well, without sacrificing Damon Che's insane drumming. Williams would take the looping further on follow up American Don to make up for the loss of founding guitarist Mike Banfield, before moving on to take his experimentation to its logical conclusion with Battles.
7. The Black Heart Procession – It's A Crime I Never Told You About The Diamonds In Your Eyes (1999)
By 1999 the label had diversified somewhat, so it wasn't too much of a surprise to hear the pianos and brass of indie gloomsters The Black Heart Procession among the roster. One of the more musically upbeat moments on imaginatively titled second album 2, it's still a mystery how this surprisingly catchy track isn't regarded as more of an outright indie classic, though it's most likely due to it being released a few too many years before the likes of Okkervil River were in vogue.
8. Nina Nastasia – This Is What It Is (2002)
An album that lies further below the radar, however, is Nina Nastasia's The Blackened Air. Impressively recorded almost completely live in Steve Albini's Electrical Audio studio, the album pairs Nastasia's acoustic indie-folk with beautiful orchestral/chamber pop arrangements, never bettered than on the string and accordion-laden 'This Is What It Is'.
9. TV On The Radio – Young Liars (2003)
Although better known for their stint on 4AD, TV On The Radio's first major release was the Young Liars EP on Touch & Go, demonstrating the label's ongoing commitment to continuing to provide a platform for innovative new artists. While the EP also contained future single 'Staring At The Sun' and a doo-wop cover of Pixies classic 'Mr Grieves', the title track, which still regularly opens their live sets, is one of their finest moments, encapsulating all that's great about their earlier material – electronic backing, Tunde Adebimpe's soulful vocal, Kyp Malone's background falsetto and Dave Sitek's trademark shrieking guitar.
10. Shellac – Dude Incredible (2014)
Musician and recording engineer extraordinaire Steve Albini has been a Touch & Go stalwart ever since Big Black's seminal 1987 LP Songs About Fucking (sadly absent from Spotify and therefore this playlist), sticking with the label for subsequent bands Rapeman and Shellac. While Shellac move at a snail's pace these days in between Albini and bassist Bob Weston's day jobs at Electrical Audio, they returned last year after another 7 year gap with Dude Incredible, one of the few Touch & Go releases since the downsize, having lost absolutely none of their bite or brutality, and with a title track featuring one of the finest riffs Albini has ever put to tape.