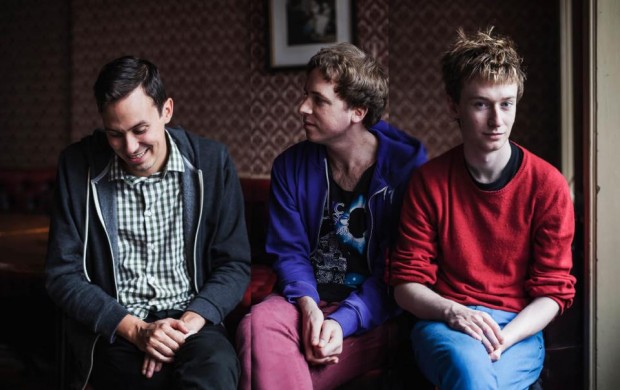 "I never break any strings in rehearsal… but when we're live, I break every string in the book."
I've never been in rehearsal with No Monster Club yet I found myself pleasantly unsurprised when frontman Bobby Aherne made this observation Saturday night at the launch party for his new album, People Are Weird. Staged in the basement of Dublin's Bello Bar, the choice in venue captured an absurdity that could only be matched by the dry humour of Aherne's lyrics. This stale 70's smoking parlour boasts wooden panels, low ceilings, and a revival art-deco aesthetic that's dying to be in some hipster film student's music video. The boundary between house and backstage was a tattered red velvet curtain through which band members and friends were constantly gliding. The boundary between audience and stage was an array of scattered speakers and a faint line drawn by the house lights. Needless to say, the show's osmotic nature was not lost on any aspect of the night. Not in the way Aherne slowly built his three-piece set into a five-piece with planted audience members, nor in the back door entrance abused by teenage St. Paddy's celebrants. Taking the term 'launch party' to heart, Aherne and crew wasted no energy in delivering a frenzy. And yet, rather than losing all control, No Monster Club's confidence allowed them to find power in the frenetic, and their slant toward chaos meant they were not at all stifled by their loyally boisterous fan base.
Whisking onto stage in a polka-dot poncho and mask with pint in hand, Aherne looked the post-modern clown in a new-age vintage birthday party. The floor hastily strewn with balloons following warm-up acts Laurie Shaw, Mr. Rosso, and Soil Creep, Aherne and bandmates, including long-term collaborator Paddy Hanna, found an enthused audience raring to rock just feet from their faces. Opening cover of Rock 'N' Roll Kids had the house rollicking to early punk riffs befitting the underground performance. Throughout the show, Aherne alternated between stage mic and copperphone, showcasing his taste for combining and intertwining styles. The choptastic guitar rhythms, riotous drums, and overwhelming bass rang of punk influence across the ages, from the Kinks and Ramones to Green Day. Often drowning out lyrics and rhythm guitar, the bass bled through Bello Bar. Where Aherne's sly vocals provided a sweet release, the bass committed battery and assault of sonic proportions, and the ears fell victim to a game of audio good cop/bad cop.
The crew's level of energy made for an exciting spectacle, but the hyper-crazed force of the show often engendered sloppy transitions between songs. Tracks like 'Late Bloomers' carry mid-song chants that could propel the number to anthem status. Still, recuperation between these high-intensity tunes often left the house hanging in awkward bewilderment, and there was an unkempt nature to the show with loose ends to boot. And yet, Aherne and crew never lost the faith of their exuberant fans. An expert at crowd interaction, Aherne not only fed off the show's anarchic vibes, but seemed to prefer matters that way, rather than a well-choreographed dance from intro to finish. Rules weren't bent, they were just never included. How many artists could go from crowd-surfing in a low-ceiling cellar to ending the night with no encore? Convention doesn't permeate any aspect of No Monster Club, not the albums sold on cassette, not Aherne's recently published book, nor this latest record of stylistic variety. People Are Weird is delightfully devilish, but nothing like the cheeky devil himself on the stage. Joe Madsen