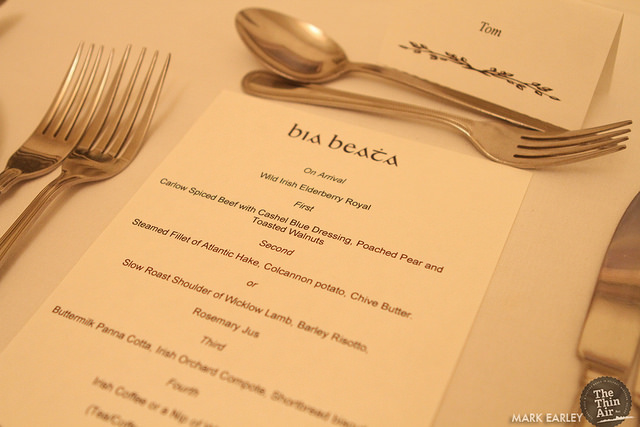 In our first online installment of Primer we attend Bia Beatha, a monthly supper club focusing on showcasing Irish cuisine and the art of food and dining.  Photos and interview by Mark Earley.
Hello Rachel! You're the brains behind Bia Beatha. Tell us about how it all started.
It's kind of a funny one as I came up with the idea for the event in Berlin when I was there with my Mum for her birthday early last year. We were looking for somewhere to have decent German food without a tacky tourist vibe and no-one was able to recommend somewhere to us. We thought this was really strange but the more we thought about it and we realised there were only a handful of places in Dublin that we could recommend for contemporary Irish food. I started to think about having an Irish food-themed supper club and it grew from there. The idea to incorporate a speaker comes from my background in social research in Africa. One of the first things we used to do when undertaking a new research project was try to attend a meal with locals as you learn so much from observing their behaviours and habits around food and the sharing of meals. So this inspired me to incorporate the food historian element so that the night would be more informative and engaging.
What are the main aims behind the concept?
I really want to provide both locals and foreigners with an opportunity to celebrate Irish cuisine and culture. When you say 'Irish cuisine' to people, even Irish people, they don't really know what that means and almost automatically make some sort of joke about the potato or comment about the famine. We have a really rich culinary history in Ireland but people don't really know about it and get stuck in cliche. It's great to see this changing now with lots of artisan producers and amazing chefs reinvigorating the Irish food scene. We're hoping to give guests a flavour of that and also to give them an opportunity to learn something about Ireland and its people through the lens of food.
Have you been happy with how it has been received? There's been some good press about it so far…
I couldn't have hoped for more in terms of the reception it has received. Everyone has been so positive about it. Bia Beatha is still really new on the food scene – we've had 4 events starting late last year – but we're getting lots of mentions in the press and have a couple of really exciting collaborations coming up over the next few months. It feels like we've hit on something that really resonates with people, it's a really exciting time for us.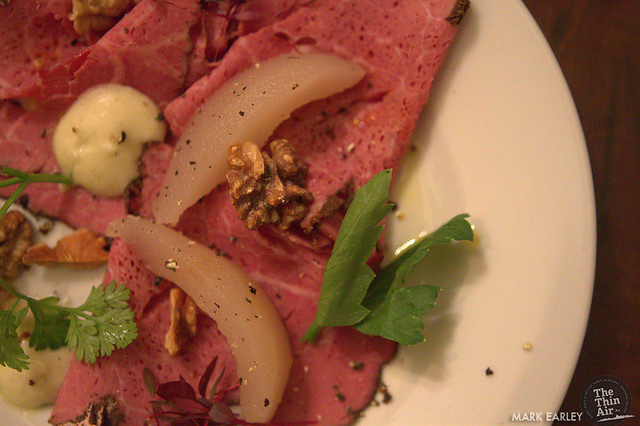 The menu and the food is very much centre stage to the concept. How do you decide on what to serve the guests?
Our menus are seasonal with a focus, obviously, on Irish produce and traditional Irish ingredients. In the run up to an event I start to think about what elements I'd like to see incorporated into a menu and then discuss that with the chef. We work with different chefs depending on the location of the event so this feeds into the menu selection process too as each chef has their own style.  It's an iterative process, taking a bit of back and forth before we land on a menu that we feel represents what Ireland has to offer at that time of year. We try to incorporate traditional ingredients – buttermilk, black pudding, barley, seaweed etc – into the menu in exciting and unusual ways. So far everyone seems to be happy!
Do your guest hosts have free reign in terms of what they discuss?
Yes and no. My idea for the talks was to give people an overview of the history of Irish food and I have a couple of topics that I like to have touched on – food in poetry, song, and mythology and Ireland's rich culinary history and the contemporary food scene. The famine also gets a mention as it looms so large in people's understanding of Irish history. It sounds like a lot but the speakers to date have managed to weave everything together in a really relaxed and informal but informative way.
In what ways do you see Bia Beatha developing? What areas do you hope to expand towards?
I'd love to do more regular supper clubs to cater to tourists coming into Ireland, it's the type of thing that I'd love to do if I was travelling to another country. We'd love to get into doing food product launches, I think there is a lot of scope in our model for doing that in a really nice, experiential way. I'd also love to do a series of events that were more focused on the speaker, with different culinary 'giants' in Ireland coming to speak about their experiences and to impart words of wisdom. We have lots of ideas so hopefully you'll see some of them in action soon…
Where do you look for inspiration?
Bia Beatha has been inspired by my lifetime of experiences in Dublin and all over the world. I've been obsessed with food since I was a kid and I have my mum to thank from that – once myself and my sisters hit 12 we each had to buy and prepare dinner once a week. It was an amazing exercise in trial and error (spaghetti left in the hot water to keep warm until the sauce – made with ketchup – was ready…) which means I'm not afraid of trying new things with food today. Even if that sometimes means it ends up in the bin.The food culture in Ireland is really maturing and it's so exciting to see so many food bloggers, pop ups and artisan producers coming up – that's a huge source of inspiration for me too.
Talk us through some of your favourite Bia Beatha moments to date.
Practically every member of my family and all my friends turning up to my first event in November 2014. Going into The Shelbourne to talk to the concierges about the event and as I left one of them shouting 'It's a brilliant idea!' after me. Being asked to do two events in The Guinness Storehouse as part of the I Love My City cultural programme during the St Patrick's Festival. Getting a message from our first corporate client thanking us for an incredible evening. Hopefully lots more favourite moments to come!