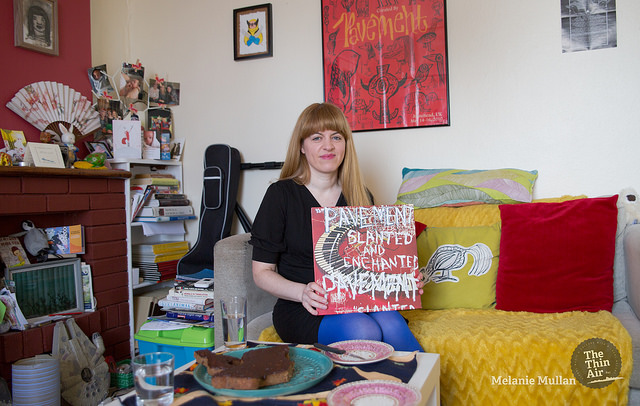 Lisa O'Grady aka Lisa Lemur is a Cork based event promoter, sacred harp singer and musician. She recently organised the International Women's Day event in Gulpd cafe. Lisa's eclectic taste ranges from the minimalism of Arthur Russell to the ostentatious Os Mutantes. Photos by Melanie Mullan.
Pavement – Slanted and Enchanted
Credit goes to my friend Bernadette's big sister Margaret for introducing us to Pavement when we were sixteen and Slanted and Enchanted had just come out. Blown away beyond belief! A love affair had begun! I remember buying the real tape (after the taped one was wrecked) in Comet records in Cork and they had a Pavement t-shirt hanging up there that I always wanted (and finally got at the Pavement reunion tour!) Luckily got to see them a few times in Dublin at the Redbox and Temple Bar Music Centre Dublin. Also saw one of their last shows before they split up at the Barrowlands, Glasgow. After that a bunch of us used to console ourselves by having Pavement nights in Dublin. The news of their reunion was one of the most exciting pieces of news ever. And curating ATP, what a way to come back!
I absolutely love Wowee, Zowee and Crooked Rain, Crooked Rain but Slanted and Enchanted will always hold a very special place in my heart. The energy on it is just bombastic with a real lo-fi home recorded feel.  This coupled with Stephen Malkumus' intriguing stream of consciousness lyrics which manage to be both baffling and utterly sing-a-long-able to at the same time! "Lies and betrayals, fruit covered nails, electricity and lust". I've probably had the most fun of my life jumping around to this record. This and Sebadoh's Bakesale are still the go-to sing along and jump on couches at 4 in the morning records and will always be.
Miles Davis – Kind of Blue

I was introduced to jazz by a regular customer at a restaurant I worked at in Rathmines while studying in the late 1990s. He taped Kind of Blue for me and I was entranced. This was such hypnotic, deeply affecting music and very different to anything I had been listening to up until this point. I couldn't get enough of it. This opened the gate for me to step into the world of jazz and I had the pleasure of hearing it live in San Francisco later that year.  On the strength of this album I decided to venture into a jazz club and as I walked in the opening bars of 'So What' started up – pure heaven and I've been hooked ever since.  I actually only got around to hearing solo work by Bill Evans, who plays piano on this record two years ago (thanks Dean!).  His unrehearsed modal composition 'Peace Piece' has to be one of the most beautiful pieces of music I have ever had the pleasure to listen to. Miles wanted him to record it for Kind of Blue but instead he came up with something based around it and this serves as the opening theme to 'Flamenco Sketches'. This album is made up of pure improvisation based on sketches conceived by Miles only hours before recording with a stellar lineup of jazz  legends – absolute geniuses at work.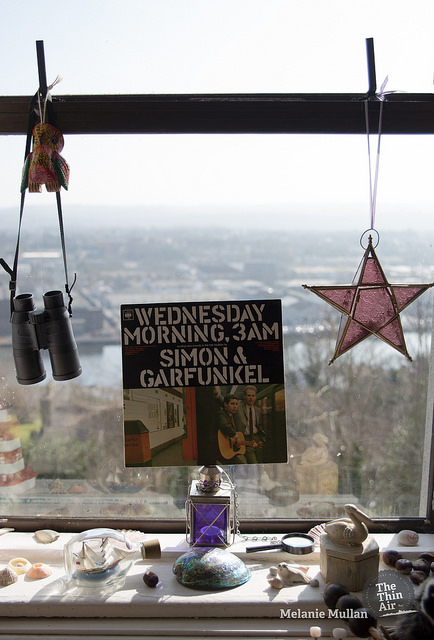 Simon & Garfunkel – Wednesday Morning 3AM
I'm an absolute sucker for harmonies. My love grew from many hours of listening and singing along to the Beach Boys with my friend Chiara as a child. The Monkees were also a big influence from my early childhood spent watching their television show.  Also my first ever tape – The Bangles 'Different Light' cemented the love of harmony singing with my sister Kim and friends singing and dancing along to it most evenings in the kitchen!
But my standout harmony group has to be Simon and Garfunkel. I probably first came across their song 'The Boxer' as a staple of school religious retreats but it was when I bought their debut record Wednesday Morning 3am that I became obsessed! I couldn't get enough of them and read every book I could get my hands on at the library about them and sang their songs to death. And I still do! I found this copy in a record shop in Newcastle last year (the year the album turned 50). Their voices are just so beautiful, there's such purity on songs like 'The Sound of Silence' and the gospel/folk 'You Can Tell The World' and a host of traditional folk standards. But this innocence is torn apart with the world weariness of songs like 'He Was My Brother', about a friend who died in civil rights protests, and the dangers of nuclear war in 'The Sun is Burning' and of course the melancholy of the title track. Their style definitely developed into something more unique after this record but I always love to listen to their folky origins.
Murrorsky/Ravel – Pictures at the Exhibition
I've been a fan of classical music from a very early age through growing up listening to my Nana playing the piano and starting lessons myself at the age of seven on her very piano (which she gave to me). This is when I bought my 2nd ever record – Richard Clayderman playing the greatest hits of classical piano! I was in love and spent most of my time trying to play them all by ear.
Modeste Mussorsky's Pictures at an Exhibition will be familiar to anyone who did Intercert music in the 90s but it's still one of my all-time favourite classical works.  It was written as a piano composition in remembrance of Mussorsky's artist friend Viktor Hartmann in 1874 and orchestrated by Ravel in 1922. There's a central 'Promenade' theme that runs throughout (slightly varied each time) leading the listener from each piece (artwork) to the next. With standout pieces for me being 'The Ballet of Unhatched Chickens in their Shells', 'The Hut on Fowl's Legs', and the epic 'Great Gate of Kiev'.  It's an amazing concept and takes you on a really special journey and it's fantastically Russian and grandiose.
I was lucky enough to find this 1960s copy of it, with such beautiful artwork, from answering a Freecycle ad when I was living in Belfast. I cycled up to what happened to be a retiring lecturer of music at Queens University's house where he was giving away his entire record collection! So much was already gone by the time I arrived but I still managed to bag some absolute gems and had a great evening of musical chat with him.
I recently came across an Emerson, Lake and Palmer interpretation of this from the 1970s, ridiculously synth-tastic!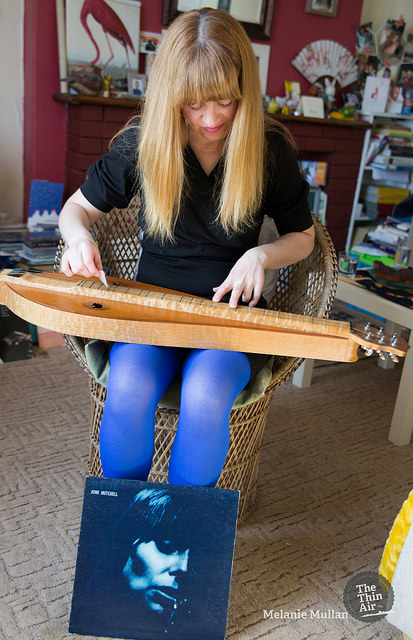 Joni Mitchell – Blue
My adventures in Joni-land started out as a mystery not to be solved for over ten years! Rewind back to my secondary school days where I used to spend every evening taping songs from the Dave Fanning radio show.  I partially taped a song which was Tori Amos doing a cover of a song.  I didn't catch the name and in the pre-internet days couldn't find out what it was! Over the years the song always stayed with me and from time to time I would sing a few of the lines I knew to people but still no joy.  Then in 2004 I started a job with the Buy and Sell newspaper and after a month there we were sent on a team building weekend and after a night of drinking a sing song started up and one of my new colleagues (soon to be Joni mentor) Sean Twomey started singing the song I had been searching for.  It was Joni's 'Case of You'.  A very emotional moment for me and Sean put me onto Blue. The first time I sat down to listen to it I was bawling crying before the first track 'All I Want' was even finished! What a heart-laid-bare, emotional and super beautiful album. Joni is the queen of the musical world for me. Only a few years ago I discovered she was playing a very unique instrument on this record – the mountain dulcimer – and luckily I found the most beautiful one in a little music shop on McCurtain St (with seahorse inlays!) . Still learning how to play Joni songs on it!
Os Mutantes – Os Mutantes
I first came across Brazilian psychedelic rock legends Os Mutantes on an Optimo compilation alongside legends The Bush Tetras and The Monks when I was living in New Zealand in 2005. The track was 'A Minha Menina' – probably one of their most well known songs. Starting out in the late 1960s they became involved in the Tropicalia movement with Gilberto Gil which blended psychedelic rock with bossa nova, samba other more avant garde art forms.  I became re-introduced to them when I moved down to Cork five years ago the first night I was out I ended up at a Les Etrangers night with Jeremy Murphy playing the most amazing music ever. (I went into Plugd records and told Jim this was the kind of music I wanted to buy and play – he put me onto Finders Keepers Records and the rest is history!) This is their debut album, released in 1968 and is listed #12 on Mojo's "50 most out there records of all time and #9 on Rolling Stone's 100 Greatest Brazilian Albums of All Time. A radical freak out of an album with moments of true tenderness thrown in too.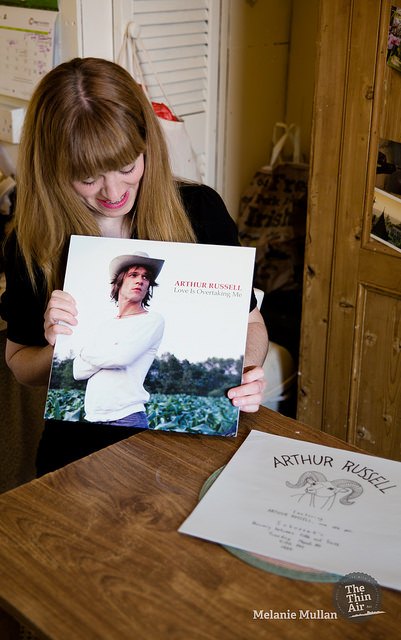 Arthur Russell – Love Is Overtaking Me
I have to say I feel quite cheated for only discovering Arthur's music six years ago and not having had his comforting music and lyrics in my life up until this point. But wow how can I describe the effect he has had on me? He is one of the most powerful and devastatingly beautiful song writers I have ever heard.  A true genius who created music in almost every style imaginable from disco to country, folk and pop to avant-garde but who sadly didn't get the recognition in his own life time.  A pure perfectionist who left behind a treasure trove of unreleased tapes still waiting to see the light of day. Love Is Overtaking Me has just been made available on vinyl for the first time and is spellbinding in its beauty. His lyrics and his voice just melt my heart and I love the country/folk/pop styles on this. Although missing his signature echo this album showcases the extraordinary uniqueness of Arthur and his ability to write in any genre. His use of harmony here is just breath taking and his songs are pure love. There is nothing this man couldn't do musically.
Broadcast – Haha Sound
Thanks to Albert from Plugd for introducing me to Broadcast (and to Niall Wolf for never stopping going on and on about them). Another one of those' how did I never come across you before' bands! And sadly I only got to hear about them after the tragic death of Trish Keenan. Her haunting 1960s influenced vocals coupled with dark electronic sounds, sampling and discordant analogue effects make for strange yet sweet sonic reverie. Utterly hypnotic music combined with searching and sometimes heartbreaking lyrics Haha Sound to be one of my favourite albums ever. Luckily their albums were all reissued on vinyl only a few weeks ago so I got to include this here.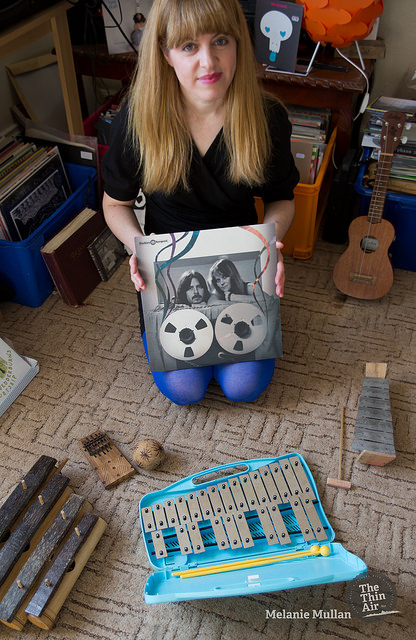 Emerald Wed – Emerald Web
Another discovery thanks to Albert! American husband and wife soul mate duo Bob Stohl and Kat Epple (Bobkat!) have blown my mind with their late 1970s/1980s spacey-synthy creations. Starting off as flautists they championed the new Lyricon, a woodwind/synthesiser hybrid but were well known for their innovative synthesiser orchestrations with beautiful melodies and Kat's ethereal vocals. They toured planetariums across the States with their laser light shows and also produced music for Carl Sagan, NASA, Apple and National Geographic documentaries. Pure new age goodness! Listen to their music and be transported to celestial heights of solar systems new.
Sacred Harp – Awake My Soul
This is kind of a cheat as I generally get to sing this amazing music but I do spend a lot of time listening to new and old recordings of singings from the States (Alan Lomax has some great old recordings from both State conventions and family front porches), local singings and singings across the world. This music has become one of the most influential of my life and where my love of harmony finally found an outlet. This is old American folk music written in the shaped note tradition sung a cappella in four parts. The book is called the Sacred Harp (and is just one of many books of this kind which were originally called 'harps'). Dating from the 16th century to the present day the music comprises of haunting harmonies, traditional modes, raucous songs, serene hymns, fast fugues and high-energy anthems.  Singing as a group is a very powerful experience and this music has a lot of traditions and community spirit tied in with it which enhances the experience and creates opportunities to travel all over the world and be part of a wider singing community. Best four years of my life since discovering Sacred Harp. Johnny Cash, Dolly Parton, Sam Amidon, Cath ad Phil Tyler all sing this music.