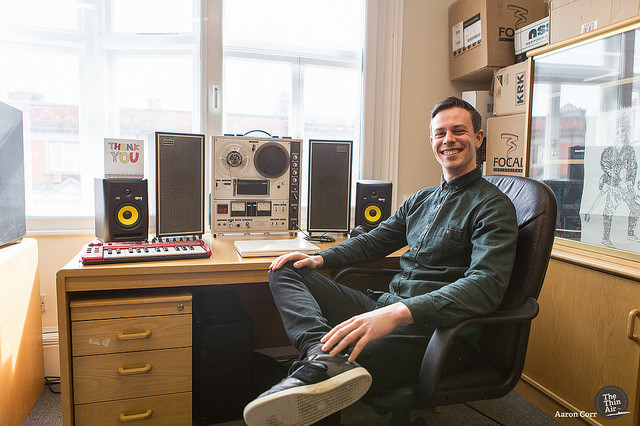 In our second installment of Insert Coin, Eoghain Meakin chats to Ross Fortune AKA Benny Smiles about being featured in the Hotline Miami 2 video game soundtrack and the major influence games have on his music. Photos by Aaron Corr.
Mr. Ross Fortune is a busy man these days. When not racking up a no.1 single as a member of Vann Music he fills the rest of his time as the electronic solo artist and producer Benny Smiles. As the latter he's accumulated a strong following and critical response to his achingly pretty, synthy, sparkling musical output. It is also as Benny Smiles that his track was featured as a key theme on the Hotline Miami 2 video game soundtrack.
For those who don't know Hotline Miami 2 is the super violent, super fun sequel to the successful indie title released in 2012. A key moment in the independent game revolution it is a must play for dedicated gamers. Created by Dennaton games and published by Devolver both games feature a convoluted story, slick playing mechanics and awesome soundtracks. So much so that the game is lauded as much for its music as everything else. So it's an added pleasure knowing that one of the key artists is our very own.
Now he also runs his own recording studio right in the heart of Dublin on Lower Abbey Street. A spacey, well stocked haven for serious artists in the city. There, amongst tape decks and tools of the trade we talked industry, Sega and, of course, Streets of Rage.
How did you get involved with Miami Nights 2?
I played the first game because someone recommended it to me by the soundtrack, and I thought it was brilliant. I was working on a tune at the same time and I thought that it would be really good in the game. I finished it with that in mind and I put my track to footage of the first game and sent it to them and asked if I could put it in my portfolio and they said, 'Yeah that's totally fine and can we use it in the second game?' That's how it came about.
So this was just like working on any other project?
Pretty much, I mean I've worked on other games where you come into the office and you spit ball, you see all this concept art and characters to be captured and why we're going for this instrumentation. It's not pure music, you're very limited by circumstances. Which is a cool challenge, I do like working like that. But this was a case of, I have this tune which I think will suit, so I'll just tweak it and just make it a tune that I really enjoy. It wasn't working to a brief and it was already so much in my niche, exactly what I do anyway.
So this wasn't your first time working with the games industry?
So I decided at the end of 2013, because I've being doing music forever and playing in bands, there has to be a more reliable way to make money from music. So I thought I'd get into writing for video games because I used to love Sega Mega Drive games like Streets of Rage which is just some of my strongest memories. That music, I still think, is the biggest influence on everything I do. So I took a course in video game development, not music, just making video games so that I could understand what I had to do.
I did a few projects like apps and kids games and stuff, which was cool, I did a lot of sound design and sound effects. Voice over stuff is fun. Later I decided to knock it on the head. If that work comes my way fine but I wanted to concentrate on music. People were asking me to produce and mix stuff for them and I decided I really love that. Now I'm in this place and I'm booked wall to wall, this is my 9-5.
So that corporate side of writing music wasn't satisfying?
I don't think corporate is the right word. It totally depends on the project you're working on. From what I learned, what I saw, most people in this country are small developers who are being supported by the enterprise board. So they'd be pretty small, just starting up and not that experienced. They're just a bunch of dudes who are really into computer games and good at art. The others, who are doing a little better are more into the business end of things and may not just be motivated by a love of games. They understand it's a big market out there. That kind of work pays better and comes along more frequently but it's just not that fun. They're gearing everything towards the sell.
Have you come into much contact with the Hotline Miami fans?
There's reams of comments of people saying they're loving it and I wake up every day and a few copies of the EP are sold and there's little messages. The soundtracks on vinyl and Spotify and there's a very generous split between publisher and artists.
Anyone sending you pictures of them in chicken masks?
No, but I see that stuff and it's awesome.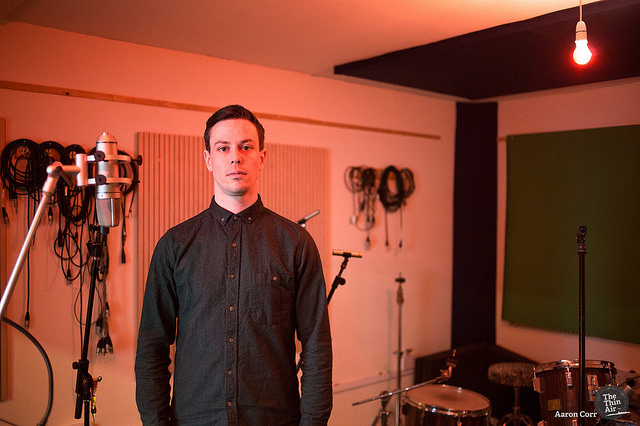 So do you consider yourself a gamer?
I only like games that are immediately engaging and usually very violent. I tried to play Skyrim and its real nice looking but I thought it was boring. That's just me, I need immediate satisfaction. I played a lot when I was a teenager but then I got busy with music. I played an awful lot of Mortal Kombat II, Sonic the Hedgehog, Streets of Rage 1, 2 and 3. GoldenEye and Mario Kart. The music of Road Rash is amazing. That feeling is what I'm going for, that overwhelming nostalgia. I'll put on the Road Rash soundtrack just when I'm doing things.
AAA or indie?
I'm going to say that AAA are delicious, they taste very nice, kind of like McDonalds. They give you immediate satisfaction, they're very pretty. They're the fast food of video games. But when you play a game like Braid, Super Meat Boy, Fez they all have their hearts in the right place. That art style, when you see something unique… So indie; it's wholesome, it's got infinitely more depth. It's not health food, it's good home cooking.
Console or computer?
I spend so much time in front of the computer working I'd rather not be in front of it to have fun.
What does 2015 look like for Benny Smiles?
As soon as Benny Smiles gets a minute he wants to write some music. I'm doing this David Turpin album, it's his third album and we've got lots of cool guest on it like Connor O'Brien from Villagers, Karl Knuttel, Brendan Miller from Dear Desert. I'm producing a series of other tracks for other people. My calendar continues to be booked which is awesome and I'm very lucky but at the same time I'd like a break to chase my own ideas for a little while, put out another EP or an album. I'd like to go to a desert island and work on Benny Smiles.
Where in Dublin would you go on a Miami Nights style rampage?
Red line Luas. I worked in Tallaght for three years and the sheer number of bastards that use that thing.
Benny Smiles 'Hotline Miami EP' is available at http://bennysmiles.com/
Hotline Miami 2 is available on PC, PS4 and PS Vita