In this installment of Bookmark, we hang out with Bennie Reilly and Davey Moor from little xs for eyes to discuss some of their collective and personal favourite books.  Photos by Abigail Denniston.
Gary Shteyngart – Super Sad True Love Story
Davey: Our protagonist, Lenny Abramov, loves books.  He loves all kinda other antiquated old stuff too.  In our western reality he might be what we understand as a hipster, but in the (very) near future of this 2010 novel, he is a fish thoroughly out of water.  The young woman he loves, Eunice Park – a recent graduate with major in Images and minor in Assertiveness – is cruel to him when she bothers to acknowledge his existence.  Shteyngart's depiction of a society's servitude to mobile technology is very close to our own nose-to-the-screen everyday existence and an excellent reminder on why its tyranny is so scary, and yet funny enough to nod and smirk wryly along too.  The story flips between Lenny's impassioned and self-deprecating (pen & paper) diary entries and Eunice's on-line correspondences, creating a novel of frighteningly funny contrasts.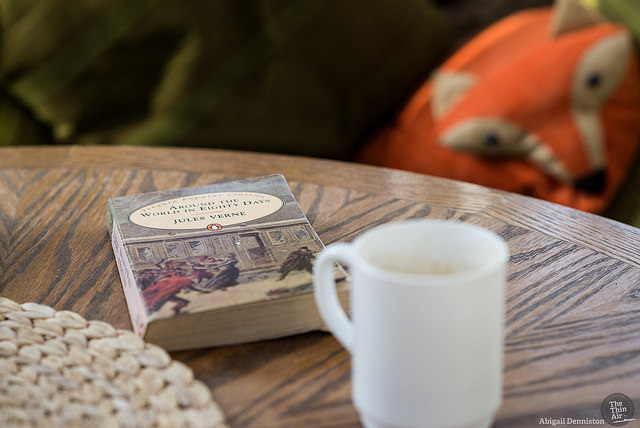 Jules Verne – Around the World Eighty Days (trans. Jacqueline Rogers)
Davey: We saw a synonymous exhibition in the ICA, London in 2006, and while unstirred by many of the works—examining globalisation, ostensibly by inspiration of the novel—we were intrigued by the numerous excerpts on display and bought the novel in the nearest bookshop.  Phileas Fogg, the archetypical strong, silent type, strikes a spur of the moment wager with his card plying partners at his gentleman's club on whether he can accomplish the titular feat.  As a balance to our nonchalant  hero, we have Fogg's brand new servant as travelling companion—the affable and athletic Frenchman, Passepartout.  It's all rollicking—in a very stoic, stiff upper lip kinda way—and Verne is generous and insightful in his study of the British essence.
Jonathan Safran Foer – Everything is Illuminated
Bennie: If you've ever seen the movie of this starring Elijah Wood erase it from your memory at once and go read the book. It's incredible, one of those books that leaves you in complete awe of the author. The narrative follows three different threads: the author's (fictional) account of his journey to Ukraine to seek out the woman who saved his Grandfather's life, letters to the author from his hilarious Ukrainian guide before and after the trip, and underpinning it all, the peculiar history of the town and family they seek. One section of the book is peppered with extracts from an 'encyclopedia of sadness', a good example of what an extraordinary a read it is.    
BENNIE
Miranda July – No One Belongs Here More Than You
I'm a huge fan of all of her books and films but this book of short stories never leaves my bedside locker. July has a real generosity and sympathy when it comes to people's quirks and insecurities, she sort of celebrates in the inner weirdo that is somewhere inside of us all. Each story is a window into someone's private life, the kind of things you would only ever do when no one is watching or think but never say out loud. They're sad and funny and embarrassing and beautiful. Whenever I've had a bad day or if I've done something I regret I'll open this book on a random story and I know that by the time I've reached the end I'll feel comforted.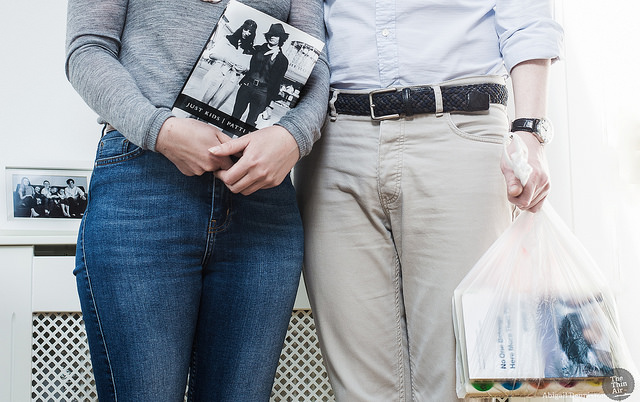 Patti Smith – Just Kids
I was always a fan of Patti and viewed her as a force of a woman (which she is!), strong and slightly intimidating, like her music. This book revealed her to me as a warm and vulnerable artist with a huge heart. I fell in love with her. Her story of her relationship with Robert Mapplethorpe, their ambition, insecurities and struggle as young artists in New York, and their extraordinary love for one another is gorgeously sincere and written like poetry.  
Wayne Hemingway – Just Above the Mantelpiece
In my final year of art college I became interested in kitsch and mass-market art – like the work of Margaret Keane featured in Tim Burton's recent movie Big Eyes. The stairway in our house is lined with many such prints that I found in second hand shops. This book is a collection of the most popular of those paintings, from saucer-eyed urchin children with puppies to exotic, nude ladies draped on tree-trunks to unicorns galloping through crashing waves and dolphins in the sunset, classy!
DAVEY
Daniel Clowes – David Boring
I tend not to revisit books.  For me there's too much still unread for repetition to be worthy.  David Boring is one exception, again and again.  Our titular protagonist lives with his best friend, Dott in an unnamed American city.  He becomes infatuated with the mysterious Wanda Kraml, but really only holds her as the paragon of what he considers a feminine ideal.  There's murders, Father issues, duels for affection, cults and crooked cops, all set against the backdrop of a looming apocalypse, which by the end comes to fruition.  Maybe. If I had to pick the greatest ever graphic novel it would be Chris Ware's Jimmy Corrigan, the Smartest Kid on Earth, but David Boring is certainly my favourite.  Clowes is a master of crafting obsessive characters and this misadventure is his masterpiece.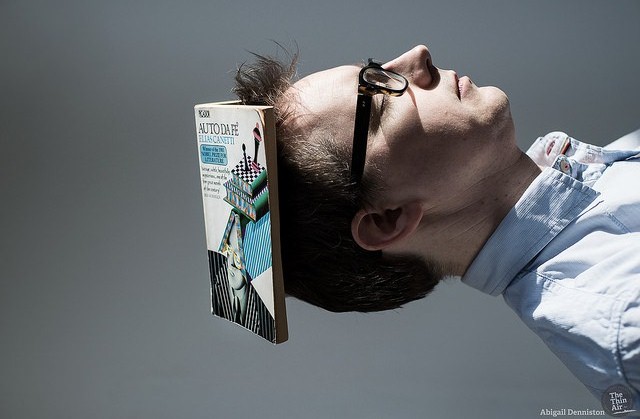 Ellias Canneti – Auto da Fé (trans. C.V. Wedgwood)
A favourite of my teen years. With each character a neurosis, each utterly ineffable to the world at large.  It's set in Berlin, but the city mostly plays second fiddle to the invisible ones in the mind.  Kien, a freelance scholar of Sinology, leads an austere existence.  Utterly dedicated to his research and translations, he has no time for any form of interpersonal relationship.  In a surprising turn, he marries his housekeeper Therese, an idea borne of a dismal misunderstanding.  Before long, she throws him out of his apartment, home to his cherished library.  An itinerant, he meets the (chess) crazy dwarf Fisherle, and things get a whole lot worse.  Each character's increasing infatuation with their inner monologue banishes their ability to meaningfully understand each other, and so unfolds a tragicomedy of epic introversion.
Sophie Calle – Exquisite Pain (trans. Charles Penwarden)
This artist's book was another, for me, first read at exhibition (IMMA, 2004).  Calle is a 'visual' artist whose autobiographical writing often puts the visual into more of a supporting role.  Typically casting herself into situations which seem to require a somewhat steely detachment could imply a certain coldness, yet here her own emotional turmoil is the genesis.  The record of a three month period – spanning the Trans-Siberian Express and a scholarship/residency in Japan – becomes a countdown to the end of her relationship.  Jilted instead of joined in India by her lover, she relives the painfully evening again and again, its anguish tempered over time by tales of other people's misfortune.  Painful, yes, but exquisite.