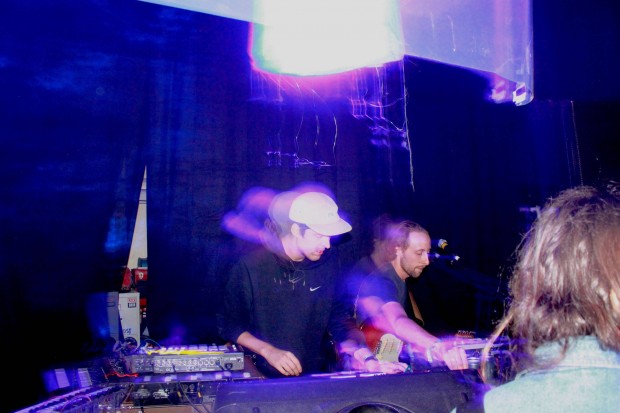 In the latest of installment of Rave New World, Antoin Lindsay delves into very best new electronic tracks and mixes of the week, as well as various unmissable upcoming nights and releases.
GIGS
The Respected Beggars present Andrew Ashong & Kaidi Tatham at The Menagerie, Belfast
Saturday, April 11
I have been absent. Please forgive me and pay heed to my suggestion to go to Belfast's Menagerie on Saturday to catch Andrew Ashong and Kaidi Tatham. Ashong has released on Sound Signature, which means that his brilliance has personally been noticed by none other than Theo Parrish. He's a renowned crate-digger and he'll be bringing vibes all night long alongside Belfast stalwart Kaidi.
Bap to the Future presents Volte-Face at Factory, Galway
Saturday, April 11
I was pretty pleased when I seen that Volte-Face was playing Galway this week because I feel it's somewhere that RNW hasn't covered a lot of. Also because the lovely people there deserve a great DJ, and that's exactly what Volte-Face is. The guy has been plying his trade as a promoter for BleeD Music in London since time immemorial and he's recently ventured into production, a remix for Daniel Avery's Divided Love project the most prominent recently. If you're around the west, this is definitely worth checking out.
Confetti with Steffi, Prosumer and Virginia at Electric Garden & Theatre, Galway
Friday, April 10
But what's this? More Galway? Place to be this weekend it seems as tonight there's a fairly immense lineup at the Electric Garden. A strange turn of events a few years ago led Steffi and Virginia to profess that Ireland was their favourite place in the world and they can't help themselves coming back it seems (they apparently recorded a bunch of stuff in some house in west Ireland which is lovely). They've brought along their pal Prosumer to come out in support of the YesEquality marriage referendum campaign. So not only are a handful of the best DJs on the planet going to be there, they're also highlighting something incredibly important. It's also apparently wedding themed so get dressed up, get down, and have a gay old time.
F.O.E: Paul Birken, Headless Horseman & Sunil Sharpe at Hangar, Dublin
Saturday, April 11
Some straight up banging techno in the capital with Paul Birken and Headless Horseman bringing their live shows to Ireland for the first time. It should be pretty banging and Dublin favourite Sunil Sharpe is playing too to ensure that every last person in Hangar will have a good time. He insists.
TRACKS
Heinrich Dressel – In The Mouth of Symmetry [Frustrated Funk]
Heinrich Dressel is pretty mysterious. He's Italian and Heinrich isn't his real name and that's about everything I know. Regardless, he's made some lovely dragged-out cosmic electro here which I've been enjoying a lot. Drexciya is a really obvious reference point these days but they're the masters for a reason and its nice to hear they're still making an impact.
Pender Street Steppers – The Glass City [Mood Hut]
Everything that strides out of Vancouver these days just seems to have some kind of effortless beauty and for chronic daydreamers like me it resonates profoundly. Pender Street Steppers (pictured) are pretty much the perfect example of this, everything they've released to date has been phenomenal. The Glass City (and its flip Golden Garden) continues with the deep, jazzy house warmness that's won over anyone who's been fortunate to have the Canadians grace their ears. Something this chilled out shouldn't make me so giddy, but here we are.
Jacques Gaspard Biberkopf – Air. Coltan. Carbon. Lithium. [Knives]
I've been blessed enough to hear Jacques Gaspard Biberkopf's Ecologies EP on Kuedo's brand new Knives label and I'm pleased to say its an absolute corker. It's not due for a while yet but rest assured you won't be disappointed when it finally arrives. Air. Coltan. Carbon. Lithium. is just a taster of the controlled chaos in the EP. Somewhere in there are touch points of noise, drone and grime but ultimately it's pretty futile to say exactly what Biberkopf is doing. Just listen to it and you'll either be dumbfounded or amazed.
RELEASES + MIXES
Murlo – NTS show
I definitely bang on about Murlo but he is an exceptional producer and DJ and he has managed to absolutely nail radio as a platform, just like he has with everything else. This month's NTS show is also probably his best yet. Starts off with a showcase of his enviable knowledge of dancehall and moves into more upbeat dancey stuff later on including new stuff from the man himself.
The Large – Truancy Volume 114
Sun's out so I'll treat you to some more dancehall. Mixpak label manager The Large is as good as you'll get and it's perfect now we're finally crawling out of winter. It's not just dancehall though, while it is steeped heavily in the Jamaican sound she brings club sounds from all across the globe. Super fun this one.
Huerco S. – Aim Cast 06
And on a totally different tip, a long-time favourite of mine Huerco S. has served up a mix of an hour of weird and blissed out raw house music. Expect Kassem Mosse, Vakula and Kowton in this one (as well as some krautrocky track that I've been trying to ID for months, help me out here RNW fans). Like Huerco's own productions its paced, considered and never gets too rowdy.
Jlin – Dark Energy [Planet Mu]
Admittedly it's a tad more difficult to keep up with album releases when you've not had a spare moment, but somewhere in the last hectic few weeks I was able to latch onto Jlin's fantastic debut record Dark Energy. I've been pretty fascinated by Jlin since I heard Erotic Heat on Planet Mu's Bangs & Works compilation years ago, so I was pretty overjoyed when a full-length came out. It was weirder and better realised than I ever could have anticipated and is a perfect example of how footwork has a lot more to it than a lot of people initially gave it credit for. Try and catch a few deep breaths before listening to this one, because you'll struggle to get any air during it.

Read full review of Dark Energy – Jlin on Boomkat.com ©