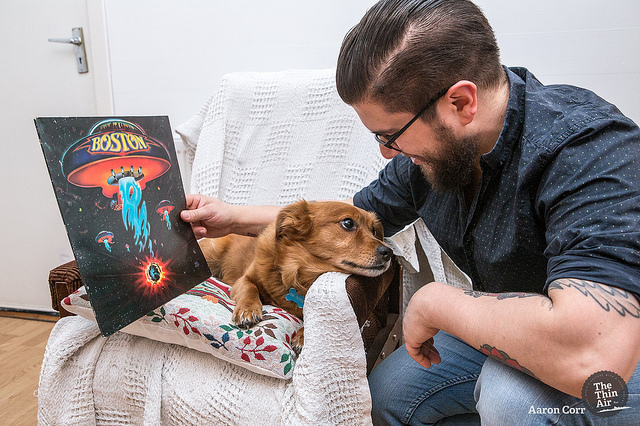 In this installment of Track Record we head to Limerick to hang out with Shane Serrano from Fox Jaw to have a rummage through his record collection from Boston to The Boss. Photos by Aaron Corr.
Disclaimer: The music world is quite a serious place. Whether you're a musician or just a music lover, it's almost as serious as religion – you can be discriminated or laughed at for your beliefs, or in this case, your taste in music. But the truth is, pretty much every single style of music out there is good, it just appeals to some people's tastes more than others, but what is truly key, is to respect it, and respect others tastes. To each their own! The other side of it is, don't take it so seriously, it's just music. It's an outlet, it's an escape, it can bring up all kinds of emotions, and above all else, it's bloody fun! And collecting records is fun, and collecting fun records is… you guessed it… even more fun! So many people go on about 'the most influential records on their lives', fuck it… when a house party enters the wee hours of the morning, I wanna be the guy who plays the absolute hilarious records that will make any night!
Boston – Boston
Despite six albums in their career and a few other relatively known singles, Boston are truly known for one hit. As you probably can tell by now, I do love my cheesy floor fillers, and 'More Than A Feeling' is no exception.
Spice Girls – Wannabe
I'm sorry, but do you know anyone who owns any Spice Girls on vinyl?! When I saw this in my local record shop, I just had to have it. I mean, seriously, 'Wannabe' on picture disc 7" vinyl! Songs like 'Wannabe' are definitely one of those songs that if it came on the radio in the middle of the day, you would turn it off straight away, but if it came on in the middle of the night, and you're a few beers in… then it's a very different story. DJing a few years back, I used to play it all the time in rock bars. It sounds like absolute suicide to do something like that, but I was always careful when to play it. At the time Rage Against The Machine topped the Christmas charts with 'Killing In The Name Of', and that alone was an incredible floor filler, especially with your rockers and metal heads, and I would love nothing more than bringing some Spice into their lives just as that last Rage chord would ring out. Their looks of absolute disbelief, shock, and yet hilarious joy, was something that I'll never forget! There's no way to leave the dance floor quick enough, so they made the best of it.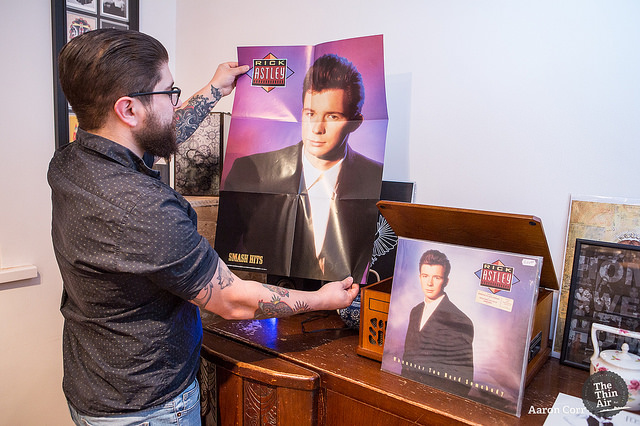 Rick Astley – Whenever You Need Somebody
Alas, Rick was an artist that very much suffered from being known for only one song, but what a song.'Never Gonna Give You Up' is another floor filler for any party, pub or club – released three decades ago. It's not everyday you would come across a record of his, and especially one with a pristine Rick Astley Smash Hits wall poster! Yup… I just had to have it.
Bob Log III – Oo Ah Ooo Ah / Riverside (Tribute)
Space speed blues from outer space via Las Vegas. One of many descriptions that can be given to the one man band – not entirely correct, and not entirely wrong either. The undefinable legend came through our shores not so long ago and I caught him in Limerick's Kasbah Social Club. What a show. Weird, different, strange, engaging, intoxicating, enraging, unsettling. And left me gaggin' for more. While witnessing a show like that, one quote came to mind: "There he goes. One of God's own prototypes. Some kind of high powered mutant never even considered for mass production. Too weird to live, and too rare to die."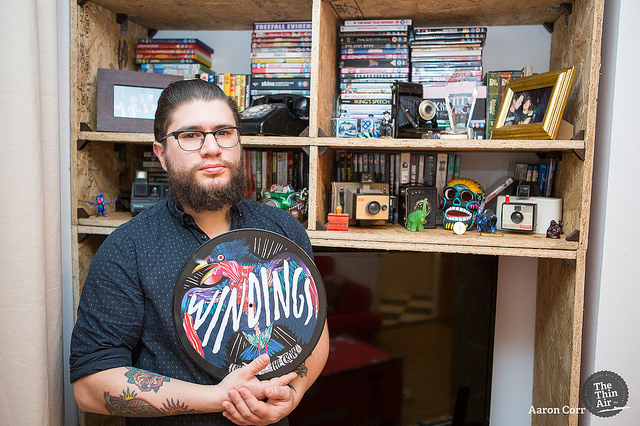 Windings – I Am Not The Crow
I'm a big fan and supporter of anything homegrown, and you can't get more homegrown than some of Limerick's hometown heroes. Windings' album I Am Not The Crow came out only on a limited run of beautiful picture disc vinyl and on digital download. You couldn't get it on CD, and yet it became a gorgeous collection of songs that grabbed the Irish music industry's attention and got it nominated for the Choice Music Prize in 2012. The legend goes, that it was neck and neck with Windings and Delorentos that year with the judging panel, but alas it went to Delo. Balls.
Queens Of The Stone Age – X/Rated R
Queens' album Rated R or in the case of the LP release, titled 'X', is and always will be one whopper of an album. Quite literally contains nothing but hit after hit. A band that has grown and grown over the last 20 years, their 2nd album, remains to this day a timeless classic. In a league of their own, it's quite remarkable that it doesn't sound like it's aged in anyway. Personal favourites: 'Feel Good Hit Of The Summer', 'Lost Art Of Keeping A Secret', 'Monster In the Parasol' & 'I Think I Lost My Headache'. Actually listening to it right now as I type this… literally chills down my spine!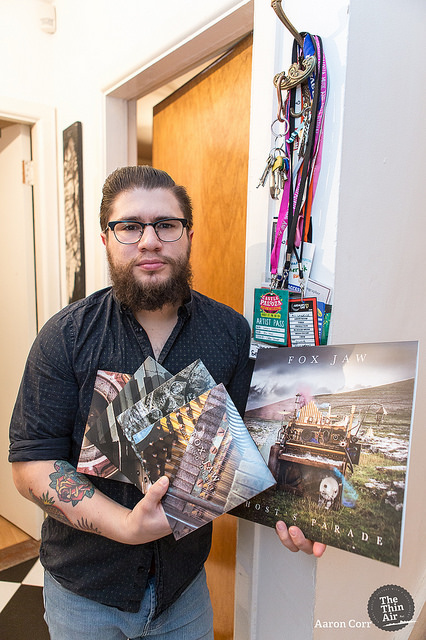 Fox Jaw – Ghost's Parade 12" & singles
Ok ok, so it's pretty odd to be including my own releases in this list, but why wouldn't one want to show off something they're proud of? In all the years I've been in bands, we've never put out anything on vinyl, and in the last 12 months, we put out 5 records! Each release is limited edition, hand numbered, coloured transparent vinyl. On all the 7" singles, on the B-Side we redid the same song in a different genre, collaborating with Artists, MCs, Producers and DJs. Producing a whole different take on our music from lounge jazz to dub hip-hop to swamp blues. It was an incredibly fun process! This list is about some of my favourite records, and these truly are some of my favourite records, because as the photographer, designer and musician… I was literally involved in almost every stage of it's production.
Jack White – Lazaretto
Being a fan of everything Jack White and Third Man Records related, I was obviously drawn like a moth to a flame when he announced the details of his Ultra LP release of Lazaretto. Once described as the 'Willy Wonka of the music world', he really does live up to it, and this release proves just that… with everything from Angel holograms, to alternative song intros, secret loop tracks, squared off edges, and different finishes for each side… he really kicks some excitement into owning music again. In hindsight, Mp3's just aren't that fun at all, are they?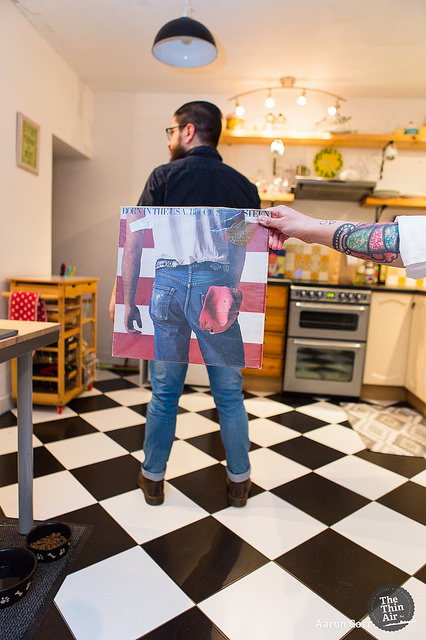 Bruce Springsteen – Born In The USA
The Boss. Classic rock, Dad rock, whatever you want to call it, it's timeless. There really are few people in this world that are so incredibly loved by all ages like Bruce Springsteen. And 'Born In The USA' is an anthem for the ages. And who doesn't love an album cover that you can pose with?
Star Trek II – Wrath of Khan Original Motion Picture Soundtrack
Not exactly a floor filler of a record, and I won't be pulling it out at my next soiree, but it's still a prized possession none the less. Just like my Spice Girls vinyl… do you know anyone who has 'Wrath of Khan' on vinyl!? I've made my point.