Ray Blackwell is the manager of De Barra's Folk Club which is situated in Clonakilty in west Cork. He is a founding member and organiser of the Clonakilty International Guitar Festival – now in its eleventh year – and has been a member of the South of Ireland Band Championships committee for the last six years. Words and photos by Brid O'Donovan.
Your earliest memory of De Barra's.
To answer this question really specifically would be really difficult for me. I remember being here (De Barra's) as a kid. I lived here with my mum and my dad and my sister. We lived with my granny and granddad and my uncle, upstairs, just over the front bar. My first memory was just that. My dad and my mum met in Portlaoise, at a rugby dinner dance. My dad is from Portlaoise and my mum had moved to Abbeyleix. She is a Barry, so the pub is from her side of the family. She was working in the AIB, in the bank, they fell in love, got married. My dad was a plumber and that was during the recession in the late 70s early 80s. He was having trouble getting paid for jobs and had people working for him that had to be paid. My folks have seen a couple of recessions, anyway he always wanted to open a bar.
Meanwhile, in Clonakilty, De Barra's was here. It had been in the family for a good few years before that, in the Barry family. It was closed at that time and maybe open intermittently to keep the license. My Dad came up to do a plumbing job for my granny, who would have been semi-running it at the time. He saw potential in the bar and as it's been told to me, never in too much detail, he eventually decided to take it on and open it. We were still living in Portlaoise and my Dad was up here and my Mam was still working in the bank. She had to wait until she got a transfer to another bank back here in West Cork. Working in a bank was a great job at the time. Sure all the rock n rollers worked in banks – Christy Moore, John Spillane both worked in a bank
So my earliest memory is my mum driving from Portlaoise down here which seemed like it took forever. That was in the early 80s. I remember coming up and seeing my Dad and having that childish joyous reunion with him because I hadn't seen him in what seemed like ages. That was my earliest memory.
Being here, I remember it being such a great time. All our cousins used to come round so family life was great. Barwise I remember that my uncle had a big Irish wolfhound. 'Oisin' was his name and he would have been well known around town. The only wolfhound in town. I remember him being massive but really gentle and friendly. We were good pals. Sometimes as I walked through De Barra's it wasn't too uncommon to be picked up by a random punter and told, "Ride the donkey, ride the little donkey" and I'd be lumped onto Oisin's back, you know? That kind of craic, well not for me or Oisin like.
It was special because it was my home and still is. It was always that, before the music and before anything else. That was always, for me, the biggest part of it. I don't think it matters if it's a hotel, a pub, a printers, anything that's a family run business, there's something extra there. There's that extra attention to detail, there's real care involved, especially in this day and age. There aren't many family business' left of any kind, especially not third generation business' which is what De Barra's is. Maybe that's what people think set it apart from the rest but I don't know any different, that's just what I grew up with. When people come here you want them to feel like they are a guest in your home, because technically they ARE in your house. I try to treat them as if they are in my home. It holds such special memories for me and I want visitors to have that same experience.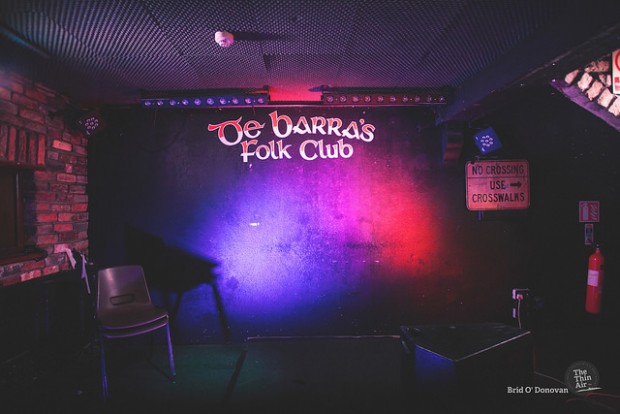 There is Music in De Barra's.
I suppose music plays a part in everyone's life. It's always there and maybe you don't realise how much of an effect it's had on you until you look back. My earliest memories of music were not from De Barra's. I remember driving with my Dad or my uncles and Johnny Cash would always be on the radio. My dad would always sing 'A Boy Named Sue' and I'd be singing it along with him without even knowing it. When something is everywhere you don't pay as much attention to it either. Growing up, Noel Redding, Donovan, Paddy Keenan – all these world class and diverse musicians would often be over for dinner at my parents house. There would be small parties or dinners and they'd be playing music in the kitchen. I had no interest in these gatherings though. They were my parents' friends and the last thing I wanted to be doing, certainly when I was becoming a teenager, was hanging out with them! Just your regular awkward teenager I guess – and that's how I would politely describe myself. Just totally not interested, didn't want to know and couldn't care less. What a dumbass!
When there started to be more shows here, in De Barra's, my parents would offer our house up to musicians to stay in an attempt to keep costs down. I remember being moved out of my bedroom to make way for some musicians that were playing and having to crawl back into my room along the floor early the next morning to get my homework that I had forgotten under my bed while trying not to wake the sleeping strangers. It never really bothered me though. Its funny now these days though when my Dad is looking through the gig guide and he'll say "Oh, Frankie Lane. He used to stay over in the house." That's gas to me. I was probably creeping under the bed while he slept!
As a teenager, I had to work here regardless, whether I wanted to or not. I would have started at an early age. One of the first jobs my Dad had me do was turn the bottles on the low shelves behind the bar so that the labels were facing out. Just a silly job to keep me entertained and involved when I was small I suppose. As I got older I had to sweep and clean up the bar and beer garden on Saturday and Sunday mornings. I would sort the bottles everyday after school. Do the kegs. I hated it, but I only hated it because I had to do it, you know? I've had to do the bottles a little bit again recently and I don't mind it as much now! When I was a teeneager and all my friends would be going out to a disco or a house party and I had to work so that was a pain in the hole. I got to see a lot of music though, so as much as I resented it at the time, it slipped in.
Working here as a teeneager I would get to see a lot of folk shows. When I worked in the bar, the folk shows, on paper, were of absolutely no interest to me. They were just people I had never even heard of. But I'd be working, so I had to watch and unavoidably listen. Most of the time those gigs would turn out to be amazing!  Shows that I wouldn't have ever had a chance to see if I hadn't been working behind the bar. These shows definitely informed my tastes and made me start to realise that De Barra's was special – hearing total strangers continually saying this from the stage – this kind of opened my eyes to what my Dad had created and what I was a part of. Theres no way in the world the likes of Johnny Duhan or any of these great folk artists would have ever made it onto my CD player if I didn't see them live here.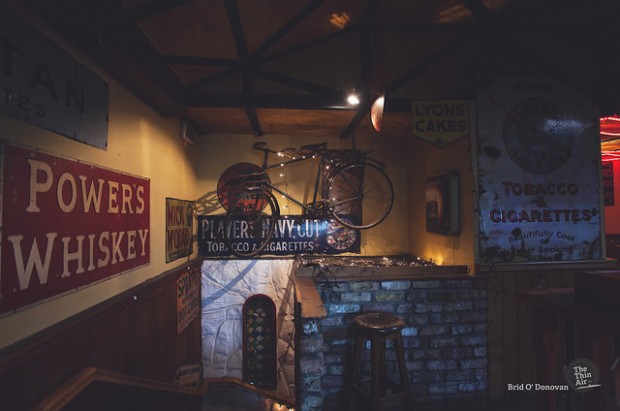 Growing up with Music.
I really began to get into music when I heard Nirvana, as far as coming into music and really, really enjoying it. That's really what opened me up to so much stuff. It's the cliche story of the punk rock cousin coming to visit from England and he gave me some cassettes – Bleach and Incesticide. I listened to them non stop and then I heard Nevermind! YIKES! I just thought it was unreal. I became obsessed. You get the thread and suddenly you see the thread and then you start to pull the thread and see where it takes you.
Anything to do with Nirvana I gobbled it up. I read a book called Route 666: On the Road to Nirvana and they were talking about the Replacements, Black Flag, Pearl Jam and all that. So I started to pull on those threads. I read an interview with Pearl Jam and they kept referencing a band called Fugazi. I thought "Fuck, who are these guys Fugazi?" I never heard about them – but sure how could you? You couldn't get them in the local record shop, there was no mailing list, there was no internet. Sometimes me and my pals would take a day off and all get the bus to Cork. Me and a pal would always go to Comet Records, I bought my first Fugazi tape, Repeater, there. I used to hate going in there. It was so intimidating. I felt like a country bumpkin up in the big smoke. Real intimidating environment to go into as an awkward teenager.
After that I got really into Fugazi and I couldn't get enough of them. then I heard about Minor Threat and I then I got into Black Flag. Black Flag were on SST Records and you would always get a pullout with each record that would have the labels other bands on it. Minutemen, Soundgarden, Bad Brains, Husker Du. Then Pearl Jam brought out Vitalogy. I think it was the mid nineties. It was released on vinyl and it actually sold a lot of records on vinyl because they released it before they released it on CD and cassette. I thought it was savage and then I heard 'Spin the Black Circle' and I thought "Fuck it, I really have to get a vinyl record." Up to Comet again. At this stage, I was getting adventurous and you'd see a name of a band you thought sounded cool in the shop. That's what was really exciting. I saw this record by a band called Wormhole and the name of the album was Chicks Dig Scars. I thought it was the coolest name and the cover art really caught my eye too so i bought it, it was i think the first lp i bought. but  I had no record player either, I had to go to my friends house to listen to it. He'd record the records on to cassette for me so i could take them home to listen to! I had never heard anything like that before. It was savage.
Another record I bought solely going off the name that opened a load of music to me was called Clusterfuck'– again I just bought it because of the name. It was an Amphetamine Reptile sampler CD and had three bands on it – Guzzard, Today is the Day and Chokebore. I got hooked then on Amp Rep bands! Helmet, Hammerhead, Melvins.
Regards Irish music I would have known Hothouse Flowers and the likes coming through the bar and saw some epic Frames gigs in the local disco hall but the first Irish band that I could really relate to was Therapy?. Therapy? are probably one of the bands that I have seen live most (outside of De Barra's). I nearly caught Fyfe Ewing's drum stick in the Point Depot in Dublin! These days nearly all the new music I listen to is Irish. There's just simply amazing Irish music happening now.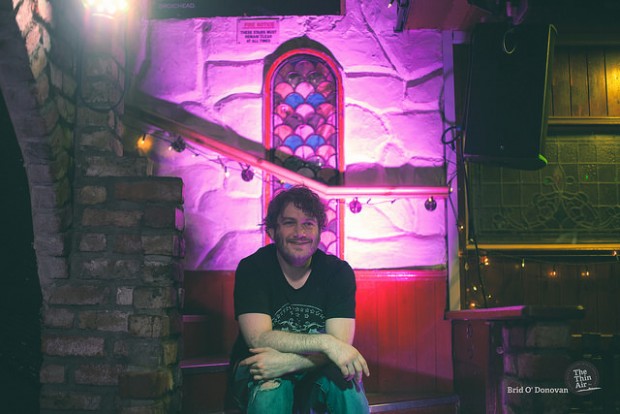 Discovering Music.
So little of my day job is anything to do with music. Obviously, it's a big part of me and my life and it's the most fun part of my job. But, trying to keep up with everything is just impossible and certainly not when you have so many other things to be doing.
How do I discover music? I always ask the staff that are working here what are they listening to. It's great to have people whose tastes you know are good too. I always try to ask the bands that play here or pass through what do they listen to and it's really turned me on to so much great stuff myself. I always try to ask customers leaving a show if they enjoyed it or not. It's just about keeping your ears open. Music moves so fast that if we were to go inside now and ask the band what they are listening to, neither of us would have a clue what they are talking about and that's crazy to me. That's just the world we live in.
Highlights of De Barra's.
I've had a lot of highlights working here at De Barra's over the years and feel really privileged and lucky to have this job. I get to go to work everyday to a place that I love with people that are my friends and meet colourful and interesting folks from all over. That's pretty cool. I've gotten to make great friends through this place.
When I was a young lad I got a lovely letter in the post one day from Christy Moore. My Dad had told him I was a big fan and he sent me a backstage pass and a really cool note. Crazy! He is a true legend of Irish Music.
As regards musical highlights it's great when you see young musicians coming up through the ranks locally and watch them make the transition from the audience to the stage. There's so much talent around here and you feel a responsibility to try to encourage and nourish it.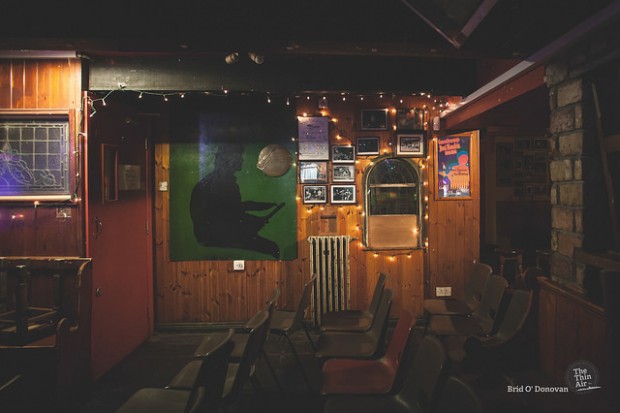 Then there's a band like the West Cork Ukulele Orchestra, who are all great friends of mine. They met in De Barra's and a lot of them worked in De Barra's. Their first ever gig was here, their first practices were here in De Barras and then they went on to sell out the Cork Opera House. That's a very special thing. De Barras had a little part to play in that happening.
When you see a musician or new band starting out and gathering momentum. There might only be a handful of people at their first show and then you see more come for their second. It's always great to be at the start of that journey with the musician. That's very special. A band like The Immediate, who played two shows here, an evening and an all ages show the next day after. That was brilliant. Same for Villagers. Mick Flannery's another example: his first show here was when he supported John Spillane. Then he played a Sitting Room session and then his own gig. A few more shows later and he's selling out the Olympia. That's class! There's been a few of those moments…
Lots of gigs from the Clonakilty Guitar festival will forever remain in my memory. When Lee Ranaldo from Sonic Youth hung his guitar from the ceiling and swung it round the room in front of a full house. Or more recently when Kawabata Makoto's Mainliner played at De Barra's as part of Guitar festival in 2013. Makoto is an underground experimental noise guitar legend, probably best known for his band Acid Mother's Temple. Well anyway, they (Kawabata Makoto's Mainliner) were playing here on the Friday night of the festival and Steve Cooney, one of the best guitar players in the world was in the mosh pit with his hands over his ears, loving every psyched out visceral second of it. That was a highlight for me. In lots of ways it kinda sums up the Guitar Festival.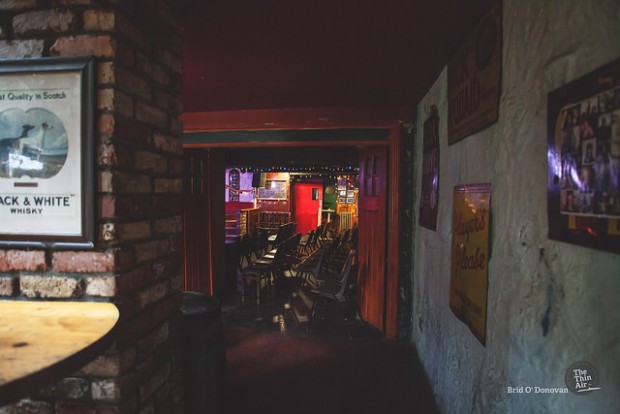 What De Barras has taught you.
De Barra's has taught me so much over the years and continues to do so on a daily basis.
Living and working with my folks has been a privilege and I hope that their work ethic and pride in their job has rubbed on off on me some bit. There have been a couple of great managers that I have worked under here over the years that have taught me relevant and important skills for the trade. So much, too from the young staff that continue to come through the doors, from the musicians to the sound engineers and the customers. It really never ends and that's why its so much fun and so challenging. You'll always have a different and unexpected challenge to contend with and hopefully learn from! But we have a great team here helping to keep everything on track and keep up with the times while at the same time trying to maintain the tradition of excellence associated with De Barra's. It's great, it's fun and it's the best job in the world for me.  I don't know if my sixteen year old self would agree with me, though.