Live Reviews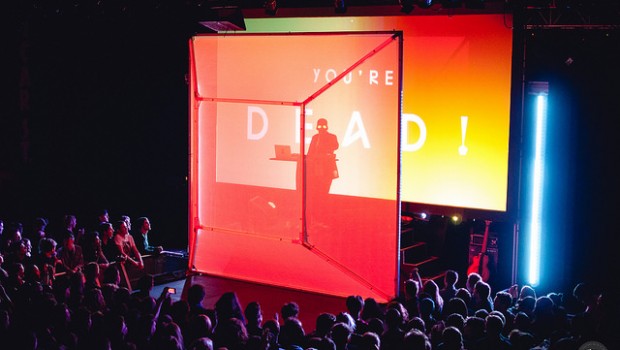 Published on May 1st, 2015 | by Aaron Drain
0
Flying Lotus @ Vicar Street, Dublin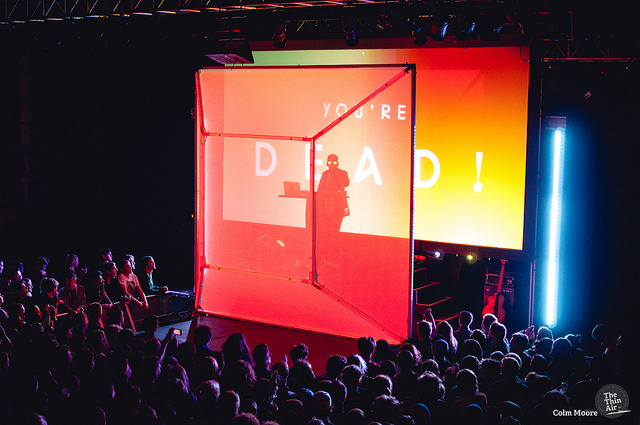 With the doors to Vicar Street, Dublin, opening at 7.30pm, our approach was somewhat cautious.  Surely there won't be anybody here? We're a bit early, right? WRONG. As we turned the corner, tickets in hand and anticipation set to almost uncomfortable levels, we were psyched to see a few hundred people milling about outside the entrance, all as giddy and as anxious to get inside as us, for a night featuring none other than the inimitable, the glorious, the Captain himself, Flying Lotus.
It's a strange, but welcome experience too, entering the cavernous venue so early and seeing it so rammed with gig-goers. The opening act, Kutmah, ably spinning some choice hip hop was enough to keep the swiftly growing crowd satisfied until Shabazz Palaces came on stage to take over warm-up duties. Shabazz, is, in a word, colourful. His performance is highly energised, and has more than a whiff of the staggered, jaunty hip hop that our main course would serve up a little later, but he's shaking around and waving his arms to music that could do without the physical interpretations. Having said that, his energy is infectious and by the time he's finished, we can barely move with a near-capacity crowd moving and quite possibly grooving to his genre-bending beats.
At this point, we notice the balcony and will ourselves to break free from the main room which is completely full and it's a sight to behold from above. Inspiring and emotive, a full house is always a beautiful thing. We sit and look stage-ward, eagerly anticipating FlyLo himself. Then we wait some.  And… a little bit more. And… a bit more after that as the stage setup is projected upon, presumably to ensure the visual-mapping is perfect, but it's true when we hear somebody utter, "shouldn't they have done this before the show?" They should have, and it's 45 mins or so before the chorus of "YEOOO's" indicate that, indeed, he has graced us with his presence. We no longer give a damn about the wait, thoug: he's here and he's wearing some sort of strange elephant mask with glowing eyes, and it's awesome.
"Dublin! Dublin!" he cries. "I havent been here a lot. The last time was a festival or something, I think, and some kid asked me, 'Do ye want some yokes?' Nah man, I said, but, tonight Dublin… tonight, if you have any… then… YOU'RE ALREADY DEAD!" Boom, and we're straight into his latest album, You're Dead, with force. The beats are heavy, chugging and the lower frequencies shake our vision with intensity. The visuals are projected in front of him and behind him, moving fluidly to the changing nature of the compositions he's improvising. The productions are merely foundations for FlyLo, he seems to relish the jazz-like freedom with which he's manipulating his tracks. It's stunning, watching him behind a wall of vibrant and complex visuals as he punches the air and writhes like a mad composer, acid-brained, conducting an orchestra of hallucinating machines. It's all very Aldous Huxley and his Brave New World 'Feelies'.
His set builds and relaxes, staggers and assaults and the crowd are lapping it up and throwing it back at him. He discards his mask and his grin is insane. Tonight, so far, Flying Lotus seems to be having the time of his life; we are too and as he runs through a vast back catalogue with nonchalant grace, the show so far has been cathartic, hypnotic and so completely distinctive; it'll surely be imprinted in our minds eye for quite some time. There's a guitar on stage too, with what looks like the Thundercat logo on its body.  Will FlyLo be strumming along with the glazed, deep hip hop he's playing? Nope, that would be Thundercat himself, and that's no guitar, that's a fucking six stringed bass. He emerges to riotous applause and ecstatic chants, picks up his bass as the music subsides to an atmospheric tone and begins to shred free-form jazz, displaying a virtuoso knack for modal changes and complicated scales. It's madness in the best possible way, and then FlyLo drops the beat as Thundercat matches the syncopated, complex rhythms of Cosmogramma and You're Dead with enviable skill. They stand together, ducking and bobbing and loving every second of the sound they're creating and all we can do is stare at them, slack-jawed and in awe at these two innovators.
It's sad to see Thundercat leave the stage; he's a genius, after all. It does however allow Flying Lotus to explore his alter-ego Captain Murphy to rapturous reactions from a crowd who are now decidedly manic. FlyLo takes the mic, comes down in front of his visuals and gets up close and personal with his adoring fans as he spits tight, aggressive verses over his deeply soulful and commanding beats. Then, he stops. We breathe and relax and listen to him thanking the amazing crowd, who suddenly burst into screams of adulation and claps that are still echoing in this critic's ears. We stand, pining for more as he walks off stage and it's safe to say that we're all in agreement – this has been the gig of the year so far. Of course it was… it was Flying Lotus. Aaron Drain

AAA Photos by Colm Moore.