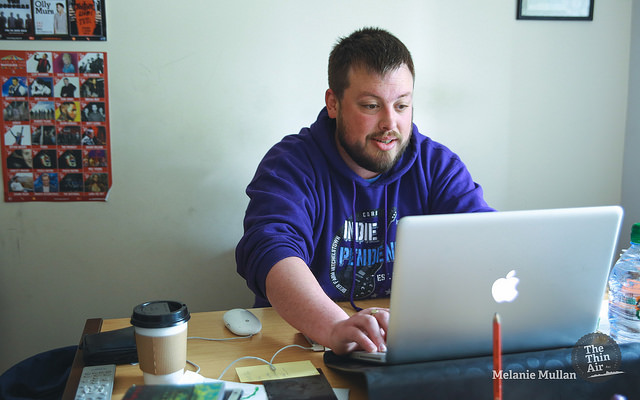 In the latest installment of Front of House, Mike McGrath Bryan chats to Blue Monkey PR agent Darren Johnston about his background in the industry, its role within a burgeoning Cork music scene and how others can get involved in the music PR industry in the current climate. Photos by Melanie Mullan.
Hi Darren, could you tell us a bit about yourself and how you got involved with Blue Monkey?
Well, I've worked within the music scene in Cork for the last 10 years both in bands as a musician and supporting bands through various means and I've been involved with local radio for 8 years as a presenter and member of the promotions team on Corks 96FM. I would meet the guys in Blue Monkey PR for a chat every so often about what was going on in music and radio in Ireland. They always have their finger on the pulse. After a while, they asked me to join the team at BlueMonkey. I saw the passion and dedication they have to the thriving Irish music scene and I was delighted to become part of the team.
Take us through how you formulate and execute a PR campaign for a band from scratch, say, for a single or EP campaign.
It's a different process for everyone really. Each band or artist has individual goals for themselves. We would customise the plan of action to suit them, we would speak to the artist about what their goals are and try our hardest to attain those goals for our client. At the start of a campaign, we collaborate with the client to formulate a list of people to send a single or EP to. Over the following weeks, we would systematically contact everyone on the list to see what they thought of thesingle or EP and whether it deserves review or air play.
Blue Monkey has worked closely with a lot of great bands over the years around Cork, can you name any favourites, or any moments where a band has brought you a song or record and thought "yeah, this could be something great"?
As you said, there's been a lot of great artists come through the doors over the years so far. Frank & Walters, Windings, Slow Motion Heroes, The Vincent(s) and The Would Be's to name a few. I remember working on the Elastic Sleep's 'Leave You' EP last year. I heard track four on the EP, Tzar Bomba and went into full moshpit mode in the office. I think I got some looks that day… But that EP is still a staple of my music diet. I loved working on it with them.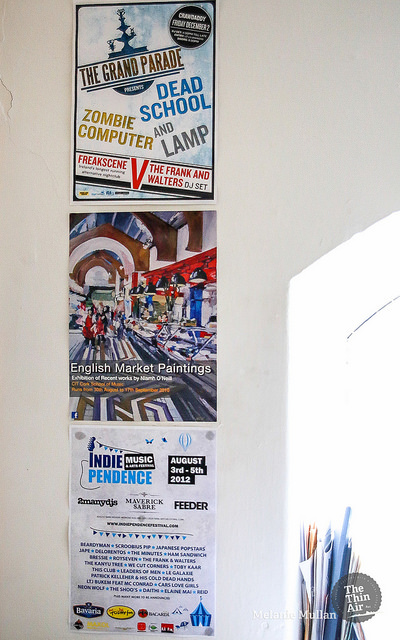 Give us the runthrough of your role in a festival event – advance press, liaising onsite all weekend, collating reviews, etc.
It differs from festival to festival, or event to event. We've learned that preparation is key. Begin work on everything early. Make contact with relevant people, get the right information for your press release etc. Being onsite can be hectic, but if you've done your preparation, it's far easier to cope with.
You've also served in PR for the Marquee in recent times, the city's annual season of big-top gigs. What's been your favourite Marquee excursion, personally and/or as a music fan?
This year, I'm really looking forward to Noel Gallagher's High Flying Birds and The Waterboys but there's been so many great gigs at Live at the Marquee and I'm happy to say that I've managed to attend a good few of them. I've actually just spent the bones of a half hour going through all the gigs I've attended at the Marquee and it's difficult to come up with even a top three. In 2008, I had the privilege of seeing two of my musical heroes; Eric Clapton and Paul Weller and in 2013, another one of my heroes Elvis Costello played. One of the most remarkable things I've seen Live at the Marquee in the last few years though was Elbow's encore performance of 'One Day Like This'. At the very end, the band stopped playing and Guy Garvey conducted the audience to perform the most lush four part harmonies I've ever heard from a crowd. It didn't even take that much effort on his part! It was a testament to the musical ability of the people of Cork.
As of recent times, Blue Monkey has leaned from music PR and such into general commercial PR work. How did you manage the transition from the creative world to the corporate and how do they differ?
The transition was relatively seamless. We had built a reputation over the last few years for having done great work with Irish bands, gigs and festivals. It wasn't long before companies started to take notice of our success in the field of PR. We enjoy doing it though. We still get the chance to be creative with our approach to campaigns.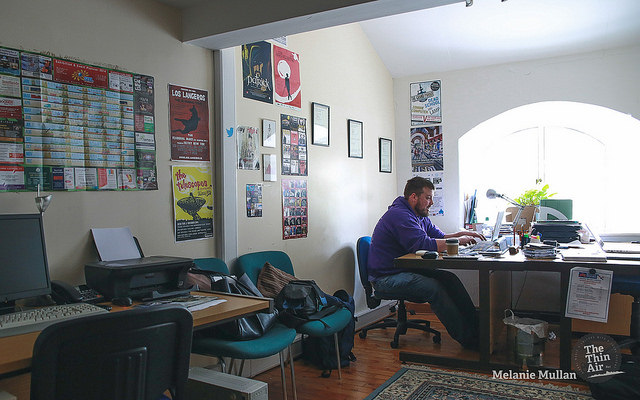 Why do you think we don't hear new or more independent Irish music on prime-time radio? What would you do to change that?
This is something that I would think about on a regular basis. Being a fan of homegrown music and a fan of radio since my teen years has given me an appreciation for both sides of the battlefield. I think that the recession had a huge effect on Irish music with relation to Irish radio. We saw a lot of radio stations playing it safe (i.e. Only playing songs they thought would bring in listeners.) A lot of Irish radio stations were unwilling to take a gamble on a new band with a new single. If you were a recognisable name, there's not so much of a problem, but that leaves new Irish bands in limbo.
The last few years have been very challenging for a lot of young Irish bands. I do think that there's a lot of change for the better already. We've seen radio stations across the country take initiative in the last 2 years to bring Irish music to day time radio. The likes of Select Irish on the UTV stations like Corks 96FM and Limerick Live 95, and Play Irish on Galway Bay and Beat 102 103 have given Irish bands a direct route to Irish radio. It's a great way to get some notice.
What I've always wanted to do was incorporate live sessions into radio. To set up to record in, say, an open mic night somewhere, record the night and play the best act from the night on a show at the weekend. It would demonstrate a radio station showing support for local acts in their rawest form and give any artist a chance to get some airplay and some notice.
Ideally, if I was in charge of it all, I'd change BAI regulations to increase the percentage of Irish music a station is required to play under licensing agreement. That'd show 'em! If I had the money, I'd start a radio station that only played Irish music. We've had so many fantastic acts come from here over the last few decades like Thin Lizzy, Rory Gallagher, Stiff Little Fingers, The Stunning and loads more. Sure, even Jimi Hendrix's bass player was from Clonakilty! What I'm saying is, we have the back catalogue available as well as the current generation of artists to facilitate a full playlist for a station. In my opinion, there's no feasible reason that there's not already a dedicated Irish music station.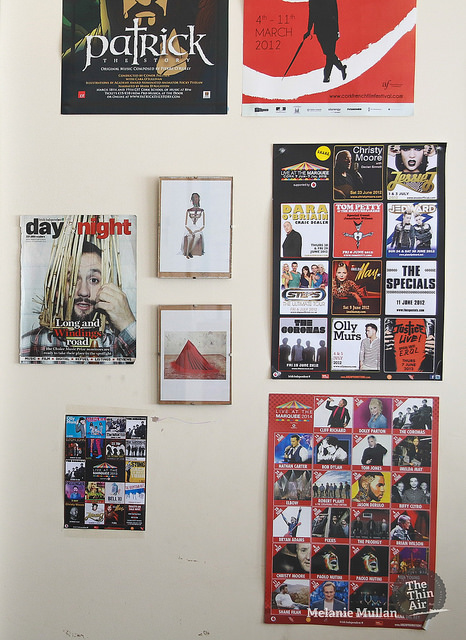 What do you say to young people trying to beat the doors down into media in the current climate? And what advice would you give anyone looking to head into PR, be it general or niche, say, from journalism or from an arts background?
It's a tough game. The best advice I could give to anyone looking to get into PR is this: be nice to everyone. Be friendly. PR is all about cultivating friendships. You never know who's going to end up running a day time show on Today FM or hosting a talk show on RTE. The last thing you want is that person thinking you're a dick. So be nice to everyone. My grandfather had a saying that he used to regurgitate to me on a regular basis. "Be nice to everyone on your way up the ladder. You'll meet them all again on the way down, and if you slip and fall, you can be almost guaranteed someone will catch you on the way to the bottom. Unless they're a bunch of pricks, and then, you have to realise you're on the wrong ladder and start again." Creative fella, my granddad.
You've dealt with countless big names and artists over the years. Give us an interesting story to finish the interview on.
Woah… Let me think. I'm trying to think of a story that won't get me in trouble with the law… (I'm joking, Garda) A few years ago at Indiependence, I remember sitting down in a small cottage in the back of the festival site with the lads from Windings sitting on the couch next to me, Jenny Houston (ex-2FM DJ) pouring a glass of red wine to my right, Michael Carr (Corks 96FM) tapping away on his laptop across from me and Paddy Casey was in the next room singing 'Sweet Suburban Sky'. When Paddy started singing, everyone in the room paused to listen at the exact same time. An immediate hush fell over the room. I looked around and thought 'This is it. I'm exactly where I want to be. Sitting with two of my radio heroes and some of the best musicians in the industry all listening in awestruck silence to music emanating from a room next door.' Next thing, Paddy stops playing and comes out into the room in a huge panic. His voice was gone all of a sudden. He said that he couldn't do the gig. I remember Jenny Houston talked him down. She (in her trademark dulcet tones) told him he'd do fine and gave him back the confidence to go on stage. So Paddy took to the stage a half hour later in front of a packed arena, told the crowd that his voice was wrecked and that he might need a hand. The crowd sang every word of every song back to him. It was one of the best moments of my career so far followed by one of the best gigs I've ever seen. I'm sure it's one of Paddy's' favourite gigs too.