Articles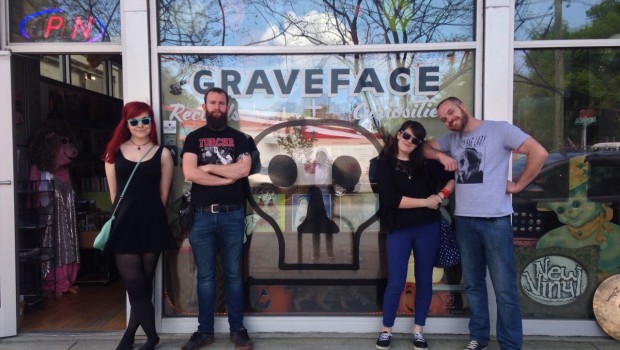 Published on May 21st, 2015 | by Brian Coney
0
Dott's USA Tour Diary: Part 3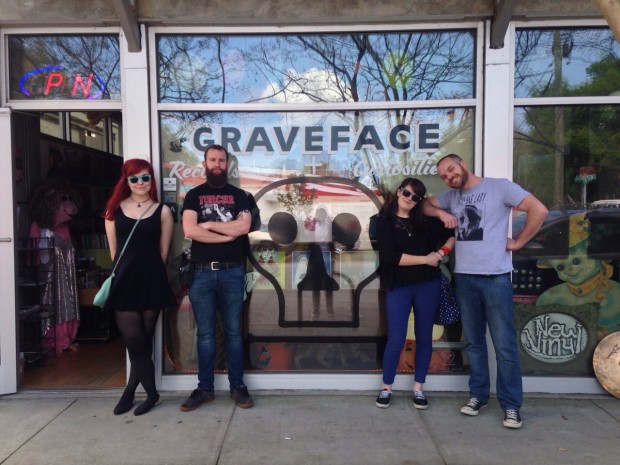 In the third and final installment of Dott's US Tour Diary the gang head to the Low Country for the last leg of their tour. They have a whale of a time in Savannah and Charleston before finishing off their time in the US with a visit to their friend Andrew in Atlanta.
Read Part One and Two of the Dott's Tour Diary
 March 30: Hang Fire, Savannah, Georgia
With very cloudy heads from an over-night flight we landed in Atlanta and met our driver for the next few days Taylor. Taylor turned out to be one of the best things (of many very excellent things) about our time in the Low Country. He had the best sense of humour and luscious afro hair and he immediately fit in with us like old friends. The drive to Savannah was grim (torrential rain/exhausted band) but also really cool because it looked like all of the road scenes from The Walking Dead. We got to beautiful Savannah with it's amazing Oak trees lining the streets and were met by our hosts Ryan from Graveface Records and Michelle from Noisy Ghost PR. Ryan is the founder/all seeing eye behind Graveface Records and Michelle is his right hand woman and PR guru. The both live within spitting distance of the 'has to be seen to be believed' Graveface Record Store. Ryan gave us a tour around the store and warehouse which has the most amazing collection of vinyl records, taxidermy animals heads and bodies, horror, voodoo and occult objects, video games and deadly art. You could honestly spend hours poking around this store, and some people do due to the free arcade games dotted around the shop. We spent the day ahead of the gig hanging with lovely Michelle in her lovely house with her lovely dog, eating southern comfort food and wandering around Savannah.
Tonight's show was in a really cool venue in downtown Savannah called Hang Fire which was next to a very delicious pizza place called Sweet Melissa's. The other bands playing on the night were Sunglow (who we met at SXSW), Young Rapids and COEDS who very kindly shared their gear with us for the two nights in Savannah. COEDS singer is also called Anna, their drummer is called Donald, ours is Donal and we both played Weezer sets recently! Coinkiedinks! Tonight was fun, especially because of the mix of free beer and the gathering of us, our Graveface buds and Taylor. After the show we went to a really cool dive bar called The Jinx where a lot of the metal and punk shows happen in Savannah. I wish we had dive bars like this back home.
March 31: Graveface Records And Curiosities Store, Savannah, Georgia
Michelle, our amazing host, woke us this morning with a delicious home-made southern breakfast complete with freshly baked biscuits (scones); she said her Grandma would have been very proud. Today we got to act like tourists for the first time on tour and we spent the day wandering around beautiful historic Savannah. Poor Laura had to go find a dentist though cos she needed some emergency antibiotics to deal with her raging wisdom teeth. Not fun when you're on tour.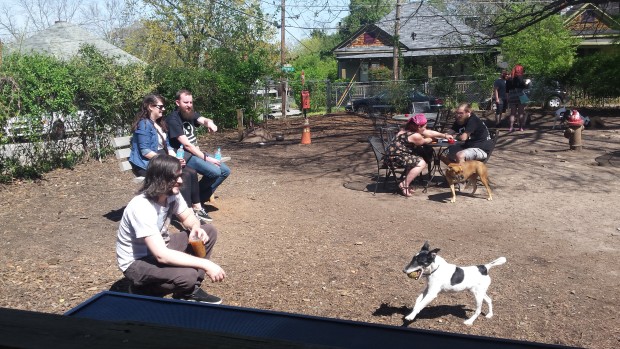 Tonight's show was in the Graveface Record Store so we gathered on Michelle's porch to have a few beers while we watched the crowd begin to arrive across the road at the Record Store. It was such a nice evening and hanging out on a porch in excellent company before a nice gig was exactly what we really hoped to experience in Savannah. This show was the best. It was definitely our favourite show of the whole tour. It was so fun to play in a place where you look out and saw antelope heads and all the crazy crap on the walls in the record store and also a room where you couldn't squeeze any more people in standing in front of you. The crowd stuck around for ages after the show so we got to meet loads of awesome people. Then a posse of us headed off to a really strange private club/bar called The Legion where profanities could not be uttered and decorum had to be upheld. (Dott: "We're Irish, we can't promise anything". Wally on the door: "We all drop the F bomb now and again, I'll just have to keep an eye on you")  We didn't stay here too long and ended up back in a super dingy bar called The Wormhole where the LOL-Fest continued deep into the night with our new friends.
April 1: The Tin Roof, Charleston, South Carolina
We didn't get to Charleston until late in the evening because we found it so hard to tear ourselves away from beautiful Savannah. We had a really nice sit down Graveface family lunch before saying our goodbyes to Michelle and Claire her dog and hitting the road. By the time we got to Charleston most of the motels were full so we had to settle for a motel with a big sign out front that read "Motel Open". Motel Open looked very inviting with the hole in the ground cordoned off with yellow police tape in front of the reception. They also put us in a room where they thought there was gonna be two beds but one had somehow been stolen. Receptionist to husband: "Baaawwwwb, they took a bay-ed from two sixty two-uhh!" Amazing.
Anyway, tonight we played our last show of the tour, such a hard act to follow after the Record Store show the night before. The gig was in a really cool venue called The Tin Roof on the outskirts of Charleston. It was decorated in fairy lights and had games like Cards Against Humanity and Trivial Pursuit left out to play. It also had the fantastic Spiderman pinball machine and we seriously got addicted to this thing. Honestly, there one of us playing on the machine for pretty much the entire night. The other bands tonight were so good. Eric & Erica played melancholic pop where the drummer played keyboards with his bare left foot. Tape Waves were another two-piece who played dreamy pop along to a drum machine and had the most serene guitar sounds. After the show we met a journalist who had done a write up for us in a local paper. She and her boyfriend had come straight from a metal themed staff party to the show so the tipsy pair looked like an amazing white trash couple. They were super fun so we stole them away in our van to bring us to another bar downtown. Our new catchphrase from this night comes from our new friend hanging out the door of the van calling her boyfriend Tim to hurry up "Teeeeeeee-ummmm, Teeeeeeeeeeeeee-ummm" … "Whuuutt?" These accents are amazing. They took us to a bar called The Rec Room which smelled so badly of vomit but was a fun place so you kinda had to just get used to it. After some free shots at closing time we piled back into the van where our driver Taylor drove us back to Motel Open, blasting the best selection of Motown and Funk with the windows down and the wind in our hair. We finished up the night with another motel party which we always love at the time but regret the next morning. Such good times.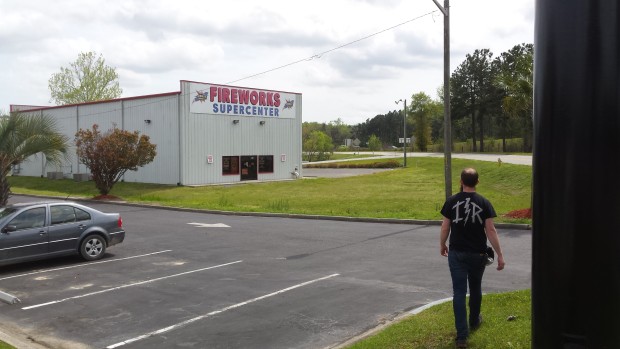 April 2/3: Atlanta, Georgia
With our last show done we were now officially tourists so we basically carried on exactly as we had been before only without our guitars on our back. We walked around Charleston looking for Bill Murray and ate burgers,chicken and waffles for breakfast in a dingy Charleston Diner. Then we hit the road to Atlanta where we were staying with our friend Andrew from the band Torche. He and his lovely housemates were amazingly welcoming and such kind hosts! They threw a huge rager of a party in their house the night we arrived and cooked us up a low country boil. This involved boiling loads of delicious things like crab, shrimp, potato, corn and sausage and throwing it all out on a table where everyone stands around dipping it in butter and eating with their hands. It was so good!
One amazing thing I have to mention is that Andrew lived directly across the street from a café with a big outdoor dog park. You literally look out the window and there's so many dogs running around playing and sniffing butts. We obviously went over and bought bottles of water just to sit and pet all of the lovely puppies. I think I need to have a change in career and open one of these in Ireland.
Anyway for our last day in America, Andrew gave us an excellent tour of beautiful Atlanta. We ate some delicious tacos known as "prison tacos" in a Mexican grocery store across the street from a massive prison. Later on we ate some heavenly BBQ at Community BBQ before meeting Taylor our former driver and some friends in a fun bar called 529. Here we somehow ended up playing a game where you had to secretly tag someone on the back with Dott stickers. In no time there was one guy who had about 5 stickers on his back, another dude had one on his backwards turned baseball cap and I even managed to stick one on Taylor's friend's mullet! So much fun. Sadly we had to go straight to the airport at 4am and face the reality that the tour was over.
We had the most amazing time on this tour. Everything ran so smoothly, we played some amazing shows and met so many people that have now become our friends. I'm writing this entry on the plane back to Ireland trying to figure out how I can hide on the plane and go straight back to America. That might not be possible but we're already making plans for our next tour stateside.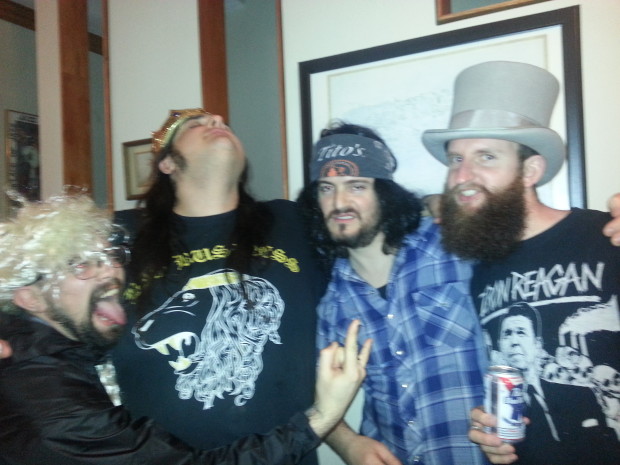 We'll finish with some thank you's and hope I don't forget anyone! Thanks to Ryan Graveface for EVERYTHING, Michelle for being the sweetest host in Savannah, Denis for managing our merch and being so fun, Andrew/James/Phillip for showing us such an amazing time in Atlanta, Taylor for driving us around this week and for being the most fun and sweet dude, Night School for taking us on tour with them, sharing their gear and being the best people ever, Chris for booking our shows with Night School, Angela/Steve/Brendan from FMC for all their help and the fun SXSW show, Culture Ireland for the amazing support of our trip, COEDS for sharing gear in Savannah, Eric&Erica/Tape Waves for sharing gear in Charleston, all the promoters who put us on and all of the people who came to see us play. We had the best time of our lives these past few weeks.