Two years on from the release of their extraordinary, critically-acclaimed debut album, Monochrome, Dublin-based duo Cian Murphy and Ross Turner AKA I Am The Cosmos are still very much one of the country's most exciting propositions.
Choosing to perform rare live appearances and currently focusing on recording and their ongoing colloborations with the likes of Jape, Lisa Hannigan and Solar Bears, the pair play their debut Belfast show at Chromatic at The Woodworkers this Saturday, May 23 (free entry).
Ahead of that show, Cian Murphy chats to Mike McGrath Bryan, as well providing us with an exclusive mix featuring the likes of Fort Romeau, Logic System and A Number of Names.
Guest Mix: I Am The Cosmos by The Thin Air on Mixcloud
I Am the Cosmos came around from bedroom electronic jams. What were the influences and inspirations behind it? Not just musically – as the nods to synthpop, italo and post-punk are there – but aesthetically, in terms of the Monochrome album's artwork?
I don't think we ever sat down and mapped out any specific aesthetic for the band beyond a desire to work in such a way that satisfied an impulse to please ourselves. It was very much a process of experimenting and then reacting to that experimentation, which would apply to the artwork also. Dorje (De Burgh) had a number of images he felt might work for the album art, and after some minor tweaks we chose one that we collectively responded to.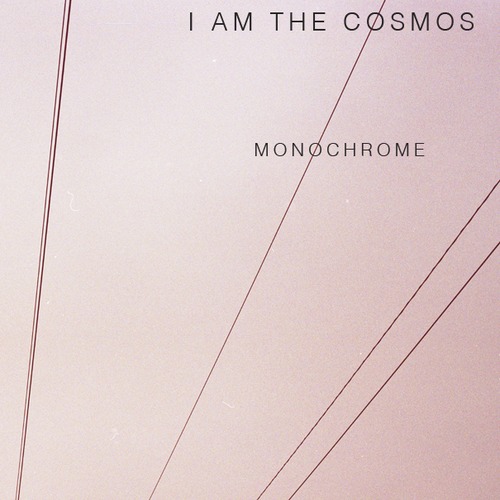 Monochrome comes with a hefty statement of intent, a manifesto, underpinning what is, in many ways a minimalist, very "clean" record. How do you reconcile the weight of the ideas and concepts of Monochrome with its sonic polish and refinement?
It's flattering and fascinating that people might consider it a statement of intent as you say, but at the time any grand ideas we had would not have been articulated so directly. We were just trying to make songs we liked – once one was finished, we moved on to the next until we had enough to fill an album. Obviously we would have had an idea of the shape of the whole, but that really came into play in the mixing stages where that "sonic polish" might have become more apparent.
After being so cautious with the initial output of material from the project, what spurred the record's sudden release, and for free at that?
We were of the opinion that more people would hear the music if we just offered it to them for free. Noisey, being a global music site, gave us the perfect platform as they were willing to launch the release with a review and interview.
You've played new tunes at recent excursions – what's the plan for recording and release?
We've been recording for almost two years now in the National Concert Hall, and are at the final stages of mixing with Simon Cullen (Lasertom/Ships).
As mentioned earlier, you were cautious to release material before a record was completed. But as listeners, have you a preference for album-formatted collections of material, or are you more attuned to the more fluid nature of single releases, streaming tracks, etc.?
I think both have their positive attributes – it's hard to beat the immersive experience of putting on a record and listening through, but not all music is intended to be consumed in that way. With some artists all you need is one song.
How, as an artist, do you feel about Spotify and other streaming services? Have they affected you in any way?
I did pay for Spotify up until last summer, and I recently did a monthly trial period on Tidal out of morbid curiosity. I find the whole streaming site situation pretty sinister and pretty sickening. It's daylight robbery really. The fact that it's so slow moving as well is no real surprise, when I imagine they've got a good handle on how to distribute money made, only that they choose where that money goes – sure as shit ain't going to musicians. That's not even expecting so much on our level, we're a tiny drop in the ocean. We've experienced streaming royalties and they are a joke, but it's genuinely established good and bad artists getting completely screwed also.
Changing peoples attitudes towards streaming will be the biggest task, especially younger generations who have never, ever paid for music. Imagine that. It's not going to stop artists from making good, vital, valid work; it will just be increasingly more difficult to sustain. Monochrome is currently unavailable on any streaming sites, having made the choice after taking back the digital rights we decided it would be more of a challenge to have people really seek it out, as opposed to it being so disposable.
What is the endgame, so to speak of I Am the Cosmos? What would be the note you would leave with your music for listening to sometime in the distant future?

For me, the making of the music is the end, in and of itself.