Features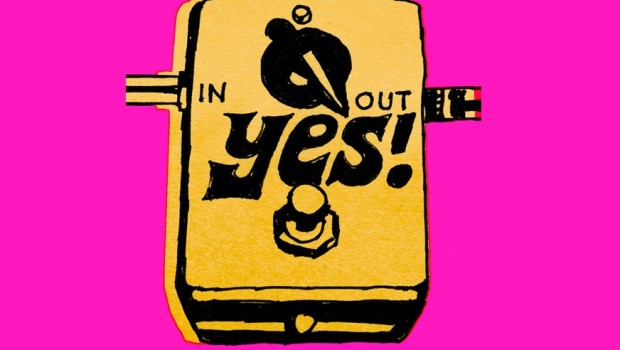 Published on May 22nd, 2015 | by Niall Jackson
0
Playlist: YES. We Can Overcome.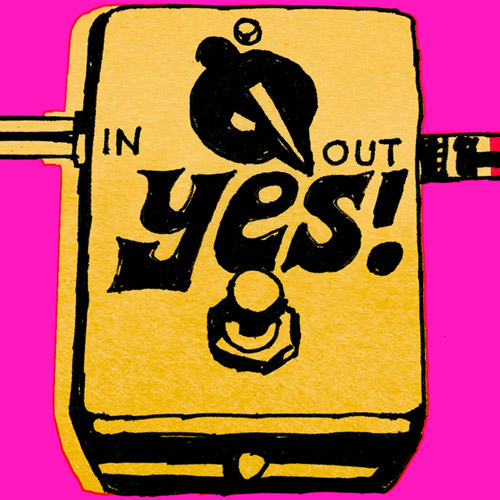 With the moratorium in place ahead of today's marriage referenduiem, it seems as good a time as any to take a look back over the colossal amount of songs released in support of the YES vote down south. While the majority of today's popular songs tend to deal with boy-girl relationships, adolescence and having a good time, over the last month several acts have stepped up to the plate in support of the LGBT community in Ireland.
Socio-political messages have certainly fallen by the wayside within popular music over the last number of years but the independent scene in Ireland has always been supportive of the underdog so the current deluge of songs released voicing support for the LGBT community in Ireland is of no surprise and quite heartening. That said, not included in the list below were efforts from popular acts such as Paddy Casey, Brian Kennedy and Keywest, which shows that even the more established, radio friendly acts are putting their necks out in support of a yes vote.
Mobilising the love comes easy in a music community that always tends to come together for the common good, big fundraising events from Record Store Gay and Vinyl Love in April to the more recent YUSS for Equality and Yes Equality gigs in Dublin have seen many other acts play gigs as a show of support by more subtle means. Hozier, U2, SOAK and Villager's Conor O' Brien have all been hugely vocal on getting out and voting yes, O'Brien's entire new album Darling Arithmetic dealing with the issues around coming out in Ireland.
The more cynical among us might see it as some acts hopping on the bandwagon for a cause with known widespread support within the music community but hey, it's all positive and if it helps get this damn thing over the line then it can only be a good thing, particularly for those acts giving any profits from their songs to the YES equality campaign.
Here we delve into the best 5 tracks released this year in support of the YES vote. Please feel free to add any I may have missed in the comments section on Facebook or tweet them in.
5. Screaming Parent – 'I'm with them YEAH'
A reluctant Dudley Colley (Dudley Corporation) threw his hat into the ring with 'I'm with them YEAH' on May 13 stating on his own Bandcamp page: "It might be a terrible idea, but what ho, if any madzers pay cash for it, it'll get sent to the YES campaign. Vote YES." A pulsing electronic back-beat propels Dudley's fairly clear message forward as this screaming parent does just that throughout, throwing his support fully behind 'them'.
4. Buffalo Woman – More Than God
Buffalo Woman deserve credit for being one of the first acts to make their feelings known on the issue via Sean Millar's powerful words on their track 'More Than God'. An angelical intro, in direct contrast to the Churches general opinion on this referendum, gives way to a more Depeche Mode like electronic rumble. Millar's thought provoking lyrics perhaps generating the most evocative story-line of any of the tracks. Addressing his own experience on coming out to his religious mother, who upon hearing her son was gay, responded with the chorus line of this track, "I love you more than God'" Watkins and O' Donovan make Millar's story all the more poignant and effective with a pulsating but soothing track.
3. Hawk – Glass
Hawk are a London-based, Galway quartet who's track, best represents the hordes of ex pats travelling back home on the 22nd to vote. Their track 'Glass' throws it's arms around the gay community sounding as fragile as it's name suggests. The video is a beautiful carnival of colours which many will recognise as those of the gay pride flag.
2. Fight Like Apes – Vote Yes
If you are going to not only cover a gay anthem but change the title track's name, then you better be damn sure you don't make a mess of it. Dublin's Flapes recently took on the Village People's 'Go West', more famously covered by the Pet Shop Boys. The original track is generally understood as an expression of the 1970s sentiment of San Francisco as a utopia for the Gay Liberation movement. Though this is disputed, the message of this version is left in no doubt as Flapes, with the help of Squarehead's Ian McFarlane among others, bound through this modern disco classic, victoriously singing "VOTE YES" at the drop of every chorus. It even got Pet Shop Boys own seal of approval over on Twitter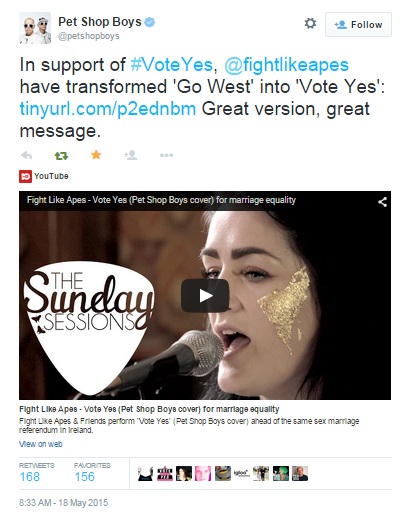 1. Fierce Mild – Equal People
Protest music as an effective form of political communication should help bind people together as a movement for change. While Fierce Mild reject the notion that they are a political band, the Dublin 3 piece's new track 'Equal People' ticks all the boxes in garnering support for the common good. Equal People is the perfect post punk anthem for the YES campaign and the pick of the bunch.  A band clearly able to have fun while speaking up on important issues at the same time. More of this. The fact this video has only a couple of hundred clicks is criminal, help correct that here:

Whatever you do, vote today. Don't be this guy.

Article by Niall Jackson. Illustration by Michael Gillette.