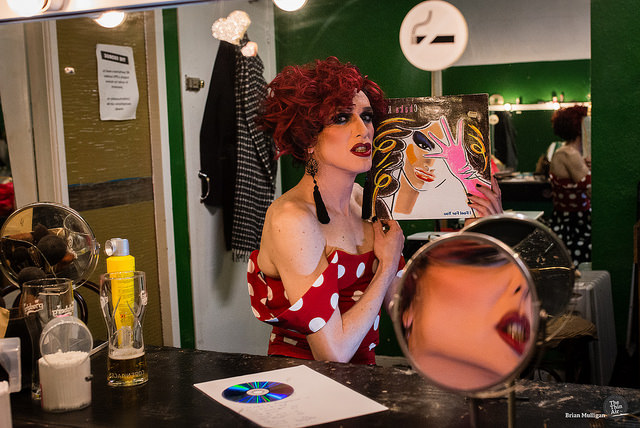 In this installment of Track Record, we go backstage at The George in Dublin with Veda, one of our favourite drag queens to discuss the records that have influenced her own music and act. Photos by Brian Mulligan. Soft Cell – The Singles
Soft Cell have some great albums, but I don't think it's philistinism to say that they're really a singles act. There's something about the short, sharp shock of the single that works for Soft Cell. What's great about them is that however shamelessly pervy they get, there's always a sincerity and heart to their music. You can hear that on 'Say Hello, Wave Goodbye' – the best synthpop ballad of the 1980s.
Abba – Voulez Vous
This is Abba's disco album. They came to the genre late, but they brought Swedish sang-froid and barely suppressed marital strife, and it's a good fit. The title song is the most dancefloor-directed single Abba ever released, and it's one of their best – although I have to admit being oddly drawn to 'Does Your Mother Know', which has a rare outing by Björn on lead vocals.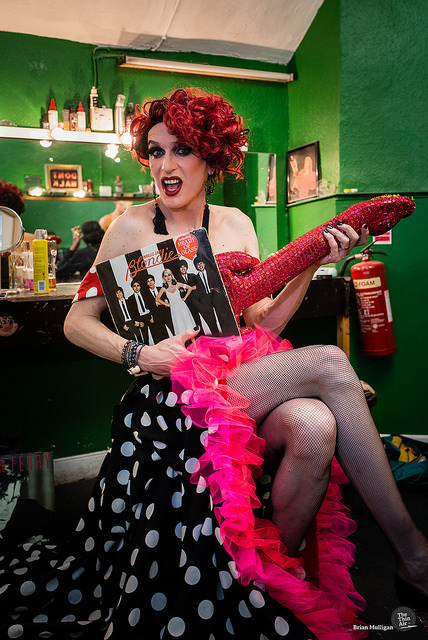 Blondie – Parallel Lines
This is the album where Blondie embraced being a pop group, and made being a pop group cool. Six of the twelve tracks were released as singles, and the other six could have been. This is also the album where Debbie Harry's voice really comes into focus – she's ice-cream cool, but she has hidden depths, and she's got a combination of grit and movie star glamour that that's totally unique.
Billy Idol – Rebel Yell
It saddens me that people still haven't fully embraced the greatness of Billy Idol. He's this weird peroxide missile of arrogance and sexuality. This is Billy's second album, and it gains points for being named after a brand of bourbon. It's highbrow too, though – the single "Eyes Without a Face" was inspired by a brilliant French horror film from 1960 (Les yeus sans visage).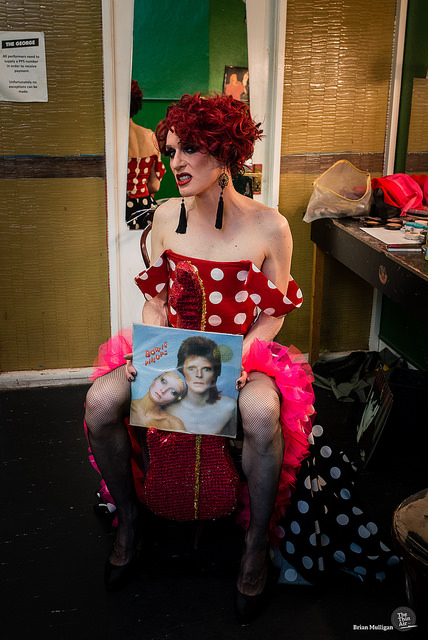 David Bowie – Pin Ups
This is an odd record. It's a collection of covers of songs released between 1964 and 1967, when David Bowie had yet to find his own sound. It's an interesting idea, because David Bowie presented himself as a sui generis alien – and yet here he is covering the songs that influenced him. Having said that, Bowie recorded the album in a French chateau, and shot the cover image – with Twiggy – for Paris Vogue, so it's not as if he came over all humble.
Bryan Ferry – Boys & Girls
Bryan Ferry is like a suave but slightly sinister uncle-by-marriage about whom one has confusing but not entirely unpleasant feelings. This is his best solo album – it's dreamy and romantic and sophisticated, but it has a darkness as well. The single 'Slave to Love' was used in the refrigerator sex scene in the movie 9 ½ Weeks, so many people associate it with Kim Basinger being pleasured with a strawberry, but it's also a classic in its own right.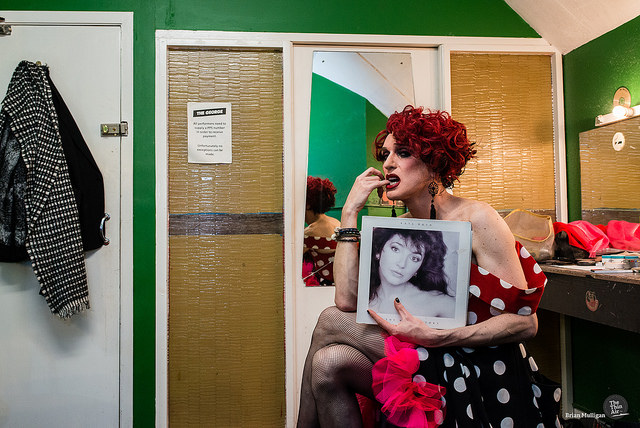 Kate Bush – The Whole Story
This collection has all Kate Bush's great singles, up to and including the Hounds of Love album. You can hear her grow up over the course of the album – even though the version of 'Wuthering Heights' is a re-recording with new vocals. The album also has a new song, 'Experiment IV', which is about a government project to create a sound terrifying enough to kill people. It's got Psycho-style stabbing violins all over it, which is always a nice touch (see: "Exhibit A").
Debbie Harry – Kookoo
This is Debbie's first solo album. It wasn't well received at the time, but listening back to it now it still sounds fresh, modern and unusual. It was produced by Nile Rodgers, who went on to use some of the same tricks on David Bowie's Let's Dance album a couple of years later. The cover art is by H. R. Giger, who did the design for the movie Alien, and it's dark and beautiful, scary and sexy at the same time.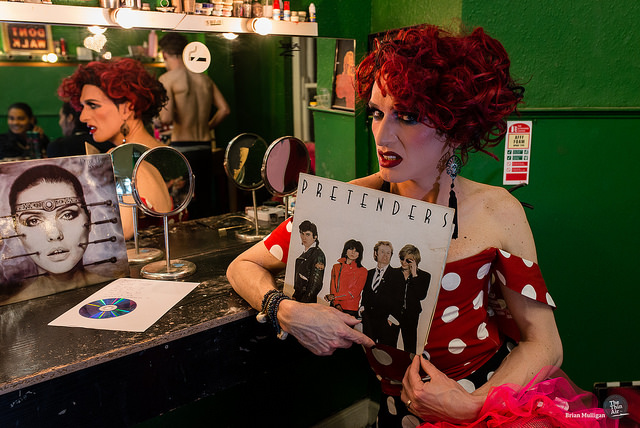 Pretenders – Pretenders
This is The Pretenders' first album, and listening to it now just proves how Chrissie Hynde arrived fully formed as a star for the ages. She has a mix of spikiness, insouciance and vulnerability that's like nobody else, and you can hear that here. The music is great, too – it's one of the quintessential new wave albums. Grace Jones later recorded a cover of the track 'Private Life' for her Warm Leatherette album, and if it's good enough for Grace Jones…
Chaka Khan – I Feel For You
This is the album that made Chaka Khan a pop star. The title track is a cover of a Prince song, and it's even better than the original. Grandmaster Melle Mel's rap intro is an iconic moment – it takes a true star to have an opening act on her own record. The cover art is fantastic too.


You can catch Veda at her weekly show every Wednesday night at The George in Dublin.