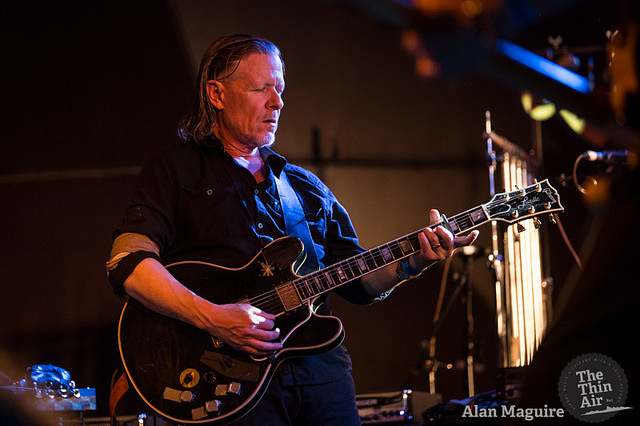 Writing about Swans is a curious, almost impossible thing. With their three-decade long pursuit of summoning fleeting encounters with ecstasy, induced by masterfully orchestrated swathes of crushing noise, incantation and repetition, they are the living, breathing definition of a band whose seismic might and majesty can only truly be heeded live. A year to the month on from the release of their critically-devoured thirteenth studio opus, To Be Kind, Michael Gira and co. roll into Belfast tonight a towering and potent force to be reckoned with. Expectations simply couldn't be higher.
Immediately silencing the room with a flicker of the wrist, any initial conjecture that New York-based Korean cellist Okkyung Lee was here to provide some calm before the perfect storm is entirely misjudged. Improvising without effects or overdubs, her raw, piercing ambushes bound with fervour and fury; scurrying runs and shrill, atonal passages marry in a tempest of phenomenal skill and expression. Simultaneously embracing and rejecting music, her three extended pieces tonight are a perfect challenge to behold and only slightly marred by a faint buzzing noise in between tracks and someone shouting, "Play Wonderwall!" following her performance. As for the latter, her suitably stern response of "Wha?!" dismantles said dickhead in faultless fashion.
With the venue slowly filling with a sea of grave faces you would almost think were on the cusp of witnessing a public execution, Swans' All Powerful multi-instrumentalist Thos Harris strides out, bathed in crimson light, to commence the opening invocation. A prophetic siren for what lies in wait, the as-of-yet unrecorded 'Frankie M' sets the pace, a building, frantic beast that sees Gira snarling mantra-like refrains into the mic, hovering above borderline rapturous noise. Like Earth's own engine firing up, driving through a swelling mist of murk and summoning a crescendo of elemental fury, Gira and co. assume their positions, collectively excavating darkness and light in the twenty-minute opener. The nigh on psychic interplay between the band here is just extraordinary.
The comparatively short swagger of 'A Little God In My Hands' follows a wave of eager applause from tonight's modest yet hugely attentive Sunday night crowd. A highlight from To Be Kind, the track traces the would-be imperfection of a divine being, aligning every entity on the same paltry conveyor belt. It's a strutting, scourging, feculent masterstroke, brooding and bragging in unison, expelling in a haze of subtly crushing, swelling drone. "Thank you very much. It's really great to be playing your high school," Gira quips, following yet another show of veneration. "I see someone's came dressed for the prom," he continues, singling out a member of the audience brandishing a tophat. Gira later calls him out for filming on his phone: "Hey! Stop filming! Put it away. I want to create something right now, you know? Not something for YouTube". Applause. Re-commence.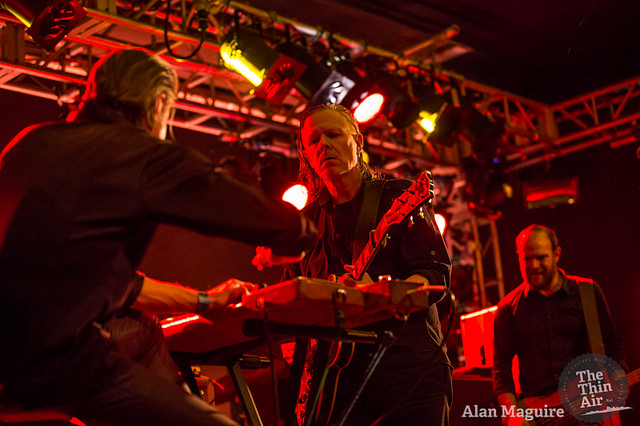 With its oracular, apocalyptic ten-minute opening of bells, whistles and mesmeric drone, the unrecorded 'The Cloud of Unknowing' hits home mid-set, Gira's drawn-out, psalm-like chants cuing a transcendent wall that engulfs the room. Swaying his arms, gazing into the crowd, part-conductor, part-frontman, part-noise rock voodoo priest, the sixty-one-year-old commands all eyes and attention, relaying a tale of the perpetually unperceivable bayou between Heaven and Earth. 'Just a Little Boy (For Chester Burnett)' follows, offering more of the same, bassist Chris Pravdica grimacing throughout, a picture of exalted pain. "Living in a wonderland, living in a wonderland," repeats Gira at the end up, the crowd very much privy to his inverted sentiment.
With 'I Forget' unravelling from an almost prancing rhythmic litany, rupturing to reveal one of the band's trademark barrages, the band bow out via a positively pummeling one-two. Evoking deluge after deluge of glorious weight – aimed straight at the solar plexus – 'Bring The Sun' and 'Black Hole Man' all but channel the third panel of Bosch's Garden of Earthly Delights, making for an utterly unforgiving culmination to two-and-a-half hours of livid, earth-shattering escapism. With the crowd offering an almost equally deafening reception, the house lights are brought up upon Gira's request, he introduces the band one-by-one (calling himself the Easter Bunny, no less) and we all go home, expectations met, exceeded and entirely transcended. Unparllaled. Brian Coney