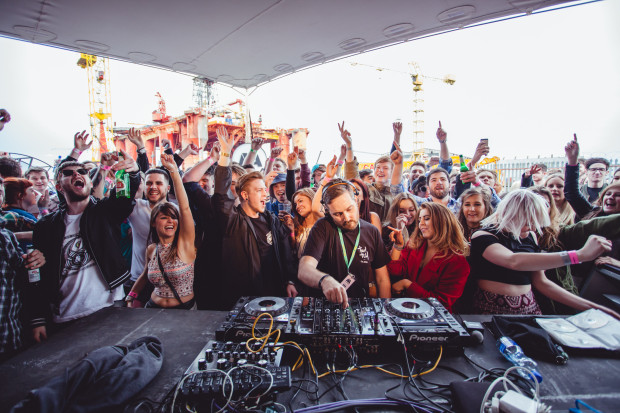 Well, here we are.  After months of anticipation and the mandatory, giddy daily countdown, the moment has arrived for Belfast's inaugural AVA (Audio Visual Arts) Festival.  We've entered the Titanic Qtr and are making our way to the goliath T13 warehouse and playing spot the raver as we increase our pace, beyond excited for what we'll see when we get there.  When we do, a multitude of coaches indicates that although it won't kick off for some time yet, there'll be a sizeable crowd inside.  There is, to our relief, a mass of music fans buzzing around the gargantuan space.  The decor is decidedly urban and eye-catching.  Street art adorns most of the makeshift partitions, there are breakdancers setting up shop, a record fair alive with the sound of crate diggers rifling through vinyl with abandon.  There are quirky food trucks scattered around, crowds gathering to grab a snack (they'll need it), a drink and some craic as we mill about in this incredible space that has been put together with so much care and planning, it's incredible.  There are people playing with a set-up featuring midi controllers and production software, a graffiti artist painting a beautiful mural, staff run around checking things are running smoothly, which they are, and some kick-beat heavy music, so far, is provided by a few select individuals before the main events of the evening kick off.
A truly festive atmosphere is thick in the air and as people begin to leave the conference portion of the day, which is hidden away in  a side building, we are assured to see so many heads here so early to support this tremendous occasion.  After all, with legends like DJ Nu Mark, Adam Smith and a wealth of homegrown talent talking and demonstrating all things electronica and beyond, there is certainly something for every music fan here.  Time seems to fly by, too.  One minute there are a small group of dedicated individuals heading towards the Boiler Room stage outside, the next there are waves and waves of folk edging to get in early.  Luckily, we're already in the area awaiting the beats to drop, and when they do, it's special.  Schmutz take up their place as the crowd emerges from the main building and begin to surround the DJ station.  It's pure Boiler Room etiquette and it feels good to watch it unfold for the first time in Belfast.  The crowd grows and soon the music is pumping and the backdrop of Samson and Goliath and the huge oil rig make for an immersive experience.  We're no longer separate people enjoying the same artists, we're a unit moving to the same beats, the same drops instigate the same fist-in-the-air moments that we're all here for.  For Belfast's first Boiler Room, this line-up is a great reflection of what Ireland can bring to the table.  John Daly, Timmy Stewart, Space Dimension Controller and Bicep are all flying the flag for house and techno, and this is just one portion of the evening's events.  Angling to get a look inside the main building, we retreat from the manic crowd who are loving every minute of the Boiler Room stage, but the show must go on and inside there are rumblings afoot.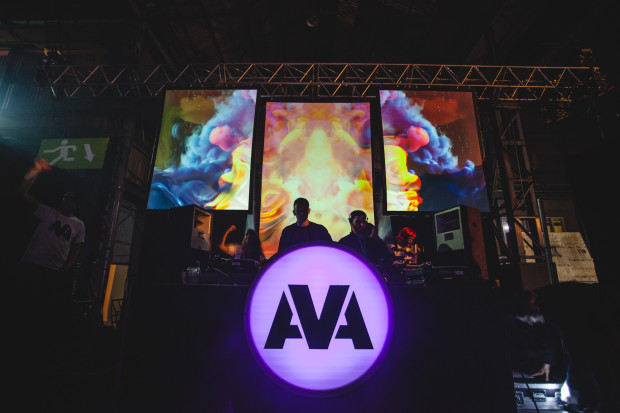 We emerge, somewhat exhausted from the mandatory shapes that were thrown, but ready for the main stage and as we re-enter the warehouse, the sight of thousands of people is astounding.  The sound is crisp and clear considering the sheer size of the system and as we roll around to grab a good vantage point, we're all set for Ejeca to smash us with some glitchy, heavy house, but not before Swoose and Cromby round-off their intelligent, jack-worthy set.  The "YEOOOs!" are loud and proud and this audience are a testament to the fact that Belfast is finally getting some serious recognition for events like these.  They are loving every second, and as the night gets darker, the music gets deeper and the crowd go crazy.  Space Dimension Controller blows us away with his laser show and his forward-thinking electronica.  It's a sight to behold neon greens and reds wash over a crowd of this size and as we keep moving we're safe in the knowledge that there is much more to come.
Optimo thrash us with some glorious techno and their set is confident and contemporary.  At this stage of the evening, it's all or nothing and the fact that the crowd are still dancing with as much vigour as they were a few hours ago speaks volumes about the positivity this event has brought and the high level of creativity and professionalism shown by the artists.  Closing off what has been an unforgettable day, Bicep are, of course, the obvious duo to do so with a bang.  We're sweaty, still-jumping and couldn't be happier with the set.  The visuals courtesy of Guerrilla Shout are stunning and have made the experience so much more enjoyable and as Bicep begin to finish, "One more tune!" is the collective mantra.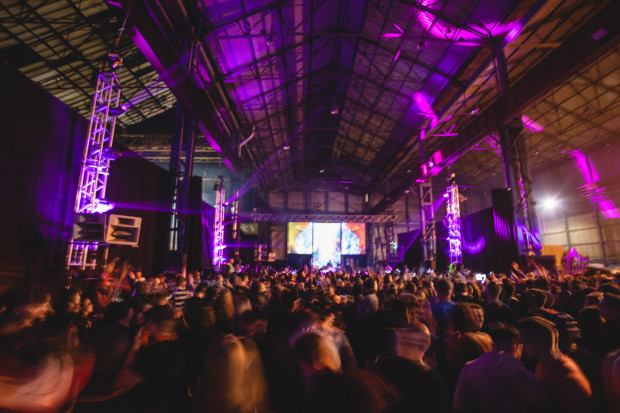 Alas, the festivities are over, but it has been a blessing to witness this event and as we begin to take our leave, we're confident that this day will be remembered fondly for a long, long time.  What a triumph for Belfast, and, to the organisers, artists, crowd and everyone in between, congratulations are most-certainly in order.  You've done our city proud. Aaron Drain
Photos by Luke Joyce