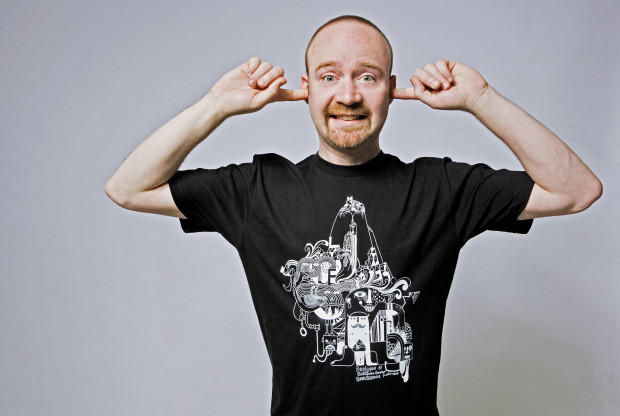 You might already be aware of this but Mr. Scruff AKA Andy Carthy is a bonafide hero.  Why shouldn't he be?  The man has one of the most eclectic musical palettes around and the production/DJing skills to back it up – and then some.  That's the reason (and always has been) why Carthy is such a huge draw for music lovers of all styles.  His last appearance in Belfast back in January was immense, and this time around, our expectations were obviously high.  It's a treat, too, that he's come back to play The Black Box for this visit.  Not only is it an important hub for Belfast's creative and cultural happenings, it's sizeable enough to fit Carthy's legion of fans, although, on this occasion, upon entering at 8pm, the room is barren save for two other people and a sound engineer.
Did it throw him off?  Absolutely not.  From the start, Carthy grooves and bobs to his records and it's apparent he genuinely loves what he does.  He's selecting records from a couple of cases and each time he settles on the next gem, he nods approvingly and shimmies back over to his turntables, joyfully grinning.  He's not playing a live session tonight, which is a little disappointing at first given his blend of jazzed-up, funk-soaked beats are a guaranteed cure for this baltic Belfast evening.  He's a master of selection, though, and that's good enough for us and the crowd who are multiplying quickly.  The first portion of Carthy's set is dominated by classic soul and funk breakbeats, with seamless transitions between each track that remind us of his skill.  People are beginning to really engage and let loose, the room at capacity with  moving forward to catch a glimpse of his record bags and his Scruff shuffle (patent pending).
As his set goes on, The Black Box begins to shake as the massive soundsystem ups the bass and we're subject to an increasingly heavy set.  The music takes a much welcome, filthier turn, considering that the crowd are positively dominating the dance floor at this point.  We join them, get caught up in the moving mass of arms and legs and bodies until we're a blur, and we lap it up.  The bass-heavy beats are edgier, the lighting is moodier and the atmosphere befits our black-walled surroundings.  It's manic and infectious, as we thrust and jack to an outstanding set that has moved through as many genres and sub-genres as there are people.
As 1am rolls around, we are, of course, demolished.  It's been five hours of solid grooves, after all.  Carthy has done it again, and to be fair, we knew he would.  There hasn't been a Mr. Scruff show in Belfast yet that's been less than superb.  Roll on the next, we say.  Roll on the next. Aaron Drain