Live Reviews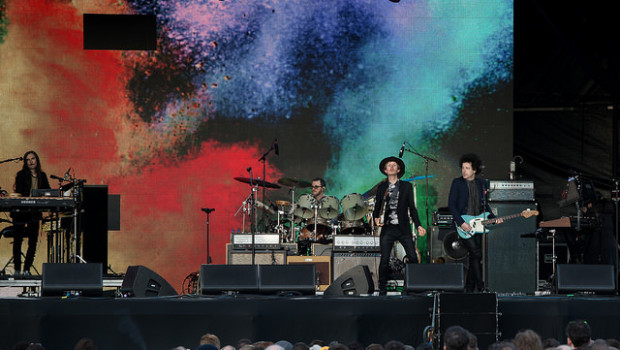 Published on June 19th, 2015 | by Will Murphy
0
Beck w/ Jonny Greenwood @ Royal Hospital Kilmainham, Dublin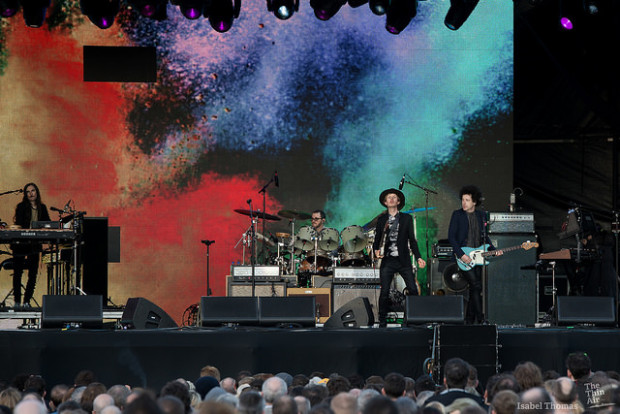 Beck and Jonny Greenwood on the same bill. It's very seldom that such an absolute gift is given to the city of Dublin. Both of these men are towering artistic figures who managed to nail that subtle balance between commerce and self expression in a way that few others can lay claim to. Yet in spite of this, the crowd at Kilmainham could well be at a weekend session. Most of the crowd is relaxed and calm, drinking, not to excess, and enjoying some hand rolled cigarettes of a certain variety.
Greenwood's set is predominantly an orchestral one with him and his players, including a string septet, among others; firing through a mix of original compositions and covers. The Greenwood penned pieces refer heavily towards his monumental There Will Be Blood score, whose title track provides the most impressive and thoroughly unsettling moment of the whole performance. The covers, on the other hand, are taken from a huge array of sources ranging from 1930s vocal pieces to a cut from Micachu's Under The Skin soundtrack, 'Love'. This track, entirely performed by a single cellist and loop station, highlights one of the more compelling elements of this show: the presence and lack thereof of the band leader. While Greenwood's name is all over the bill, he opts to avoid the limelight for much of the performance, mostly taking stage left to play the ondes martenot, and let his players get their own time in the sun. When he does finally take centre stage, he launches into a captivating cover of 'Electric Counterpoint' by Steve Reich; a performance which crescendos as dusk begins creeping across the land, adding a magical visual element to the proceedings. While the performances are uniformly excellent, the set does feel somewhat out of place. The long transitions between songs and the nature of some of the music sends large swaths of the crowd headfirst into their smart phones. An outdoor venue of this ilk isn't where a performance like this thrives; a little bit more solemnity and reflection is needed.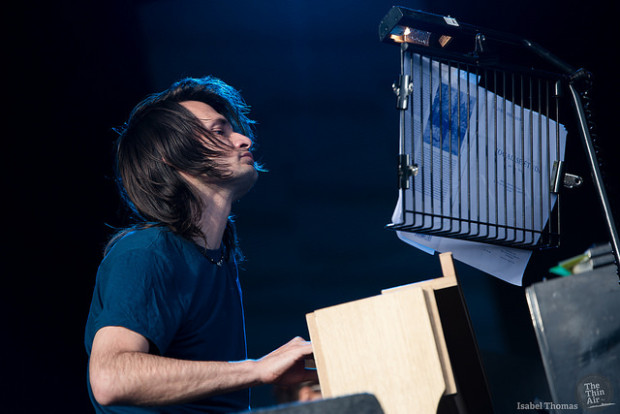 However, when Beck takes the stage everything changes. Arriving to rapturous applause, he wastes no time in kicking out the jams. 'Devil's Haircut' and its Them riff fill the air sending the crowd into a flurry. Within seconds people are uproariously bouncing and wailing the lyrics with no regard for anyone or anything. The set continues to offer up a veritable lucky bag of songs from his back catalogue including essentials like 'Loser', 'Sexx Laws', and 'Gamma Ray' as well as oft forgotten cuts like 'One Foot In The Grave'. As is to be expected from Beck, you're taken on his odyssey of musicality touching on an insane range of genres including garage rock, old school hip hop and 60s pop. There is also a huge variance in tone as well with the melancholic slices from Sea Change sitting comfortably with tracks like 'E-Pro'.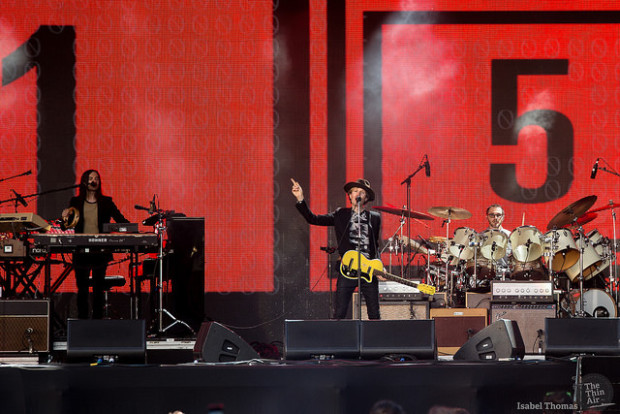 This mishmash of styles and mood flow so elegantly together, it's a miracle that it works for so much of the show. The only time when momentum is lost is during a performance of "Heart is A Drum", which, despide it being a damn fine song, feels more obligatory than anything else. Beck seems to be having the time of his life, dancing around unashamedly operating halfway between a Blues Brother and a Beastie boy. Like Greenwood, Beck makes sure that his undeniably brilliant backing band get their fair due during the encore presenting the audience with a medley beginning with "Where It's At?" that effortlessly transitions between The Rolling Stones 'Miss You', The Sugarhill Gang's 'Rapper's Delight', Harold Faltermeyer's 'Axel F.' and Devo's 'Whip It' all culminating in a Mary Tyler Moore Show reference.
It's a completely breathtaking and powerful show – one that very few could manage, yet Beck seems to do so effortlessly. Will Murphy
Photos by Isabel Thomas