Live Reviews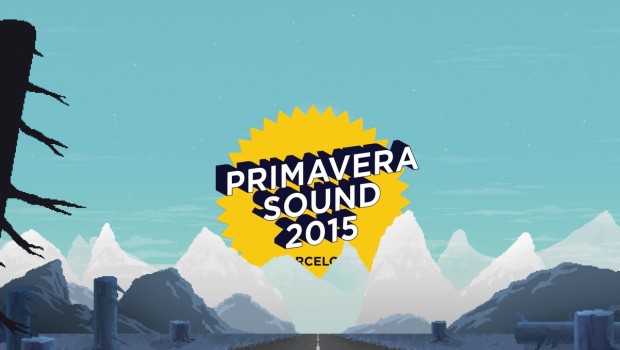 Published on June 11th, 2015 | by Garrett Hargan
0
Primavera Sound 2015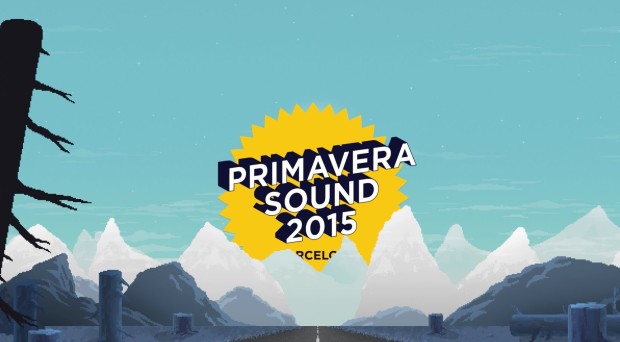 This year Primavera Sound celebrated its 15th birthday, in which time it has established itself as one of the foremost music festivals worldwide. Every year festival curators have aimed to deliver a top class line-up offering a diverse range of musical talent. Always interesting, they manage to blend exciting contemporary artists with auspicious greats who have paved the way. Scanning a list of legendary acts who have graced the Primavera stage is overwhelming; it's like a who's who of groundbreaking artists from the past 50 years, including Lou Reed, Iggy and the Stooges, Patti Smith, Television, Motorhead, My Bloody Valentine, Pavement, The Replacements, LCD Soundsytem and The White Stripes. And that's by no means an exhaustive list – these are household names. The line-up complimenting those artists on any given year tends to be extraordinary.
Riotous beginning – "Fuck those guys!"
One of the special aspects of the Barcelona festival is the opportunity to see some bands (who will also play at the festival) in more intimate settings in the run-up to and the day following the festival. These club shows are based in the city's two premier music venues, Barts and the Apolo. And that is exactly where this year's festival kicked off, in spectacular fashion. In a show I was expecting to attend in order to ease myself into a week's worth of world-class rock 'n' roll, Benjamin Booker laid down a marker that proved hard to surpass.
Due to mitigating circumstances (casualties after large quantities of mojitos in somewhere called The Salsa Bar the night before) we arrived late to the venue. Beers in hand – passing the formidably lanky presence of Patrick Carney (of The Black Keys) in the foyer, enjoying himself before his headline show the following night – we proceeded upstairs hoping for a better view. One drawback to Barts was the lack of light and therefore any vision once inside the hall, after bumping into a few walls and tripping over steps we found ourselves in seats with an unobstructed view facing the stage, and Benjamin Booker.
It was upbeat from the off as he blasted through a few songs from his self-titled LP – his sole release thus far, which has garnered much attention for the former music journalist. Perhaps to get the crowd on side he invited one lucky fan called Pablo onstage. Clearly elated by the gesture Pablo embraced Booker, who having gathered his fans relationship status decided to pimp him out to any interested suitors. Formalities concluded, Booker then requested the audience crowd-surf Pablo from stage front to back and return him, with the threat of ending the show if the audience failed to accomplish their mission. The band blasts into a brawling version of 'Wicked Waters'. Midway through the audience visibly struggle to bear Pablo's weight as he makes his course; the bouncers, privy to everything going on decide to interject and throw Pablo out of the venue, at which point Booker leaps from the stage and wrestles him back along with the help of some fans.
Pablo is safely surfed back to the front, Booker curses the bouncers; "Fuck those guys," almost inciting a riot. He alludes to the current economic woes of the country and reminds the audience that the greater strength lies in people power, before proclaiming to have more faith in his Spanish audience than any American one. Cries of "Pablo! Pablo!…" ring out around the venue. The concert ends with BB encouraging a stage invasion, the audience oblige, and all hell breaks loose as bouncers desperately try to contain the crowd. BB helps one overzealous bouncer off the stage with his boot, the chaos continues as the crowd feeds off the pandemonium. Fighting ensues as Booker tosses his guitar to the ground and walks off stage closely tailed by very angry Spanish bouncers.
Calm is restored on the night by a pot-bellied balding man resembling Ron Jeremy, with moves that would make a stripper blush – Har Mar Superstar. He brings the hits 'til the early hours with tunes including, TLC's 'No Scrubs', Haim, and Mariah Carey's 'All I Want for Christmas is You' (a strange choice, I know, but one gleefully welcomed by a well-liquored crowd intent on enjoying themselves). Some good tunes are intermittently thrown in along with a few of his own songs as he can't resist the urge to strut his stuff. Needless to say, it was quite an introduction to this year's Primavera Sound, and one I'll never forget.
Soundscapes vs Sound Demons
Day 2 got underway early. We had managed to secure places to a limited-ticket show at the Sala Apolo hosting none other than Interpol. Starting at 5pm, after a long night, it was the perfect way to resume. Interpol were enthralling, with their dark attire and gothic post-punk style they are a band that belong in the dark confines of a club. Being so early in the day it was slightly harder to build an atmosphere, but playing fan favourites like 'Say Hello to the Angels', 'Evil' and 'Leif Erikson' provoked rapturous applause. 'Rest My Chemistry's' poise and swagger was a personal highlight. Like a few other fans present I was eager to hear 'Stella Was a Diver…' but I was satisfied along with every single person in attendance by the time 'Slow Hands' rung out, testing the integrity of the old Apolo foundations as the entire crowd bounced and sang every word.
After taking the metro packed with other festival-goers to Parc del Forum which lies on the outskirts of the city, we arrived in time to catch the end of Benjamin Booker's main stage slot. We find ourselves too far back in a passive crowd. BB expresses his dismay at one point urging the crowd to get involved: "You can dance a little you know, you don't have to be cool all the time." Unfortunately the early time slot, the expanse of the main stage and a largely disinterested crowd (a problem endemic throughout the weekend on the main stages) made it impossible to re-capture the same kind of electric energy flowing through the Apolo less than 24 hours previous.
There's just about time to grab a beer before turning around to see The Replacements on the adjacent stage; the headline acts at Primavera alternate between the Heineken and Primavera stage facing each other. Although aware of The Replacements' obvious contribution to alternative rock, I'll admit to not being their most devout fan. Friends I talked to spoke of being "blown away" by their set and it sounded good but mostly passed me by as someone unfamiliar with their back catalogue. They threw in some covers that got the festival crowd singing along in approval such as Jackson 5's 'I Want you Back' and Joy Division's 'Love Will Tear Us Apart' before finishing on their own classic (which even I knew), 'I.O.U'.
After some much needed re-fuelling Spiritualized await on the ATP stage, which featured an eclectic line-up throughout the weekend. One of the nicest settings at the festival, hills stretch right back allowing people to sit and take it in from a great distance, if they need a breather from the bustle. A crowd had already amassed as I got there and Spiritualized's cinematic soundscapes transmitted an air of tranquillity, so I decide to soak it in, in a state of equanimity from the back. In what seemed like quite a short set, they played 'Shine a Light' from Lazer Guided Melodies and finished with two of my all-time favourites: 'Soul on Fire', followed by vintage Spacemen 3 in the form of the dreamily enlightened 'Walkin' With Jesus'.
To round off the first official day of Primavera sound 2015 it was back to the main stage for The Black Keys. On a stage plagued by sound demons at times, The Black Keys proved to be a victim, with the sound fading in and out, from my standpoint at least. As a two-piece punk-blues band (although accompanied by additional musicians at times) they rely on their punchy delivery to drive their songs home. Unfortunately, technical difficulties were working against them on the night. I decided to leave in search of something else, and when that failed, it was time to go home and conserve energy for two more jam-packed days.
Too many bands, Too little time
Friday began with the twee-folk of Belle & Sebastian, their obvious delight to be playing at the festival again transmitted to the crowd who danced along. Stuart Murdoch relished the occasion as he bounced around the stage in typically exuberant fashion and told the crowd that he and his wife would be enjoying the rest of the weekend by "seeing as much of the great line-up as possible." The line-up tends to be too stacked at times with a lot of overlapping taking place, so before the Scots had finished it was time to trek over to the main stage to see indie icons Sleater Kinney.
Proving they have lost none of their verve they delivered an energised set and were by my reckoning one of the best bands all weekend. Unwilling to disturb a compact crowd, we decided to hang back and enjoy their performance from the periphery. Running through many fan favourites including 'Dig Me Out' and 'Words and Guitar', as well as 'No Cities to Love' (with Carrie Brownstein proclaiming by way of an introduction that Barcelona wasn't amongst said cities), 'A New Wave' and 'Bury Our Friends' from most their newest album.
A fond farewell was bid as our group went off in search of the Pitchfork stage, which is a smaller stage resting in the lower echelons of Primavera, but one that often packs the biggest punch, having witnessed anarchic performances by Ty Segall and The Black Lips here the year before. However, this time round it was the turn of Ariel Pink, the neurotic mind behind the most peculiar and individualistic brand of warped psych-pop. It was good to catch some of his set as he pranced about the stage trying to goad a reaction from the crowd, but as I've mentioned an overloaded line-up meant it was time to get in position at my favourite stage, Ray-Ban.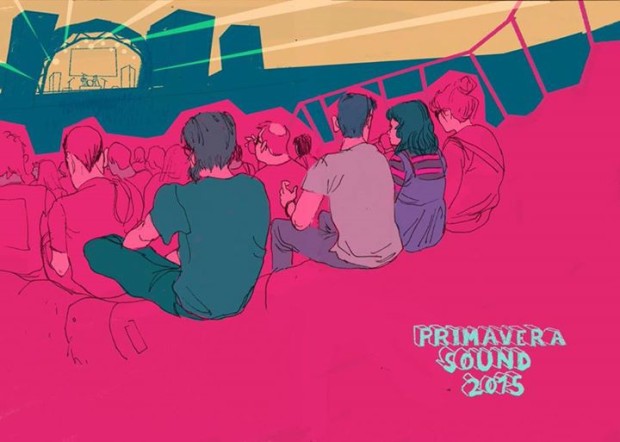 Laid out like an amphitheatre it is picturesque, the perfect stage to end the night and one at which you often find the hardcore revellers dwelling; soaking in the latest bands, awaiting the break of dawn as the sun rises over the Mediterranean sea providing the most idyllic backdrop. Primed and ready to lay waste to this visual feast are Death From Above 1979 who tear through a ferocious set, pausing only long enough (aided by creepy soundbites) to allow drummer and vocalist Sebastien Grainger to catch his breath before launching into the next song with renewed intensity. I spend the first half at a safe distance against the barrier stage left, the only thing disturbing the darkness being frenetic strobe lighting.
Moving right, my friend and I join the mosh-pit which had by this stage reached its sweaty peak. Keyboards were broken, ankles were turned, t-shirts were torn and one unlucky mosher lost his passport. Finishing on 'Government Trash', 'Romantic Rights' and 'The Physical World' this was a train that came at full speed and didn't let up till it was wrecked.
Retreating to the relative calm of the steps at the circumference, half elated on adrenaline, half exhausted, it was time to sit back and enjoy Ratatat. Large quantities of dry ice were pumped out over the crowd for reasons unbeknown to me 'til later. Starting with 'Loud Pipes' – arguably their best song – the New York electro-punk twosome brought in the night in style with an impressive laser and light show, aided by the dry-ice that filled the air. There was just enough time to buy a couple of new band t-shirts before getting the first metro of the day back to the sanctuary of the apartment.
A Synchronised Assault Signals the End
Sleaford Mods start out with a measured slow song, something of a rarity for them but a change of pace which lulls the audience in. They return to form with a confrontational set comprised of usual suspects in the shape of 'Wage Don't Fit', 'Jobseeker' and 'Tiswas' as well as new songs ahead of their upcoming release. Crowd favourite 'Tied Up In Nottz' provoked a fervent sing-along and content with their lot the audience began to disperse. As we gradually made our way up the steps, Williamson pipes up, "Wow, wow, wow, where the fuck d'ya think you're going… get back here, get back here nah, ya cheeky bastids!" The audience daren't disagree and duly oblige. However, the next band are due on and I clamber up the Parc Del Forum steps towards the Main Stage. On the way past a surprisingly subdued ATP I hear the deranged German tones of former Bad Seed Blixa Bargeld now fronting Einstürzende Neubauten. Perhaps suffering as a result of Interpol and The Strokes imminent arrival on the main stage and the fact that thousands reside in the food quarter watching Barcelona play in the Cope del Rey final.
In need of refreshment I meet my drink mule friends (who have arrived after watching the FA Cup Final) and witness another dose of Interpol from afar whilst getting in position for one of the bands that first ignited my passion for music: The Strokes. Casablancas is kitted out in eye-catching attire for the night which I've seen had raised a few eyebrows since returning from the festival. An aluminous Barcelona top (which was fitting for the occasion as they were playing in the aforementioned final) under a sleeveless denim waistcoat with matching aluminous red and yellow patches on each side of his hair – it's nothing out of the ordinary if you've followed his futuristic attire since going solo.
Playing a genre-spanning set, they begin with 'Machu Picchu', perform several songs from Is This It including 'Barely Legal' and 'Someday', play the hits from the other records and finish with the always combustive 'New York City Cops'. They're all a bit older and wiser now; Casablancas isn't as wild or unpredictable onstage but it was an almost flawless performance with the frontman delivering each song with gusto, as if it was the first time he sang it. It was great to witness them in such fine fettle live after so many years.
Fittingly bringing the weekend to a close are one of my favourite live bands, Thee Oh Sees. A stalwart of the garage rock scene, frontman John Dwyer is a hyperactive noisenik who has survived various incarnations of the band, and has played under various other guises including Coachwhips who are as uncompromisingly abrasive as they come. The most recent formation of Thee Oh Sees is comprised of two drummers. Without the luxury of guitar techs the band soundcheck themselves running through an improvised jam. Beginning with 'I Come From the Mountain' they race through a set heavy on new material with a selection of songs cherry-picked from a dozen releases. From Mutilator Defeated At Last, 'Withered Hand', 'Poor Queen' and others, from 2014's Floating Coffin, the blustering 'Toe Cutter – Thumb Buster' and from  theircritically acclaimed 2009 release Help, 'Destroyed Fortress Reappears' .
The synchronised assault at the hands of dual-drummers Ryan Moutinho and Dan Rincon turns already beefy psych-garage rock tunes into full-blown steroid munching monsters. I can't leave Thee Oh Sees show without dipping my toes in the mosh-pit. Surrounded by people of differing nationalities all united by the same passion for music, we hoist a stranger above our heads to crowd-surf and I think back to how the week began and can't help but reflect that Benjamin Booker would approve of a suitably turbulent ending to what has been an outstanding week of music. Garrett Hargan