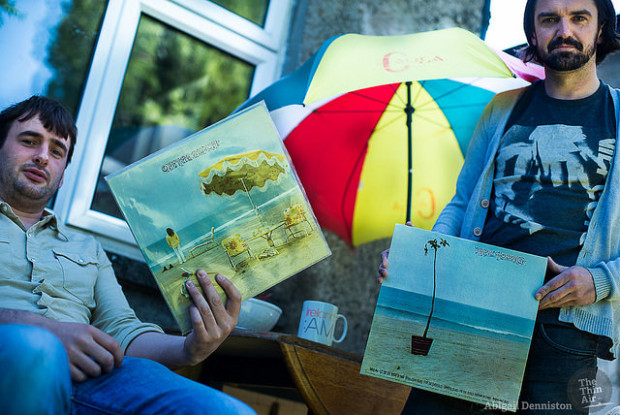 In the latest installment of Track Record, Niall Jackson and Barry MacNeill from Dublin band Swimmers reveal and talk about their all-time favourite records, including the likes of Neil Young, Pixies, The Redneck Manifesto and Michael Jackson.
Swimmers play Dublin's Odessa Club with Middle Ages tomorrow night (Saturday, June 20).
Photos by Abi Denniston.
Niall
Michael Jackson – BAD
This was a really important album to me as a kid. I remember my uncle Jim had it on vinyl in his house down the road from me (as well as a dog called Fletch, named after the Chevy Chase movie) As a 6 or 7 year old or whatever age I was, just thinking it was so cool that someone famous had the same family name as me. I was also in a family of 5 so we used to get Christmas cards with The Jackson 5 on the front and used to think we could moonwalk way better than the rest of the kids on the street just because we were Jacksons. I remember taping the Bad video and trying to dress and dance like him on several occasions. More than the actual album I remember MTV just repeatedly showing an array of the amazing videos from this record. 'Man In The Mirror', 'Dirty Diana', 'Smooth Criminal', they were like short films. I was glued to the telly. People forget Michael wrote 9 of the songs on this thing. Epic.


The Redneck Manifesto – Friendship
Well on top of the fact it is one of the most beautifully presented records I have ever seen, gate-fold with artwork by M&E, it also encompasses everything I love about this band. Even the download card that came with it was a credit card (still in my wallet) Saw these guys in Clifden-Galway, in a tiny pub in the summer of 2000 when I was 17 and have loved them ever since, did not think they could keep getting better but you only have to hear the intro to Black Apple to know you're in for a sonic treat. The addition of live members Neil (Somadrone) and Glenn (Jape) into the recording process only made this greater. It's just incredible, 'Drum Drum' is also our drummer Steve's favourite song. Each of these lads have helped me on my way up (or across) and the fact they're all still friends is testament to the strength of the band and the output. I don't think they were all even living in the same country for this… they should have been huge. Maybe they still will be.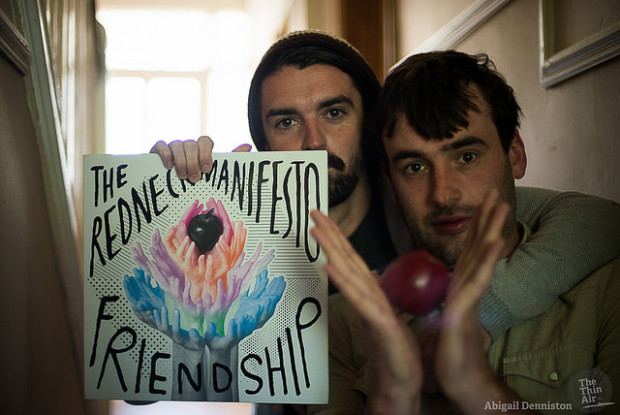 Bing Crosby – White Christmas
Anyone who knows me, knows I love Christmas, although I do have strict rules about when it can be celebrated, and every December 1st this record kicks off a month longs proceedings for me. My housemates probably think I'm a little strange as the needle only hits the groove on this one for one month a year, but Christ it gets fairly hammered out for that month. Sure no bands release records in December anyway, and it has the version of 'Mele Kalikimaka' used in National Lampoons Christmas Vacation, possibly the best Christmas movie of all times (and the second mention for Chevy Chase in my 3 picks so far). 10 stellar Christmas classics, none of that modern nonsense.


Pixies – Doolittle
I think Roy from Squarehead picked this one too, but I'm plumping for it as well as it explained my love for Weezer and Nirvana even if it was an album I came to after both of those bands. I remember my older brother Ronan getting The Best of The Pixies back in the mid 90s, definitely after Kurt died, and just being floored by it. Then catching up with the albums. Every single song is timeless and still stands up today but 'Hey' in particular, to the point I momentarily swapped from bass in my first band to lead vocals just to sing this song. I sang it at every talent show our school or postal & telecommunications club put on – we may have even won a prize. I'd never heard a front man like Black Francis and to this day could be described as a poor man's Frank Black, which is quite the description given the fact they're no great shakes themselves anymore.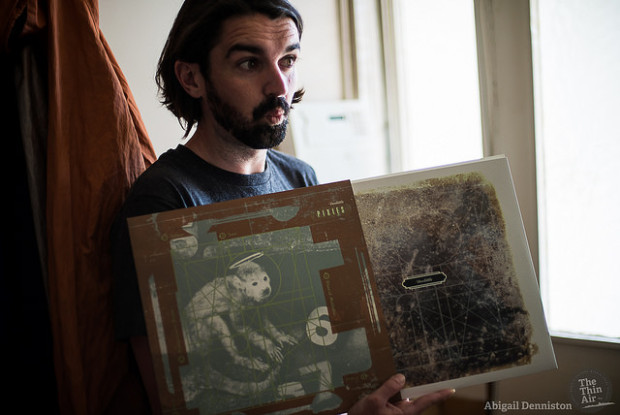 Nirvana – Unplugged in New York
OK, so the cool move would have been to pick Nevermind, Bleach or In Utero, which I do own… but, this was the one that made me sit up and take notice. Again my older brother would have been responsible for most of my good taste as a teenager and while I do remember hearing the heavier ones on rotation from his box room in the early 90s, I was too busy with my Bryan Adams/Bon Jovi tapes at the time to notice. I distinctly remember the night Kurt died, we had recorded VHS tapes full of Nirvana, REM and other MTV stuff that was just on a loop from the age of about 10 in the house to whenever they eventually wore out. Unplugged was the one I watched most, though. I only picked up the vinyl at a fair a couple of years ago but I remember in religion class in Transition year we had to pick our favourite song and play it to the rest of the class and everyone laughed at me when I put on 'Where Did You Sleep Last Night' from a cassette I had taped. Needless to say, it was lost in a sea of Scooter and The Shamen in my community school in Dublin 24. I still think the performance is mesmerising and displays the quality of the songs in Nirvana's back catalogue as more than just grunge. Even the cover versions were eye opening and introduced me to Bowie, The Meat Puppets and Leadbelly.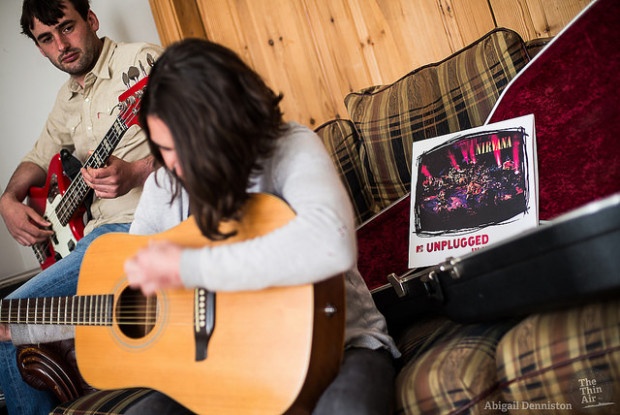 Barry
Cass McCombs – Catacombs
A good friend introduced me to this and he is a better friend as a result. it's one of those albums that comes around every so often that has that ageless quality. "When was that made? 70s? 80s?… 2009? Get out of town!" No fancy shit, just simple songs played extremely well.


Blur – 13
This album is about drug addiction, despair and separation and the results are fantastic. Long live other people's misery for the sake of good music. Putting 'Caramel', 'Trimm Trabb' and 'No Distance Left to Run' back to back is Blur's "Thriller, Beat it, Billie Jean" moment.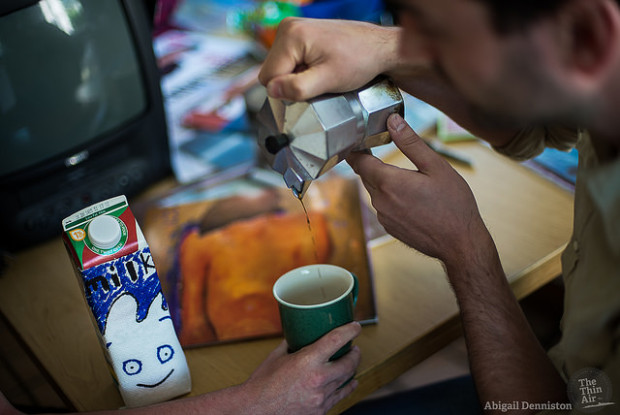 Roald Dahl – James and the Giant Peach (Read by the author)
Welcome to my home Mr. Dahl. Sit down, relax, tell me one of your stories. I'll stick the kettle on.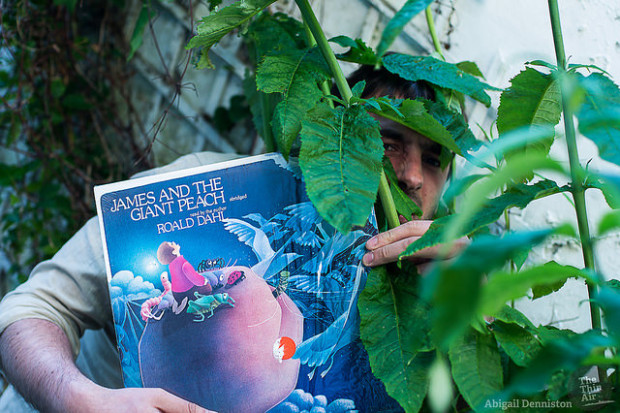 Neil Young – On the Beach
My friend Jimsy gave me the heads up on this back when we worked the liquor trade together. The fact that it features one of Americana's greatest rhythm and bass sections on a couple of its songs is enough of a reason to buy it. But as good as Levon Helm and Rick Danko are on it, there are other reasons to buy too. Your heart is broken after the first chord of 'Ambulance Blues'… and it's nine minutes long. And the title track. Who doesn't want to play songs like that? Niall also wanted to pick this album but he decided on an album of Christmas songs instead.


Wings of Desire (Der Himmel über Berlin) OST
This is the soundtrack to one of my favourite movies (possibly my favourite). It centres around a group of angels keeping watch over a post-war, divided Berlin in 1987. City of Angels it is not! With its haunting compositions it captures a fascinating time in Berlin's history, with unification only a couple of years down the road, yet what must have seemed like an eternity away. The score's edginess gives you a real sense of life at that time.