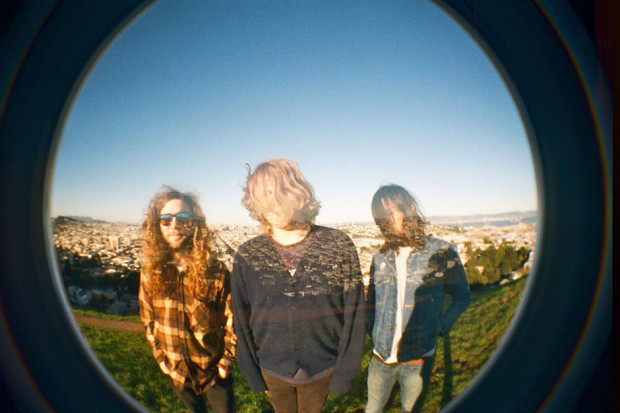 With garage and psych rock undergoing a serious resurgence over the last couple of years, most fans would agree that artists such as Thee Oh Sees, The Fresh & Only's and Ty Segall have spearheaded its modern day rebirth. The latter name on that list – Ty Segall – in particular, would be viewed as being rather prolific due to the multitude of releases that he has put out since his self-titled 2008 debut. Since then he has collaborated on full length albums with White Fence, Mikal Cronin and most recently with tonight's headliners Fuzz.
As a result of it being Segall's first time playing in Ireland, Whelans' was about 3/4's full when local band Exploding Eyes took to the stage. The trio play a brand of garage rock'n'roll that rarely threatened to expand the boundaries of the genre too much, but their tight interplay mixed with a stripped down approach went down well with those in attendance. Apart from the continuous kit pounding and the shared vocal duties, there were more than a few guitar solos throughout their 10 song set, something that one would presume goes against the short and sharp attacking origins of garage rock.
Arriving on stage, the members of Fuzz – Segall (drums & vocals), Charles Moothart (guitar & vocals) and Chad Ubovich (bass & vocals), took up arms, while Segall began with "Hi we're Fuzz, it's our first time playing here" which received a warm reception. The trio kicked things off with 'Rat Race', a song from their soon to be released sophomore album II. It was a damn heavy intro to proceedings, and proved that Segall is not only a good guitar player but also talented behind on the skins, while Ubovich's bass chugged out buzzsaw sounding licks that couldn't help but draw one in.
Live EP cut 'Fuzz's Fourth Dream' followed, with Segall leading the charge and sounding a lot like Ozzy Osbourne in the vocal department. Fuzz's love of all things Sabbath, Hawkwind and stoner rock was obvious from the its opening bars, and it also included countless hook ridden guitar riffs which got the crowd going early on.
Having handed his footpedal to a fan in the front row Segall had to vacate his kit in the hope of finding a replacement, which allowed time for the bathrobe clad Ubovich to "cheers" the audience while he took a swig from his vodka bottle!
Segall then screamed "It's a free for all" moments before the electrifying 'Sleigh Ride'. The near on punk sounding number got a few bodies clambering on top of one another in unison, especially when Segall spat out "Isolation/Isolation/Feel the stiffness of isolation." 'Raise' came next and the mosh-pit immediately expanded as a reaction to the discordant notes from Moothart, while Segall resembled The Muppets' Animal for its duration.
'Loose Sutures' packed an almighty punch, during which Segall and Ubovich shared vocal duties. Its a tune that doesn't follow the same pattern as the rest of the set i.e. unrelenting power from start to end, but actually slowed down to a near hush like delivery, before it exploded back into life with Hendrix like squeals emitting from Moothart's instrument.
Final track 'One' saw Segall play his kit as if possessed by a jazz maestro, while the bass and guitar sounds added to the unprecedented levels of heaviness the members of Fuzz managed to produce, throughout the song's extended jam like performance. Having left to a rapturous response, Fuzz returned for a two song encore which included Segall leading a rendition of 'happy birthday' to a fan, who like all in attendance knew they'd witnessed one of those special debut gigs within Whelans' hallowed walls. Conor Callanan