Live Reviews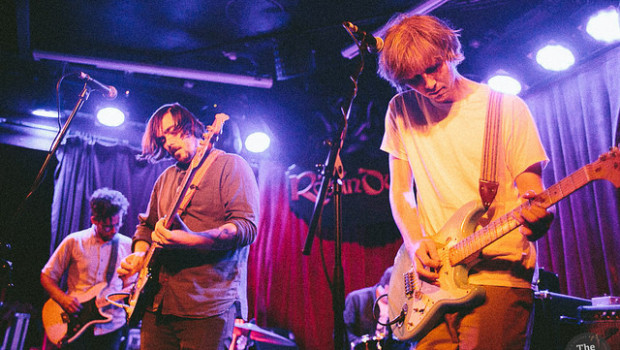 Published on September 4th, 2015 | by Eoin Murray
0
Parquet Courts w/ Oh Boland, Cian Nugent & The Cosmos @ Roisin Dubh, Galway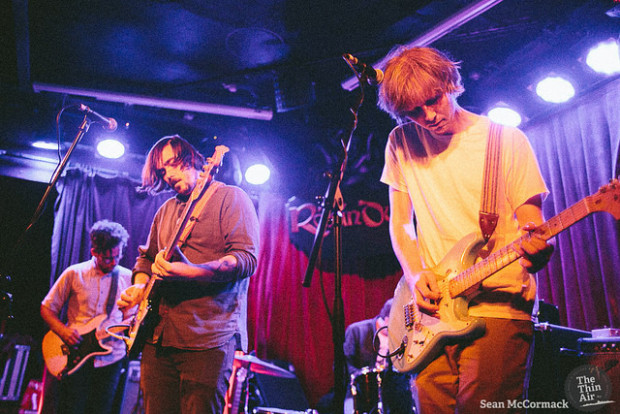 From the offset of tonight's festivities it is made plainly clear that no one will be leaving this room with ears as healthy as they were when they came in. Getting things going, local institution and ever-progressing garage maestros Oh Boland (below) break into their brand of screechy, uplifting and loud jams. Guitarist and vocalist Niall Murphy flaps about the stage like a moustachioed Crash Bandicoot while the rhythm section of Eanna MacDonnacha (bass) and Simon McDonagh (drums, backing vocals) provide equal measures of sweaty energy. The songs sound like taking a trip to the beach on a sunny day, except everyone's been drinking Buckfast all day and are in the middle beating the living daylights out of each other. It's a terrific way to start the bill tonight with the band showcasing some new material and with the tunes grabbing people by the face and informing them that they're going to have fun whether they like it or not. The last song is a new one that moves –only slightly – from the fast passed abrasion of their catalogue into something a bit more groove orientated, but still ends in a big noisy mess. Lots of fun.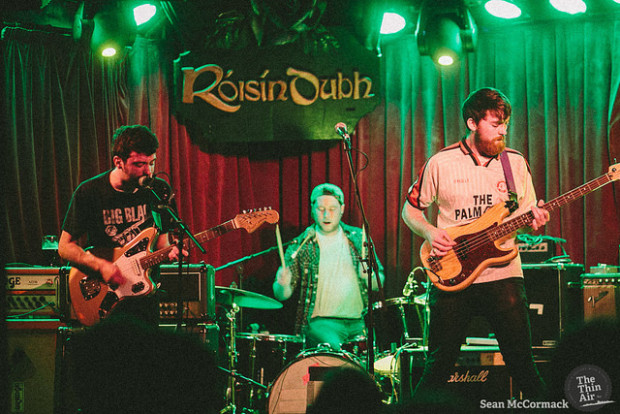 Next up is Cian Nugent and the Cosmos (below) who play a grand total of three songs, each one containing enough substance to fill an album.  Utilising open tunings on his guitar coupled with drawn out violin, key and bass passages the songs are expansive and hypnotic with comparisons to a lot of 60s and 70s Psych-rock acts or to more recent act like Toronto's Do Make Say Think being the most stand-out. Not unlike the likes of Wilco and Beck, Nugent and his band play songs that have a definite song-writing sensibility within which they neatly pack a wealth of technicality and complexity which left otherwise unhinged could get a bit out of hand. The last track is a ten minute long monster that grows with a rising ride pattern on the drums with layers of sound building and building to a cathartic close that leaves even the crowd a bit out of breath.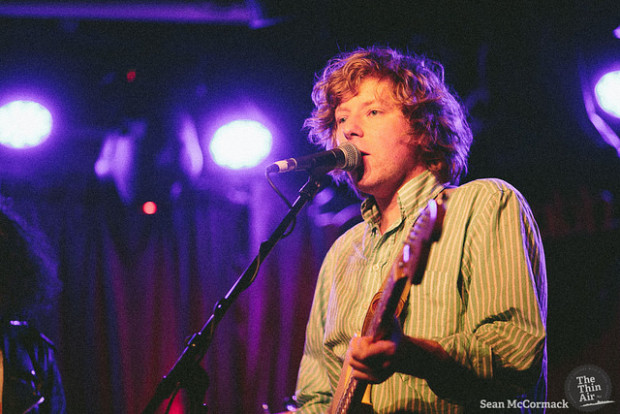 When Brooklyn's Parquet Courts take the stage there is a sense of seriousness and stoicism that you might expect. Ripping into their unrelenting and piercingly loud garage punk, the band deliver track after track of fast-paced, verbose and vicious music. And it's awesome. So much music lately takes feelings of frustration, fear, anxiety and anger and filters them in such a way to make them appear pretty and romantic using textured and careful sounds. Parquet Courts take those emotions and show them clear as day, raw and violent as they are. The guitars clatter like they would when a teenage boy goes home from a bad day at school and plays Nirvana songs for hours. Both guitarists Andrew Savage and Austin Brown spend a lot of time creating feedback by running the guitars in front of their amps to add to the cacophonous sound of the whole thing.
There is a line in crowd favourite 'Master of my Craft' where Brown shouts, "I didn't come here to dream or teach the world things, define paradigms, or curate no living days'. They instead appear to have come to show the rawness of personal frustration without any of that extra fluff that an awful lot of music tends to bring now. This is what being annoyed sounds like, and they pull it off terrifically in the same way acts like Slint and The Fall have done previously. It's only a shame that the lyrics aren't a bit clearer amid the chaos.
After an hour of short, sporadic tracks with highlights like 'Sunbathing Animal', leaving us in tatters the set is closed with 'Uncast Shadow of a Southern Myth', a droning track in which Brown uses a bottle of Sol as a slide for his guitar and Andrew Savage's vocals sound like the last bitter cry of someone at the end of their tether. There's something poignant about the show ending this way, when the frenzied anger is passed it ends with the sound long winded frustration, and the band walk off stage with a smile and a wave.
Everyone's ears and bodies are, as expected, in bits having been battered without pause for an hour. There was no real need to reflect on the show we had just seen, people just shook their heads, exhaled and repeated 'f—in' deadly' over and over again. Eoin Murray
Photos by Sean McCormack