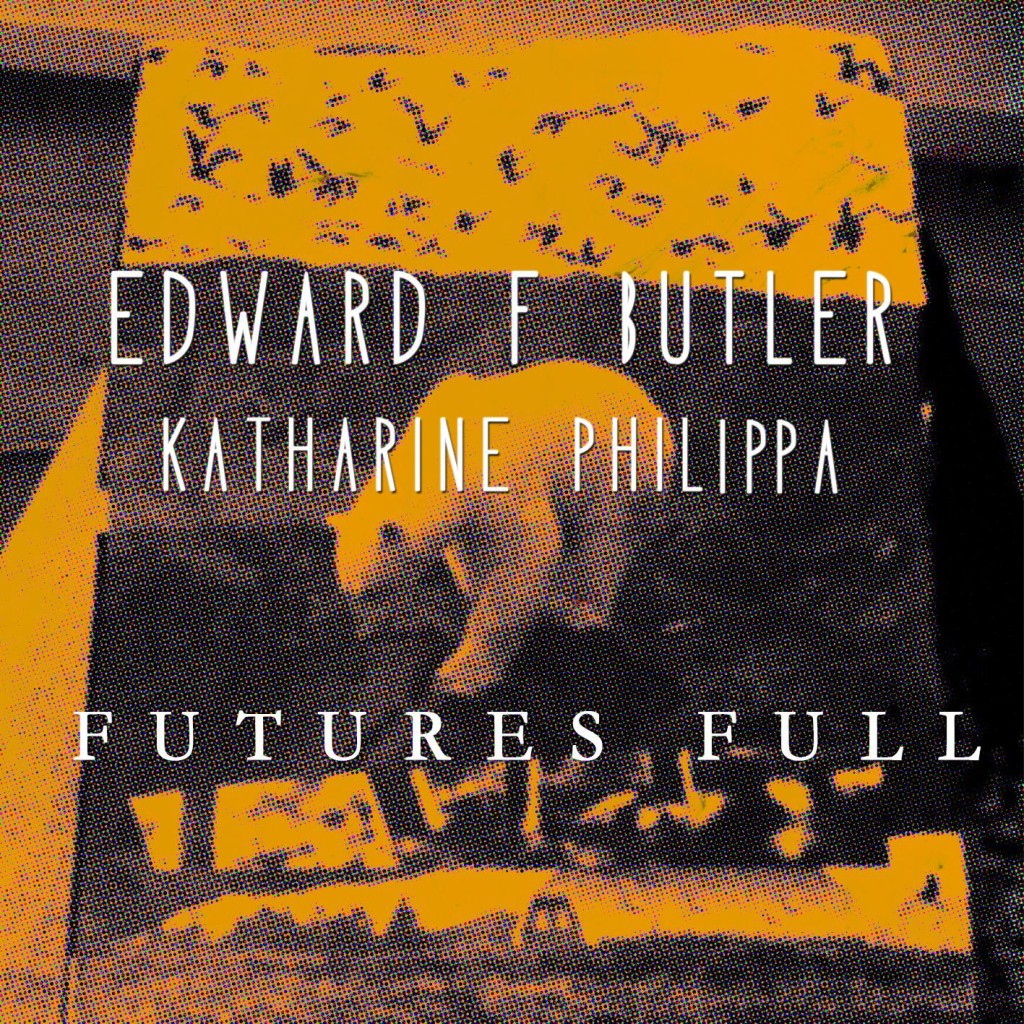 Doubling up as an exclusive first look at the former's video for the release, Brian Coney chats to Edward F Butler and Katharine Philippa about their inspired collaboration on superb new single 'Futures Full' and more.
Hi guys. First off, when were proverbial seeds for this collaboration sown?
Edward: When I first heard Katharine's voice I knew that there was something special, and then the more we started to hang out, we just were kindred spirits, both hyper creative. We met at S.A.R.C, the breeding ground for Belfast's experimental pop types, but didn't start working together until the start of this year.
Katharine: I've always had an interest in Ed's voice, and thought that it would be great to experiment, and see what our voice blend would be.kathar
You've played and appeared in the same circles over the last couple of years – did you always hope to team up one day to create together?
Edward: When I was in H:OWL, the rest of the band and I always wanted to be KPs backing group, so she could prance like Grace Jones on stage. I always hoped to work on some project and friends suggested it a lot too, so when I wrote this angsty song, 'Futures' Full' I knew I needed someone to give it life, to help make the lyrics more universal, and I knew that KP with her poetry 'Broken to Be Rebuilt' was the missing piece to the puzzle.
Katharine: The strange thing is that sometimes, when you're in smaller circles – like the Belfast scene is – you don't necessarily end up writing with each other; but the pieces just aligned for us.
I definitely see certain parallels between you both, all of which are clearly conducive to how good the single is. Which traits or penchants do you feel you share as musicians, if any?
Edward: So I have this tendency (which I am shedding) to throw every idea at something, rather than letting the purity shine. KP has this voice and character that's powerful yet fragile. Her arrangements are stripped back. If you ever spend time with her you know how poetic and contemplative she is, every action and word is thought about, her sensitivity is amazing, and her ear is great, she is a lot more patient than me, she was a great producer to work with.
Katharine: [Thanks Ed!] Well, Ed is brimming with creativity – which is always important for this sort of carry on! I'd say we also share a love of beats and rhythms. So we tapped into that a little (!) Conceptually speaking, we both had a core understanding of where the lyrical content was coming from; that created a hinge. I also think working with Matt Duke [10 Man Productions] in this project really helped the outcome of this: gel our similarities; neatly present our contrasts.
What was the gestation period for the track? Was it written in one sitting or did you construct it over take days, weeks or months?
Edward: The original song was written in one sitting, and I had produced a version with live drums and bass, almost like an acoustic arrangement. I started producing it with Matt Duke of 10 Man Productions and he had to dig away at layers of ideas of me playing hundreds of different synthesizer lines on top of the acoustic arrangement, then I found this old song called Little Red, that my mate George and I produced, and thought the beats would fit, and it was one of those so close but no cigar. Then it got to the stage of all of us being busy, Matt had a new baby, my video work was getting a little crazy, and Katharine… well, she came on board… maybe March…? So all in all it took about a year from conception to birth.
Katharine: Yeah, I think it was about March I came to the studio. The skeleton was there; it was all just about clothing it. The track felt so malleable; dynamic contrasts were then impressed onto it. There's an emotional dullness to the track; there's a stripped atmosphere; but there's also this intensity, desperation — confusion, even. It took quite a while for all of that to really sit comfortably.


How did you approach the songwriting process, in terms of both getting things underway and letting the track take shape? Did one person "look after" one aspect of the track or was it a blend of different things?
Edward: I produced a few rough demos and Katharine had great melodies and hooks, I had this lovely surprise of checking my Dropbox, after having to leave the studio early and what was originally a mellow James Blake track, turned in to a disco epic, with a powerful chorus. I guess I wanted to try and make it more pop and 3.00, but it has this ethereal quality that KP brought to it, which adds to it…
I'd say I definitely stripped it back a lot initially. A lot of my own work is very bare, and I wanted to honour the direct honesty that the lyrics have – just as if I was speaking to someone. But like I say, the blend was key; the balance of emotional and musical content was paramount. Inc. Matt, we all chipped in our constructive thoughts and reviews on the track's journey, each step of the way. A team effort, you'd say.
In terms of the lyrics, were they written entirely by you, Edward? And what is overriding theme/themes of the song?
Edward: I had what felt like amnesia in July 2014, I fainted and banged my newly shaved head, after what some would call… "doing a Britney".  I was in a bad way, all I could do to escape was scream and bash on my guitar. I retreated to rural Northern Ireland, and wrote a lot of very personal songs. So KP helped me edit it, so it was a lot more universal.
The overall theme is about identity, and your reason for living. I got in to this stage of listening to loads of TED talks and there was this one about your unique identity, your purpose for living.
The track was mixed and mastered by Matt Duke at 10 Man Productions. Why did you opt for Matt?
Edward: I liked his work on KPs EPs, and he seemed to understand what it was like working with oddly creative troubadours.
The track is accompanied by another stellar video from your self, Edward. How did you go about making it this time, and what's the significance of the sad robot? (Does he have a name?)
Edward: Answer 1: I just bloody love robots. 2. Well, we all have times in our lives, where we loose all sense of identity and purpose, and work just to pay the bills. It's from a great short film about a sad robot where he narrates his life and views a slide show of life before being a robot. I wanted to dress up and visit Belfast landmarks as a robot, but due to moving all over the UK, it didn't quite work out.
Katharine, you've played some great shows this year including Sounds From A Safe Harbour, Dublin's Wood Quay Amphitheatre and your first sold out show (at Belfast's Black Box). What's on the horizon over the next few months in terms of playing and solo material?
I've a couple of gigs in October in Northern Ireland (my website has dates and details). With playing more live shows, I'm learning so much, and continually crafting my live set to be the best experience it can be for the listener-watcher. Otherwise, I'm writing all the time, and self-demo'ing as I go. Working with other people has/is also a great experience. Really, I'm focusing on development, in all things. And I'm looking forward to the next step.


Edward, you're currently back home in Norfolk, having lived over in Northern Ireland for a while. Have you plans to return soon and what's the plan for promoting this new track, as well as writing/releasing new material and playing live?
Edward: After talking about it for ages, I will finally be putting out an EP and it will be in all the online places… with a couple of remixes and soon will get a hard copy out with a lovely illustrated lyric book. I will be gigging across the UK, playing with friends in Manchester, Norwich, Leeds, Sheffield, London and Brighton and will try to make it a visual show as much as possible. I hope to bring an AV show to Belfast soon. I am going to be getting a lot more active on Youtube making more videos, doing covers, hoping to release a new original track and video a month, and will be collaborating with other lovely people, I think some of the Northern Irish contingent in London are going to run some shows for each other.
Finally, with the release of Futures Full, do you envisage collaborating more together in the future?
Edward: I haven't run it past KP yet, but I think Futures Full is a great name for a band and we should make this happen. We were chatting yesterday about collaborating more.
Katharine: I think it would be cool to take a different approach; vocally, we could expose so much more. So we shall see…