Ahead of Devil's Night Disco this Halloween Eve in Dublin, Loreana Rushe talks to renowned composer Claudio Simonetti about performing the acclaimed soundtracks for Profondo Rosso and Suspiria live with Goblin and how horror as a genre has shaped his work.
Hi Claudio. I'm very happy to be chatting to you and looking forward to Devil's Night Disco in Dublin, which promises to be a very special show on Halloween weekend. How are you currently preparing for the double bill?
We're very fortunate to perform Profondo Rosso and Suspiria for a long time and I don't think we'll have any trouble in doing a double performance in the same day. I think it will be an interesting experience, especially gauging the public reaction in watching two movies when they're so different one to the other!
Italian horror/Giallo cinema from the late 20th century is renowned for it's cultural impact and critical acclaim worldwide. How does it feel to perform the scores from Profondo Rosso and Suspiria live to audiences today?
These two movies are very representative among the Italian movies for the same genre. Profondo Rosso is considered as an Dario Argento's masterpiece, even though Suspiria is more famous abroad. Anyway, both of them especially with live music accompanying have such a great impact to the public.
Throughout both films there are naturally some non-music parts. How do you fill in those gaps in a live setting? Is it improv every time or have you scored it additionally?
We always try to play the same music as in the original film but sometimes it can happen that we have to improvise where the music is not included in the O.S.T. and it's totally spontaneous.
What is it about both of these soundtracks that you feel have resonated with so many people and what do you believe has ultimately lead to their popularity?
These two soundtracks are very different on from each other, Profondo Rosso is various, rhythmic and gives an immediate impact. Suspiria it is full of atmosphere, it's music is able to push the audience in an anguished sensation which grows during the film. They are two very different soundtracks that have marked out Argento's films.
How did you develop the scores for both films? Was it informed visually or aurally first? Did you have an idea of what you wanted to achieve before viewing the films?
Profondo Rosso was a very fast job because Argento got in touch with us just a little more than one month before the film release, so we only had a couple of weeks to do everything. With Suspiria we had enough time (more than two months) to work on it and even to try out new sounds.
Would the music have evolved naturally from your own work or was it dependent on the direction of Dario Argento?
From the beginning, Dario suggested solutions by giving us lots of different music to listen to, but finally we did everything by creating the music under his supervision.
How much of an impact did the success of Profondo Rosso have on Goblin at the time and how did it steer the course for you as a group?
We really didn't expect so much success when we recorded Profondo Rosso, after all, the music was not so easy to listen to! In the end, it has worked very well and we've sold more than 4.000.000 records in 40 years. This is still so unreal for us and totally unexpected, it has completely changed our lives and our way of making music.
Were you familiar or interested in horror as a genre previously? Did you do much research ahead of it and how did you begin to involve yourself with this kind of music?
I've always loved horror films but never had experience in working on it, Profondo Rosso has been my first O.S.T. and my first album. Everything was a casualty, I was playing with Goblin and Goblin were deemed ok for an horror film, so Argento called us.
What is your personal connection to horror films? Do you have a favourite monster or character?
The character I loved the most is certainly Dracula in the Christopher Lee version. I loved a lot of horror since I was child, Hammer's films and Hitchcock's films as well (even if Hitchcock is not properly considered as a Horror director), and I remember I really appreciated L'Uccello Dalle Piume Di Cristallo from Dario Argento, when I watched it in 1970… I didn't think one day I would have been working with him!
How do you feel horror soundscapes have evolved since their conception in the 1940s with the likes of The Wolf Man soundtrack, Hammer Horror in the 1950s, through your own and your contemporaries involvement during the 70s/80s, to now in modern times?
Music for horror films has really changed from 1940 to now, surely also has the relevant acoustics, which were sometime very rock orientated, but I honestly love to be closed off to the old style, especially in the Dracula's 3D films by Dario Argento, where I tried to recreate the typical atmosphere of the Hammer's films, even though it was with modern sound.
Your 1980s work led you away from the Prog Rock offerings of Goblin and focusing on Italo Disco which eventually inspired the soundtrack for Tenebrae. Was this a freeing experience?
Those years, after 1980 with Goblin split, I was very involved on a dance music and when Argento asked us to write the Tenebre soundtrack, I immediately suggested to use a style very closed to dance. But in fact we used electronic drum instead of traditional ones and many synths, including the vocoder to say the word "paura" in the main track. Goblin had broken up three years before, so we used our real names, Simonetti, Morante, Pignatelli, also because of contractual problems with the record company!
Personally, Demoni is one of my favourite soundtracks you've created as it captures something so distinctively of that era in horror films. Do you feel the music style of the time played a pivotal role in some of your scoring decisions throughout this decade?
After Tenebre's "electronic" success, I had a call from Argento asking to write the music for Demoni, a Lamberto Bava's film. Also in this case I used all the instruments I had used in Tenebre, even though it was a very different type of film genre. Immediately I thought about incorporating a modern style of music but with elements of tribal. I must say that is one of my preferred soundtracks and that confirmation comes from the various new editions released in this period, having an enormous success particularly in USA.
What's your opinion on the transgression from analog to digital? Do you feel it's easier to emulate particular sounds nowadays or would you want to? Considering the difficulties in taking a Hammond organ on tour, do digital synths make this process easier for you to recreate live?
I love vinyl, I love LP's analogical sound, but I think that digital has given us the opportunity to listen all the old music, having perceptions of all the instruments that vinyl undoubtedly hide. Even if I'm at home I have a Hammond B3 and a Leslie with valves, but I don't miss them when live I use Nord's Electro3 with a wonderful Melletron and the Vintage from Moog, it costs a fortune to have these instruments but they're not as cumbersome as the originals.
If you could create a soundtrack entirely for any film that already exists, which would you choose and why?
This is a frequent query and sincerely I don't know how to answer. I think that any film has it's style and it's music. I have just noticed a certain musical deficiency in the remake of Dawn Of The Dead by Zac Snyder, a splendid remake that doesn't have the music strength of Goblin's as in the original from Romero.
Do you feel there's any other genre of film you could lend your work to seamlessly?
Indeed, I'm famous as a composer of music for Horror films, but in my life I've written music for so many different films like detective stories, comedy, drama etc. I think writing a soundtrack is the most beautiful job for a musician, because it gives you the opportunity to use much more of your creativity.
Finally, do you have any plans for future soundtracks or collaborations? Is there anyone in particular you wish to work with?
Now I'm starting to write the original soundtrack for a new Ruggero Deodato's movie, who is the famous director of Cannibal Holocaust, a very particular film noir, based on a true story of an Italian crime news story. I'll keep doing my live concerts around the world with Simonetti's Goblin, with whom I'll work on a new album release of original songs. Saluti!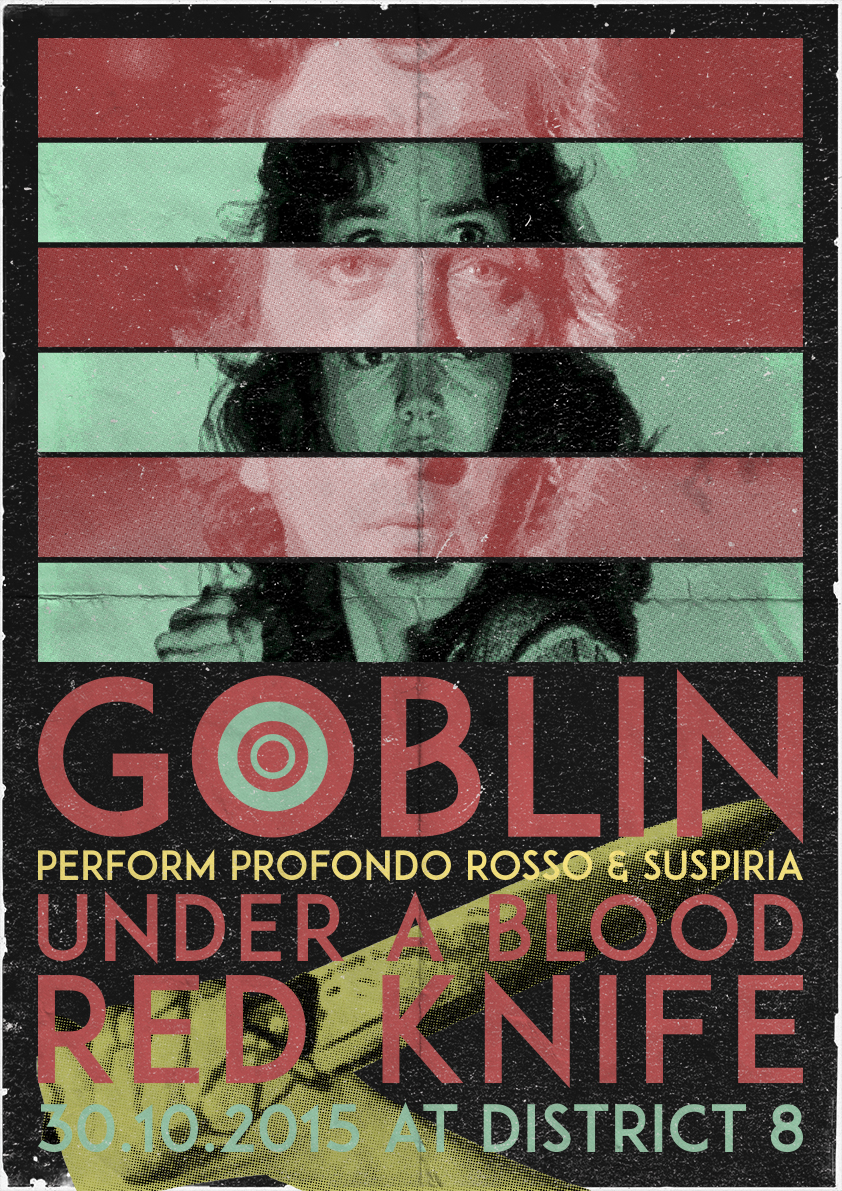 Claudio Simonetti's Goblin perform a live soundtrack to Profondo Rosso and Suspiria at Devil's Night Disco in District 8 in Dublin on Friday October 30. Tickets can be purchased by clicking here.