Near the top of Bold Street as you amble uphill toward the bombed out church; beyond the spot where less intrepid travellers pause, is a place of rest and recuperation; a place of beauty, chocolate wonderment, amazing brews and some of the finest music in the City.  A tea room in the 20's, a cinema in the 60's and home of the original Microzine clothes shop in the 00's, LEAF stands proudly in this beautiful art deco building.  It is fortunate to have maintained above its main tea emporium a triple height acoustically beautiful performance space, filled with an impressive bar, an assortment of quirky furniture, miniature disco balls, twinkling lights, that art deco detailing and a couple of great big hulking AC units.  It is a beautiful room, if you ignore the scaffolding holding it up, the wobbly floor and AC units.
Tonight Leaf hosts a very rare performance of Sea Legs.  A project that needs little introduction to The Thin Air readers but one that is met with perhaps a little trepidation among the gathered masses.  And gathered they have, in a standing room only huddle they wait for something few of them will have heard before.  The support act for this evening's journey is Little Rivers, the artist formerly known as Callum Cairns, a talented native of Belfast and Tea Shop dweller. Tonight he sits behind a piano and works up some magic, humour and a shed load of sensitivity to warm things up.  There is only so much tea can do to be fair.  Callum is a surprising proposition, the last time I saw him it was with a guitar, and the time before that in Belfast I remember it as louder than this.  Melodic, sweet and intense, Callum builds enough pressure in the room to ensure the coffee machine is busy during the interval.   You'd nearly think he was on commission.
Ciaran Lavery is about to set off on a solo UK tour, playing the kind of rooms you know he won't be able to book next time round.  For the first night of this jaunt he is joined by a barely visible behind all the tech Ryan Vail.  Included in that tech list is something that looks like a cross between a touchpad and a 3D version of Tetris that had most punters wondering what it was exactly, I don't know what it was, you'll have to ask him.  The two are dressed smartly, polite to the point of apologetic, introspective and respectful of those who have come out in such numbers.  They apologise in advance for the tears this music will bring forth, the tension that is bound to follow and for the hours spent in deep thought trying to work out where the nearest deserted beach is… Sea Legs is simply a beautiful piece of work.  I was lucky to have first heard it back in January. I remember a feeling of peace wash over me and feeling wildly homesick. I was desperate to get back to Donegal, back to my beach (the one I'm not telling you about between Falcarragh and Dunfanaghy…). It's that kind of record, it immerses you in a different world.  It has an otherness to it that is almost indescribable.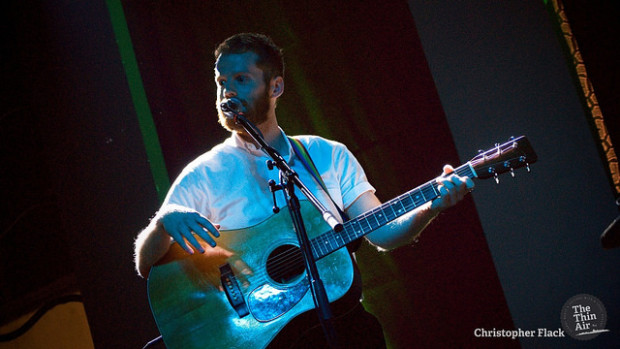 Live, Sea Legs manages to be a different thing altogether, it brings a different layer, another dimension, new sounds, tweaks on the originals and a near spiritual awakening on hearing the words spoke aloud.  It's almost like you're at some southern state bible meeting if it were to take place on Horn Head with the wind sweeping across the hills.  Performing something this diverse, this far from the norm is a brave thing to do in a new city but Ciaran and Ryan carry it off in style, the room is still and silent throughout, you can tell the bar staff are being extra gentle, you can see punters trying desperately not to move their seats for fear of scraping the floor and disturbing the peace.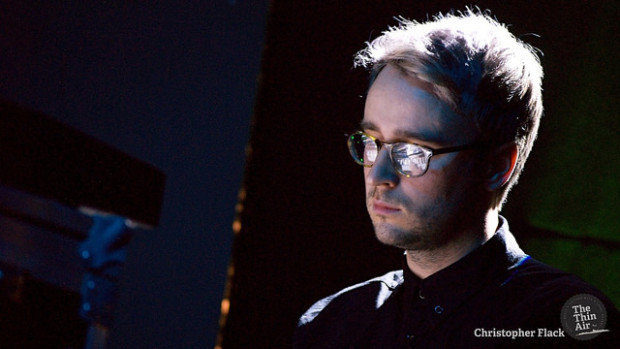 The standout track is 'Flow,' an alt folk, blues, electronic mash up that is both uplifting and deeply soulful, Lavery's vocals are raspy enough to set this tune off somewhere else, place it in another room almost. It's as though you're hearing it in a dream or seeing it through someone else's eyes, it's a beautiful thing.  Another moment comes with a hundred different flashbacks, memories of nights on the Belfast to Liverpool ferry.  The rendition of 'Shipping Forecast' is oddly disturbing as Girls Names are at the very same moment launching their European Tour around the corner in a bar of the same name.  Half the band and most of their gear arrived by boat in the wee small hours, taking that same journey generations have taken across the Irish Sea.  Dark and foreboding, it's a piece that needs much more than its all too brief one and a half minutes.
It's an astounding achievement to take two completely different artists and create something as coherent as Sea Legs, more impressive is the feat of taking that to a room of strangers and hold them in awe of the work.  If you're far away from home, plug into it and dream of those long thoughtful walks along the coast, if you're lucky to be near that coast take this on a long walk, get lost with it and get lost in it.
Words and photos by Christopher Flack.