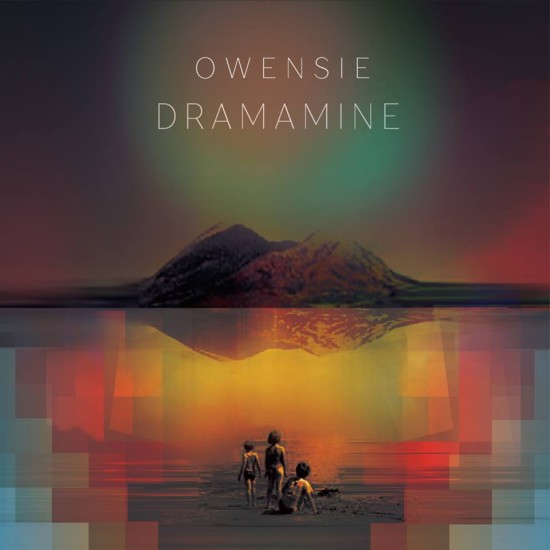 It's not every day – or indeed week or month – an album like Dramamine is released into the world. 
Set for release via stellar Limerick imprint Out On A Limb Records on Friday, November 13, the third studio album from Dublin songsmith Michael Owens AKA Owensie is a masterfully accomplished nine-track release of meditative, decidedly Autumnal folk-pop summing everyone from Department of Eagles, Sun Kil Moon circa Admiral Fell Promises and Kill Rock Stars-era Elliott Smith.
Recorded in various indoor and outdoor locations across the country, using natural acoustics to create an instantly resonant sonic sojourn, there is a cunningly considered glory to the album, one that merges deeply solipsistic ruminations with semi-mystical invocations that aim straight for the psychic jugular. Having spent three years working on the release, Dramamine is a conquest of the heart and soul that demands your attention from the get-go.
Set to be officially launched at a BYOB show at Dublin's A4 Sounds on Friday, November 13, we're delighted to present both a premiere of Dramamine here, accompanied by a wonderfully detailed track-by-track insight into the writing and recording process from Adams.

___
The album was supposed to be a fully stripped-back, guitar and voice affair. I spent a long time honing the songs in order to make them as concise and colourful as possible without the need for added instrumentation. I wanted to just record the album and be able to hit the road on my own. As I began to record with James Eager in his living room in Wicklow I started to hear more and more ideas for accompaniment, but I kept resisting the urge to elaborate musically on the songs. After a while I approached Dek Hynes (he's worked live with Sacred Animals and recorded the first No Spill Blood EP a few years ago) about doing some minimal production for the album. He's someone who I would always go to for a second opinion on anything that I record. He was going through a pretty tough time so I gave him the songs to listen to and asked him to consider doing some further production if he felt that the songs needed a little push here or there. I thought that, in the very least, it would be therapeutic for him to have a small, "no pressure", project to work on from home.
But he ended up doing the exact opposite. He spent months and months working on the songs, messaging me every day with ideas and telling me about all the things he was planning on doing. One day a friend called me and said he had bumped into Dek in town, walking down the road with a sack full of percussion instruments that he'd just bought for working on the album. He was jingling down the road with a big sack of shakers and bells and all sorts of crazy shit. So after a while I became fearful that the album was losing its core. But Dek was relentless. And he had brought a whole new level of depth to the sound of the album that was hard to turn back from once he'd set it off on that road. So by the end of 2014 the album was becoming a very different thing.
Around that same time, Dek bumped into Conor O'Brien at a gig in Dublin. He offered to help out on the album and so we went to his house in early January this year. I didn't have any great expectations and assumed that at most we'd set up a mic and try out some backing vocals. He would have been getting ready to begin touring 'Darling Arithmetic' around that time so I didn't want to be asking very much of him to be honest. I was mainly honoured that he had expressed an interest and given the time. But he took us into his home for the day, set up his kit and synths and shit in the living room, made tea and coffee and fed us, and we had a really fun day recording him. We left his house late that night with a lot of new layers of backing vocals and drums.
Julia Mahon has been the arranger on all of my albums and normally she would have arrangements composed in advance of recording, but this time I asked her to just come in and play. She's a great improviser and everyone was really happy to just sit in the studio, hit record and listen to her play saxophone for a few hours.
After that it took many months of mixing with James in the studio. Each song had to be peeled back to its core and built up again. The album had changed so much that I felt alien from it. This created a lot of tension as Dek had become heavily connected to the album at this stage. It had become more like a co-write than a solo album. He had a very specific vision for the album having a very big sound, and I was trying to claw back my original intention to have a very understated solo album.  That was probably the most difficult phase and probably the most confusing for James in trying to mix an album with that tension there. That was the most stressful time but I took some assurance from it that, if people were being passionate about the record, it was really because they cared about it.
THE SONGS
I Don't Mind is a personal ode to the ambivalence and disappointment of middle-age. Ultimately, its just first-world-problem bullshit, but when you're young you can dream of being and doing pretty much anything you want. With each year that passes you to come realise the limits of those dreams. And within that there's a frustration; of getting older, being responsible; being a parent; having to keep your cool and stay in control while shit falls apart around you. You have to mask your anger and frustration more. You start running out of outlets for your anger. And so it tends to fold back onto you and make you ill.
Lyrically, Dramamine is the dumbest song on the album. It's not much more than a synopsis of my favourite episode of Columbo. I'm a big fan of the character and the very charming Peter Falk. So I call this 'Falk music'. I love that Columbo is always investigating 'up'. His primary suspects are always the rich and powerful. I think there's an important lesson there. Don't trust the super rich. Cause they'll kill you if they have to. Anyway, musically I really love all of the elements of this song. I listen to lot of old school bossa nova and tropicalia so I guess those influences are pretty apparent here.
Dek Hynes did some intense production on this and played all the synths and percussion lines over Conor's drums. In my mind I wrote the song to a 6/4 tempo, but when Conor started to play on it he was in 4/4. The beat sounded completely alien to me at the time but I went with it because it totally changed the dynamic of the song at just the right moment. I really love Julia's brass arrangements on this too. Normally she would compose the arrangements well in advance of recording, but this time around we just brought her into the studio and started recording straight away to see what would come out. She's a really great improviser and we were very much happy to just hit record and listen to her play saxophone for a few hours at a time. Beneath the surface there are drones by Aoghus McEvoy that come to fore towards the end of the song. Me and James spent many long nights in the studio mixing this. With so many elements involved it was hard to claw the core of the song back at times, but he got it there in the end.
I wrote Jennifer for all the young people who continue to get fucked over in this country. Too easily written off as lazy, criminal, and dangerous; denied meaningful work and engagement with society, and simultaneously bombarded with advertising and the propaganda of consumption as the only attainable means of status.They're largely forgotten about until they do something wrong. Then they become one of the greatest threats to the social fabric. It was hard to make a song feel angry and sympathetic at the same time, but I think we got it there in the end. I can really hear the Elliot Smith influence in this song, with Gerry Rafferty-esque production values in mind, and maybe some Grizzly Bear too. I also got to play bass on this track, which I really enjoyed. I really want to play bass in someone else's band someday.
In Scary Eyes, Conor wrote some really beautiful backing vocal melodies on this. Again, Dek played almost all of the synthesiser and percussion elements on the album, and you can really hear how he put his mark on it in this song. This is one of the oldest on the album, so its very much buried in my earlier influences from the first two albums, but I was listening to a lot of late 50s/early 60s jazz during the actual recording, a lot of Miles Davis, Charles Mingus and John Coltrane, so I was always pushing for the brass arrangements to be broad and sparse, and trying to create as much space as possible in that kind of 'Birth of the Cool' era style.
Doldrums is something that I really wanted the album to have. Aonghus McEvoy did some pretty sweet drones on this with a guy up in Belfast called Tullis Rennie  on trombone. We'd kind of half-drunkenly discussed collaborating on something at a party once. I'd gotten interested in a lot of the drone and experimental stuff going in Dublin, and he was feeling a bit isolated in terms of his academic pursuits around sound experimentation, so it was great to follow through with the idea. I'm a big fan of Woven Skull. I added some more drones with electric guitar in the studio. Me and James had a lot of fun mixing this in The Hive. I've been recording with him for years and this was our first time experimenting in this way. It was a lot of fun to be making an arrangement with the mixture of sounds, noises and melodies.
Open Prison is pretty self-explanatory. I really love the tuba line in this played by Ronan Boland. It's something that a less imaginative producer would probably use cello for, but I think that it captures the mood of the song really well. He works with Dek in a record shop in Dublin, so Dek got him over to house one day to try it out. Julia's sax solo on the middle eight is really awesome too! I'd been listening to Gerry Rafferty a lot during the last year of making this album so I was really happy to have saxophone feature strongly on this song.  It took a couple of sessions in the studio to get that line right but the overall process was really fun.
You Are Away was written pretty quickly. Sometimes a song will emerge and not let you escape from it until it's been finished. So I was walking around with this is my head for about a month non stop. I was listening to the album Domingo by Caetano Veloso and Gal Costa around that time, so the Brazilian influence is there again. These type of songs take over your life and make it hard to concentrate on anything else.
Why Won't She was recorded in an dilapidated house on the grounds of an old convent in Wicklow not far from the Hive Studios were James Eager is based. There were holes in the roof and collapsing walls but for whatever reason the acoustics were perfect so we recorded it there and then with a H4, a lot of batteries and some nice mics. There was no click track to play along too, but Conor still managed to put a beat down on it where the middle eight kicks. I can hear the influence of Boards of Canada in this song around that section. A bit of a Campfire Headphase buzz going on. Me and Laura DeBurca (cover artist) did some field recordings around the Crumlin Shopping Centre in Dublin that you can hear appearing towards the end of the song too.
Red Line is about the tram that runs through Dublin's north inner city and towards west Dublin. I work my day job across both places so I feel like I have something of a relationship with that route. It's quite fascinating in that, as a moving piece of public transport, its also renowned as a site of drug dealing and general anti-social behaviour. It's also mirrored by the Green Line which runs through Dublin's more affluent southside suburbs so, as a Dubliner, the symbolism is quite obvious. Its Ireland as a land of rich and poor, and cowards like me trying to eek out an existing in the middle of all the mess. I had originally intended to call the album 'Songs from the Red Line'. So to me its the perfect illustration of how the album started out and ended.