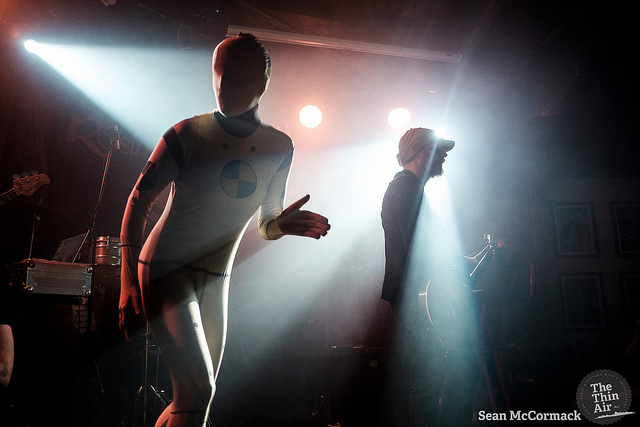 There is no use in disputing the claim that Waterford's King Kong Company are one of, if not the, best live act in the country now. In the past couple of years, since their grand comeback after several years off the radar, the five piece band plus dancer Trish Murphy have been crowned as lords of the summer festival, playing almost every one in the country this summer including three sets at Body and Soul. This unyielding capacity that the act have honed in the festival scenario makes it so that the exact same feeling is impossible to avoid at their near capacity show last Friday night in the Roisin Dubh.
The venue is near capacity as the band takes to the stage donning ominous masks and wielding their flag, bringing an indescribable intensity into the room before a single note has even been played. Once the music does start though, the atmosphere is immediately one of a tension building, of a crowd waiting for that last push that will allow them to toss away any inhibition they were clinging on to. King Kong Company's Buckfast guzzling, trombone wielding, drum battering orator, Mark Graham understands this need and immediately tells the audience that they are not even for a second allowed to not have a good time. Echoing a sentiment he bellowed during the summer festivals, "If you have them, now would be the time to take them", Graham and the band know that audiences want to dance and forget their inhibitions, if even just for an hour. And with every word between tracks and with every flurry of sound the band knows just how to grab you by the shoulders and shake you until that tension is gone.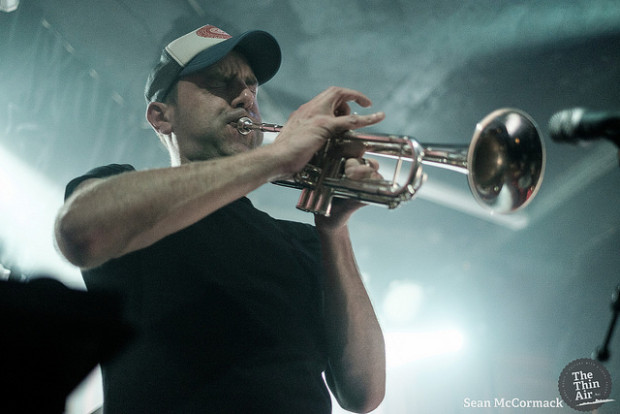 Taking influences from less likely places, with elements of dub reggae, drum and bass, trance and ska filtering into the unrelenting electronic groove and full-band ferocity, King Kong Company have created a sound that is almost entirely their own. Every track, from 'Game Over' to 'Dr Whom' to 'Eamon Devalero' is a thumping yet melodic feast that is impossible not to dance to. Like a markedly less angry Prodigy, it only makes sense that during 'Free The Marijuana', Mark Graham leaves the drum kit behind to lean into the audience, mic in hand, to sing part of 'Chase the Devil' (That one from 'Out of Space'…). All of this coupled with Trish Murphy's multiple daft costumes and the frantic projected visuals make for an experience that unabashedly based around having as much fun as possible and somehow recreating that festival atmosphere in a dark room in November.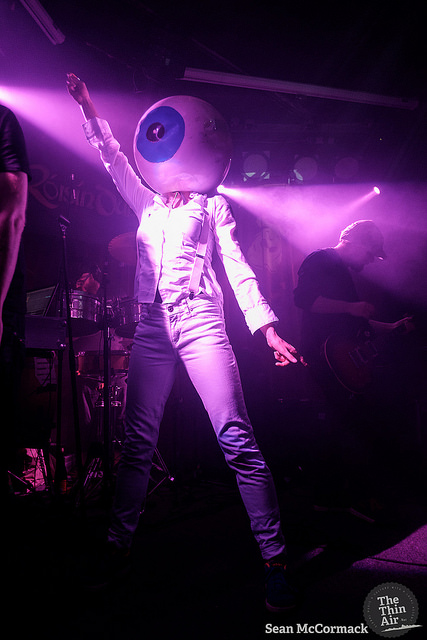 The latter end of the gig features crowd favourites like the wonderfully goofy 'IPOP' and 'I said Posse!' with it's tribal infused drums and hypnotic dub reggae samples. During a new track 'All These Things', Graham forces everyone in the room to crouch down (he tries to get the bouncer down too but no luck there unfortunately) only to make every single person jump like their lives depended on it when the song reaches its peak. Encore 'Spacehopper' is a euphoric, frenzied conclusion to what has been an hour of sonic battering. Graham steps out once again to snap into the microphone like a deranged town crier, solidifying the idea that this band is the totem of the Irish crowd's festival manner. In their own way, King Kong Company force you to take your uptightness, your awkwardness, your inhibition and say to it, as the bellowed lyric goes, 'Fuck off. You might be fooling yourself, but you're not fooling me'. They know you want to have an absolute blast at the show, and they make every point of ensuring that you do so.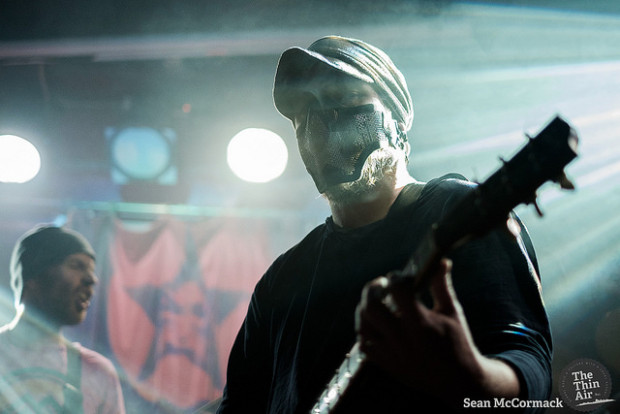 With King Kong Company's long overdue LP finally coming out on December 11th and an album launch party in The Academy on November 27th, you would be very unwise to look away from this band. Attendants at the album launch show will get a free advance copy of the album and will be treated to a tasty support slot by Get Down Edits. If you don't make it though, fear not, King Kong Company will without a doubt be campaigning across the country (and perhaps further afield?) next year, flying the triumphant flag of the most fun band in the country. If you don't find them, they will find you. That is a promise. Long may they reign. Eoin Murray
Photos by Sean McCormack