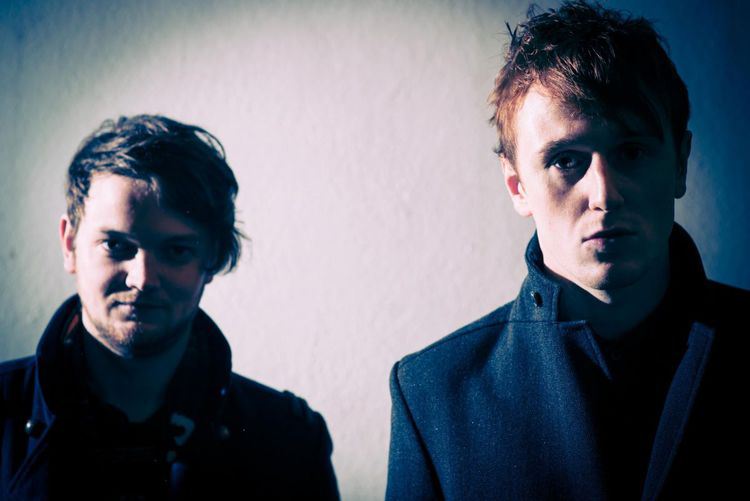 Dublin duo White Collar Boy have been turning heads of late. With an increasing focus on their live show over the past few years, the pair have already impressed with their warped electronica; from the leftfield garage of 2013's SUUU/Tide EP, to the accessible slow burn of 2012's Kinsale.
Having met each other at Primavera and subsequently forming in 2011, the pair have supported the likes of Factory Floor, Com Truise and Creep on tour, and are ready to mark the apex of their journey so far by releasing their debut LP in 2016. Euphoric lead single 'Away From Reality' hints at bigger sounds and venues beyond Ireland's more intimate clubs – we spoke to White Collar Boy to get their thoughts on an exciting few years, and to see what's to come.
It's been a while since we heard from White Collar Boy – what have you guys been up to recently?
We've kept live appearances to Metropolis and Body and Soul this year while we finished our debut LP. We definitely have taken our time over it as opposed to an EP or single, the album format is something very special to us and we wanted to put a lot of time and effort into it and not rush it. We had our second edition of the Disco Regatta in September (below), which was a huge success where we danced on the River Shannon along with friends Clu, Frank B, Dip DJs and The Third Policeman. We sailed some boats up the Shannon with decks and then had a venue for some night-time shenanigans in The Barrel Store in Carrick on Shannon.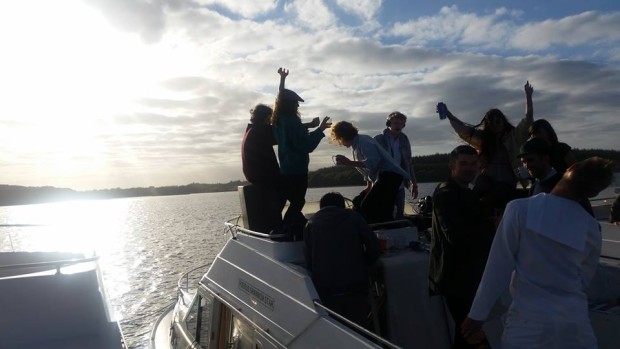 You guys met at a festival, but how did you both start making music? Was there one moment/event that sparked it?
The two of us around that time were making music on our own, and I (Gavin) had some demos which I showed to Mark and I guess Mark's natural instinct was to get involved because there were so many similar themes. Those recordings were pretty far removed from what we've focused on sound wise recently but the origins of the mood and melodies coming from more 'traditional' forms of songwriting have definitely stayed constant.
New single 'Away From Reality' feels a lot more euphoric than previous releases; anthemic even. Is it indicative of the style of your upcoming album?
I'd actually go as far as saying it's quite a departure from the rest of the LP. We've finished off our most recent live shows with it and it's the oldest cut from the record and the video for it really suited so we decided to release that first – it's one of a couple of more club-orientated cuts so it made sense. The video is a slight glimpse into life in Dublin for us and in essence the record is a collection of songs reliving our lives in Dublin, whether it be personal experiences or sentiment from the city. As a contrast to the brightness and euphoric nature of 'Away From Reality' the rest of the LP is filled with dark undertones. In a sense, 'Away From Reality' is exactly what its title suggests.
Many up and coming electronic acts choose to stick to single releases for a long time before braving a full-length – what made you guys decide to release an album at this point?
We were both raised on the more traditional LP formats and a lot of our favourite memories or musical moments would be born from discovering a new LP. We both feel it's the truest from of expression in music and encourages the listener to have more of an engagement with the artist as opposed to single releases or EPs. They can really be flashes in the pan but an LP is a much higher representation of the artist.


What sort of artists were in your mind when it came to recording the new LP?
I don't think we had any conscious decisions to go for a particular sound and sit down and say we should try sound like this or that, but certainly what we listened to around the recording period influences us a great deal, as well as constant older influences. Artists like Koze, Daniel Avery and stuff from Kompakt, Life and Death and DFA can be seen, as well as older nu wave influences. The biggest influence in reality though is living life in Dublin.
What sort of challenges do you come across when playing your material live? Do you enjoy road testing new material?
It's always something that demands moving forward with new ideas, we have had guest singers in which is always great but we always want to have more and more of a live feel, so we would like to bring in a live drummer, but finding the right balance will always be tough. It has to be so exact so we will keep working on this as we always alter the way we work. The most important thing is keeping the sound as precise and sonically engaging for the crowd as possible.
How do you guys think the electronic scene in Dublin is faring at the moment? What's it like to be a 'band' there?
There's certainly some fantastic artists in Dublin at the moment like I am the Cosmos, Lasertom, Clu, Frank B, Gemma Dunleavy and Forrests for example but it really is a struggle for us as a city and country to export our artists outside of the country. We've been fortunate enough to play some gigs abroad in places like Berlin and London but it's really tough without any sort of structure or pathway above to let us just focus on music and interact with labels we want to interact with. We are really proud of the music we make and the scene in which we are a part of, but at the end of the day we are independent artists who don't have much money aspiring to be the best we can be in an environment which demands expensive PR as much as it demands talent. Dublin is a city that craves electronic music, but the focus is on international DJs and producers and there's nothing to encourage artists to progress other than the artists' own will to make music. The artists in Dublin have desirable products and there needs to be someone who can help to show the world that.


Would you consider moving away from Dublin to pursue your musical careers?
It has crossed our minds – but realistically we both have a lot invested emotionally in Dublin and it's a major part of our character as people and musicians. We don't necessarily want to move to Berlin to sound like Berlin. We want to expand on the Dublin sound.
How does the songwriting process work with the two of you?
A lot of the time, we work individually and then bring pieces in together and then we set about mixing and playing around with ideas. We like to take our time though, as time is the best test against anything. We really enjoy collaborating too – getting in our good friend Sean Reilly for a track off the LP was great. It brings a whole new dimension.
You've remixed a couple of artists so far. Who would you most like to remix one of your tracks and why?
DJ Koze. Simply the best.
What does 2016 look like for White Collar Boy?
It's hard to say exactly, but we want to get this record out as soon as possible. Early Spring next year is the plan and then we can look forward to touring again as well as the third edition of the Disco Regatta. We'll be in France in June, though!
Go here to keep up with White Collar Boy