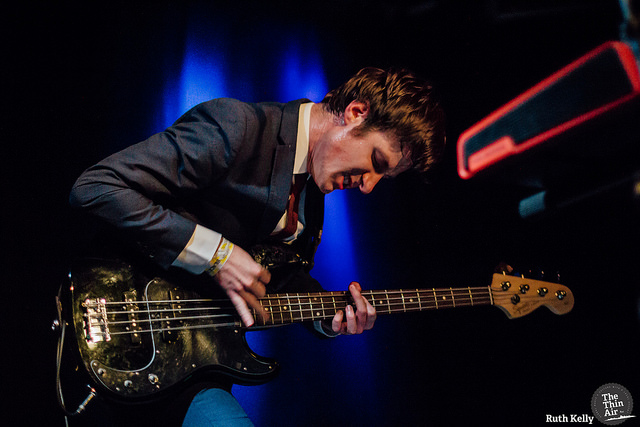 In the latest installment of Irish Tour, we capture William Doyle AKA East India Youth at Belfast's Black Box and Dublin's Button Factory. Words by Cathal McBride, photos by Ruth Kelly and Isabel Thomas.
The Black Box, Belfast
Photos by Ruth Kelly
It's been a busy couple of years for William Doyle, better known as East India Youth. First his 2014 debut LP Total Strife Forever gets nominated for the Mercury Prize, then he signs with XL to release follow up Culture Of Volume little more than a year later to similar levels of acclaim, all while constantly touring in between. Understandably he's stated that this current run of gigs will be his last European shows until at least next year, which makes his first Belfast show, a highlight of another excellent Out To Lunch Festival bill, a difficult prospect to pass up.
Derry's Ryan Vail (below) takes to the stage first, showcasing songs from his forthcoming debut album For Every Silence, his first solo show in some time having been preoccupied by his collaboration with Ciaran Lavery for the last while. The atmospheric piano instrumentals that punctuate the set seem to lose the attention of much of the audience as talking starts to build up at the back of the venue, but the more electronic tracks prove more engaging. Vail's hushed vocals add an extra dimension, albeit the lack of much discernible melody renders them slightly unmemorable (Somadrone's Neil O'Connor, for example, has mastered the art of sounding hushed yet melodic to great effect) but tracks like his dancey, Caribou-esque closing track show his potential to go on to great things.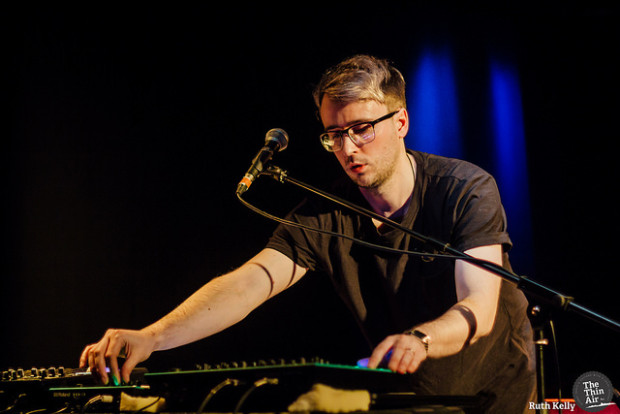 Doyle arrives on stage dressed in his trademark full suit and tie, cutting the figure of someone who's just come straight from a job in London's financial district (as opposed to the East India Docks area that provides his stage name), but luckily for us he possesses none of the restraint that his attire would suggest, as he immediately begins violently attacking his synth on opening instrumental 'The Juddering'. Electronic music can often come with an unfortunate paradox – while the music sounds like it's made to be heard at loud volume in a dark room, when it comes to live performances many such artists don't give us much to look at or engage with, instead performing the show entirely from a laptop so that for all the viewer knows they might have simple pressed play and spent the rest of the performance checking their emails. It's certainly not the case for Doyle, who currently not only juggles a set up comprising a laptop, keyboard, electronic drum pads, sampler and bass guitar – the sound getting delightfully beefy when he thrashes around wildly on the latter – but also gives off an infectious energy throughout, all while managing to sing elegantly through tracks like 'Dripping Down' and masterfully segueing from one song to the next. On record, his clean, boyish vocals can at times feel a little bit too polished and poppy, but while his voice is every bit as strong live, it's difficult in this environment not to simply be impressed by its strengths rather than put off.
That said, dancey instrumental 'Hinterland' is the set's undoubted highlight, though it threatens to be immediately bested by the pounding 'Entirety', until this turns out to be a mere manipulated snippet of the track, and he instead closes his set crooning through the softer 'Carousel'. Another track fails to be delivered upon earlier in the set, as Culture Of Volume highlight 'Beaming White', a song that resembles a lost New Order single, sadly has to be abandoned after two false starts, but these minor disappointments don't take too away much from an otherwise enthralling set, and as he steps offstage dripping with sweat, it feels like he probably does deserve that upcoming rest. Cathal McBride
The Button Factory, Dublin
Photos by Isabel Thomas