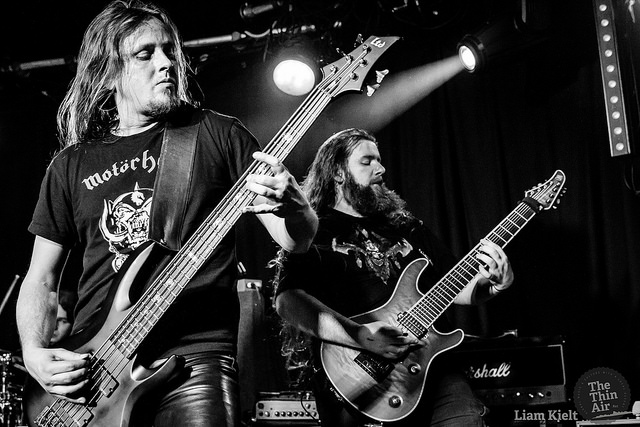 The Distortion Project and heavy metal are inextricably linked here in Belfast, as the many fans who showed their faces on Saturday, February 13 in the Limelight will attest to. The six hour long gig was part of the fundraising effort for the Distortion Project that's currently underway in order to secure its future (you can donate to the cause here); a raffle with several frankly awesome prizes plus twenty percent of merch and drink sales all went into the kitty.
First band off the blocks was stoner/sludge locals MOLARBEAR. Slowly easing the punters into the day's festivities with their slow paced opening number – albeit one with a serious chunk of heaviness – they are sludgier than a fetid storm drain and downtuned to almost impossible levels. With guest bassist Jonny Munro, formerly of Gacys Threads in place, they charge gleefully through a set litter with profanity (including one little ditty that's only lyric is the word 'fuck') and delightfully silly song titles ('Fierce Brosnan', anyone?). Said songs may be fairly loose and unstructured – as is stoner metal's wont – but they are certainly not lacking in punch and power.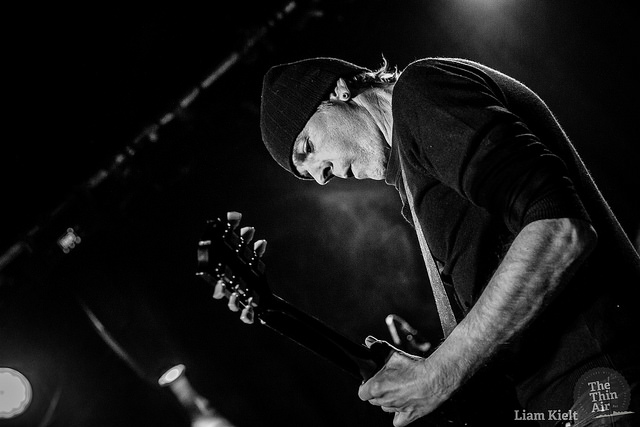 More in the 'heavy rock' category but also packing a punch is Baleful Creed, who combine big, fat, rolling riffs with vocalist 'Fin' Finlay's  huge gravelly voice and a hefty dollop of bluesy languor. Today they are as tight and well rehearsed as ever as they play each infectious number. Finlay's vocal style is all the more impressive in person; how does such a powerful voice come from such an unassuming and laid-back dude? Whatever the answer, their half hour set shows the crowd just how talented these lads really are.
From stoner rock to ballbusting hardcore: up next it's Belfast's bar-setting hardcore act By Any Means. Joined today by another Gacys Threads member in the form of Duracell bunny drummer Stephen Currie, as well as Sinocence guitarist Anthony McCaughley, the temporarily five piece band take off and immediately blow everyone's hair back with their might. Beginning with 'Built On Respect', it doesn't take long for frontman Paul Docs to get in the zone: he's red faced and snarling within seconds. The extra guitar oomph means that their level of intensity is, well, intensified, resulting in a true belter of a set. A smashing (and surprising) cover of Motorhead's 'The Hammer', which they dedicate to Loveday, fires the crowd up to wild-eyed levels, while final number 'Using Both Hands', featuring both former Defyed vocalist Wayne Donaldson and Overoth frontman Andy Ennis in the chorus is a brilliant indicator of the camaraderie of the Belfast heavy metal scene.
Next up is Altus, a band whose music is slowly morphing into something rather intriguing: starting life as a modern metal act, they are now incorporating elements of prog, death and extreme metal into their sound. After an atmospheric spoken word intro they kick off their set with a bloodcurdling scream and a ferocious, window-shatteringly heavy collection of songs. Frontman Steve 'Sleeve' Reynolds really is something to behold, with his astonishing vocal range of screams, screeches and roars, not to mention his theatricality, reminding us somehow of the unhinged girl iin Slipknot's 'Vermillion' video. Playing tracks such as 'Malignant' and a brutal cover of Sabbath's 'Children of the Grave' to a noisily appreciative audience, Altus demonstrate their ambition and talent in spades today. A terrific set.
The first of the Eire bands on the bill are up next: it's Dublin's doomy metallers Two Tales Of Woe. They begin with 'Order Of Lies' which immediately shows the crowd that, although they may be sludgy and doomy, they're certainly not ponderous or deliberate: their music is laced with Southern metal which lends it a catchy, 'shake your ass' feel. Vocalist Carl King also has the moves, as well as a stunning powerhouse voice that rolls around his barrel chest before bellowing out loud and proud. Finishing off with the Sabbath-y 'The Goddess' and the chugging riff-fest of 'Not Ready To Die', they leave behind a rather delirious crowd and undoubtedly a host of new fans.
Also from Dublin is band number six for the day, extreme metallers Xerosun. Setting up the mother of all cymbal-laden drumkits proves rather time consuming; quite a few punters take advantage of the unexpected down time to get food or a ciggy and as a result miss out on a hell of a set. Once the initial muddy sound issues are sorted, they begin firing on all cylinders, with heavy duel guitar harmonies and singer Martyna Halas-Yeates' truly astonishing voice. From the deepest death metal roars to the screechiest of black metal caws to the most elegant of clean singing, she is a master class in vocal versatility and really gives this talented band an edge. The blistering pace they set up with first track 'Created a Monster' is kept up unrelentingly throughout their set which, although shortened to try and claw back some time, is still brutal and raucously entertaining.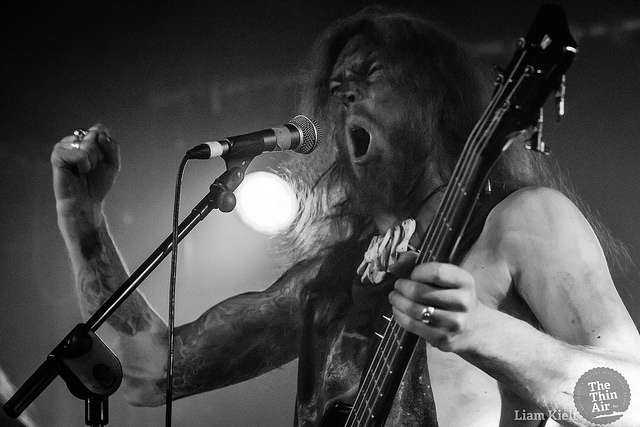 Speaking of time… nearly twenty minutes late, Belfast death metal heroes Overoth finally climb the stairs to the stage and blast out the final set of the night. Opening with an almighty fucking roar from frontman Andy Ennis, they pound through 'Sigil of the Empty Throne', 'Winter of Iniquity' and 'Kingdom of Shadows' to a packed Limelight. Overoth are another band whose sound has become more fluid with time: they started as an old school death metal band but their sound is now a more modern one, expanding to include synths, a sprinkling of prog and even moments of (gasp!) melody. The result is fascinating and 'knock your bollocks in' heavy.
The crowd are clearly entranced by them; everywhere you look people are beaming, or headbanging, or both – it's an involuntary reaction. The band themselves are tight as the proverbial drum tonight, showcasing their talent and charisma with ease. They barely pause for breath, firing out brutal yet atmospheric (but by no means wispy or ephemeral) songs 'The Forlorn' and 'The Forgotten Tome', all building-levelling basslines and punishing riffs. Final track 'The Greatest Lie' ("Fuck the gods!" snarls Ennis beforehand) sees hair and fists flailing throughout the building and is a suitably joyously heavy number to finish off a day that has also been joyous and heavy. What a day, folks. What a day!
With raffle prizes drawn and the announcement of a drop dead gorgeous bass guitar to be auctioned online, the evening ends with a humble thank you speech from the man of the hour, Mr Loveday himself. We salute you, sir *raises horns*. Melanie Brehaut
Photos by Liam Kielt