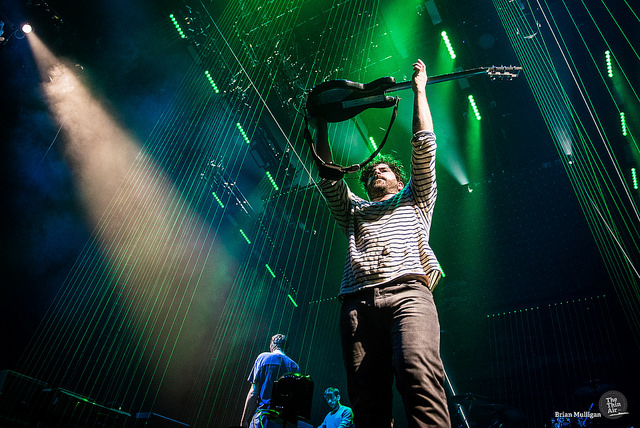 Coming off the sound of their excellent 2015 record Get to Heaven Everything Everything take the stage packing all their reverb-y epic-ness into the 3Arena's panoramic sound. They kick in with a metallic, eighties edge and the vocals have a sharp bite that more than make up for Jonathan Higgs contained but usually irreducible, athletic range.
'Regrets' lives up to its anthemic potential and 'Cough Cough's frenetic rhythms make way for the best pop-post-rock soup on any mainstream menu. In ten minutes the Manchester locals have already played a stormer. By the time they unleash a bouncy, tricky version of recent hit 'Distant Past' it's hard to remember that this is a support act. Hard to think of anything except that Everything Everything may be the most intelligent thing hitting the radio right now.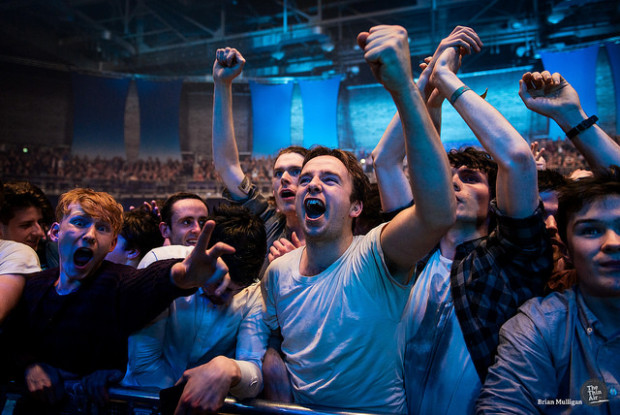 But there is a main act, and as the venue goes from cosy to pulsating it's clear who is who. They come out punching with an instant, shake and serve, ready-made ruckus. The fat buzz of the opener gives way for their timeless hit 'Olympic Airways' and each song segues into the next. It's quickly becoming obvious that Foals aren't against pulling their best loved tracks from their back catalogue and giving them an update. 2012's 'My Number' gives way for 2015's 'Birch Tree' without a shift or moment of ceremony.
Frontman Yannis decides it's time for some audience interaction before lancing into crowd pleaser 'Mountain At My Gates' which brings the majority of the assemblage roaring and heaving into life. It's a stomper rendition and it's telling that the crowd goes as mad for it as its high profile follow up, 'What Went Down'. It's telling because in a packed venue, far from their Antidotes debut it seems this is the sound that is going to send Foals stratospheric. Judging by the big but couth sound that's not a bad thing. Foals are a band who have evolved through their own integrity, not to a mandate of mass appeal. And yet mass appeal seems to have come.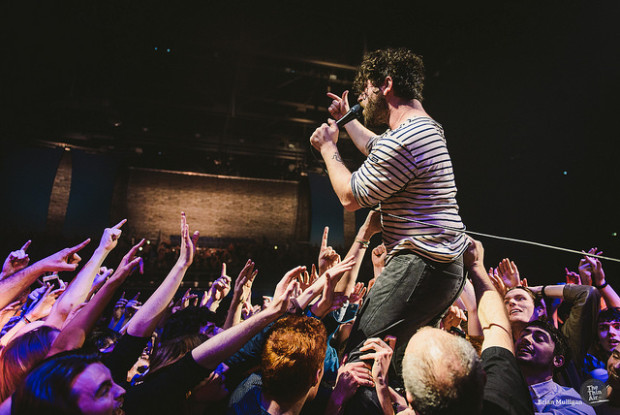 But he we are again, now with a revamped version of 'Red Socks Pugie'. The message is clear; Foals are no more ashamed of their past than they are scared of looking into their future. The result, live at least, is a strong, energetic and inculcate set. Maybe there's some filler; depending on where you stand the sparse, atmospheric strokes of 'Knife in the Ocean' feel whitewashed when used too liberally. But it's quickly counteracted with a meaty version of 'Inhaler' as a closer. When they return it's all about Yannis, and it's not long before he and a selection of the audience get some skin on skin time. For some people Foals may not have been the best band of the night, but for the others, bearing the weight of their idol, it's probably been the best set ever. Eoghain Meakin
Photos by Brian Mulligan