Features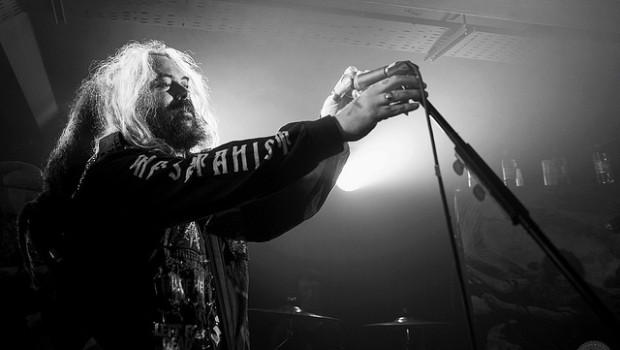 Published on February 4th, 2016 | by Loreana Rushe
0
Irish Tour: Soulfly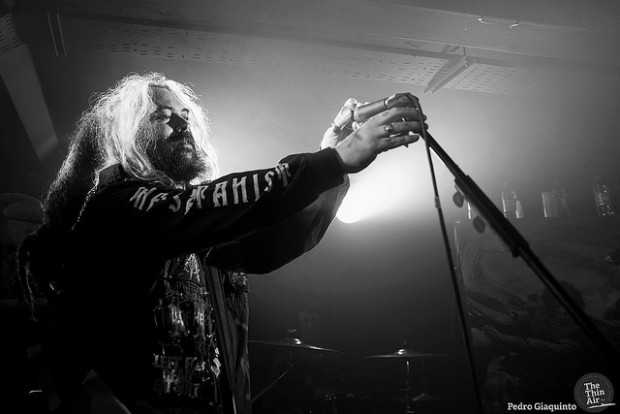 Fresh from the release of their tenth studio album, Archangel, Max Cavalera's Soulfly rolled into Ireland this week for shows at Dublin's Academy and Belfast's Limelight 2.
Limelight 2, Belfast
Photos by Liam Kielt
Wednesday, February 3 saw many people disregard the fact that it was a school night to venture out and witness a legend in action in the form of metal icon Max Cavalera. Belfast's Limelight 2 hosted what turned out to be quite the family affair, with several of Cavalera's offspring also performing.
In first support slot was Lody Kong featuring sons Zyon on drums and Igor Jnr on lead vocals. They tear through their half hour set of groovy, thrashy metal with a shit ton of energy and movement, topped with Igor Jnr's harsh, grunting vocals, looking (and sounding) like they're having a ball, particularly their mugging, beaming bassist. Ending their set with the title track of their debut album Dreams and Visions, they leave the stage having thoroughly beaten their instruments into submission, much to the crowd's delight.
With said crowd nicely warmed up, Cavalera's stepson Richie steps up with his band Incite. The frontman is a charismatic ball of energy as he screams, roars, and headbangs his magnificent mane to their ferocious brand of catchy-as-fuck groove-heavy modern metal. By the time their intense and punishing set winds to a close, every punter in the room has had their fillings loosened and their eardrums pummelled by what feels like Ivan Drago's fists. It's boneshaking stuff, particularly their extraordinarily bass-y breakdowns which threaten to swamp the Limelight's sound system. They end their set with 'The Slaughter', with its dainty refrain "I AM HERE TO KILL YOU!" – as apt a description of their music as you'll find.
Speaking of which…next up,Aussie headcases King Parrot pile onto the stage. What follows is… uh… definitely unique, reminding us of old school punk gigs: dangerous, unpredictable and confrontational. The music itself is a mix of punk, metal and danger, with (disturbingly) almost naked frontman Matthew 'Youngy' Young's (below) vocals ranging from Brian Johnson-esque garbled screams to Satanically deep roars. He's quite an arresting sight as he stomps around the stage looking for all the world like a really pissed off Steve-O with a beer gut. In short, King Parrot are what violence looks like in musical form.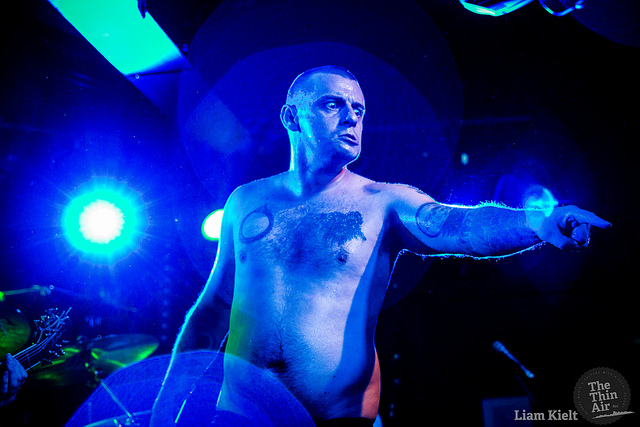 Finally the moment the impatient crowd have been waiting for arrives, as dyed-in-the-wool legend Max Cavalera steps onstage with Soulfly. They open with the mantra of every person in the room 'We Sold Our Souls To Metal', earning delirious howls and the first singalong of the night.
Their hour long set simply flies by in a whir of heaviness and moshpits. "You want some fucking metal?!" Cavalera growls; a fairly obsolete question but for which he receives a huge affirmative roar. They blast their way through tracks such as 'Blood Fire War Hate', 'Prophecy' and 'Babylon', each one igniting the crowd anew.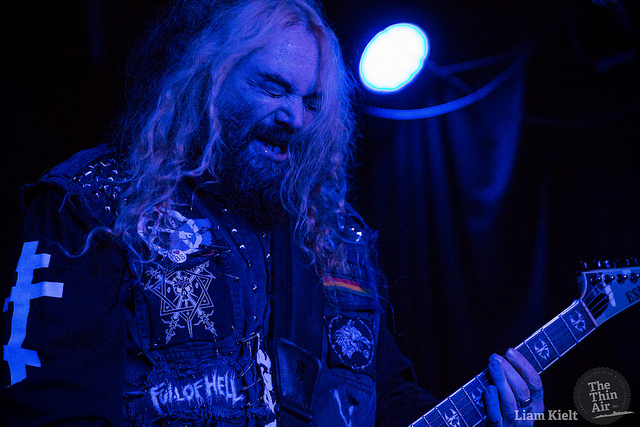 There's little in the way of chit chat: they are here to pound the Limelight into submission and by fuck do they do it. This is truly a 'roundhouse kick to the face' performance, completely immersive and almost ridiculously heavy. And when that instantly recognisable whirling riff of 'Roots Bloody Roots' rings out…well. What a moment!
They wrap up with 'Jumpdafuckup/Eye For An Eye' and, as Cavalera slips from the stage, a spirited snippet of Maiden's 'The Trooper'. With no encore, the crowd spill out onto the rainy streets, content in the knowledge that heroes do exist – they've just seen one. Melanie Brehaut
The Academy (Green Room), Dublin
Photos by Pedro Giaquinto