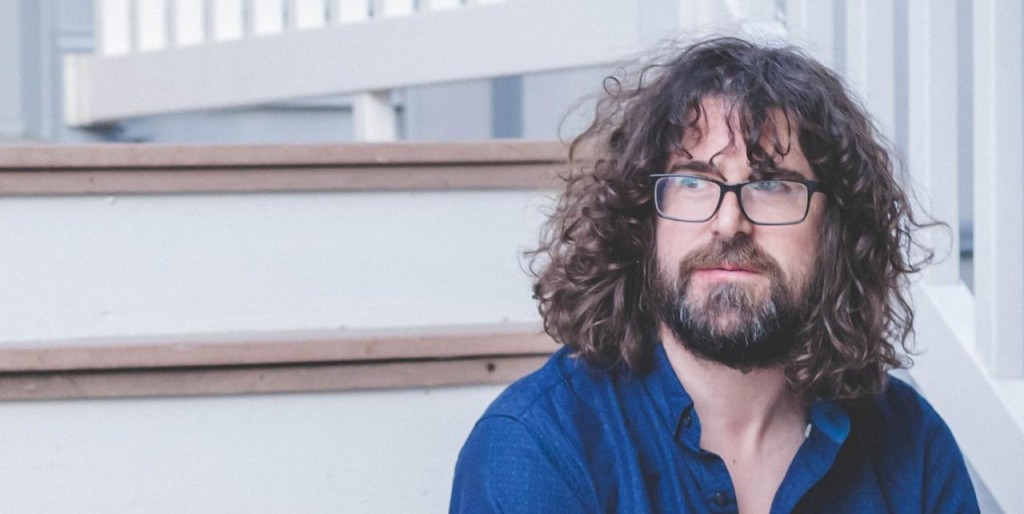 To say Lou Barlow needs no introduction would be something of a colossal understatement. A founding member of Dinosaur Jr., Sebadoh and the Folk Implosion, Barlow is both a veritable indie rock hero and lo-fi pioneer par excellence. Having recently released his third solo album, Brace The Wave, Barlow reveals and waxes lyrical about some of his favourite tracks discovered via apps like Shazam, including Crain, Sauna Youth and Dublin's Girl Band.
I love the music-identifying apps on my phone, Shazam and SoundHound. If I hear something and don't know what it is I tap one of these and aim my phone. It's pretty much the thing that I have waited my whole life for. No more being afraid to ask the hipster at the register what's playing over the store stereo. No more waiting for back announcing on the radio; they don't do that anymore anyway. I now have the Power.
My wife introduced me to Shazam 3 years ago when we lived in LA. We were listening to KDAY a lot while rattling around in her '94 Honda Civic. KDAY is an amazing old-school rap station. KDAY rarely tells you what they are playing.
DJ Quick – Tonite
DJ Quick was/is a non-Dr. Dre contemporary of NWA, 1991. He's a little bit gangsta but mostly about the party, kinda like Snoop who came a bit later. The feel is all LA, West Coast rap, a snaking simple keyboard riff and an airy delivery. Call me old fashioned but I like my rap story based and light on the product placement. And musical. 'Dollaz and Sense' from a few years later is even better.
Debbie Deb – Lookout Weekend
I know nothing about Debbie Deb. When listening to this I am too caught up in the clunky early 80s dance club feel to do a web search. This is way rawer than similar sounding songs from the period, like say Lisa Lisa and Cult Ja (being played on KDAY also aligns it with early hip-hop). I had no idea this existed until 2013 watching the sunset over the hood on a friday night in LA. I love that.
Johnnie Ray – Please Mr. Sun
So, I don't live in LA anymore. I live in a small town in New England. My preferred radio station is now WIZZ, pretty much the opposite of KDAY. It's an AM station that plays 'Vocal' music primarily from the 50s, though their playlist is surprisingly diverse and spans pop music from the 30s to 80s. We Shazam/SoundHound it constantly. AM broadcasts in a limited frequency range that is lo-fi warm and cozy. The vocals dominate. Johnnie Ray's voice is odd. His delivery is vulnerable and passionate. I thought he was an older woman at first. In this song he is fervidly imploring nature to take care of his sweetheart while a harp strums around him (Whisper to her Mr. Wind… babble to her Mr. Brook"). His quavering vocals communicate, to me, profound unease.
Crain – King Octane
Having moved recently, my music collection is still in disarray. I misplaced a box of vinyl in the mouldering basement of my new very old house. The sleeves of the records were effectively destroyed and in some cases the labels on the vinyl LPs were faded. After hosing down one such LP I realized I had no idea what the record was. Being a good ol' vinyl LP it played just fine despite the neglect and damage. But I still had no idea what band it was. What was this post-hardcore scree coming from my speakers? I point my phone at it, wait for it… Crain! From Louisville, Kentucky, a group of accomplished young musicians with a love of all things Albini. A heavy, clanging martialist sound. Sebadoh met Crain in the early 90s when we opened for them on tour (Crain were very popular within Louisville) My bandmate, Jason, loved them and the city so much that he ended up moving there.
White Reaper – Half Bad
This band is also from Louisville. I found this song while sitting in a club in Milwaukee trying to sell Sebadoh t-shirts. When on tour I spend most of my nights listening to whatever is playing on the bar stereo or PA and, of course, identifying it for myself. I like this newer wave of punk rock. It's overloaded, everything on 10 and wilfully, self-consciously lo-fi. This one has a synth line in it so clever and catchy I thought the band was Swedish at first (like the Hives – Swedes can master all genres). I like this and the record it came from despite the band using 'white' in their band name. I dislike that trend.
Girl Band – Paul
Facebook, like Shazam/SoundHound is a modern invention that has improved my music-lovin' life. Sure, it's full of other annoying shit but I'm not really bothered by it. I like links to music my friends (some people I actually know, thousands I don't) are listening to. In this case someone I actually know introduced me to Girl Band via my 'wall'. Apparently I've even met someone in the band! There's been a lot of talk about the 90s coming back and in this case the band takes the 90s noise-rock aesthetic owns and out-classes it. Ironically, perhaps, I'm not a big fan of the 90s as a musical decade. Arguably the best noise rock band was the Birthday Party and they're from the 80s. This song from Girl Band quickens the pulse and feels as doom-y as anything I've heard. These kids look clean cut and well adjusted in comparison which doesn't bother me in the slightest. Here's a good clip of them live.
Sauna Youth – Transmitters
A friend of mine captured and posted this on his Facebook wall the other day and I bought the bands album off of Bandcamp immediately after watching it. I'd like to make the generalization that this type of music – post-punk – was born in the UK. It's punk rock stripped of the rock. Homespun and non-commercial. A lean, cut to the chase, smart version of punk often flavored with synths. I'd call it a form of modern folk music if I was allowed to. Wire might be the most obvious progenitors. In any case it started in the mid-70s and has been going strong ever since. The self-appointed gatekeepers of the UK music scene, weekly magazines like the NME (and many other print mags now gone) might have ignored bands like this over the years in favour of Grunge, assorted electronic fads and budgeted major label acts but the tradition of UK post-punk is rich and steady. This band are the next in line it seems. Here's the 'official' video. Check it.
Chad Vangalaan – Burning Photographs
This is another song I heard whilst working the merch table. It's could also be considered 90s influenced in that it sounds a lot like Sonic Youth. In the beginning, the early 80s, Sonic Youth sounded like a band from another planet. The guitars, tuned way outside a traditional realm, and organic percussion summoned visions of 50s science fiction aliens, antenna twisting, suction cup appendages snaking over a Martian fretboard. Out there but immediately familiar and, most importantly: catchy. At some point SY's celebrity fixations and punk rock fetish made them terrestrial to me. The mystery was lost. This song brings it back. It's not as aggressively mind blowing as SY's Confusion is Sex but it feels warm and gives me hope for a non-pretentious, experimental music not too far up it's own ass to gimme a hook.
Cairo Gang – Ice Fishing
Lastly, two songs that I heard while in Australia a week or so ago. This one sounds a whole lot like the Byrds. Coincidentally J Mascis is on a Byrds kick lately and has been using 12 string electric on a few new Dinosaur Jr. tunes to great effect. He's been spinning the vinyl as well. It's nice to see the world continually coming around to the brilliance of the Byrds. I love them. This is a spectacular modern take on the formula.
King Gizzard and the Lizard Wizard – Infinite Rise
I heard and SoundHound-ed this while dozing on a couch backstage before my final show in Perth, Western Australia. It's an epic. Sonically it immediately recalls the first Unknown Mortal Orchestra LP (which is killer). A crisp AM-radio flavored palette. I like equating the sounds of bands like UMO and Tame Impala to their far flung geographic origins. UMO are from New Zealand, Impala from Perth, which is perched on the western edge of the continent. King Gizzard and the Lizard Wizard are from Melbourne which is still, realistically, the far reaches of civilization and they sound it. I heard this song twice going in and out of sleep. The band can play really, really well. Like, 70s prog-rock well. I'm not usually up for anything with the 'prog' tag but this is an exception. The title is a good indication of what happens in the 10 odd minutes it continually unfolds and repeats: Infinite Rise. I recommend listening to this loudly, on your back and 10,000 miles away from home.
Go here to buy Brace The Wave by Lou Barlow.