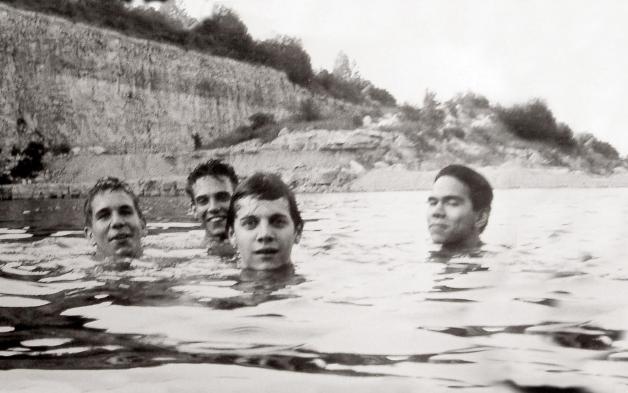 Following on from his two-part TTA interview, Green Party of Northern Ireland leader Steven Agnew selects and talks about some of his all-time favourite songs, featuring Yo La Tengo, Hot Snakes, Neutral Milk Hotel and Slint.
Go here and here for Stevie Lennox's interview with Agnew.
"I'm one of those people who laments technology. I miss making mixtapes. I wouldn't even have the equipment to make or play it on anymore, but I was a big fan. High Fidelity was always one of my favourite books – the rules of making mixtapes. I've never sat down to think about it, but a lot of the things in there, I'm going "Yep." I mean, Spotify playlists are today's modern version, but the mixtape is sorely missed."
Yo La Tengo – Big Day Coming
For clarity, this is song one on the album Painful, there's a rockier version later on in the album. I just think this is a great way to start an mixtape. A nice, sleepy, gentle introduction. Sounds like waking up (on a good day). Full of hope, promise and anticipation. I used to think Yo La Tengo were overrated, then I saw them live at Primavera Sound in Barcelona. That was one of my top musical experiences and Painful became one of my favourite albums.
Murder City Devils – Get Off the Floor
If Big Day Coming is waking up then this is your morning coffee. I used to work in the Health & Safety Executive, one of my first full time jobs after uni, and I hated it. I'd walk there and back each day, it took me around 45 mins. I borrowed the first Murder City Devils album off my housemate Michael to listen to on my discman and played it twice through on my journey and practically danced into work. They have been my favourite band ever since.
Iggy and the Stooges – Search and Destroy
The Stooges were a huge influence on the Murder City Devils, they even have a song 'Broken Glass' about Iggy's legendary stage performances. My friend Ciaran was playing his own birthday party as part of the tribute band called the Raw Powers. I asked for the mic for "Search and Destroy' and was delighted when he nodded. I've had a few guest vocal performances but this was the one time I felt confident, I knew the song inside out. When I dreamed of being in a band, this was how it went. Alas, a follow up Aggie and the Stooges gig never materialised and instead of living the dream I had to make do with becoming a politician.
Drive Like Jehu – Here Come the Rome Plows
Had to have at least one overtly political song. I got involved in politics after attending a protest against the invasion of Iraq and met then Green Party Leader, John Barry. For me this is a song about America's foreign policy described in the lyrics as "Yank Crime", which is also the title of the album. It predates that particular atrocity and modern drone strikes so is not a direct commentary on either but I've always interpreted it as referencing these types of acts of aggression and violence.
Slint – Good Morning Captain
This is the first of a trilogy of songs that I associate with my good friend Conor who died of cancer almost five years ago, aged 31. We would have played this quite a bit the second of the two times we lived together and of course the line "I miss you!" is particularly poignant. Artwork top.
Bonnie 'Prince' Billy – I See a Darkness
So we've had my favourite gig, band, performance and now my favourite song. I've been listening to this song for over 15 years and it still hasn't lost its effect on me. One for all the buddies that I don't see often enough, or at all, these days. Good people who've seen me through the darkest times.
Neutral Milk Hotel – In the Aeroplane Over the Sea
The album In the Aeroplane Over the Sea was Conor's favourite to the extent that he had a second unopened copy in case anything happened to the first copy. At the time we shared a house I was very much of the view that music either had to be as intimate as Elliott Smith or as ferocious as Jehu and I wasn't much interested in anything in between. After Conor's death I listened a lot to In the Aeroplane Over the Sea and realised what a fantastic album it is. Lyrically there is so much going on. Various friends of ours played songs off the album in tribute to Conor as part of a night called Boomstock. His parents and sister came along, it was a special evening. Fair play to Sean Walshe who pulled it together.
Hot Snakes – Plenty for All
Such an uplifting song and a great way to end an album or mixtape. It probably says a lot about the diversity of my music taste that on an eight song mixtape I have two songs effectively by the same band. "Take it or leave it, do both if you choose.