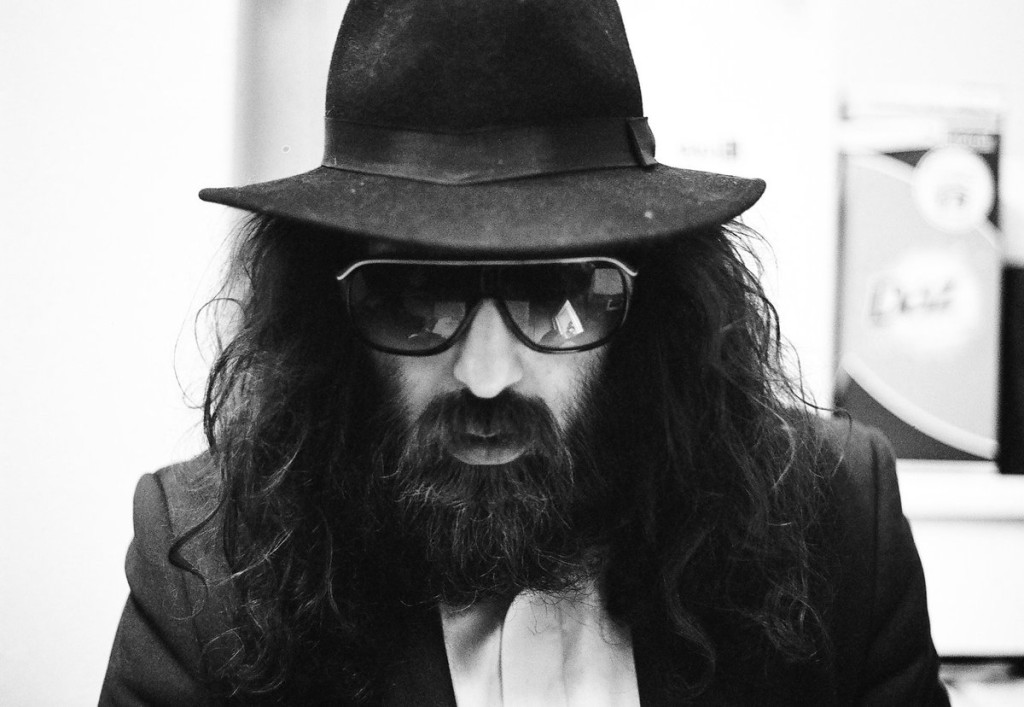 There are few more inimitable and instantly engaging songsmiths than London-based, Northern Irish troubadour Pat Dam Smyth. Five years on from the release of his stellar debut album, The Great Divide, Smyth is currently crowdfunding for its forthcoming follow-up via Pledge Music, a release that will surely doubly confirm his standing as one of the country's most distinctive and vital voices.
Ahead of shows at Belfast's The MAC on Friday, April 1 and Rathfriland's Bronte Church on April 2, Smyth chats to Brian Coney about his pledge campaign, touring across Europe and finally feeling he belongs to the current era.
Hi Pat. You're currently doing a Pledge campaign for your second album. Why did you decide to take the crowd-funding route and how have you put your stamp on the campaign? It seems to have worked well with various NI musicians recently.
We were playing at Liverpool Sound City and met Joe Morrison from Pledge. We kept in contact and decided a campaign would be perfect as I felt ready to record another album. You hear the horror stories of the big labels giving advances and then the album gets shelved. Because the money raised through Pre-Order comes from the people who really want to hear the new record then it gives a band a far greater reason to get it done and done with a deadline. The support has been so huge that it inspires a dedication to the record. Regarding personal stamps I just wanted to make all the pledges of a high quality. And treat it like a store. There is 4 unheard albums for sale plus screenprinting, drum lessons, artwork etc.
There's something hugely fulfilling about seeing Pledge campaigns come together – the democratisation of the process, the "giving back" to those who both fund it and are fans of it. How important is that element to you?
That is truly the only element that appealed to me. It's direct and it's the new model of music – and that model is based heavily on the DIY punk scene. Bands making their own magazines and t-shirts, selling music at gigs. That's why I wanted almost everything on the Pledge campaign to be hand made. And it's also about including the people around you, photographers and film makers, screen printers – working within your community.
You've worked with drummer and producer Chris (McComish) on this record to create a sound somewhere between "Beck, Lou Reed and David Bowie." How much of the material for the record has already been written and how was the songwriting process this time around?
Ha! I think this bio was written before we started writing the album. It has developed into its own beast, though features elements of the artists above. It has been written more with the live concert in mind and that just comes down to the sound we have developed playing on the circuit.
Writing with Chris is an absolute joy. He is really experienced in the live show – he performed in an opera in Paris. He is master at drums and electronics live and so having the opportunity to play live and experiment with his skills is exhilarating and opens up the playing field. When you play live you develop your own sound as they say and that can spark of a whole new train of inspiration. I think we have 80% of the record written, and 20% sketches which we will develop in the studio.


Of course, the aim here is to record the material. Where and when do you have in mind and will you be joined by another cast of merry musicians this time around?
This time round we are gonna capture the live band, which is me on Guitar and vocals, Chris McComish on drums and backing vocal and Tim Abbey on bass guitar. We are recording in a tape only studio in Rathfriland, producing ourselves with the help of master engineer Dougal Lott. He was Ray Davies' right hand man at Konk and is meticulous. The plan is to strip it completely back to a three-piece and capture that- with as little overdubs as possible. Recording starts straight after The Bronte show on April 2. We are sleeping in the studio for 10 days, so hopefully a bit of cabin fever can be recorded onto tape.
Demos of new songs including Judgement Day and Happiness (Don't Buy Your) are sounding great. Do you feel there are any overarching (subtle, tangible or otherwise) themes or ideas threaded through this new material?
The album is loosely based on growing up in Northern Ireland around 1993-1998, what it was like to be a teenager and hearing Nirvana for the first time. Everything changed. So its trying to come to terms with that part of my life. I was in bands from 13 playing around a Northern Ireland that is unrecognisable to today. Belfast was so empty back then and I want the songs to tap into that feeling of youth and rebellion and punk rock within the backdrop of growing up on a farm near a small town with not much to do but to play loud.
You've been touring across UK and Europe over the last few months. How has the experience been? Also any highlights or particularly curious tales worth repeating?
The tours have been phenomenal and get better each time we go back. The Great Escape was a trip and we bumped in LORIS and caught their show. Brilliant. I think the highlight last year was Reeperbahn Festival in Hamburg. We played as a three-piece (which will be performing at the The Mac and Bronte). We walked onstage to meet a crowd of 500 people. It was incredible. Getting ready to go back to Germany and Italy this year. Europe is a dream as you get treated so well.
You're currently based in London. Do you find living there varies much from living in Belfast, specifically in relation to writing, performing and making a living from being a musician?
The overheads in London are high! It's tough to make rent so you have to gig a lot, which in turn makes you realise a live sound which in turn has a massive impact in the way you write. You write a song and are able to play live the next night if you wish. So this album writing wise has evolved a lot from the live shows. I usually record a demo at Chris's studio and then we take it to the stage where it evolves. The best of both worlds methinks.
Belfast was completely different, the overheads are much lower. I was able to make rent on a weekend of gigs, so I just played piano in my flat Monday to Friday. Belfast has space, which London does not. When I write I absorb what is around me, not necessarily music, more buildings and people. There is an easiness to Belfast that I have not found in any other place. It really is one of the greatest cities. But it's always the case for me when I'm in Belfast I write about London and elsewhere and when in London I write about home.


It's just over 5 years on from the release of the Great Divide. Looking at the bigger picture, how do you feel this album is a progression or a differently rewarding creative experience from the first release?
It couldn't be more different. The Great Divide was born out of a bedroom. When I wrote it I hardly spoke to a single person in 3 months. It wasn't reflection – it was letting the blood out. And I never intended to make a second album. The Great Divide was to be it. Over and out. It was only when producer Barrett Lahey said, "Hey man, you gotta get out and play this live" did I think it would happen. He was instrumental in giving me that kick up the ass to be a solo artist. Something I had never thought I would be.
This time around its been the opposite way round. It's been the hard slog of doing gigs for nothing, playing everywhere. The last three years has been that. I left Belfast on a high, things were going well but I just upped and left, and returned to London and had to start from scratch again. It has come through hundreds of gigs playing with Chris McComish and naturally developing a sound. We had Joao Mello on keys for a long time (he's currently with David Gilmore)  and then Tim Abbey joined on bass. This album has been brewing all this time and it really feels like a band.
Whilst it's been often said, it's true that both your music and image betrays a certain timelessness that resonates quite strongly in 2016. Do you sometimes feel you belong of a different era to the one you find yourself?
I used to think I belonged to another era. The 60s and 70s but now not so much. Probably because art is getting exciting again. It's reacting to tension around us. The world is not in great shape at the moment, not that ever has been, but you can feel that a division is being orchestrated. Again nothing new, but because we are all highly aware of it via social media, you can't help being apart of this era. And art is kicking with and against it at the same time. Adapting to the new era where the digital world is almost 100% entangled with the real world, it almost feels at times that there is no difference. Which is terrifying but art and music find away to settle the score. Six years ago I didn't think USB sticks were gonna take off. Now I'm selling them with my name on it. That is slightly terrifying.
Touching on the imprint of influence and inspiration on new material, which artists, musicians, writers, filmmakers or other – old or new – do you think have made their presence known?
A lot of the inspiration has just been the people that we are surrounded with over here in London. Contemporaries in their own fields. You end up seeing a lot of great art just by going to shows and music is in a really great place right now. As a band we are all drawn towards to North America – Timber Timbre, Bill Callahan, Damien Jurado.
UK wise the greatest thing I have seen was The Fat White Family in a small venue around the corner. It was about 2 years ago and I had never seen or heard anything like it live. I was saying to myself finally there is a band that have got the balls to express pure rage against injustice around them and they do it with a little bit of tongue in the cheek.
Film-wise I am lucky to know and work with Charles Henri-Belleville who is a brilliant director. He shot the 'Set in Stone' vid. I think we will be collaborating again very soon with the new material. Kevin Cahill is another great director to watch out for – he just won best short film in a lot of festivals in America. He will be directing an interactive video for us in April. I am completely obsessed with film and I think the music that we are creating is drawn on cinematic aspects. Building sonic themes. I hate films that use music so obviously to tell the audience what they should be thinking. I love when music contrasts with what your seeing. Now that TV shows are encouraged to be watched in binge-like fashion, you can find yourself watching ten hours in a row. I found so many great artists through these shows and it seems to be the future. So I think film and music will work closer together than ever before and this suits me just fine.
Books? Orwell. Still the greatest for me.


You're set to play the MAC on April 1. What can we expect from the show in way of new material and who will be joining you in the performance?
We will be previewing the new material at The MAC as we are starting recording on April 3. Live wise it's a three-piece. Me doing my bit, McComish adding his wizardry on drums and electronics and Tim Abbey punching the bass. Tim is the guy who took the photo of me with the shades. We met him along the way and he's really helped with the live sound. Minimal bass player.
Support on the night comes from Jealous of the Birds. Which other up-and-coming Northern Irish artists, if any, have caught your attention recently?
Naomi Hamilton's voice is mesmerising. I can't wait to watch her live. We had a lot of fun with Silences in Hamburg. Great band. I'm really looking for to the Malojan album they just recorded in the States. And I am swapping a green vinyl of The Great Divide for a pink vinyl of Mike Mormecha's solo album which I'm sure will be awesome. NI has everything and it's getting better and better. With every new generation the past gets eroded and you can really hear a spiritual awakening in the new artists.
Finally, looking ahead to, say, in six months time how do you hope envisage and hope things to be going for you in regards to the new album, new shows, and possible feature appearances?

We will have the record finished by June/July, then we will release it straight to the people who pledged, before anyone else. This is why it's exciting. We are making it for them. They literally bought the ATR tape we will be using to record on.
Live, The Great Divide will be released in Europe over the summer and we will be back in Germany and Italy over the this period. And then it's all about Autumn and a tour. Karousel music who handle our publishing have a lot of interesting things in the pipeline for this album. There'll also be lots of Collaborations coming and I guess we just keep the head down and get to work.
Pat Dam Smyth plays Belfast's The MAC on Friday, April 1. Go here to buy tickets.