Features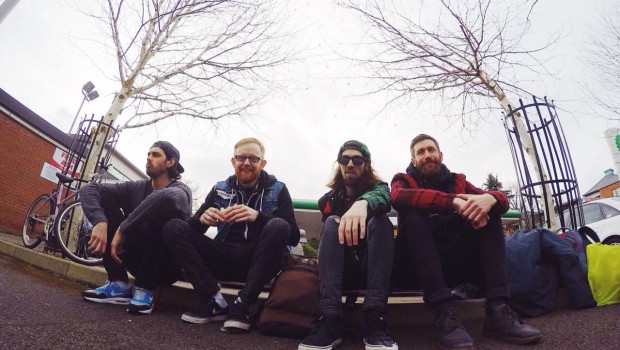 Published on March 8th, 2016 | by Brian Coney
0
Interview: Hornets

Ahead of their rather special, secret album fundraiser on Saturday, Melanie Brehaut chats to Belfast hardcore quartet Hornets about their influences, ambitions & love of the local scene.
You have a rather exciting event coming up. Can you tell us a bit about it?
We're having a bring your own event in Belfast City Centre in order to raise funds for recording our debut album. It's limited to 80 spaces and you can receive details via sending your name over to hornetsbanduk@gmail.com. We're playing alongside us will be Apartments and Unyielding Love. There will also be an Exhibition featuring work from Jenna Hayes, Claire Miskimmin (Girls Names), our very own Rich (Deadly Friendly) and Craig.
Why did you decide on this route rather than a Kickstarter/Crowdfunder/Pledge campaign for the album?
This just seemed natural for us, it's what we know best. We get enjoyment out of playing shows and trying to give something back to everyone who attends. On the night we'll be giving out a number of raffle prizes, it's nice to experience these things at face value and talk to people.  We put on a similar event like this before and it seemed to go down well, so we decided to do another. That and we get to have a party with everyone.
Why is the venue for Saturday's show a secret nd why did you decide to keep the numbers so low?
The space can only hold 80 people, so that's why it's limited. We love playing intimate shows where the energy in the room feels like it could explode at any minute. As for the secret, technically speaking we can't advertise where the show is on social media so this was the only option.
There's also going to be art on display. Is it important to the band to promote local artists?
Yeah. It's something we haven't seen done too often. The artists taking part are some of our closest friends and we love their work. It's super nice having them involved in the night. They're helping us out big time.
This will be your debut album. What's it sounding like?
It's sounding heavier and faster than anything we've previously written.
On that note, would you say your sound is more metal or hardcore?
It's hard to say. We like to think there's a little something in there for everyone. We all listen to a lot of different styles of music and I think that comes across in our music. That's more for the listener to decide.
Who influences the band sonically at the minute?
Sonically there's loads of bands that influence us. Converge, Code Orange, Baptists, Full of Hell, Sumac, Russian Circles, Doomriders, Gallows, The Chariot, Slomatics, 7.5 Tones of Beard, Pariso, Employed to Serve, Red Enemy, Frustration. The list goes on!
What are your ultimate ambitions for the band?
To be honest our only ambition is to have fun with this band. It's opened up a lot of cool things for us already, so who knows what will happen next.
What's your opinion of the local heavy music scene? Is it getting better or worse?
There's always new interesting bands coming out of Belfast, you just have to know where to find them. For instance Apartments and Unyielding Love are two of the most exciting bands in Belfast at the minute and that's why we are over the moon to have them on the bill. If you walk into the Distortion Project any Saturday evening in the Limelight I guarantee you'll find at least one sweet band on the bill!
Finally, do you have any last words before Saturday's gig?
Get yourself on the list. It's going to be a good night.
Go here for Saturday's Facebook event page.