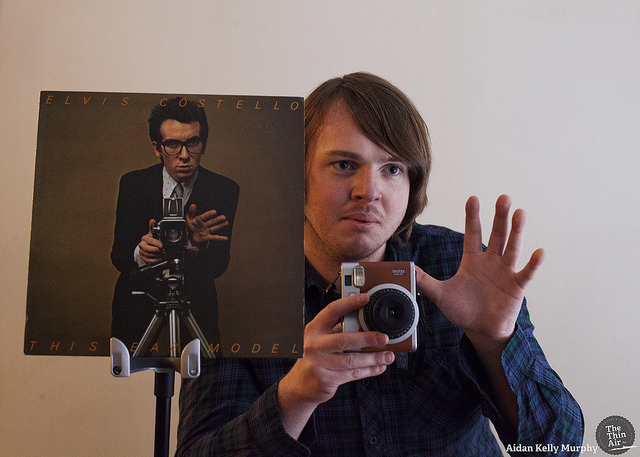 In this installment of Track Record we hang out with Shane Murphy to chat about his record collection, while he's not too busy playing in three of Popical Island's finest bands: Land Lovers, No Monster Club and Switzerland. Photos by Aidan Kelly Murphy.
Elvis Costello – This Year's Model
I discovered Elvis Costello pretty late in life, and when I say discovered, I mean after Land Lovers were compared to him, Padraig of the band quickly gave me some homework to do. At his best with The Attractions, this was the first pairing of the two. It's a frantic and punky album backed by some great musicians. Bruce Thomas quickly became one of my favourite bass players.
Of Montreal – Satanic Panic in the Attic
If choosing my top 10 albums was difficult, choosing a top of Montreal album was a nightmare for me, it really could have been any one of them. This one however was the first of theirs I heard, sparking an obsession both with the band and the Elephant 6 collective. Skip ahead 12 years and here I am with my collection of oM releases, each one on multiple formats; vinyl, tape and CD. Kevin's brother David does the artwork, and it's always incredible, so having the vinyl is particularly nice. Psyche pop with an ode to David Bowie and Bubblegum Pop, each of their albums are little packages of beautifully crafted songs crammed full of harmonies and melodic bass lines.
Fun fact: I was once asked to do a phone interview with Kevin, but I was too embarrassed and said no. I'd never have gotten a quote like "I play the bass like a guitar and I treat the bass like you would a guitar, a solo instrument." out of him anyway.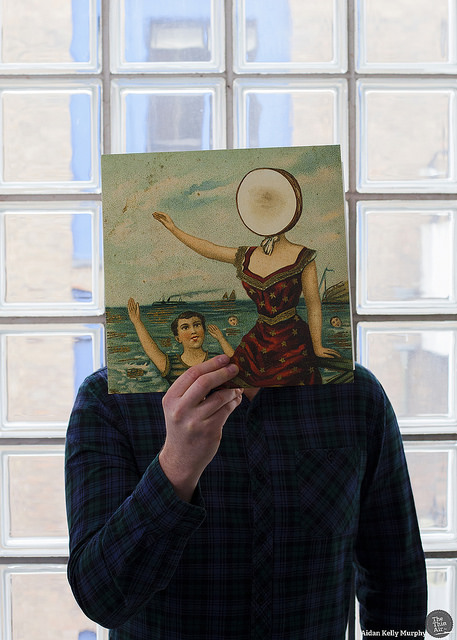 Neutral Milk Hotel – In the Aeroplane Over The Sea
It'd be a shame not to include the 6th best selling LP of 2008 in a top 10 records list, so here it is. I'm sure it sounded great on CD for the 10 years previous too. Sure, I could go on to describe the rawness and genius of this record along with any other myriad of cliché terms to ingratiate it, but I had to miss catching these guys in Vicar Street a few years ago because I was in the middle of my final exams, so I'd rather not dwell on it too much.
Paul Simon – Graceland
I was told this was probably the most featured record on Track Record, and I guess there's a good reason for that. Between this album and David Byrne's How Music Works, which I've just finished reading (and obviously Talking Heads music itself), I've made a plan to go through the book and pick out each band he mentions as influences. Hopefully someone else has already done this and a Spotify playlist is waiting somewhere for me to stumble upon. This is one of the few great records I was able to steal from my parents' record collection when I was moving out. I left the Wet Wet Wet album behind, unfortunately.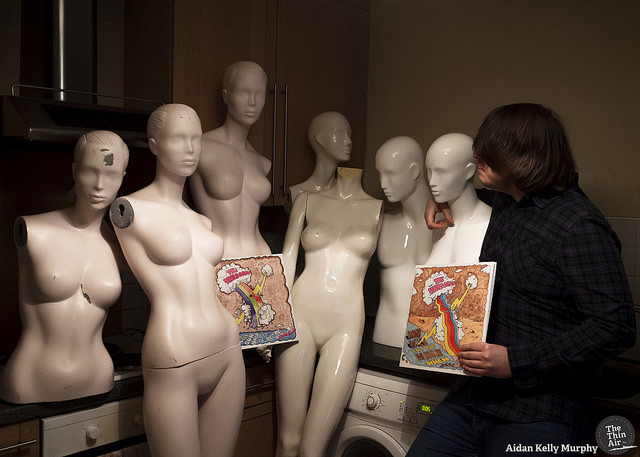 The Unicorns – Who Will Cut Our Hair When We're Gone
The energy on this album is as infectious as it was the first time I heard it. You can hear how much fun they had making this, despite the morbid subject matter. I've always played catch up with The Unicorns, by the time I'd heard the album, they'd broke up, when they reformed and played some shows I missed out again. When I was in my mid to late teens I had a music blog called WeHateGoodMusic, which had a post for each album/single/EP/session, they had, much like of Montreal. Nick Thorburn is up there as one of my favourite songwriters (Sorry Alden).
Animal Collective – Feels
I once heard this record described as 'Foresty nonsense' somewhere online, which only increased my liking for it. A more tranquil affair than what the band has become known for, it's easy to let the whole album wash over you and get lost in the layers and layers of flowing loops and instruments. I find it difficult to listen to this album when I'm not giving it my full attention, so usually it comes out alongside a glass of wine or while I'm lying in bed. I'll be catching them live at Primavera, though I won't hold out for too many recognisable tunes.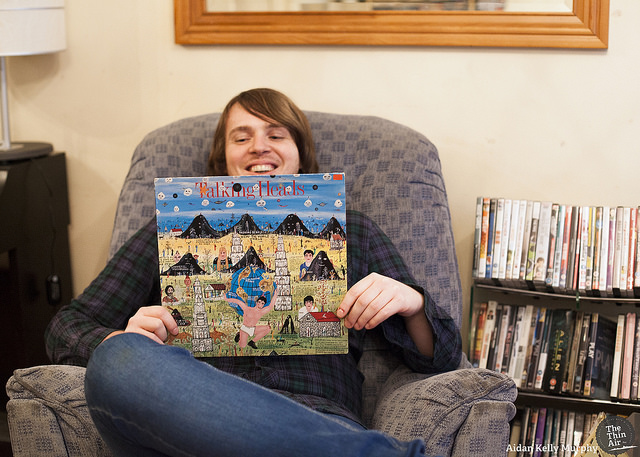 Talking Heads – Little Creatures
Maybe not their best album, but the only one I own, and Talking Heads had to go in here somewhere! I think it gets a bad rep for being more mainstream than previous releases, but look, these are still terrific pop songs, and still has some of the Talking Heads groove of earlier albums. I think his recent collaboration with Annie Clark goes to show that David's still got 'it'.
El Ten Eleven – El Ten Eleven
Ok, here comes the post rock section. I actually bought this as a present but ended up with several damaged copies lying about after having had to get multiple replacements sent out. I kept the least damaged one for myself. These guys are a bit on the poppier end of the post rock spectrum, with not a single one of the richly textured songs reaching beyond the 7 minute mark and clocking up only about 35mins in total. They remind me of a more chilled out Ratatat. A year after listening to the album, I saw the video for 'My Only Swerving' and was surprised to find these guys are a two piece. I managed to catch them live supporting Caspian and seeing these songs reproduced live is really something to behold.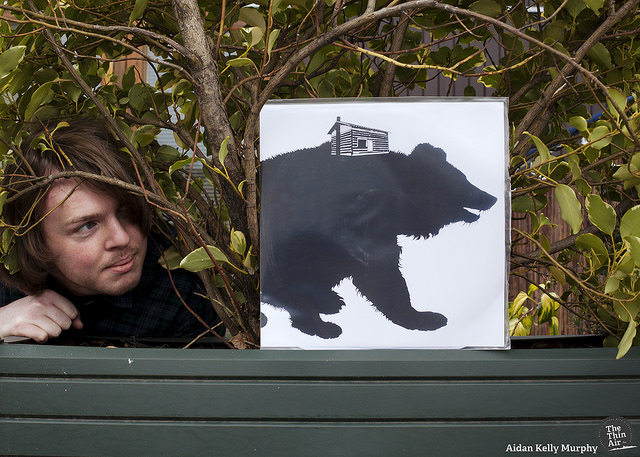 This Will Destory You – Young Mountain
I found this on amazon 2 years ago with the original pressing colours shown in the ad and snapped it up straight away only to get the 11 repressing edition delivered. Oh well, it still sounds great. They're currently on their 12th repressing since 2005, so it seems like this album is still finding its way into the hands of new listeners. They find melody they like and don't stray too far from it throughout each song, relying more on the textures and dynamics. They've got understated melodies, chiming guitars, delay pedals, crescendos, fuzz pedals, diminuendos, possibly all in that order. Post rock in the vein of Explosions in the Sky, but just done really, really well. What else is there to say?
Sigur Rós – Ágætis byrjun
I've learned to pronounce this album multiple times, but it never sticks. It translates basically as 'Good Start' and if you go into this album with that as your expectations, you'll be pleasantly surprised. Sigur Rós served as a preface to the Post Rock world as a whole for me; though I've never really been sure how these guys fit into the post rock genre; it seems to be the general consensus. My brother had a heavy influence on what I listened to when I was younger; one of his better gifts around that time was Sigur Rós. This album is just gorgeous.
I really hope no one has ever heard me sing along to it.