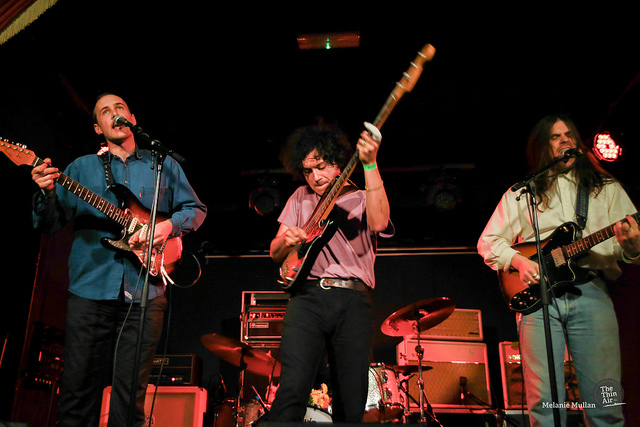 Just over six months has passed since multi-instrumentalist Chad Ubovich last made an appearance here in Dublin, when he played alongside his good friend Ty Segall in their sludge power trio Fuzz. Ubovich has been involved in the LA underground scene since he was a teenager and is also a touring member of Mikal Cronin's band. However outside of these projects it's Meatbodies (formerly Chad & the Meatbodies) that should be viewed as his intrinsic musical outlet. With a sound that does not stretch the boundaries of psych, garage rock and heavy riffs that far, one can easily imagine where this lot reside in the grand scheme of things. Also the fact that their self-titled debut album is released on In The Red records only adds extra impetus to Ubovich's credentials.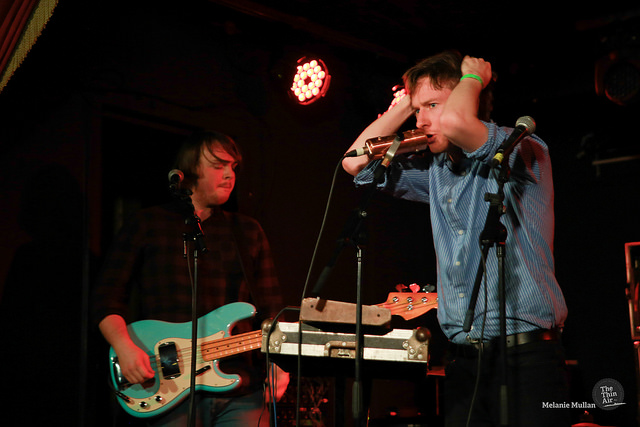 Beforehand, however, it is up to Dublin based No Monster Club to attempt to try and warm up what is a rather unfortunate and meagre turnout for a Saturday night support act. What was initially the brainchild of Bobby Aherne, No Monster Club has put out no fewer than 11 releases during its short lifespan, is connected with the Popical Island collective and has since expanded to a four piece. Tonight Aherne joined by a full band, whose their rather lo-fi approach complements their canorous,indie-pop driven tunes, while Aherne does his best to breed some life into the lacklustre audience.
Meatbodies casually stroll on stage and as they strap on their gear, half the crowd have yet to seemingly notice, only realising once the band start off 'Mud Gals', a 7" released in 2014. Ubovich (guitar/vcals) is joined by Patrick Nolan (guitar/vocals), Kevin Boog (bass) and Erik Jimenez (drums), with Boog and his bandaged finger taking centre stage. The opening track highlights that the foursome are in no way shy when it comes to combining fuzzed out guitar sounds, head thrashing and hurtling drumming.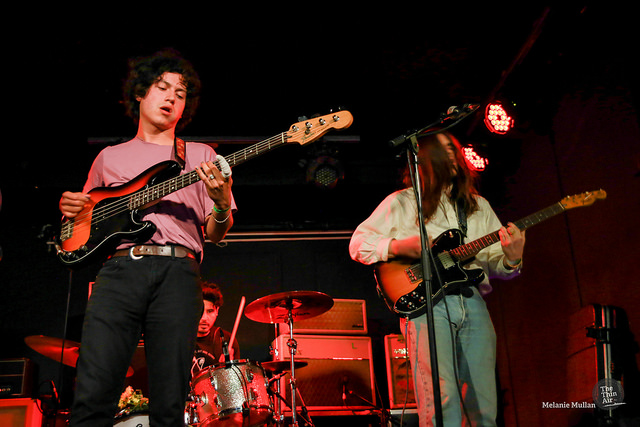 After a "1 ,2, 3, 4" count in, the first of the night's tracks lifted from their debut, 'Disorder' is given an airing at snot-like speed, quite reminiscent of 80's hardcore punk. Both 'Mountain' and 'Him' highlight not only the brutal power of this outfit's playing, but also Ubovich and Nolan's ability to harmonise, which when audible, and all too infrequent, feels like a juxtaposed match made in heaven. The playing styles of both axemen accentuates their love of all things Sabbath, punk rock, and at times country, as its mainly all discordant and fuzzed out guitar effects, which whiz past in the blink of an eye.
There is an obvious nod to their garage influences during the opening chords of 'Two', as again the dual vocalists play to their strengths, all the while surrounded in a bubble of brash sounding guitars and voluminous bass, yet half-way through it takes a space-esque turn not too dissimilar to the Flaming Lips. Recent single 'Hibernation' sees them take the pace out of the ball a tad, as the drums are reigned in and the normally intense and loose fret playing is left to one side.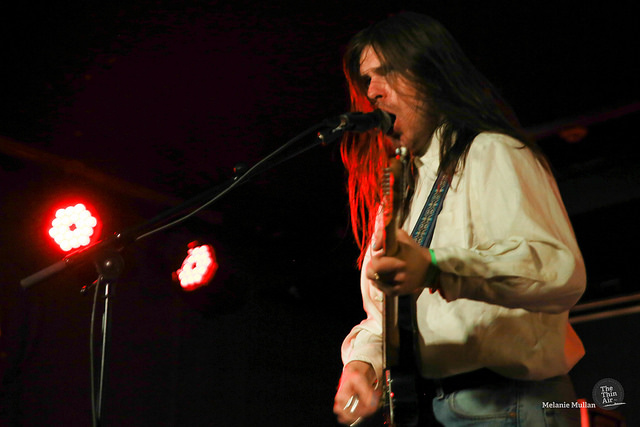 Admittedly, at times the set does seem a little formulaic as it becomes obvious you are guaranteed that every single song follows more or less the same pattern, i.e. it will feature either random NWOBHM-esque soloing or furious, screeching guitar, if not both, alongside some thumping drumming and vibrating bass, while always containing the harmonious driven vocals of Ubovich and Nolan. Not taking anything away from their indisputable playing ability or stage presence but perhaps a dip in the songwriting diversity pool may help for album number two. Conor Callanan
Photos by Melanie Mullan