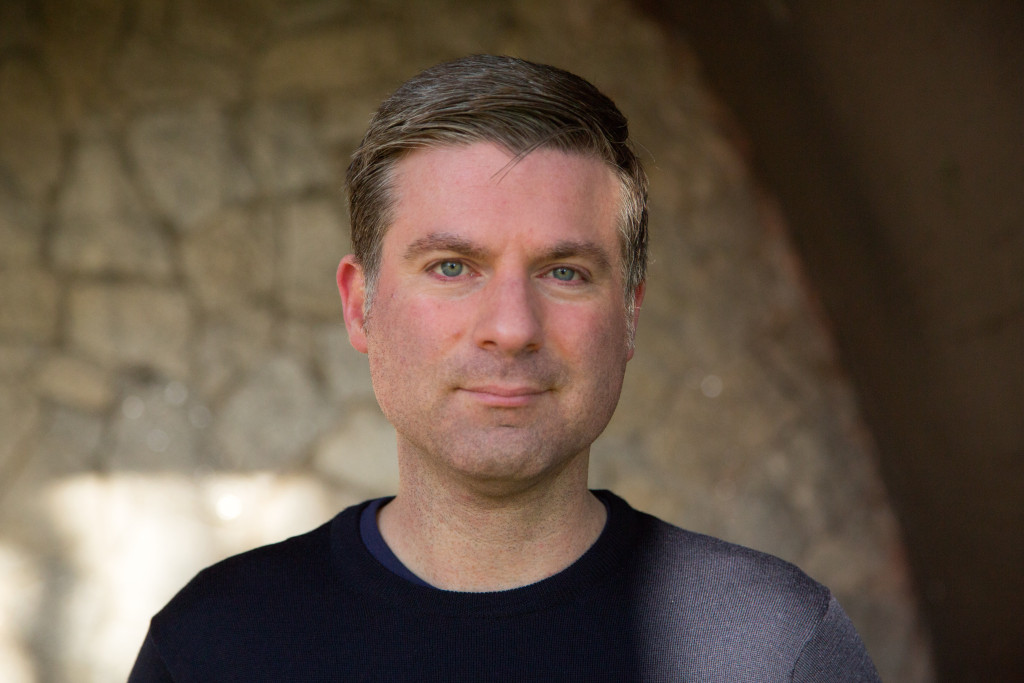 Easily the country's very best radio programme, Cian Ó Cíobháin's An Taobh Tuathail has proved impossibly formative for so many musicians, music writers and music lovers throughout the length and breadth of the country. A nightly, midweek traipse through the very best underground sounds, the show (which translates "the Other Side" in English) is a veritable trove of electronica, experimental, ambient and more. You can tune in here.
Co-presented with Eithne Shortall, Ó Ciobhain returns with the seventh season of TG4's alternative music programme Ceol ar an Imeall on Thursday, April 7 at 10.30pm. This first episode features Mark Ronson and performances Ham Sandwich & Wyvern Lingo.
I've tried to choose the tracks on this mixtape based on the songs that I feel have somehow managed to "define" me through a four-decade love affair with music.  Of course, I could easily share hundreds of tracks with you, but I'll try and do it in considerably less.  I often refer to tracks that mean the world to me as somehow feeling as part of my DNA and by this I mean that after years of listening to these tracks, they've somehow ingrained themselves in my psyche to such an extent that they almost seem to represent part of who I am.  Of course, some of the artists mentioned (Joy Division, Sonic Youth, Sufjan Stevens, Aphex Twin, Pavement, Nick Cave, My Bloody Valentine) have countless tracks that make me feel drunk on life every time I hear them, but I tried to limit this mixtape to one track per artist.
Xavier Cugat – Perfidia
This is as good a place as any to start. Covered countless times, but this is the first ever recorded version from 1940, which was a huge hit at the time and it sweeps me off my feet every time I hear it. Unashamedly romantic, I often play it early in wedding DJ sets to set the mood.
John Williams – Cavatina
This is one of the first tracks I can recall hearing on the radio as a toddler in the kitchen at home in west Kerry and it struck a chord with me. In fact, it might very well have have been the track that turned the key and launched me headfirst into a lifelong obsession with music.
Ron Grainer – Tales Of The Unexpected
Drenched in nostalgia, this one brings me right back. Always a treat to be allowed to stay up late as a kid to watch this TV show. Hadn't heard the happy/sad theme tune in years until my truelove sprung it upon me out of the blue, the summer before last.
Michael Jackson – Billie Jean
This song never fails to send a shiver down my spine. I was besotted with it from the very first moment I saw the video on MTV.
Pink shirt & red dickie bow? Want.
Ability to move like this enchanting, dancing magician? Yes please.
Pavement lighting under my every step? Sign me up.
I knew I could easily source the rustling litter and debris that are scattered throughout the location of the video, so those little details weren't as crucial.
Séamus Ó Beaglaoich – Beir Mo Dhúthracht
A love-song to the landscape, townlands, hills and vallleys of west Kerry, where I grew up, penned by local scribe An Seabhac. The song is written from the perspective of the departing, emigrant reluctant to leave the place he loves so well (back when the song was written, emigrants rarely ever returned home again, they departed for good). This was the first song we learned when we went to 'sean nós' classes back in the eighties, which was taught to us by Séamus and his family. There's a stunning version of this song, sung by Séamus and recorded and produced by Steve Cooney, on their seminal 1992 album Meitheal.
Madonna – Crazy For You
I was a complete Madonna obsessive as a young boy. As soon as I saw her pouting from the canals of Venice in her 'Like A Virgin' video on TV, I was smitten. Her music was difficult to source in 1980s rural Ireland, but I managed to eventually hunt down her first two albums, firstly in Dublin and, later, in Bishopstown in Cork. The fact that I didn't have 'Crazy For You' in my fledgling record/cassette collection and couldn't listen to it whenever I wanted to, instead relying on someone to play it on the radio or on MT USA (Vincent Hanley's landmark TV show), made it all the more delicious. The standard by which all the other pretenders in the slow set at school discos used to be judged by.
Sonic Youth – Madonna, Sean & Me
This song, famously, has a few titles, 'Express To Yr. Skull' being one of them. But back in the eighties, Sonic Youth were as obsessed with Madonna as I was and, when I  was still quite young, I somehow (can't recall how or where?) bought a cassette copy of their 1988 LP EVOL.  I pretty much wore the tape out, completely locked in as I attentively listened to the album on the hour-long bus-trip to school in Dingle every morning. In Kim Gordon's recent autobiography, she asserts that Neil Young believes it to be the most perfect guitar track he's ever heard. She also claims that it was recorded in one take.  I believe this captures the very essence of Sonic Youth, from creators of beautiful catchy hooks and melodies to awkward, adventurous, arty noise-merchants. It's how they swing so effortlessly from one extreme to the other and back again that has always mesmerised me.
Dionne Warwick – Anyone Who Had A Heart
One of the greatest songs ever written, composed, of course, by Burt Bacharach and Hal David. There's a BBC clip on YouTube from 1964 which focuses on how Anfield became one of the first stadiums in the UK, where fans began to sing songs, rather than just cheer and applaud as was the custom before then. It features the Kop singing along to Beatles' hits-du-jour. Right at the end, we get a brief blast of thousands of men, lustily singing along to this song.  Sadly, that clip is all too brief.
Them – It's All Over Now Baby Blue
I could pick any track off the otherwordly, phantasmagorical experience that is Astral Weeks, but I'll plump for  an earlier track by Van Morrison, this, his heart-rending cover of Bob Dylan. The riff was famously used by Beck on 'Devil's Haircut'. Listen up to these lyrics tinged with acid and romance:
"The empty-handed painter from your streets,
Is drawing crazy patterns on your sheets".
Linda Scott – I've Told Every Little Star
In my house, there's rarely a party that goes by where there isn't a 50s/60s girl-group section: The Crystals, The Ronnettes, The Shangri-Las etc.  I was a latecomer to this song, discovering it – like many others – through David Lynch's film Mulholland Drive.  It made an instant and lasting impression.
Angelo Badalamenti – Twin Peaks (intro)
It's the way that the cheesy merges so effortlessly with the sublime that makes every note on the Twin Peaks soundtrack so ridiculously vital.
White Noise – Your Hidden Dreams
This track encapsulates everything I love about music: somewhere at its heart lies a slightly eldritch psychedelic song, but the bold and daring arrangement from BBC's Radiophonic sound wizards, the way that they (de)construct the song and send it off on intricate tangents which – at times – seem to conspire to tear the song apart. Yet, somehow they just about manage to keep all the wheels on the road. Does anybody make music like this anymore? If they do, please tell me more.
Burt Bacharach – Something Big
The second Bacharach/David composition on this mixtape. As introduced to me by my truelove on a rare hot summer's night a few years back, I wish that brass/horn outro could go on and on and on.
Ricardo Villalobos – Dexter
I have watched this video more often than any other on YouTube. Not only is it a track that has carved a deep impression on me, from the moment that I heard it for the first time as I drove over the Cork and Kerry mountains one overcast, hungover afternoon back in the summer of in 2003, but the reason I keep returning to the video is the way it's masterfully cut to scenes from the German expressionist horror film 'Nosferatu' from 1922. The plaintive riff that emerges around two and half minutes is one of the most beautiful sounds I've had the pleasure to absorb after decades of listening to music (apparently influenced by some of the sounds Ricardo was listening to on the ECM label). Absolute heart-stopper.
New Order – Ceremony
If there has been a greater song that this ever composed, I have yet to hear it. One of the last songs (the eventual B-side to this ,'In A Lonely Place' was the other) Ian Curtis wrote before his suicide in 1980, it was to become New Order's first single (back when they still sounded like Joy Division). Utterly flawless.  This is the ne plus ultra of twentieth century pop music.
To Rococo Rot – Die Dinge Des Lebens
This track came out the same year as I started broadcasting on An Taobh Tuathail. It might very well be the track that I've played most on the show. There's something almost strangely sentient about the tune, I always embrace it as a living, breathing, almost conscious entity rather than just a regular tune.
Bobby Womack – Across 110th Street
Back in 1998, before I started a new club residency in Galway's Town Hall, I was looking for a name that would capture the essence of what I was initially trying to achieve with the club-night. I wanted something that would reflect the music policy of the night, which was the sounds I imagined emanating from ghetto-blasters and boom-boxes of 70s/early 80s New York. As 110th Street was the first street one crossed heading into black Harlem, it made sense to me to roll with this.
Sufjan Stevens – Should Have Known Better
I listened to 'Illinois' again recently, easily my favourite long-player of this young millennium. I could pick any song from that album and there are so many highlights throughout his magnificent back catalogue, but today I've plumped for one of his most recent songs. The first half of this wonderful song is undeniably melancholic, Sufjan meditating on the death of his mother, but approximately half-way through, there's a subtle shift in the mood and the song becomes a defiant celebration of life, celebrating the passing of the torch from one generation to the next.
Cocteau Twins – Cherry Coloured Funk
I would die a happy man if this were the last song to enter my ear canals. So beautiful, so joyful and so life-affirming. What was it I once saw written by someone in one of the music weekly papers about Liz Fraser's lyrics? 'It sounds like Welsh sung backwards through a sieve'.
Junior Boys – In The Morning (Alex Smoke Remix)
Possibly one of the greatest remixes of them all. Another tracks that feels more like a close friend, rather than an amalgamation of soundwaves. If you're ever DJing at a club and need a record to reach out to every single beating heart on the dancefloor, this is the one.
Joy Division – Decades
Today, this is my Joy Division track of choice. The music writer Simon Reynolds has made the point that the words of Ian Curtis and Stephen Patrick Morrissey manage to capture the essence of all our collective teenage emotions, wherever we may have grown up and the songs of Joy Division – while undeniably bleak – somehow sustained me through tough times during my teenage years. They assured me that it was OK to be confused, OK to feel vulnerable and that you didn't need to assert your masculinity through sports or violence or any of the other manifold physical ways that adolescents strive to prove their manliness. Another thing that has always struck me listening to last two tracks of side 2 of 'Closer', 'The Eternal' and this, is how unbelievably old Ian sounds, like a man who actually has spent many, many decades amongst us, instead of the 24 year old young man that wrote those words and sang these songs.
The Go-Betweens – Cattle & Cane
In the words of Grant McLennan, who composed this tune:  "Written in summer on a borrowed guitar in a Paddington bedroom, London. The other rooms were occupied by unconscious friends. The rhythm struck me as strange, the mood as beautiful and sad. The song came easily, was recorded quickly and still haunts me". Seconded.
Metro Area – Miura
I was completely obsessed with this record when it came out. When I eventually sourced it, I listened to it over and over and over again. It sounded like some long lost disco dub, but served with a sprinkling of futurism. I still almost play it almost every time I DJ.
Vitalic – La Roc 01
So much techno pussyfoots about with a bleep here and a high-hat clatter there (and there's nothing wrong with that, I love this sort of techno too), but this monster goes straight for the jugular. I'll never forgot the first time I heard it in a club, which was when Dave Clarke dropped it at Heaven in London. It was a narrow room, there was a row of speakers extending all the way to the back of the club. Three minutes thirty seconds into the track, he turned off all the speakers, bar the ones at the back of the room and the club was suddenly plunged into darkness. Almost silence, just the faint thud of the kick to be heard at the back of the room. He looped the next section, slowly ratcheting up the tension as each set of speakers were turned on, the sound surging up through the room and and by the time the gnarly riff was unleashed again, the strobes had gone off and every single one of us who were lucky enough to be in there that night, completely lost our shit.
LCD Soundsystem – Losing My Edge
It seems oddly fitting that Erol Alkan gave me my 12" of 'Losing My Edge' on his first visit to play for us at 110th Street in Galway back in 2002. "This is the best record I've heard all year", he said. Years later, it was the very first record he played at his last ever 'Trash' party at The End, London. He introduced it with the words:  "Don't read too much into this". It's still my favourite record LCD record by far.  I love the knowing lyrics, James Murphy's Mark E Smith-meets-Lower East Side drawl and that crunchy, insistent pulsating metronome that drives the tune to its crescendo.
My Bloody Valentine – Sometimes
No matter what mood I'm in, this would make my top 10 tracks of all time, at any time of asking. I went into more detail about how much Loveless means to me for Frisson recently.
Aphex Twin – Tha
If Irish clubs had late licenses as is the norm in clubs in most European cities, this is one I'd be dropping around 6AM. All nine glorious minutes of it.
Pavement – Trigger Cut/Wounded-Kite At :17
It's all about the way the track announces itself so breezily: 'Lies and betryals/Fruit-coloured nails/ EEEEE-lectricity. And lust'.  I recently ended up accruing penalty points while singing along to this in the car, totally oblivious to the speed van lurking in a Connemara ditch.
Burial – Gutted
Almost impossible to pick a Burial track, but I'll go with this one on his debut album.  I'll never forget the first time I heard it, I bumped into my mate Cyril in Galway who had the CD in his car and he said 'check this, I think you'll like it'. Like it? Elsewhere in the universe, a new cluster of stars burst into existence.
Boards Of Canada – Turquoise Hexagon Sun
How do I only pick one track from Boards? I've chosen this one, simply because it was the first of their tracks to seep into my dreams.
Royksopp V Kings Of Convenience – I Don't Know What I Can Save You From
I've carried a torch for this beautiful remix since it first emerged back in 2001. The original song is beautiful but Roykopp's production carry it to another place. The B-side features the instrumental, which is where you can really appreciate the magic of Royksopp at play.
Matthew Herbert – It's Only (DJ Koze Remix)
The original of this track can be heard on the magnificent Bodily Functions album from 2001, but when DJ Koze came along over a decade later and sprinkled his stardust over it, he created a record that would enter the bloodstream of clubbing and remain there forevermore.
Savage – Don't Cry Tonight
The instrumentation pared-down and the rhythms of Italo-disco slowed right down, with that cheesy-to-earnest balance setting like a well-prepared custard … these are the simple ingredients that combine to create this knock-em-dead heartfelt torch song.
Andrés – New For U
It sounded like a classic from the moment I first heard it. Another 6AM anthem, so warm, so hopeful, so tingly. So essential.
Nick Cave & The Bad Seeds – Watching Alice
Possibly the greatest song ever written about sexual yearning. Almost impossible to pick just one Nick Cave track, even now on the verge of his sixtieth birthday, he sounds angrier, hornier, more passionate and more 'real' than 95% of young pissy indie upstarts, picking up their guitars and singing their twee, stereotypical songs, songs more often than not end up on TV ads advocating purchasing life insurance and/or soundtracking Guantanamo detention cells.


Keep up with Cian via the following channels: Website | Facebook | Twitter | An Taobh Tuathail | ATT Twitter | ATT Facebook | Soundcloud | Mixcloud