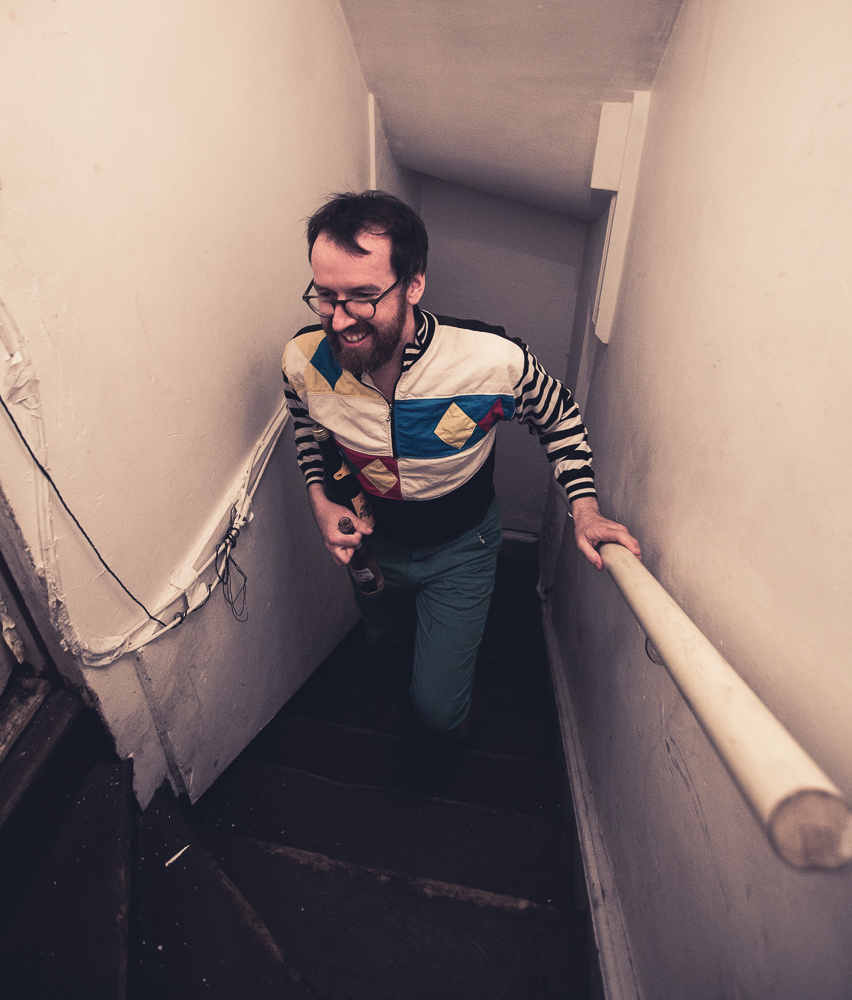 Podge McNamee from HamsandwicH shares the songs that have influenced his life and music. Photo by Tara Thomas.
Rollerskate Skinny – Speed to my side 
One of the most outrageously great Irish singles ever written, in my opinion. The best use of a Boss pitchshifter pedal too. It ticks all the boxes. Poetic, epic, blistering distorted guitars & a chorus that seems to just get better each time it kicks in. I always listened to this song with my friend Jason (who was obsessed with them) to get the blood rushing on long drives to festivals such as Witness, Oxegen and Electric Picnic. It became a ritual for us. "Nobody ever told me that this sort of thing could come alive" Shame they are no more!
The Halo Benders – Virginia Reel Around the Fountain
A friend of mine called Loreana (deputy editor of The Thin Air no less!) was singing this little ditty years ago that sounded like a kid's nursery rhyme, "Your savage. Your savage cabbage leaf" I quizzed her on it and she introduced me to this piece of bizarre genius. It's actually a collaboration between members of two of my favourite bands Built to Spill and Beat Happening. It's got Calvin Johnson's cavernously low baritone mixed in with Doug Martsch's voice, which I can only describe as butter for the heart. (2.46 in for the savage cabbage bit).
Johnny Cash – San Quentin (Live at San Quentin)
So you're doing a gig in a jail but you decide 'Hey, I'll write a hate song about the very prison I'll be performing in and I'll sing it to all the prisoners!' Live at San Quentin put me massively onto Johnny Cash as before it I thought he was a Kenny Rogers cheese ball type that only your Dad would dare speak of or listen to. This entire record puts hairs ON the hairs of the back of your neck. Chuck Norris escaped from San Quentin Prison but sneaked back in to see this gig, then he burned the album to his chest. Trust me though, listen to the album repeatedly.
Pavement – Here
I was first drawn to Pavement (still my favourite band) from the good old days of MTV2. The video for Carrot Rope was on rotation and I was instantly hooked on the whole silly low budget vibe. The lads were goofy as fuck wearing yellow rain macs and singing about wicket-keepers and saying simmer simmer simmer down whilst simmering down. I went out and bought the first Pavement album I could find called Slanted and Enchanted which was much heavier and more lo-fi than I'd expected. It slowly but surely became a classic and although there's a few very close contenders for my favourite song by them, Here became my favourite early on so I'll remain loyal.
Guided By Voices – A Salty Salute
Alien Lanes was my first Guided By Voices purchase bought in the dusty basement of Freebird Records when it was beside O'Connell bridge. This song kicked it all off for me. I met the drummer before their gig in the Ambassador Theatre all those years ago and managed to have this song played for me. They said they hadn't played it in ages so they kicked off the show with it. I still I have the set list too, it's on a massive A2 sheet of paper. I think they played about 60 songs (in fairness some of their songs are 20 seconds long!) The Strokes are big fans and have covered this song at live shows a few times.
Built to Spill – Else
This is probably on the jukebox in heaven… if there is one. My idea of heaven anyways! It's my How Soon is Now?  I compel you to listen to their album Perfect from Now On and not be moved (honourable mention goes to the song Velvet Waltz).
Grandaddy – Am 180 
I got a free compilation when I was in college and it had loads of the most brain infected shite on it by god knows who! This was the only song that instantly grabbed my attention. I was at a stag last weekend recently and a gang of us ended up on one of those embarrassing party buses, you know the ones haha! One of the lads stuck this on full blast and it blew me away all over again. It still sounds incredible almost 20 years later.
Talking Heads – Once in a Lifetime
Every time this song comes on I feel like what I'd imagine a dog feels like when its owner returns from a two week holiday! It's just LSD for the ears. David Byrne deserves to be at least on the coat tails of David Bowie. He's the complete article too.
Smog – I Feel Like The Mother of the World
This man has the coolest voice in town. Bill Callahan's vocals just gets inside my head like nobody else. I found two songs randomly of his on an old iPod by luck – Ex-con and Bathysphere. I loved the lyrics and decided to investigate further and his back catalogue is a treasure trove of stunning stuff. I've yet to see him live so heres hoping.
Pulp – Common People
I've chose this song as I owe it about 12 times over in my lifetime. I somehow got roped into doing a karaoke night in my hometown Kells years ago and I reluctantly chose this song and Man on the Moon by REM to sing. For some reason this song just had some kind of power of possession over me and turned me into this raving lunatic who couldn't sing for shit but somehow I managed to breeze my way into the finals winning a nice ol' voucher for a fancy restaurant. What are the chances? You can't deny it, Jarvis Cocker will always get you in the end!