Features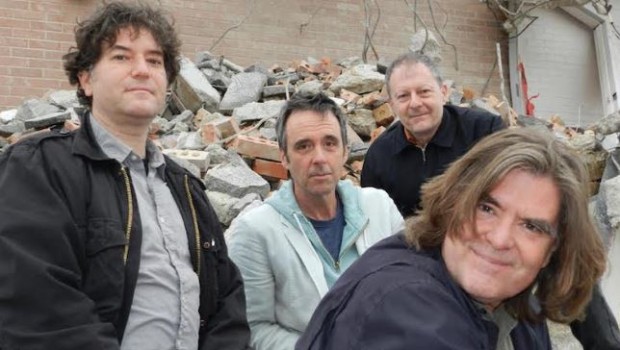 Published on April 12th, 2016 | by Cathal McBride
0
Out Of Oblivion Into The Light: An Interview with Mission of Burma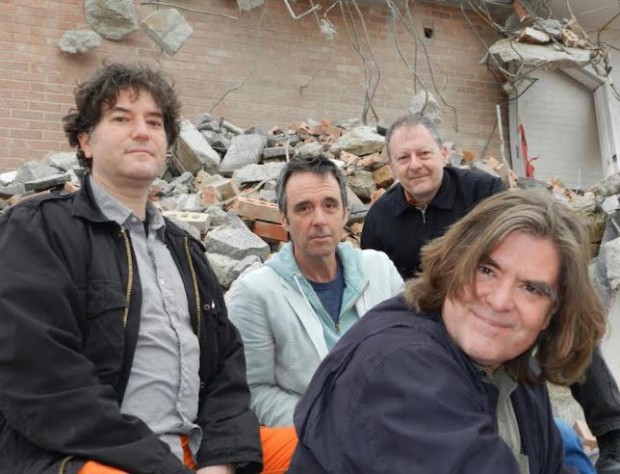 For years, Boston post-punk legends Mission of Burma were one of rock music's great 'what if?' stories, an obscure but influential band that broke up far too soon due to singer/guitarist Roger Miller's tinnitus, worsened by their notoriously loud live shows, leaving behind just one full length album, an EP and a couple of singles. When they finally reformed in 2002 (with Shellac's Bob Weston taking over the role of tape manipulation from Martin Swope) they did it properly, refusing to be a mere nostalgia act and issuing a string of new albums that sounded just as vital as what had come before.
As they prepare to kick off another European tour at Dublin's Opium Rooms on April 18, Cathal McBride chats to Miller (pictured above, front right) about the band's past, present and future, and how to look after your hearing as a musician.
Mission Of Burma are often cited as one of the few bands whose post-reunion work matches up to the early material. Do you think you always had unfinished business due to your initial career being cut so short?
We were unaware of that until we got back together in 2002. We just did what was natural – start working on new material so we aren't just propped up people with a previous agenda. People have said this, and in some ways it's really true: when we reformed, it was like we picked up where we left off when we broke up in 1983. We were all a bit surprised.

How important do you think Our Band Could Be Your Life was in terms of cementing the band's legacy? Was the subsequent attention a driving force in the decision to reunite shortly after?

It was quite important. When he included us in that book, we were amazed. We always thought we had something to offer (despite the general response to us at the time), and here was someone who saw that and put us in with bands we admired, and in some ways even considered our peers. Despite the fact that we sold many less albums than anyone else in the book. Honestly, we were stunned that someone dragged us out of oblivion into the light.
The first 4 albums after the reunion came in fairly quick succession but it's been four years now since Unsound. Does the forthcoming tour signify there's new music on the way or is that something you're taking a break from for now?
At present there are no plans for another album. We'll be playing a couple new songs, but two songs doth not an album make. But we still love playing and when we hit the stage, who knows why, but we suddenly kick in and become Mission of Burma.
Do you have a favourite of the albums you've released since Vs?

The Obliterati proved we could really rock hard. And Unsound, to me, has almost as many ideas as Vs. Those are the two I really like.

How has the live show changed since the early days? Is it difficult to decide how to balance the newer and older material in the setlist?
We just do what we do. We barely even know what we're doing – we just do it. On the other hand, in the first round (1979-1983) we were told we were great on some nights and horrible on others. We seem to have evened things out. We still have nights that feel exceptional to me, but our worse nights are not nearly as bad as before, and not nearly as common. Is that maturity? Beats me! Setlists will cover our entire career, and vary nightly. Starting 1979, we have never played the same set two nights in a row.
With your tinnitus causing the band's initial break up in 1983, has playing live gotten any easier in this respect in recent years?
What did you say? (that's my joke, but it's kind of lame in an email interview). I stopped playing in Mission of Burma because I still wanted to hear when I was 50. Well, I'm a bit older than that now, and I can hear pretty damn well. The ringing in the ears (tinnitus) has gotten stronger of late, but I've learned to tune it out. Um, what did you say?
Do you have any advice for younger musicians on how to avoid developing similar hearing problems?
Wear ear-plugs during rehearsals (and when seeing bands you don't really care about). Rehearsal spaces are usually the worst culprits for excessively loud noise. My new rock trio, The Trinary System, rehearses at very quiet levels. We can easily talk above it and the drummer often uses these sticks that are half the volume of typical performance sticks. At rehearsals we're just learning stuff, so why not play soft when you're getting all thinky about things? Why deliberately damage part of your body? The title of our new EP, Amplify the Amplifiers is a commentary on live volume. You get really solid amps that are loud, then you put them into ANOTHER set of amplifiers to amplify the amplifiers? If you stand back and be objective about it, that's a bit insane. PA systems to spread the sound around is a good idea, but to ramp the volume up one more huge level is a bit nuts. Literally, rock musicians get tinnitus like football players get concussions. Better to ramp things down a couple notches, know what I mean?
Lastly, are there any newer bands that have caught your attention lately?
Guerilla Toss. "E". Dyr Fraser. Battle Trance. Sunwatchers. Parquet Courts. Sleaford Mods. Father Murphy. Thanks for asking me these questions. We plan to rock the house every night on this tour.