Live Reviews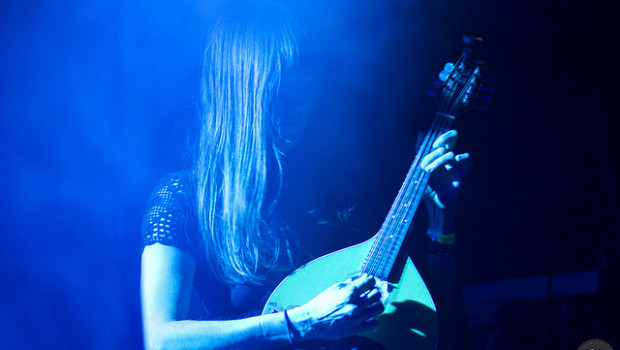 Published on April 12th, 2016 | by Brian Coney
0
Reverberation Psych Fest 2016 (Day One) @ The Grand Social, Dublin
Following the success of last August's inaugural outing, this year's Reverberation Psych Fest returns to Dublin's Grand Social for another two nights of intoxicating psychedelia, with more than a smidgen of mind-throbbing noise added into the mix.
Donegal's Tuath are tasked with opening night one on the Friday – no easy task given such a small number are in attendance by the time their time slot arrives. However the four-piece of Robert Mulhern, Ashley Mobasser, Shane McFadden and Scott Carlin grasp their time on stage with all guns blazing. Tuath's style of play hints at elements of jazz fusion, which sits alongside a seriously heavy-metal influenced rhythm section, while an array of  piercing soundscapes and shredding guitar highlight that they are a steaming melting pot of influences. Unfortunately, at times Mulhern's vocals seem to evaporate amongst the dissonant music that the foursome generate, however that doesn't stop the likes of 'Amharic that ort fein' or climactic final number 'DMT' from showing exactly what it is that Tuath are all about.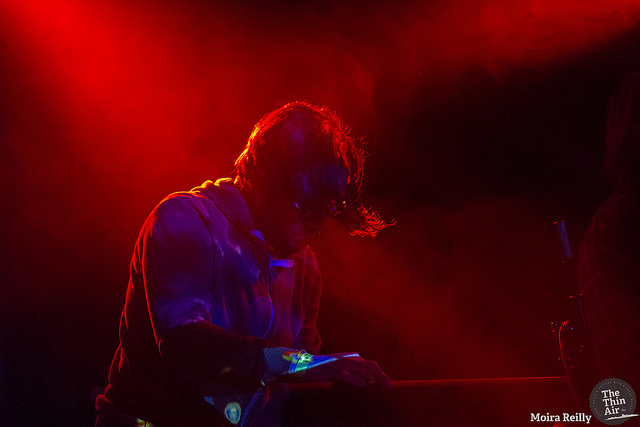 Up next is Woven Skull (above), a foursome hailing from Leitrim comrpised of Natalia Beylis (mandola), Aonghus McEvoy (guitar), Willie Stewart (percussion) and Ailbhe Nic Oireachtaigh (viola). Just as Tuath bring something extra to the table with the inclusion of saxophone within their metallic sound, by incorporating a mandola and viola into the equation, Woven Skull have managed to enter an even deeper, trippier and tribal-like chamber within the psych genre. McEvoy's guitar shrieks endlessly throughout his time on stage, while pushing Stewart's percussionist ability to the max as the duo seem to be in some sort of never ending jam battle. Beylis' playing allows for her own voice, as it were, to be heard amongst the hypnotic barrage of 'Sea Graves' and 'Wild Jorge', in which the viola suffers due to the deafening level that Woven Skull perform at.
Next up is Dublin based Wild Rocket (pictured top), a group of obvious metal heads with an affection for all things doom and stoner-rock related. At the same time these four lads still manage to incorporate a rather terrestrial themed techno sounding component to their bizarre yet pulsating delivery. It says it all really when they kick off proceedings with a bombastic track entitled 'Interplanetary Vibrations', a tune that comes close to surpassing the ten minute mark, and for that full duration one is nearly swallowed up into a vast black hole of drone like guitar, thrashing drums and ear bashing synth sounds.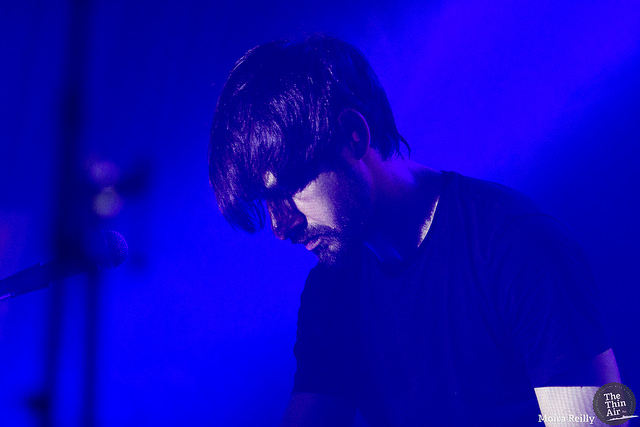 There is a serious swell in attendance when local favourites TwinKranes take to the stage, a band who were one of the highlights of last years event. Chris Caroll (synths, above) and Anto Patterson (drums/vox) are a force to be reckoned when together, as they plough through their gloriously hypnotic sounding Krautrock and electronica infused set. With their sophomore hopefully due to see the light of day before the end of the year, new track 'It's a Trap' gets an airing, and proves that the two lads really are onto something special.
Unfortunately, there was quite a long delay between TwinKranes finishing and headliners The Cosmic Dead taking to the stage, so with the ears having taken quite a beating already it was time to give the DJs in the outdoor area a listen.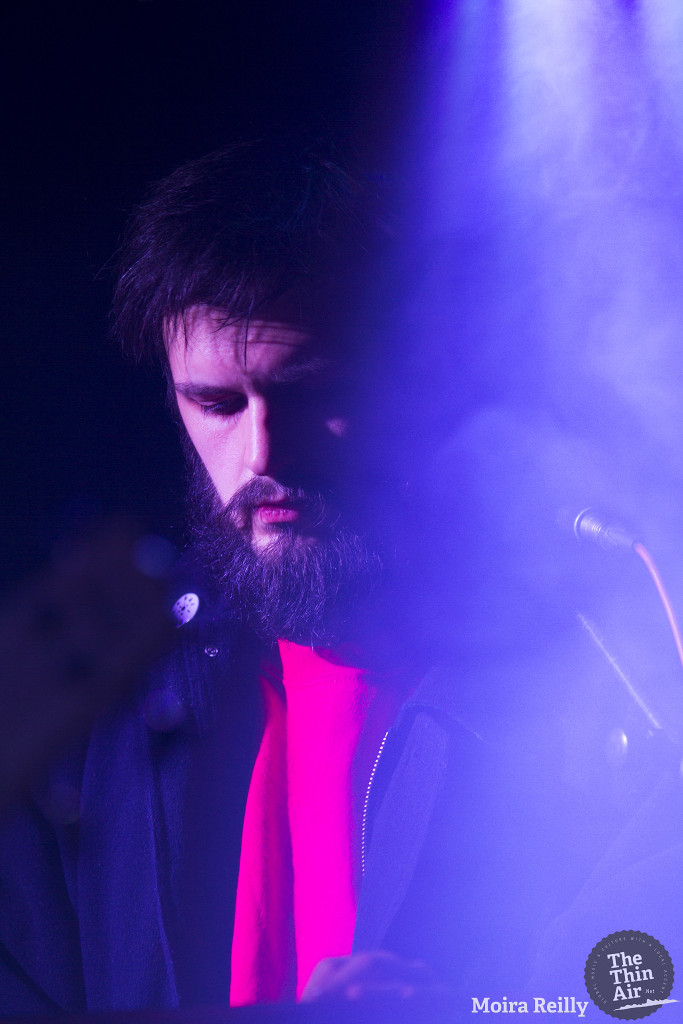 With nearly an hour having passed, Glasgow's The Cosmic Dead finally take to the stage for what is to be a near full on assault of the senses during their four song set. With a host of albums and split singles to their name since forming back in 2010, the band can divulge into their back catalogue with ease. 'Djamba' feels like you're being brought along on an hallucinogenic and never ending journey into the abyss, as the foursome go from psych like jam rummagings to ear shattering intensity in the flick of a switch. A bottle or two of Buckfast gets passed about the stage as if their lives depended on it, and somehow do not explode due to the sheer force and speed of their playing, which at times veers daman close to thrash/black metal! Due to this group seemingly unable to write tunes under the 15 minute mark, they sure as hell made up for the length of time they missed their scheduled time by, to all those who stayed on to see them bring the curtain down on night one of Reverberation. Conor Callanan
Photos by Moira Reilly