Live Reviews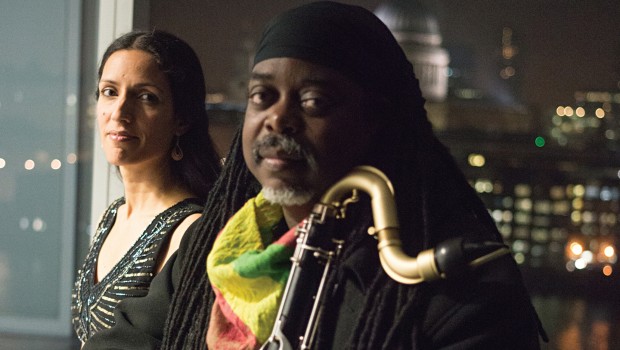 Published on May 17th, 2016 | by Aaron Drain
0
Courtney Pine & Zoe Rahman @ Cathedral Quarter Arts Festival, Belfast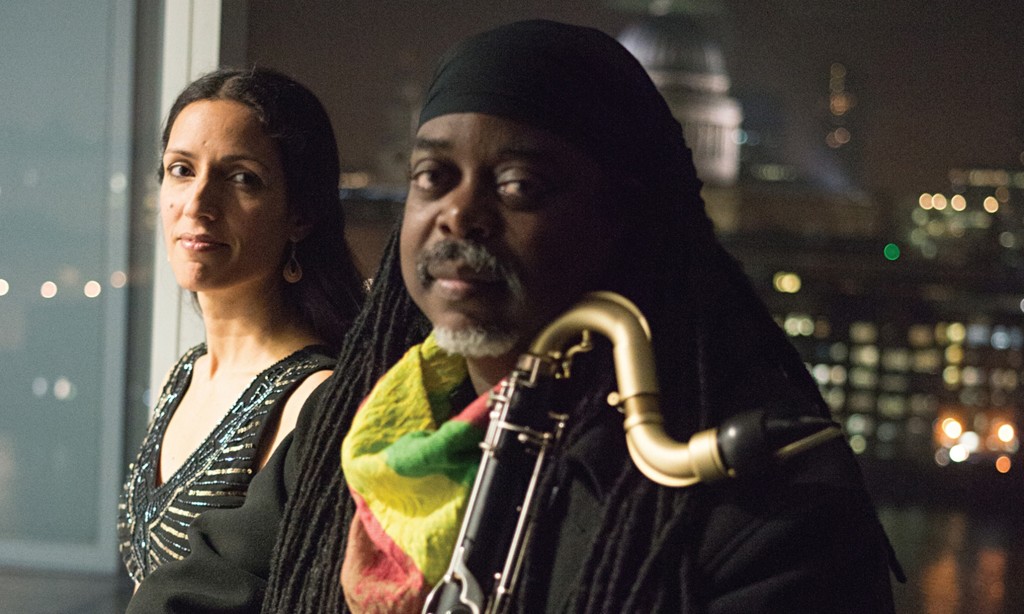 It's not exactly a shocking revelation to say that jazz can be a ludicrously self-reverential medium, especially given the insular virtuosity required to play it to a world-class degree, so it's pleasant that tonight, under this starry-ceilinged festival marquee, that Courtney Pine maintains a balanced composure; one that allows for moments of wild, wandering timbres but also gentle interplay with Zoe Rahman's fervent piano playing.
A courteous guest, Pine lays on the thanks thick and fast for the Cathedral Quarter Arts Festival organisers, prompting agreement from a largely excitable crowd who rightly recognise that jazz in Belfast isn't exactly the most prominent pick for a night's entertainment. It's gaining traction, yes, with the likes of Moving On Music and Linley Hamilton championing jazz as a pursuit well worth your time – which it absolutely is, and due to its wide scope, there really is something for everybody to be found within its loose confines here in our fair town.
And loose would be the key word for this performance too. Pine, straddling a bass clarinet far different from his regular instruments of choice, strikes a welcoming figure, wrapped in black and comfortably pacing across the stage before us. With nods to Rahman, he indicates when it's time to transfer between salubrious blowing sessions and delicate tinkles – there's everything from standards to classical pieces given airings tonight, and at times the two formats are blended into what could potentially be lost in obscurity if it weren't for the muscle-memory grace of our two performers.
Believe me when I say this, but it takes a bit of a master to round off a line of furiously intricate phrasing 'no hands'. Completely serious, Pine, for a tense moment, allows his fingers to fall from the clasps of his beastly instrument to let his breath negotiate the finer points of a melodious run, Rahman as agog as the rest of us as it unfolds. The set, comprised of two 45-minute pieces that include a variety of digressions and novelty recreations, is broken only when Pine seeks to direct our attention to Rahman; unnecessarily I might add, considering her celebratory contribution is more than enough to hold our collective gaze.
After a short break, and some tense moments where it seems like Pine is going to keel over from a lack of breath, he begins to improvise on the most solid of bases. 'A Nightingale Sang in Berkeley Square' a particular highlight, and with a rich, flexible interpretation of 'Amazing Grace' offered, this evening has been one of the most memorable for the CQAF in recent history, if only for the quiet contemplation, exceptional talent of the two performers on stage, and the general consensus one of marked appreciation. The Jazzman came to town, and we'll welcome a return visit. Aaron Drain