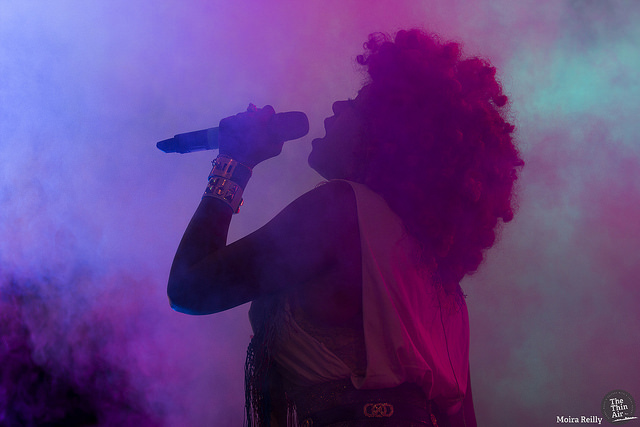 With the summer calendar already bursting with an ever-growing number of Irish festivals, the ability to take festival goers somewhere new and exciting requires a pretty promising lineup as well as a distinctive and unique take on the conventional offering. Dublin City Block Party certainly delivered on both fronts with take two of their two day mid-summer blowout that took place right in the heart of the city at the Tivoli Grounds and District 8 last weekend.
It has, in fact, taken me until now to finish this review having only just resurfaced after what can only be described as an urban feast of great music and intense clubbing. Striking a perfect balance between established artists and newcomers, the festival provided a lineup that truly delivered extraordinarily energetic performances right across the board.
Picnic benches, a slightly more chilled deck and even the infamous hot tubs were present once again this year, but this particular festival wasn't one for those who wanted to relax and unwind in the sparse bouts sunshine the weekend had in store. It tapped into a particular niche comprised of those who never seem to want the party to end, providing an alternative, urban scene that comes as an invigorating breath of fresh air amongst the usual bohemian offerings.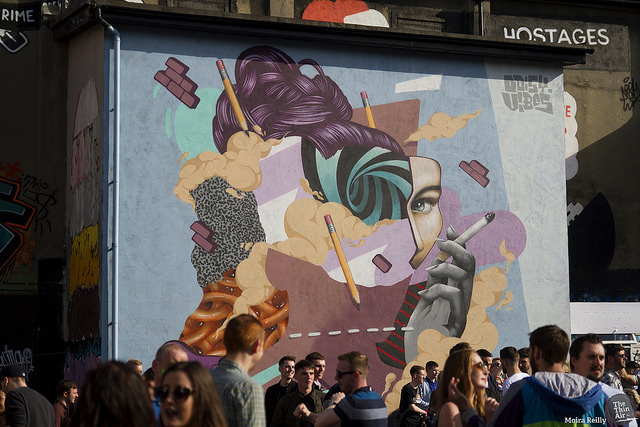 This Greedy Pig DJs knocked out some, ever-so-slightly more laid back tunes, setting the tone and atmosphere with a little hiphop, funk and soul as we entered into a sea of enthusiastic, carefree faces. The Aungier Danger tent caught my eye immediately and of course, not being one to resist sweet temptation – it was time to feast on a divine salted caramel donut that really hit the spot.
Once the rain hit, all but a handful who braved the storm, darted inside to catch electronic pop genius, Danny L Harle pump out a number of blazingly hyperactive tracks. The uncontrollable crowd danced from start to finish to Harle's interesting style of 90s club classic anthems sped up and distorted brilliantly creating an otherworldly experience.
I stayed to catch the first half of the extremely talented, Harvey Sutherland's incredible live set. Having emerged from Melbourne's bubbling underground, he delivered his own unique blend of celestial funk, lo fi boogie and techno chuggers. He sweated it out with the crowd looping new modulations and phrases with pitch bent solos and the odd cover for an all-consuming performance.
We emerged from the darkness perplexed having discovered that the sun was blazing once again. A huge crowd had formed at the main stage as Huxley blasted killer house jams, creating a dreamy atmosphere the crowd to revel in. His seriously slick set stirred real emotion in the crowd, demonstrating his level of experience that's well beyond his years.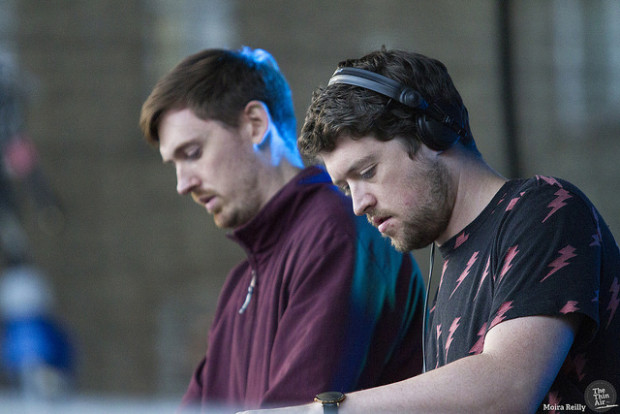 The rain held off for the remainder of the night, failing miserably to dampen any spirits. The crowd waited patiently for UK underground scene leaders Dusky (above) who delivered a delicious dose of crisp modern house. Pushing their new sound forward,  the electronic duo pumped out a fantastic fix of unrestricted techno focused tracks fused with simple vocal loops, bubbling synths and pummelling beats.
The crowd seemed to almost double as Kelis (below and top) took to the main stage. A sea of wide-eyed faces erupted with delight as she launched into a cracking set with none other than the vigorous 'Bounce'. Having gone from raspy, soulful R&B to David Guetta house anthems and then on to 'Food' her latest funk-laden release, we were bound to be in for a brilliantly versatile set that only she could pull off. Killing it with major hits like 'Trick Me', 'Millionaire', 'Bossy', 'Acapella' and of course the legendary 'Milkshake', she gave the crowd no choice but to prove themselves the ravers they were born to be. Her clever DJ played snippets of classic pop tracks throughout which set the crowd pumping. Her humble personality shone through as the global superstar stood in awe while the crowd relayed track after track back, word for word. Finishing off her set was 'I Hate You So Much Right Now' followed by a heartwarming rendition off 'Happy Birthday', sung by the entire audience to her DJ on deck, Kelis truly stood out as the star of the show.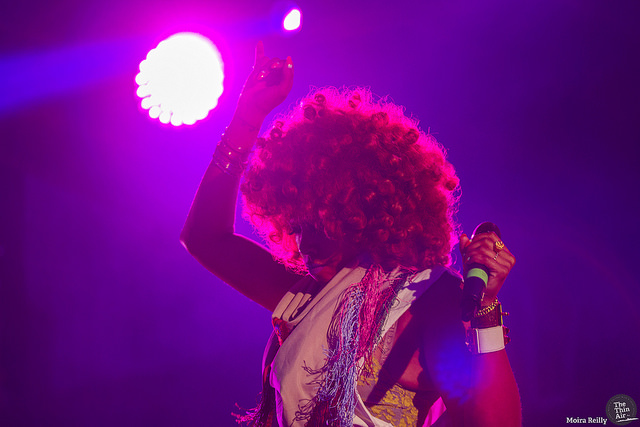 I returned to the arena, at a slightly later time than the previous day, as was expected, to find only a handful of festival goers, giving it socks as Dubliner, Jape, knocked out a fantastic set infused with elements of folk and alternative rock with scintillating electronic overtones.
Quickly grabbing what can only be described as the tastiest sweet potato fries with a dollop spicy guac from Strong Roots, I darted back to the main stage for a set infused with some serious funk by Get Down Edits. The Waterford duo teared up the dancefloor (or should I say carpark) with their own unique style of house, following their offbeat 'anything goes' music policy, merging styles ranging from funk, soul and disco to classic electronic and 80s dance to create something spectacular. As their set progressed, the venue began to fill and the impressive dancing quartet we had spotted upon entrance were now surrounded by a mass of people boogying uncontrollably.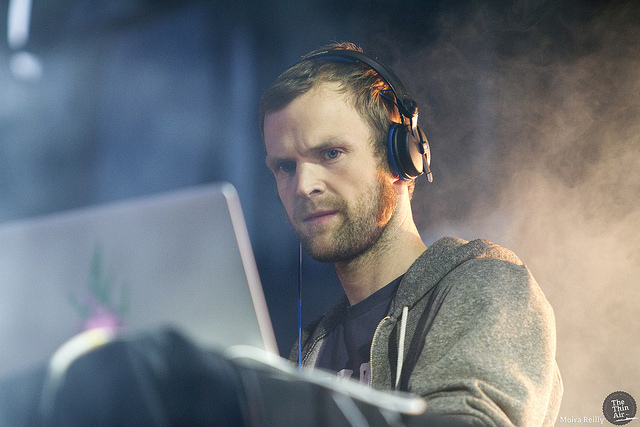 Late Nite Tuff Guy took to the stage next, pumping out some evercool Minneapolis funk. The crowd wallowed in his own unique blend of disco, house, funk and soul, totally immersed in his unconventional sound. After a brief break, Todd Terje (above) took to the main stage for his Irish debut with live band, The Olsens (below) bringing a sensational evening of funk to a close. Leading with the much-loved 'Delorean Dynamite', Terje, together with his live band, caused the entire crowd to erupt into ecstasy. The set, heavily influenced by 70s progressive rock wowed fans, and once they caught wind of the 'Inspector Norse' opening beats, the crazed crowd lost control, pulling all sorts of eccentric shapes. That unfortunately brought the incredible weekend to a close. I left the Tivoli grounds dreading the thoughts of heading into work the following morning but there was one thing that put a smile on my face – the fact that I'd be able to do the whole thing all over again next year. Paula Murphy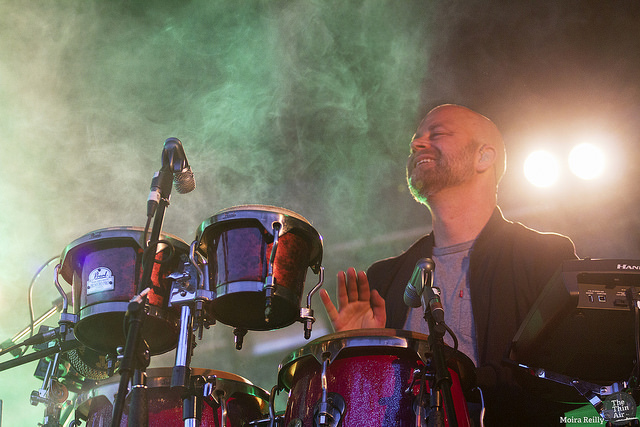 Photos by Moira Reilly