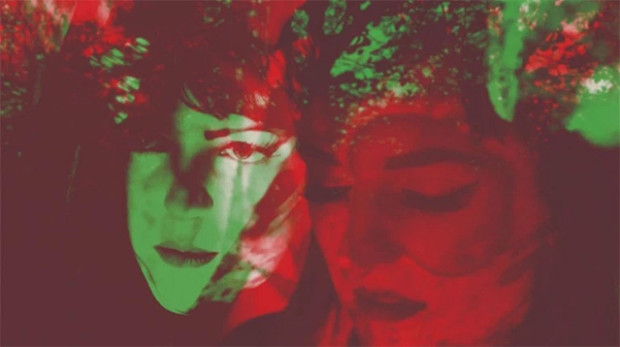 This week's eclectic Monday Mixtape comes courtesy of Joe Greene, who has been at the helm of some of the most cosmically enveloping music ever to come out of Belfast, courtesy of  psych/drone-pop seven-piece Documenta. They're to release an extended version of the David Holmes-produced 'Love As A Ghost' (artwork above, single below) originally from their excellent 2015 album, Drone Pop #1, through Touch Sensitive Records. Documenta play Mister Tom's Lounge at Lavery's, Belfast on July 22 to coincide with the single's release. Now, over to Joe.
"In no particular order here are a few of my favourite things."
Big Star – For You
I first heard Big Star when I was a teenager way back when and I was reminded of how beautiful this track is when it was sampled by Dean Blunt on his track Lush.
A.R Kane – A Love From Outer Space
One of the forgotten greats, a beautiful piece of dreampop and even better they are playing live shows again.
Yorkston/Thorne/Khan – Sufi Song
Steven from Documenta turned me on to this beautiful record which was recorded last year at Analogue Catalogue studios in County Down. I'm really looking forward to their show in August.
Alice Coltrane with Strings – Galaxy in Satchidananda
Just cosmic… the whole World Galaxy record is fantastic.
Honolulu Mountain Daffodils – Psychic Hitlist Victim Number Eight
I first came across this track on a compilation called Spacelines put together by Peter Kember from Spacemen 3 and tracked down the 12″, I think this slipped passed everyone when it came out.
Bongwater – The Power of Pussy
Ah Bongwater! Kramer was the producer of Galaxie 500 and this record he made with the actress Ann Magnuson for me was cut from the same psychedelic cloth as the Butthole Surfers.
Drimble Wedge and the Vegetation – 'Bedazzled' (1967)">Drimble Wedge and the Vegetation – 'Bedazzled'
Which leads me neatly on to this which was covered by Bongwater. 60's pop stardom filtered through Goethe, Dudley Moore was a really talented musician and Peter Cooks delivery is funny and so cool which is an incredibly hard thing to do… you fill me with inertia!
The Red Crayola – Born In Flames
The genius of Mayo Thompson, this track was from his time as in house producer for Rough Trade in the Early '80s. He has had quite an influence on underground pop music from the his first record in 1967 and still does.
Dead Boys – Sonic Reducer
I wanted to pick Ann Peebles I Can't Stand The Rain but it's blocked by youtube so go and listen to it, it is great that organ motif pure class so here's some punk rock.. one of my favourite punk rock songs.