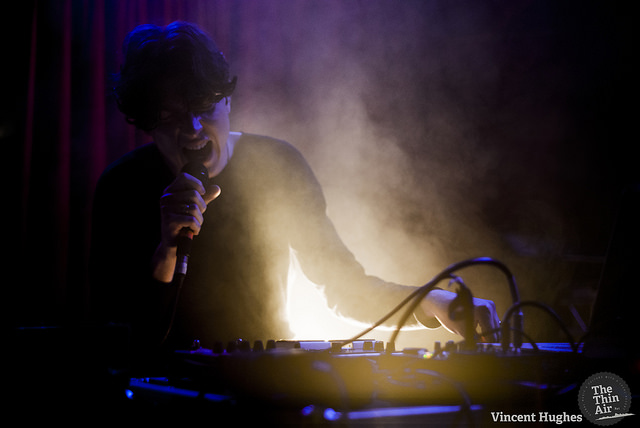 I was really looking forward to this gig. Between them, Toby Kaar, MMOTHS and Daithi released some of the most exciting Irish releases of the past twelve months, each of them showcasing the versatility and dedication that exists amongst the country's young musicians who ditched guitars and drums for adventures into electronics. In the context of these artists' significance to the country's music scene, that versatility is paramount, from Toby Kaar's disjointed, franticly emotive beats, to MMOTHS' encompassing soundscapes, to Daithi's infectious, melodic floor fillers. So on paper this bill looks terrific right? What I guess I forgot was that just because three artists are worthy of headlining an at capacity venue  – which they each have done here more than once –, that does not mean they should all play the same night to a crowd that's comprised of people who came with different expectations. Fact is, just because three people make electronic music doesn't mean it makes sense to have them play the same bill. To do so seems like a bit of a disregard for the structure of an event and for the variety that each musician brings to the table. It just all ended up feeling misshapen and awkward despite an enthusiastic crowd and all three sets being genuinely excellent.
Back in April, Toby Kaar (below) played a late set as part of Strange Brew in The Roisin Dubh comprised of tracks from his terrific Gumbrielle EP and a barrage of heavy duty edits and originals cuts. It was wild. Opening tonight's proceedings things are a bit more subdued, leaning more on the hip-hop side of things with rough, choppy melodic samples bouncing over organic, live sounding percussion. The gradually forming crowd shied away from standing too close to the stage but when 'Snapdragon' makes an appearance there is a nice amount of response. The as yet unreleased stuff sounds amazing with immediate comparisons to Four Tet's Rounds and anything by Gold Panda being obvious. But there's a rawness, an almost punk sort of grit to Toby Kaar's music that makes it uniquely gripping.  When the energy picks up at the end of his set there's a craving that that drive could continue, or that he could play for longer. Sadly though, being there two more acts to go and a lengthy enough change over of equipment necessary, things end just as they're getting going and the build up of energy begins to dissipate and the crowd gets a bit antsy.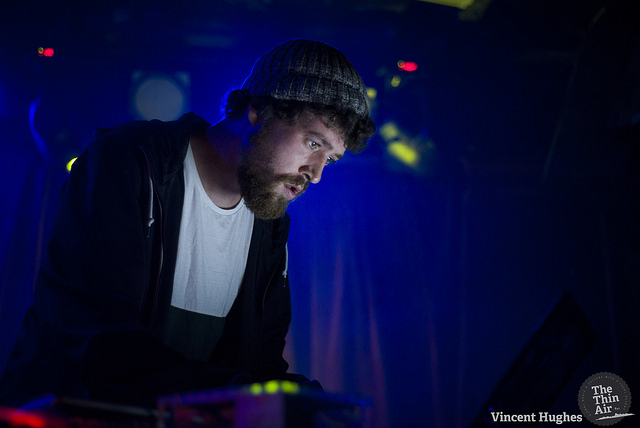 That antsiness does Jack Colleran AKA MMOTHS (below) no favours unfortunately. The now nearly full room is divided by those energised by Kaar, excited for Daithi or eager to hear MMOTHS. His set begins with fuzzy wall of noise, the sort of longing melodies that made up most of his stunning Luneworks. As he begins to introduce vocals and keys into the mix though the jittering crowd don't quieten at all. If anything they get louder, audible shouting and laughing completely taking over from the sound of the music. And look, these things happen, and it's fine, and it can't be helped that crowds talk sometimes. It just seemed that in this case the divide between the people struggling to hear the set and those who were there for the night out was much bigger, and it completely sapped from the experience, even when particular tracks peaked like the expansive, throbbing 'Eva' and 'Para Polaris'. Frankly, it was a complete mood killer to watch someone put visible energy and heart into performing a set that, remember, everyone had paid to see, only to be met with almost complete disregard.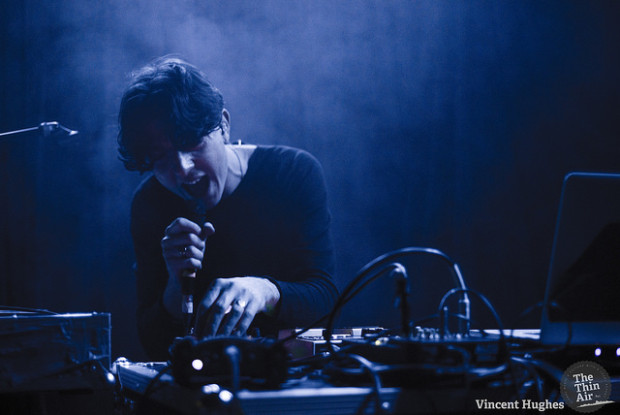 Talking to a few people after MMOTHS left the stage, there was a sense that for some there was no recovering the mood.  Moving from a set that could have been so gorgeous but was unfortunately hapless into the bubbling energy of Daithi's set felt strange. He played a stormer as always, the tracks from Tribes sounded particularly great, and the bustling crowd in front of the stage were really going for it. But there was another good chunk of people standing nearer the back who looked like they were trying to enjoy it but couldn't quite muster up the energy.
It all just went from 0 to 10 a bit too quickly for some, and in some respects I guess it was a case of too much of a good thing. These three artists are totally different, they pull different crowds, they fulfil different desires for the listener. To presume that putting them all on within the same two hour block was going to work feels like it was a lack of foresight, the cost being that no set felt fully realised or fully satisfying. Nice idea, but next time it'd be nice to see each of them headline their own show. They deserve that. Eoin Murray
Photos by Vincent Hughes