Articles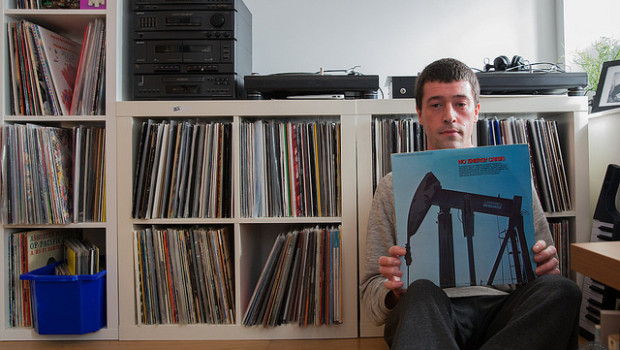 Published on July 14th, 2016 | by Loreana Rushe
0
Track Record: Toby Kaar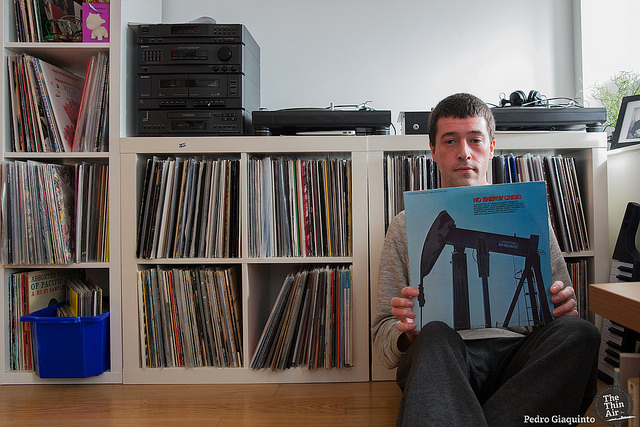 In the latest installment of Track Record, Cork producer Toby Kaar talks us through some of his all-time favourite records, featuring Kanye West, Warieka Hill Sounds and Fleetwood Mac.
Various Artists – No Oil Crisis
This is a really funny record. A New Thing album in response to the Gulf Oil crisis. I've never understood that kind of contrived connection between music and current events. Like the time they sent Rahzel out on a boat to beatbox about melting icecaps. Anyway, I got this in a second-hand record shop in Bristol. The album is a great cross-section of the kind of jazz I was just starting to get into at the time. It runs the gamut from pretty mellow spiritual jazz to atonal freakouts. This album is important to me personally because it introduced me to so many artists; Michael White, Dewey Redman – people that I would start to revisit again and again in the coming years.
I have a huge affinity for this kind of music. A lot of the time I find it unlistenable, musically, but in terms of energy and impression I've never found something that moves me quite as much as the heavier side of jazz. I guess it's important to not overthink that kind of thing
Pheeroan Ak Laff – House of Spirit/Mirth
This is one of my favourite albums ever. I found it in Rush Hour Records in Amsterdam and it kind of changed my life, musically anyway. It's a solo album made by this jazz drummer in the seventies, and it was unlike anything I'd ever heard when I first picked it up. I had never heard of drum records outside of Buddy Rich, and this was so different. It's definitely rooted in the spiritual jazz oeuvre, though is also heavily influenced by African drumming, notably Mustapha Tettey Addy who is credited in the liner notes. The music itself is incredibly rhythmic, at some points sprawling and loose, other times locking into very raw funk or afrobeat rhythms.
There's something incredibly urgent and human about drum records like this. I definitely feel much more of a direct communication from this kind of music than from a solo piano record, for example. I guess drums are one of humanity's oldest instruments and some kinship for rhythm is hardwired into all of us.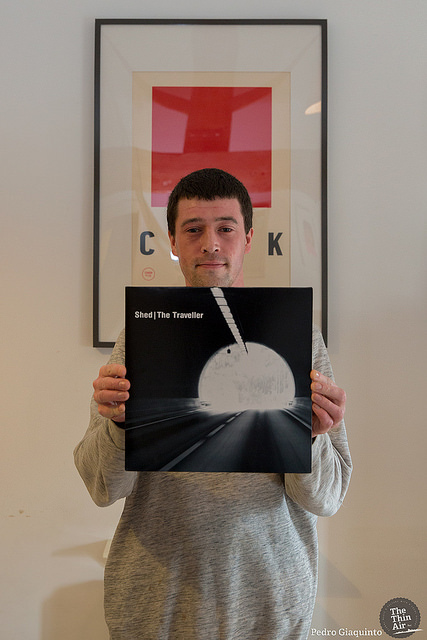 Shed – The Traveller
It's often easy to write techno off as kind of mindless or soulless, but it's a very fruitful and dynamic genre of music. This record is such a testament to that – it was kind of a Rosetta Stone moment when I first listened to it. The liner notes of this album talk about René's desire to make a techno album not rooted in the dancefloor, and he achieves that so well. It's ostensibly a techno record, using the genre's palette and tropes, but moves through passages with such a pace that you're never lingering on one scene for very long. Shed has an amazing ear for rhythm – almost on the point of being disjointed but tight at the same time. I can't explain it too well.
This was maybe the first album on record that I bought in Plugd Records in Cork. It's always been my favourite record shop in Ireland. I think I started buying CDs there around the time of my Leaving Cert, so it's kind of been part of my life for like 10 years.
Daedelus & Teebs/Matthewdavid & Take – LA Series 6/LA Series 2
I think these were some of the first records I bought in All City when I started to come up to Dublin to play shows. Any time I was in the city I would try stop in to get records. Then, when I moved to Dublin a few years ago, it became my regular record shop.
These records are from a run of initially 10 but eventually 11 and a half records put out by the shop's label, all featuring LA artists. I always thought this was such a perfectly realised series of records; the track quality is consistently super-high and it's obviously impeccably curated, with like 15 minutes per artist for 22 artists.. There's a mattress on the cover of each record but Olan won't tell me why.
I think this was probably the first time I heard Matthewdavid. I think his work is so interesting. He has an approach to texture and dynamics that was like nothing I'd ever heard before. Everything's crushed and impossible to decipher and then suddenly *boof* this melody just breaks through. I love it, it's so alien.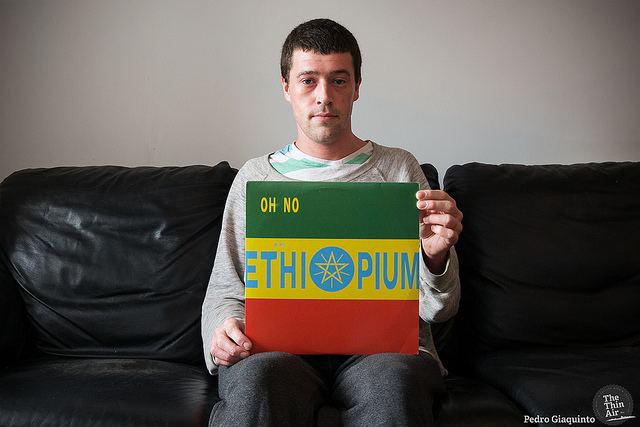 Oh No – Ethiopium
I've written before about how much I love Oh No. I just think his beats are so on point and in your face. He's one of those guys where you can tell it's him producing it on first listen.
Ethiopium is an album of beats that sample old Ethiopian songs, traditional music and more contemporary Ethiopique funk. There are a fair few of these kinds of albums wherein a producer is only flipping one style of music – Madlib in India, or Onra's Chinoiseries come to mind. I guess it's a relatively easy idea to realise, but it's also really effective. Old music, traditional music, foreign music, all have some kind of imprinted meaning in them that gets carried over when sampled. I would sample a lot of this kind of music when I'm producing, and sometimes it feels a bit dilettante-ish, a bit culturally insensitive. I guess that's something I'm still figuring out.
Warieka Hill Sounds – No More War EP
I remember first hearing this and being blown away by how singular it sounded. I guess it's a reggae/ dub EP, but incredibly deep, quite hypnotic. Rolling drum grooves with these rubbery sax lines rising out of them. It was unlike anything I'd ever heard when I first heard it on Alexander Nut's Rinse FM show…
When I'm making music it's always been a problem that I have a predetermined concept of what needs to be in a song. Like I'll always put a snare into a track, always try and write a bassline, that kind of thing. It's something that I'm trying to break out of, to mixed success. So I really like to hear songs that don't have snares or don't have basslines, that don't subscribe to that formula. A few people playing hand drums, then just a bass and a sax. And that's it, and it's spectacular.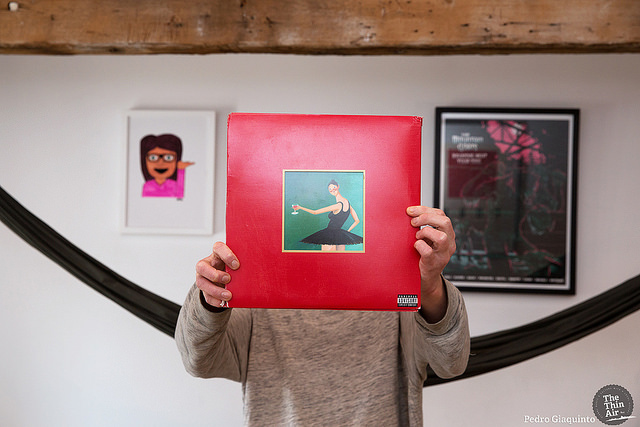 Kanye West – My Beautiful Dark Twisted Fantasy
When I was picking out records for this thing, there was a lot of deliberation over what was meant by "my favourite records". They aren't necessarily my favourite albums or pieces of music ever, I guess the connection is more rooted in the physical relationship with the object. Carrying it home, making space for it, accidentally ruining a track by scratching it, etc etc etc. I have a lot of records that just take up space, then others that have value through the space they take up.
I remember my brother called me up shortly after this album came out, he was in Tower Records and there was like one copy of this on sale. It was some ridiculous price, 40 or 50 euro, some bullshit amount, but I remember I just really really wanted a physical copy of this record.
I don't need to say much about this record. The ultimate concept album, the concept being that you're an asshole.
Fleetwood Mac – Tango in the Night
Rumours has Dreams so it automatically gets a pass as the best album of all time, but Tango in the Night has, pound for pound, the best collection of songs of all the Fleetwood Mac albums. I mean, the last three songs are pretty creepy, but the first nine come together as these perfect pop songs, production-wise, arrangement-wise, everything. There's a lot of iconic synth work going on here – Everywhere's intro is still being unsuccessfully approximated by a lot of people.
Fleetwood Mac are a funny phenomenon. I can't think of another band who are as universally loved as them. Don't get me wrong, Lindsey Buckingham seems to be an odious, odious person, but musically at least the band are burrowed into our collective consciousness.
Acid Arab – The 3 EP's
Released on the French label Versatile, these are real Ronseal records. Three EPs of Arabic influenced house music, acid squelches, 303s. A lot of house is rooted in western jazz scales so it was really refreshing to hear these at first. There are contributions from Legowelt, I:Cube, Etienne Jaumet, and the music ranges from pretty slow moody pieces to 128bpm Shackleton-style rhythms. At points you can really see a unifying strand there, like some of the riffs present in this traditional music are the same kind of riffs you might hear in an old Phuture track.
A lot of the records I buy nowadays are of a house or techno bent. I guess the functionality and interchangeability of buying them to mix means I often don't develop a big connection with any one record, but these three always had that unique angle that stuck with me.
Rick Wilhite – Analog Aquarium
I'm including this record because I gave away another record I bought around the same time. This record is by Rick Wilhite, who's a very important DJ/producer/store and label owner from Detroit. It's a house record, I guess, and it has that effortless fuck-it-ness that Detroit artists seem to nail better than anyone else. It sounds really loose, arrangement and mix wise, a lot of the vocals sound like total shit, but it's got charm and soul in bucketloads. There's a strong vibe of one take hardware jam of this record – an idea I usually hate but that someone as seasoned as Rick can pull off.
I bought this record in Idle Hands in Bristol, which was probably the first record shop outside of Ireland I got to visit regularly. It's a really nice thing, to be able to go into a new shop and vibe with a total stranger about music you both like. It's really endearing. Muzic Gonna Save the World.