Roisin Dubh, Galway
The last time Battles played in the Roisin Dubh was in 2007, just after the release of their first LP Mirrored and just preceding the colossal cult acclaim of tracks 'Atlas' and 'Tonto'. In the years since then that cult following has expanded and expanded, giving the band a listenership that extends to younger Math-Rock devotees, fans of experimental contemporary composers like Steve Reich, blow-ins from the band member's old groups (Don Caballero, Helmet, Lynx) and, well, people that just like the way they sound. On a Monday evening in August the curious universal appeal of such an unusual trio is more than evident. While the crowd appeared varied and scattered to begin with, by the time the trio are three tracks into one of the loudest shows I'd ever heard in that room everyone appeared to be agog as a single unit. It was baffling, it was fun and oh boy it was warm.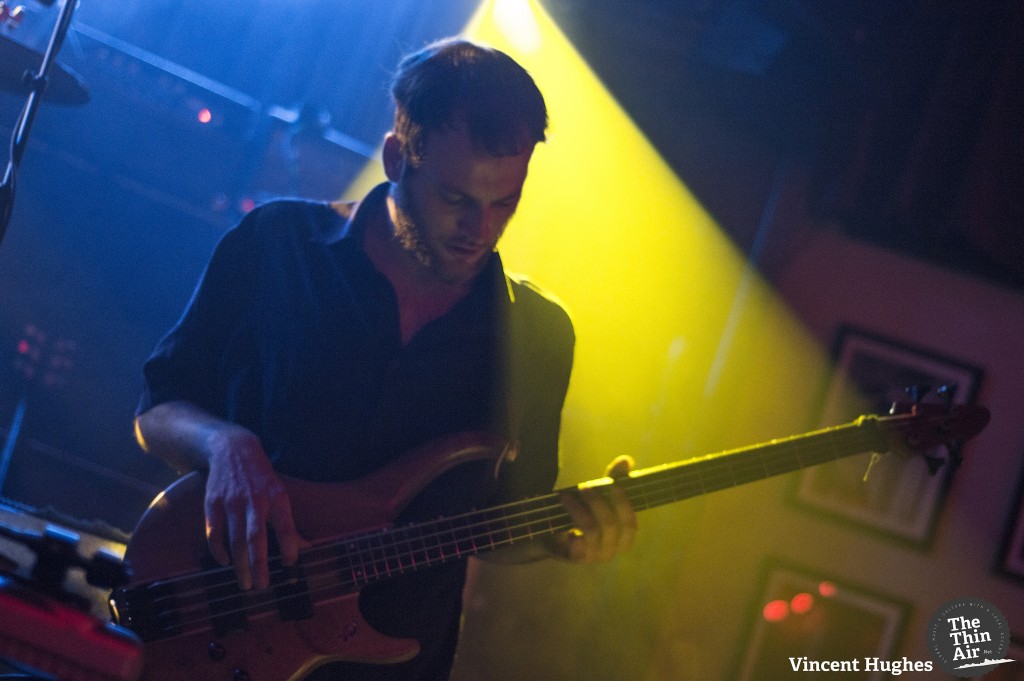 Opening proceedings was local duo Krayb David made up of turntablist Jimmy Penguin accompanied by a bassist. The tracks, mostly taken from brand new release Eggship Me Please (Tales From The Eggship), are heavy drifts into analogue techno sounds, dub, hip-hop and scratching, providing an intense "this is what your in for" atmosphere as a set up for the rest of the show. It doesn't feel so much like a warm up in that it is ferocious from the get go, and in some ways it is jarringly abrasive for the early hour that it is. Nonetheless it's an impressive and interesting set with a lot of heft. Listening to the record after the gig solidified the raw talent and energy of the duo, but it would make an awful lot more sense if it were heard much later in a night.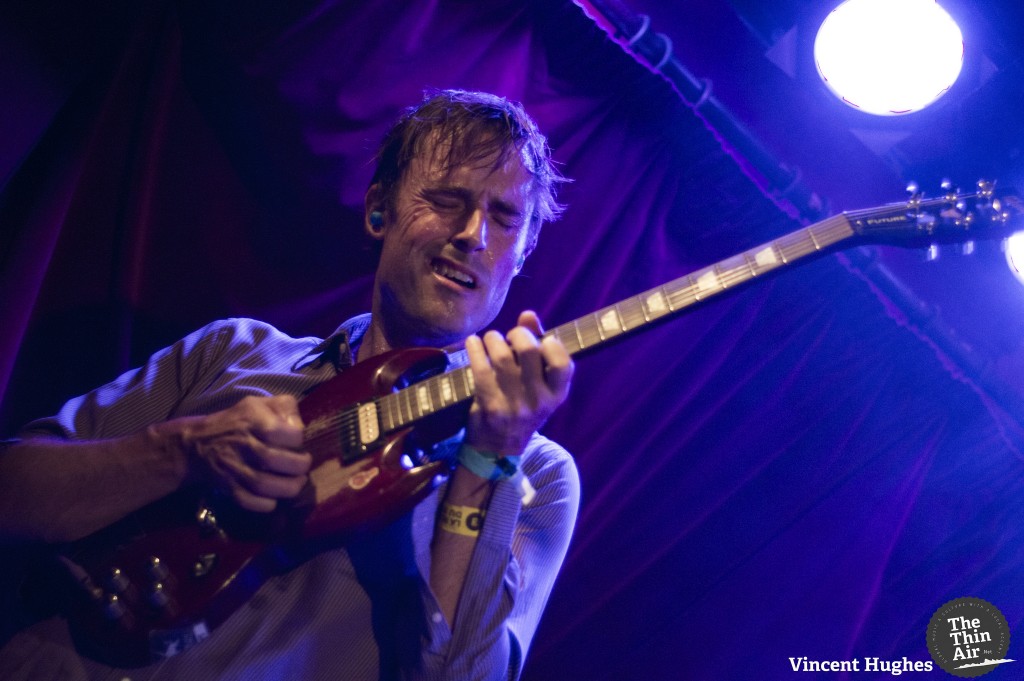 Once Battles take the stage the crowd are ready for what is about to come and it is immediately apparent that the trio are leagues above so much of the music lumped into similar categories. From the opening loops of 'Dot Com' and the eccentric joy of 'Ice Cream' (Matias Aguayo's quirky vocals played over the monitors) the idiosyncratic complexity of the band's output is coupled with their irresistible energy. Ian Williams (above) looks like a man possessed as he bounces between guitar, keyboards, samplers and pedals, mouth and eyes contorting with every sporadic, staccato note and scratch. Sounds that seem incomprehensible are created with what looks like great flippancy. The mind boggles further at Dave Konopka's alternating between bass and guitar, providing the lower end to the frenetic collections of melodies and patterns that inform comparisons to Steve Reich's vocal experiments 'Come Out' and 'It's Gonna Rain'.
All the while, the band's central figure John Stanier (below) attacks his drums with incredible precision and subtle complexity, the intensity becoming increasingly real throughout the show as his face turns red and his shirt turns from one shade of grey into one much darker. The pulse on highlights 'Futura' and 'Atlas' is something that seems so simple at first but is simultaneously hypnotic and aggressive, meaning that heads can only shake at the spectacle, sent into rapture every time he lunges at the crash cymbal that hangs over his head.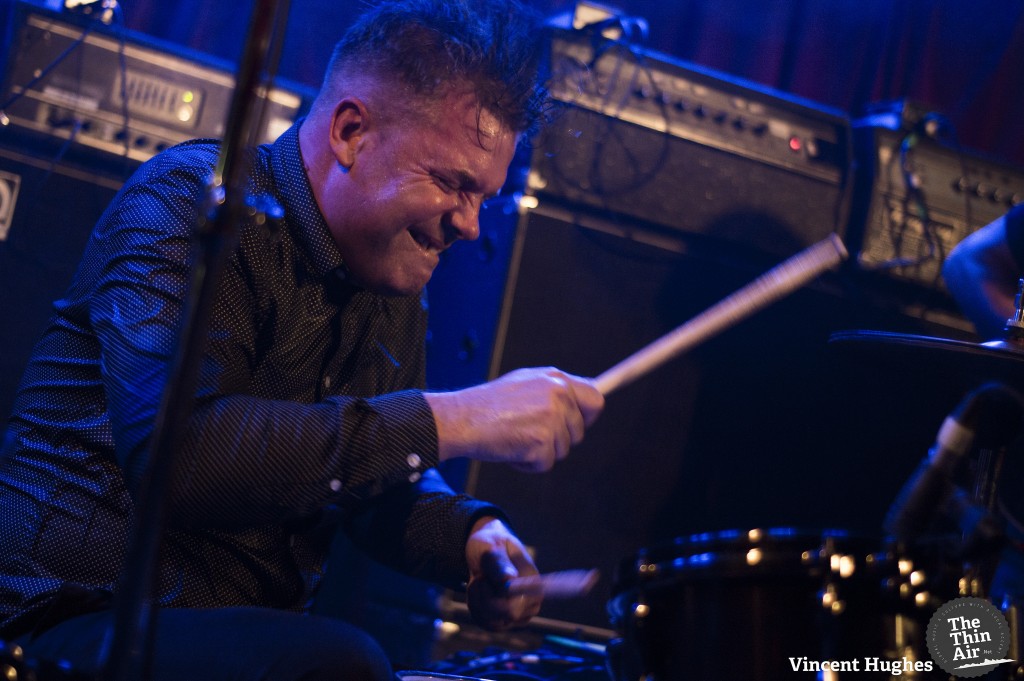 Interactions with the crowd are few but endearing, portraying the trio as a goofy, yet calm bunch who thoroughly enjoy what they do, performing these "jams" on a nightly basis. They lead the crowd in chants of one another's names in a jokey manner before beginning to chant the word "Galway" (pronounced correctly and all!) over again before launching into the sets closer 'The Yabba'. Once the gig is over ears are left ringing and all most of the room is able to muster is collective head shaking and heavy exhalations. Battles returned after a seven-year stint away and pummelled each and every audience member to smithereens. And they did it with smiles on their faces. The cheek. Eoin Murray
Black Box, Belfast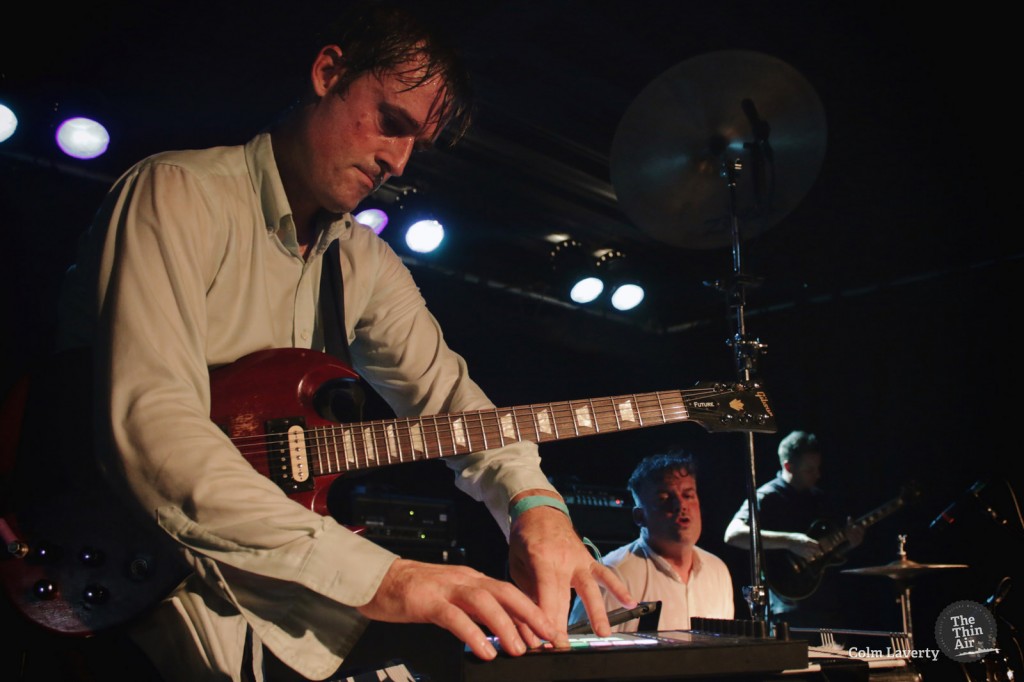 "Are you going to make some fucking noise? Do you want us to play more songs or not?!"
Dripping with sweat and a little hesitant, Battles have just returned to the stage following a characteristically breathtaking set that – for whatever multitude of reasons – takes a while to click with the room tonight. Powerhouse drummer and lynchpin of the trio's most remarkable machine, John Stanier, isn't impressed. "God," he adds, under his breath, before the band burst into a blistering, particularly emphatic version of jittery masterclass 'Hi-Lo'. Up until this point, the atmosphere at Belfast's Black Box is fairly muted despite the magisterial showcase going down; the 250-strong crowd considerably more statuesque than what one – and, clearly, the band themselves – might expect at an intimate Battles show.
But context is absolutely everything and there's too many variables to either instantly denounce Stanier's exasperation as needlessly pissy or say the "typical Belfast crowd" (as at least two voices are overheard saying) are to blame for the lulled air in the Cathedral Quarter venue this evening. First up: it's a Tuesday night, so most attendees are almost definitely intersubjectively mulling over the sheer, unfortunate doom of existence: surviving to payday, countless e-mails that need replied to, impending death, psychic warfare, fleeting self-actualisation, etc. Secondly, it's an early show – combined with the whole Tuesday night thing, everyone knows one's gig guard usually drops around 11pm. It's 9pm. Lastly, and as many of their faithful will happily tell you, being able to bear witness to Battles muster their singular experimentalism in such close proximity is something that should really be fully paid heed, not wasted on necking pints and forcing a "Holy shit, guys…" sense of happening.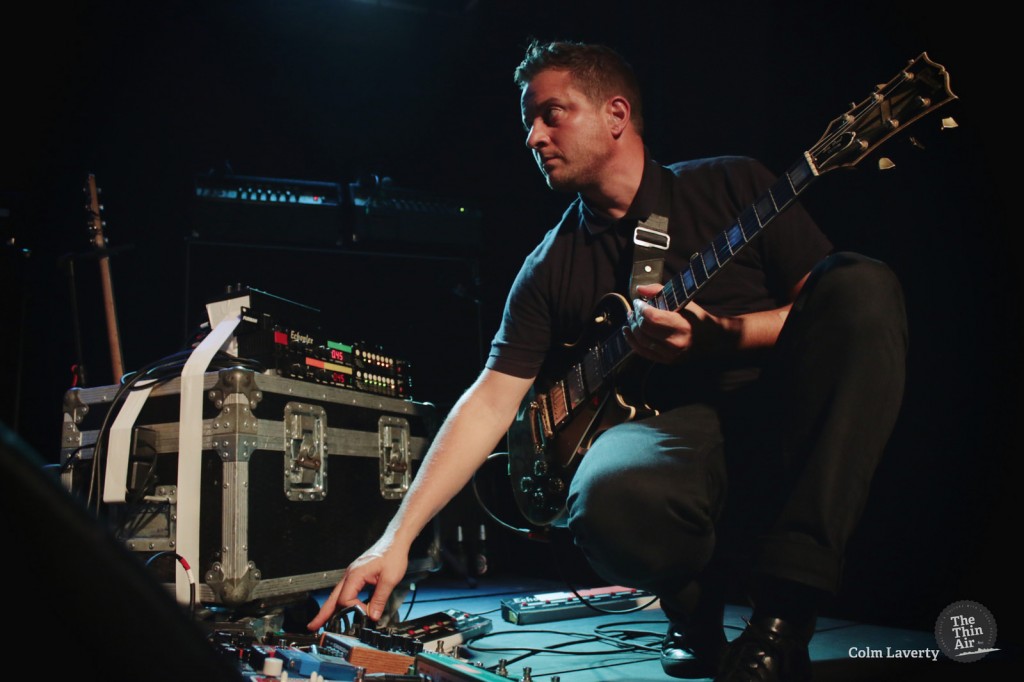 And so to the show itself. Easing in with Dave Konopka's (above) warped guitar sorcery, opener 'Dot Com' kicks off with Stanier (below) – who has been lurking off-stage with the demeanour of an incredulous uncle that's been dragged along – climbing on stage and giving multi-instrumentalist par excellence, Ian Williams, the nod. Immediately, the band's impossibly attuned, elemental mastery gleams into sharp focus once more, each synthathesia-provoking pattern rising up and entwining phoenix-like with another. Underlining their nigh on telepathic bombast, eye contact between all three members is almost non-existent, every iota of focus centralised to the moment, the muscle memory, the sheer intent of delivering each note and beat with absolute authority. Segueing into 'Ice Cream' – an early, mind-expandingly layered highlight – and 'FF Bada', with its unwinding, futurist complexity – it's all more than a little smile-inducing. Battles' unparalleled tapestry of execution is laid bare.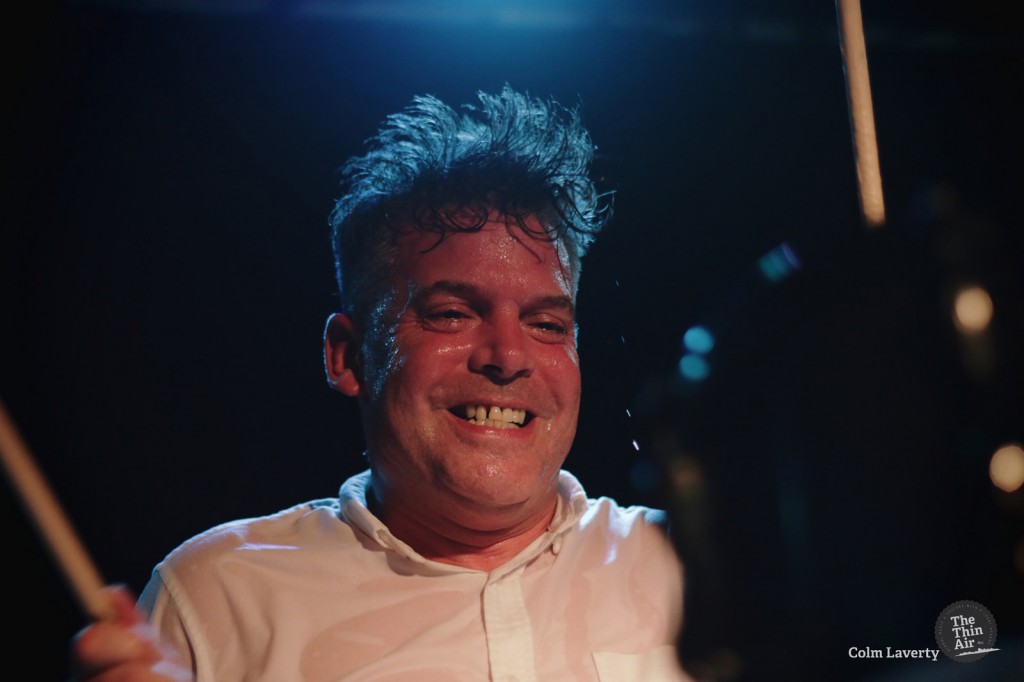 "It's great to finally play Belfast. We've always wanted to get here." Ian Williams is filling out the silence as the sound technician tries to appease issues with on-stage monitors. "So, are you all from Belfast?" Williams adds. A resounding "No!" from the crowd confirms many have travelled to experience the threesome in such a small space. Masterfully trawling through the likes 'Futura', B+T' and 'IPT2′, there's several moments where Battles' uncanny marriage of technology and talent proves epiphanic. Jolting between two keyboards, guitar, laptop and control pad, Williams is a particular sight to behold; where Stanier is an unstoppable force on drums and Konopka is a less assuming yet no less vital and virtuoso component, Williams samples, loops, taps, and thrashes at the peak of his powers. Nowhere is that more apparent than on 'Atlas', the band's signature track and an outright highlight tonight. While not ripping up the floorboards, the crowd are visibly rapt.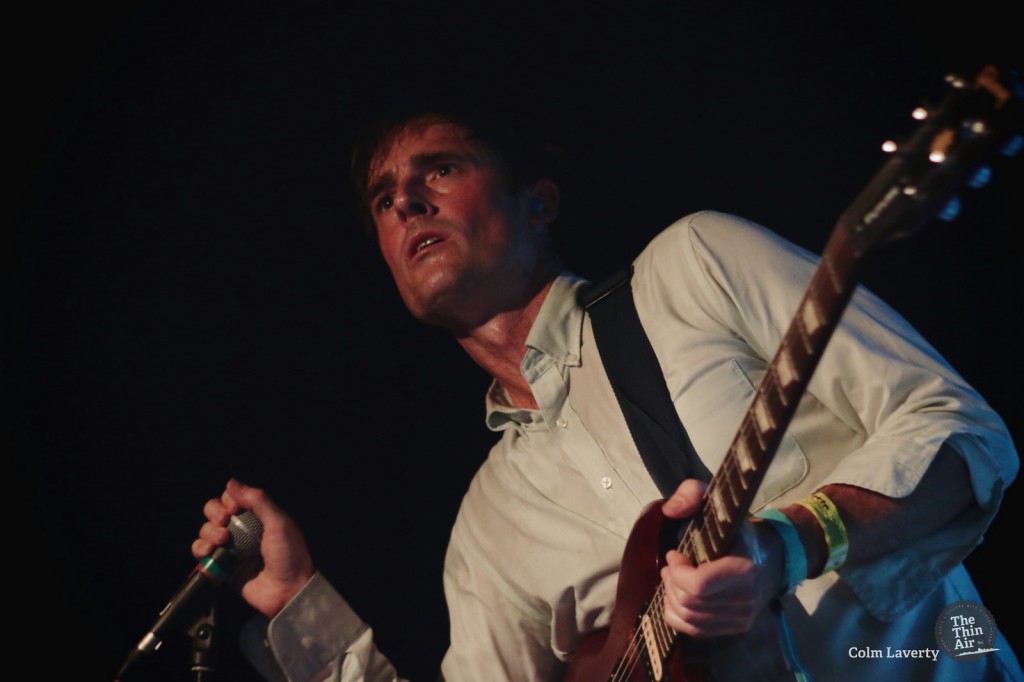 With Stanier's flare-up offering some odd sense of inverted permission to let go, a closing one-two of 'Hi-Lo' and recent single 'The Yabba' sees a late surge of elation that has always – no matter how delayed – ran concurrent with seeing Battles re-create their magic live. While the calls for "one more tune" at the end up could be deemed a case of too little, too late, there's no doubt that, as with many other shows that have come before, all's well that ends well. Not one person leaves tonight doubting what they had witnessed. Brian Coney
Photos by Colm Laverty